Big-Name MLB Stars Who Will Be Epic Failures in 2013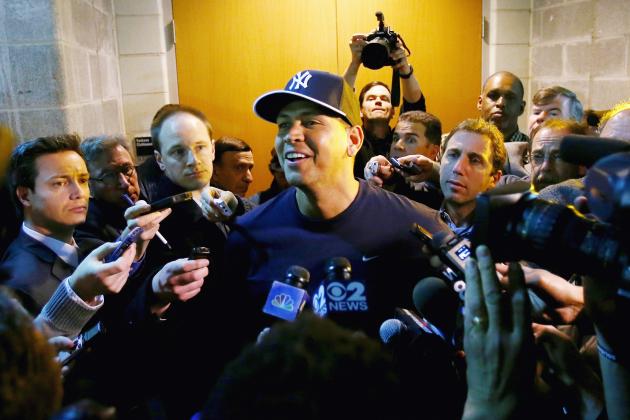 Elsa/Getty Images

Some MLB players are destined for success. Others are destined for failure.
Then there are others that were once great but now are destined for failure.
There is a crop of baseball stars who will experience the latter this year as they have hit cusp of being washed up.
But, who?
Here's a look at 10 big-name stars who will be epic failures in 2013.
All statistics courtesy of Baseball-Reference.com unless noted otherwise.

Begin Slideshow

»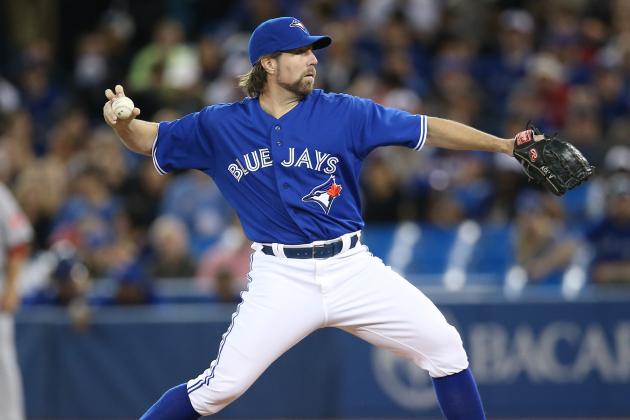 Tom Szczerbowski/Getty Images
R.A. Dickey
This is likely the most controversial, so I'll go ahead and get it out of the way.
R.A. Dickey will be an epic failure for the Toronto Blue Jays this year.
I've heard the arguments from people about how he'll only improve, as it takes three years to really get the knuckleball working for you.
After his Cy Young season last year, that prediction looked correct.
Then, Dickey pitched in the World Baseball Classic, and things didn't look so good.
And now, he's struggled in his first two starts of the season, giving up 10 earned runs in 10.2 innings pitched.
Dickey is 38, and while most good knuckleballers pitched well into their 40s, Dickey isn't someone I would put in that category.
He had a great three-year run (2010-12) with a record of 39-28 with a 2.95 ERA and 468 strikeouts. But, take out last year, and he has a record of 19-22 with a 3.08 ERA and 238 strikeouts.
Dickey had a great season last year, but I believe it was an exception and not the rule.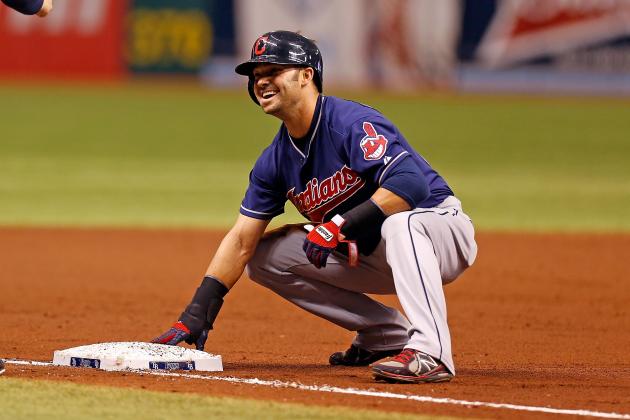 J. Meric/Getty Images
Nick Swisher
There is no doubt Nick Swisher earned his four-year, $56-million deal with the Cleveland Indians.
However, he earned that with protection in the lineup from the likes of Mark Teixeira and Robinson Cano.
This year, his protection comes from Jason Kipinis and Michael Brantley. While Brantley has shown a little bit this year, he's nothing like Teixeira or Cano.
And Kipinis has already been a strikeout machine this year with 10.
This leads to less opportunities for Swisher, and he's not going to live up to his contract.
He'll still get a decent amount of home runs, but the RBI opportunities will be less, and many will consider his contract not worth it by season's end.
If there was more protection in the middle of the lineup, I'd have more faith in Swisher. But, there's simply none in Cleveland.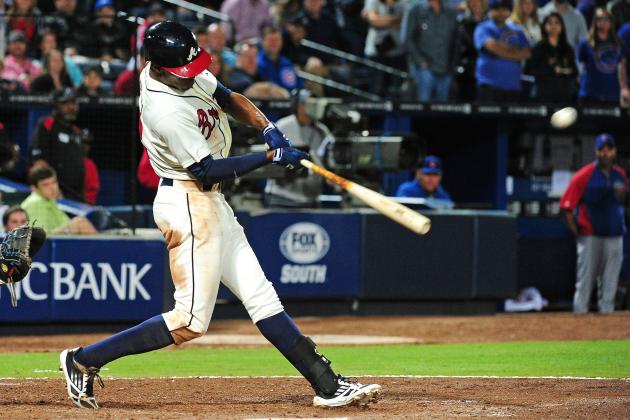 Scott Cunningham/Getty Images
B.J. Upton
B.J. Upton should still have a good season for the Atlanta Braves.
However, compared to his brother Justin, B.J.'s season will be considered a failure mainly due to the size of his contract.
When you're making $75.25 million over five years, fans expect for you to produce. And, when you have started out the season batting .103 with 12 strikeouts, there's a problem.
Add in the fact that his brother is making $9.75 million this year and producing at a torrid pace, and you wonder what's going on.
Players like Jason Heyward and Freddie Freeman will provide more bang for the buck because they still haven't hit free agency for the first time.
B.J. may produce his normal 20-25 home runs, but if he gets outperformed by the other big names on the team, 2013 will be considered a failure.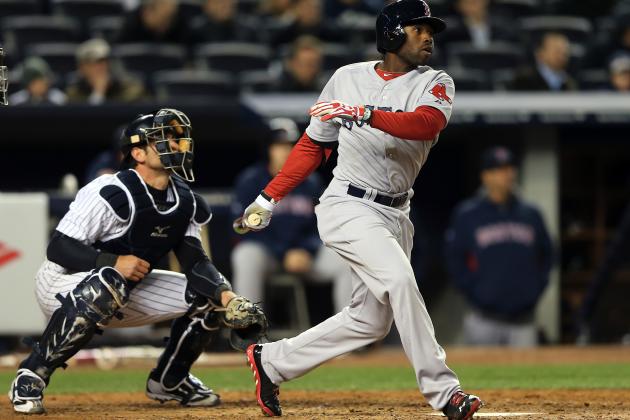 Elsa/Getty Images
Jackie Bradley Jr.
Others may have drank the Kool-Aid, but I'm not.
Jackie Bradley Jr. is going to be an epic failure for the Boston Red Sox this year.
Don't get me wrong...I love the kid's hustle.
However, he's not ready for the big leagues, as he's shown with his .143 batting average, seven strikeouts and three RBI.
The kid showed a lot on Opening Day, but even then it was easy to see the holes in his swing.
Bradley will be a good player one day. But for those who are placing their hope in Bradley to help the Red Sox return to form, they're looking in the wrong place.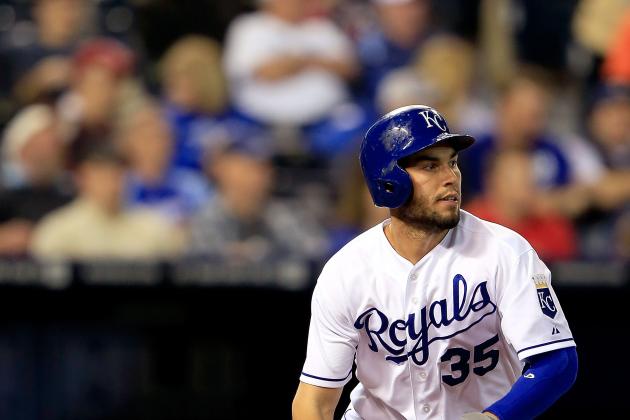 Jamie Squire/Getty Images
Eric Hosmer
I stated my case on this once this year when Eric Hosmer replaced Mark Teixeira on Team USA's roster for the World Baseball Classic.
However, I'm going to say it again. Hosmer is not now, nor will he ever be, a good player in the major leagues.
For some reason, people keep thinking Hosmer will break out and be a perennial All-Star.
Not only does he have to deal with the likes of Teixeira, Albert Pujols and Prince Fielder in the American League, but he also plays for the Kansas City Royals.
I'm not saying the Royals don't have any good players, but for some reason there's negative energy that surrounds the entire team. The franchise just can't seem to catch a break.
Hosmer has started out the year decently, batting .318 with four RBI.
But also look at his second year in the big leagues where he failed to make adjustments. He batted .232 with 14 home runs and 60 RBI, a large difference from his rookie campaign.
It's fitting that Jeff Francoeur, another former future perennial All-Star, is on the Royals with him.
The Royals first baseman will be a serviceable player throughout his career and nothing more, which will be disappointing for Royals fans.
Mike Ehrmann/Getty Images
Hanley Ramirez
It's finally time to close the book on Hanley Ramirez being an elite player in baseball.
The Los Angeles Dodgers shortstop is currently on the disabled list but will be the starting shortstop when he returns.
For starters, Ramirez's weight is listed at 225 pounds. What other good big-league shortstop weighs that much?
Then you have his struggles over the last two years.
Some will attribute it to his unhappiness in South Beach, but I think there's more to it than that.
Ramirez was obviously unhappy when the Miami Marlins signed Jose Reyes last year, which forced him to move to third base.
He has a "me" mentality, which doesn't fit well in a big league locker room...well, unless you're Alex Rodriguez.
Ramirez still will likely hit 20 home runs this year, but his stats will be much lower than other seasons he's played (outside of an injury-riddled 2011).
Fantasy baseball players will no longer see him gone in the first round. According to ESPN, his average draft position was 91.2, which puts him in the eighth round.
For someone who went No. 1 overall in most drafts just a few years ago, that's a huge drop.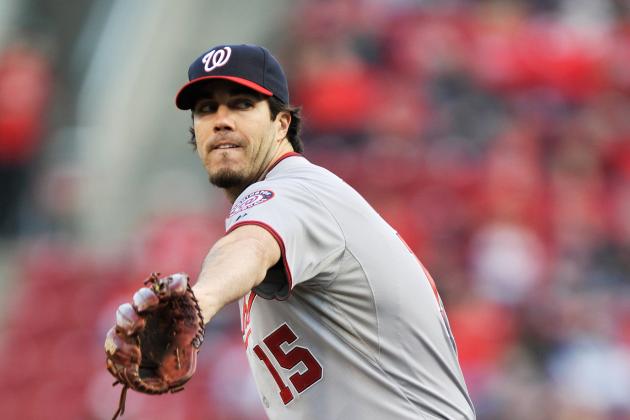 Jamie Sabau/Getty Images
Dan Haren
Dan Haren is one of those players who teases you every year.
You look at his strikeout totals from one year and think he'll get it together the next year.
However, the Washington Nationals pitcher will continue to tease fans.
His 2011 season looked good with the Los Angeles Angels, but 2012 was a struggle as he went 12-13 with a 4.33 ERA.
His strikeout numbers still looked good at 191, so ESPN fantasy owners still drafted him 122.8 (average) overall, the 34th best for pitchers.
That might not be considered high for many people, but in 12-team leagues, that's the No. 3 pitcher on a staff.
That's high for a guy that likes to tease you.
Haren was a great big league pitcher in his career at one point. But those days are long gone now.
I'm sure those who watched him give up four home runs to the Cincinnati Reds on April 5 will agree.
Leon Halip/Getty Images
Melky Cabrera
Melky Cabrera is already an epic failure in my book for testing positive for performance-enhancing drugs.
But still, the Blue Jays signed him to a two-year, $16-million deal.
And what has it gotten them thus far in the season? A .250 batting average and one RBI.
I know there's a long way to go in the season, but Cabrera has shown throughout his career he's just a mediocre player.
He had good seasons in 2011 and 2012. But after testing positive in 2012, one has to wonder if he was using PEDs in 2011 as well.
So, let's throw those two seasons out.
Over the six seasons prior, Cabrera batted .267 with 40 home runs and 270 RBI. In fact, his highest totals were a .280 batting average (2006), 13 home runs (2009) and 73 RBI (2007).
Toronto got its hopes up when it thought Cabrera could produce at the same level without PEDs that he did with them.
That's an epic failure on Toronto's part.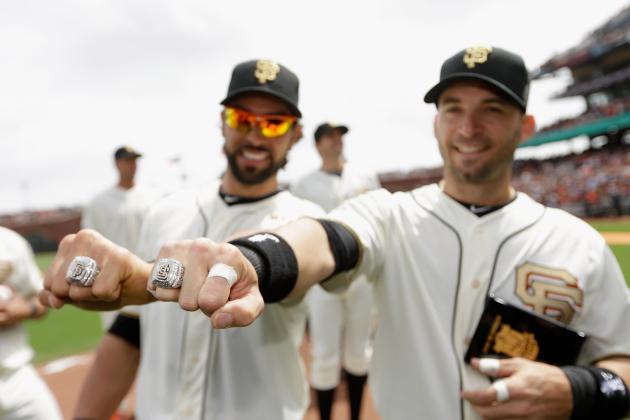 Ezra Shaw/Getty Images

Marco Scutaro only makes this list as a big-name MLB star because of what he did in the playoffs last year.
However, the San Francisco Giants second baseman is anything but a star.
After his playoff heroics, Scutaro was rewarded with a three-year, $20-million deal.
I'll admit Scutaro was clutch late in the regular season and in the NLCS last year, batting .500 with four RBI. However, he doesn't have a good body of work the rest of his career.
He's a career .275 hitter, which is not bad.
But to think he'll produce in 2013 like he did after he was traded to the Giants is unthinkable, especially considering he's 37.
It's weird to think that San Francisco brass considered the second baseman one of the top priorities of the offseason. This is especially true considering guys like Jeff Keppinger and Maicer Izturis could've been had for a lot less.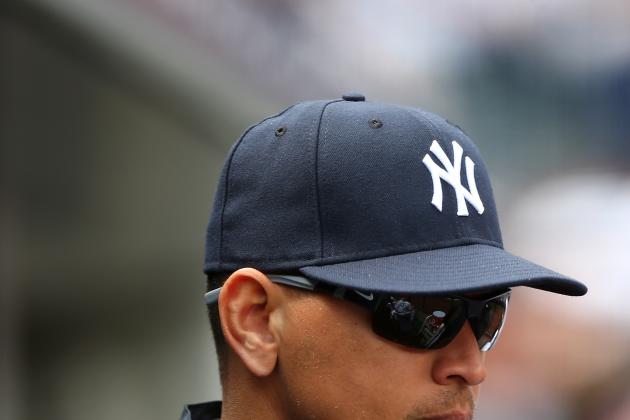 Elsa/Getty Images
Alex Rodriguez
Duh!
When Alex Rodriguez was benched last year, a lot of fans cheered. Then, when he went down with an injury, more fans cheered because it has left him on 647 career home runs.
A-Rod currently sits 13 home runs behind Willie Mays for fourth all time. Like many fans, my hope is that he never passes it.
While he likely will one day, his struggles at the end of last year brings hope that he won't break the all-time record.
I'm not saying Barry Bonds is a saint, because he isn't. But, by A-Rod not breaking the record, that leaves hope for a guy like Albert Pujols to come break it.
But that's another topic for another day.
Rodriguez struggled last year to get the job done and was replaced by a lesser player in Eric Chavez. When he returns from injury, he'll have to answer for the latest PED scandal to hit the news.
Regardless of his true innocence or not, he has admitted use once before, so why wouldn't he attempt to cheat once again?
Perception is everything in the world of sports. You are not innocent until proven guilty in the court of public opinion.
No matter what he does the rest of his career, he will be considered a failure because of his need to cheat.