Ranking the 8 Philadelphia Flyers with the Brightest Futures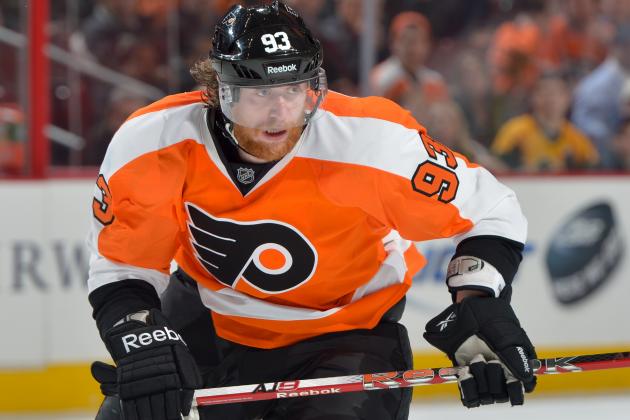 Drew Hallowell/Getty Images

The Philadelphia Flyers are currently making a bit of a late-season push to get into the playoffs, but it may be too little, too late at this stage.
There are a number of contributing factors when looking at the Flyers stumbling out of the gate in this lockout-shortened season. Injuries have ravaged the team from the get-go, which has been detrimental to the roster.
The lockout itself, resulting in a brief training camp and no preseason, could have stunted the growth of some of the Flyers' younger players and limited cohesion and chemistry heading into the season.
But even though this season may be very close to lost, the aforementioned young players should give Philadelphia fans a lot of hope moving forward. They have arguably the best young nucleus of forwards in the league, with a couple of prospects still waiting in the wings.
Their defense is thin, with only two of the eight players on this list coming from the blue line, and only one of them is currently in the NHL ranks.
For the record, I used the age of 24 as my benchmark for this list. Older than that, and nobody is thinking future as much as present. This kept guys like Claude Giroux and Matt Read off of the list.
Begin Slideshow

»
J. Meric/Getty Images

Shayne Gostisbehere is arguably the best Flyers defensive prospect in their system right now. Make of that what you will, but there are a few reasons to be excited about his potential.
The Florida native was taken in the third round, 78th overall, in the 2011 draft by Philadelphia. He is a sophomore at Union College and was named to the ECAC Hockey All-Rookie team for the 2011-12 season.
Gostisbehere is a great skater who can move the puck up the ice in a hurry. He has exceptional vision and an above-average shot, which help him on the power play.
But he is only 5'11" and still has not developed enough to be ready for the NHL in the foreseeable future. He has stated as such and will need to add considerably to his frame before jumping into the NHL.
His lack of size and strength will keep him from being a top-line defenseman, but if he can blossom into a solid puck-moving threat on the second line, then he will be extremely valuable.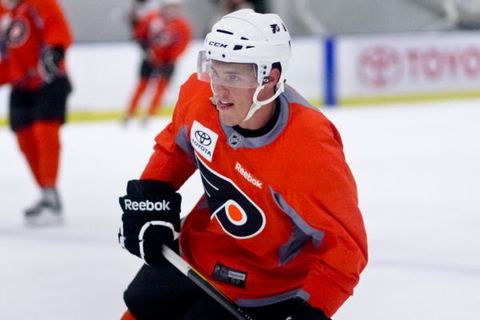 photo via thehockeyguys.net
It was recently announced that the sexual assault charges on Nick Cousins had been dropped, which should be a major relief for both Cousins and the Flyers organization.
With that scandal behind him, Cousins should be able to focus just on hockey from here on out. A lot more people should be talking about Cousins' potential, because it is higher than many realize.
The 19-year-old has a solid left-handed shot, underrated puck-handling ability and a rough-and-tumble nature which has led to a few comparisons with Scott Hartnell, although Flyers fans should be relieved to know that Cousins is a much better skater than Hartnell.
At 5'10", he isn't the physically imposing type, but he is a strong kid who plays hard and aggressive on every shift. But he doesn't compromise skill for toughness; far from it. This season in the OHL, he finished third in the OHL in scoring with 27 goals and 76 assists in just 64 games.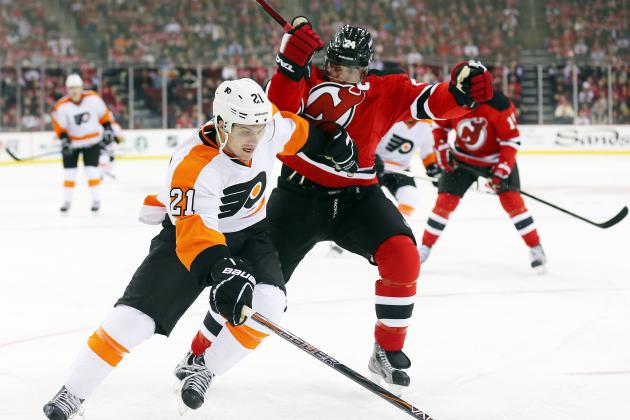 Elsa/Getty Images

Flyers fans should be a little more familiar with this prospect after he stormed onto the scene in the first few games of this past season. Scott Laughton was the Flyers' first-round selection in last June's draft, and he has a lot to live up to.
After impressing for the first five games of the season, Laughton was sent back to the OHL to preserve his rookie contract for another year. But he's a virtual lock to make the team permanently next year (if he isn't packaged in a trade deal this offseason, which is a decent possibility).
Standing at 6'1" and 190 pounds with an aggressive nature and left-handed shot, Laughton could be compared to ex-Flyer captain Mike Richards.
But Laughton actually may have a little more upside than Richards, especially on the offensive end of the ice. In 49 games in the OHL, Laughton scored 23 goals and added 33 assists and had seven goals in seven playoff games this spring.
At a mere 18 years of age, Laughton has shown a lot of promise, and hopefully his potential will be realized while remaining in Philadelphia.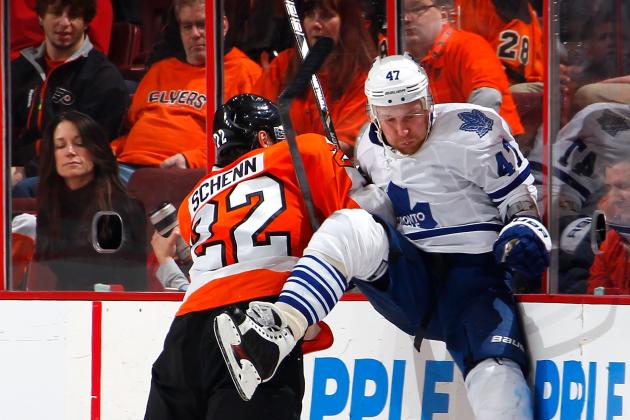 Paul Bereswill/Getty Images

Now we arrive at the full-time NHL players, starting here with the second defenseman on the list. Luke Schenn arrived in Philadelphia this offseason in exchange for James van Riemsdyk.
The move has ended up paying off pretty well this season, with JVR continuing his frustrating hot-and-cold ways in Toronto, while Schenn has helped sure up a Flyers' defense plagued with injuries.
Schenn has played in nearly every game this season and has been a solid presence in the defensive zone night in and night out. He's arguably the strongest player on Philadelphia's roster, packing on 229 pounds to his 6'2" frame.
He racks up the hits and blocks a lot of shots, but he is not a major force offensively. But he still has room to grow, as it seems like everyone forgets that he is still only 23 years old and could improve his skating and offensive awareness over the years.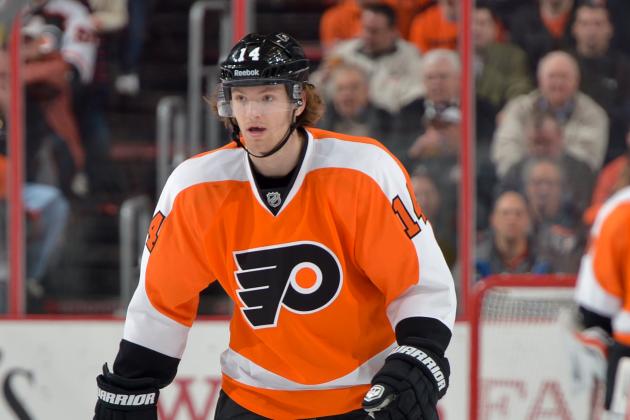 Drew Hallowell/Getty Images

After a spectacular 2012 postseason where he single-handedly shut down Evgeni Malkin and registered a hat trick, Sean Couturier has received his fair share of criticism in 2013.
That exceptional postseason most likely raised the bar a little high for Couturier coming into this season, especially with such an abnormal preseason process due to the lockout.
He has just three goals and is a minus-12 this season, but don't sour on Couturier just yet. For one thing, he just turned 20 years old in December and is still developing all aspects of his game. But more importantly, Flyers fans and the media have to accept Couturier for what he is: an intelligent, 6'3", two-way center who isn't going to make many highlight-reel plays.
He doesn't have great quickness or a monster slap shot, and he won't dangle his way onto SportsCenter, but he is still an incredibly talented player.
He's probably already Philadelphia's best penalty killer, and he's a skilled passer who is strong on the puck. He can be counted on to shut down the opposition's best player (just ask Malkin).
Everyone needs to be a little more patient with Couturier. It will pay dividends down the road.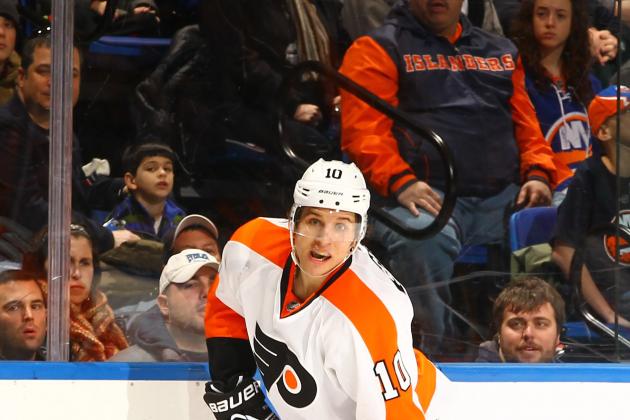 Al Bello/Getty Images

Formerly ranked as the top prospect in all of hockey, Brayden Schenn has shown flashes of brilliance in his second NHL season.
After a somewhat disappointing rookie year that saw him get off to a slow start as he dealt with a few injuries, Schenn really came around at the end of the season and had a solid playoffs.
The 21-year-old has carried that momentum into this season and has been one of the Flyers best players. He slowed down in March, as he went over a month without scoring a goal, but he's still fifth on the team with 22 points.
Schenn plays hard every shift and is willing to throw around his body and try to make an impact. Like Laughton, he has also been compared to Mike Richards, but Schenn has the most potential of the three. Look for him to get back on track these last couple weeks and help the Flyers make a playoff push.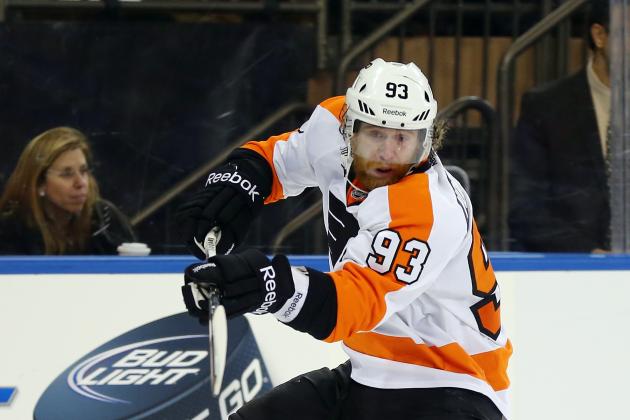 Elsa/Getty Images

Jake Voracek has been the shining star of 2013 for the Flyers. He has gotten a lot of attention for his play, and he deserves every bit of it. He's helped carry Philadelphia through some rough patches.
After being drafted seventh overall by Columbus in 2008, Voracek started his career off with a thud, as he didn't produce very much and developed a reputation for not working hard.
But last year, he showed some flashes of promise with Philadelphia after being traded in the Jeff Carter deal. He then fully broke out in 2013. He is currently the Flyers' leading scorer. He leads the team in goals with 16 and is second only to Giroux in assists.
Voracek has an exceptional feel for the game. He combines great puck control with precise passing to be a dangerous playmaker.
In only 38 games, he is nearing his career season-record goal total. He has shown an ability to finish around the net and rip wrist shots like we had not seen before. He's also still just 23 years old, and the sky is the limit for Voracek at this point.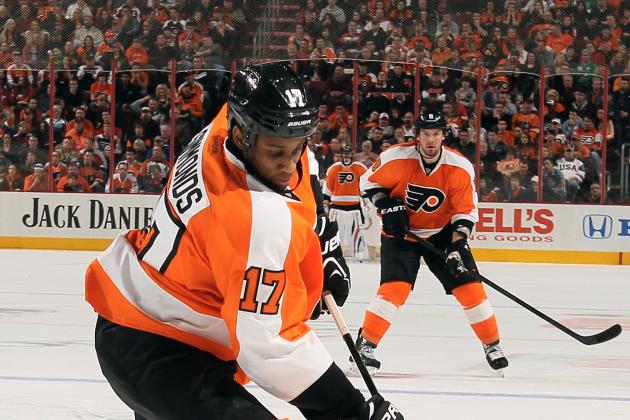 Elsa/Getty Images

Despite being the oldest player on this list, Wayne Simmonds still has the brightest future in my opinion. In fact, if you wanted to argue that Simmonds has been the Flyers' best player this season, I think I would agree with you.
He has more goals than Claude Giroux, even though he's played in three fewer games and averages six fewer minutes of ice time per game. He's third on the team in points, but his value is in so much more than what shows on the stat sheet.
Simmonds is a rangy power forward who can be a force in front of the net, but he also skates well and is dangerous in open ice. He battles along the boards and piles on the hits every game.
The 24-year-old is scrappy, energetic and effective without being flashy or boisterous. He is as tough as they come and will always step in to back up a teammate or throw off the gloves to spark the team.
In late February, he had two Gordie Howe hat tricks (goal, assist, fight) in the span of just four days, videos of which can be seen here and here. These great performances are just a glimpse of how big of an impact Simmonds can have on a game.