10 Dirtiest Players in the Premier League This Season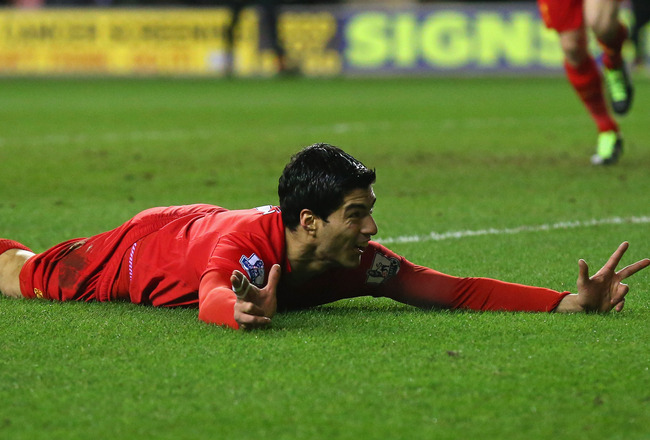 Alex Livesey/Getty Images
Being named one of the dirtiest players in the English Premier League is a title that no player sets out to earn at the beginning of the season.
However, through nine eventful months of top flight play in England, these 10 players have earned the dubious title by way of on-field incidents and continuous bookings.
From the spitters to the "clean tacklers" to the ones who have a propensity to find their way into the referee's book, these 10 players have rightfully earned a spot on this list.
10. Matthew Lowton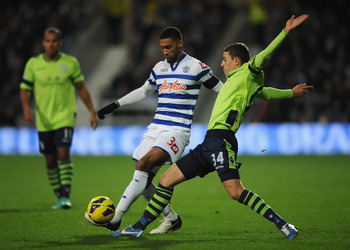 Christopher Lee/Getty Images
Matthew Lowton and his Aston Villa teammates have had a long season while fighting off relegation to the championship.
During their lowly efforts this season, Lowton has quietly picked up nine yellow cards.
The majority of Lowton's yellows have come since the calendar turned over to 2013 with his last booking coming on March 9 against Reading.
A surprising statistic that goes along with Lowton's nine yellow cards are the lack of fouls (0.9) he averages per game.
9. Cheik Tiote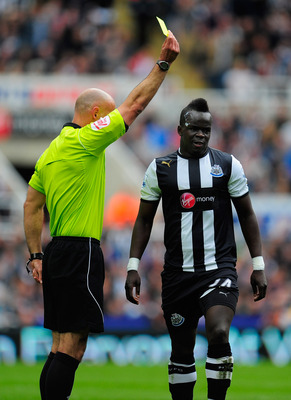 Stu Forster/Getty Images
Newcastle United midfielder Cheik Tiote has been one of the EPL's most aggressive midfielders since joining the club in 2010 from FC Twente.
Despite having an entire month off in January because of his participation in the African Cup of Nations with the Ivory Coast, Tiote still sits near the top of the disciplinary table.
During the first half of the season, Tiote picked up a booking in eight of his first 11 matches including a red card in the Tyne-Wear derby on October 21.
Tiote has not added much to his disciplinary record since returning from the African Cup of Nations, but he can break that dry spell in a heartbeat with a strong tackle in the midfield.
8. Goran Popov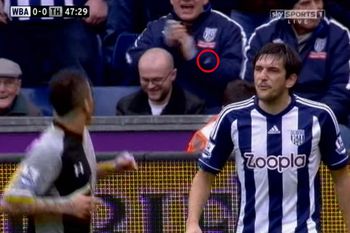 Photo Courtesy of mirror.co.uk
Goran Popov has only played in 10 EPL matches this season for West Bromwich Albion at the left-back position.
Despite his lack of time on the pitch, the Macedonian made a big impact in a negative way for the Baggies against Tottenham on February 3.
Just a few minutes into the second half of the match at The Hawthorns, Popov spit in the face of Spurs defender Kyle Walker.
Since his infamous spitting incident, Popov has failed to see the pitch for the eighth-place Baggies.
7. Marouane Fellaini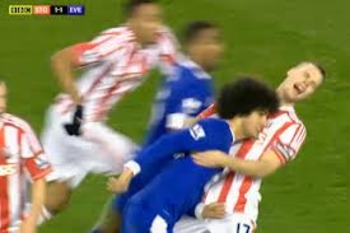 Photo Courtesy of mirror.co.uk
Any time you head butt an opponent, you should expect to see your name appear on this list.
That is exactly what Everton's Marouane Fellaini did to earn his dubious position on the list.
Fellaini sent his head directly into the chest of Stoke's Ryan Shawcross on December 15 in the Toffees' 1-1 draw at the Britannia Stadium.
After earning a three-game suspension for the head butt, Fellaini returned to the pitch for the Toffees and kept his attitude in tact.
It took two whole months for Fellaini to pick up another yellow card, at last count he has seven yellow cards this season.
6. Ryan Shawcross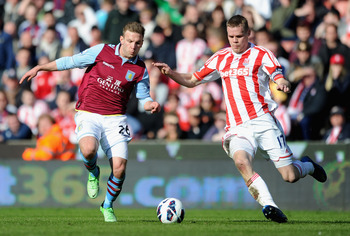 Chris Brunskill/Getty Images
Stoke City defender Ryan Shawcross has never been considered a clean player, especially since his horrific tackle on Aaron Ramsey three years ago.
The 25-year-old Englishman has not helped his reputation this season by earning nine yellow cards.
Shawcross has cemented his place at the top of the disciplinary table by earning two yellow cards in his last two matches.
5. Callum McManaman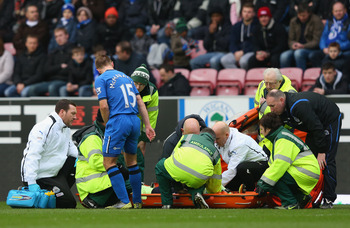 Alex Livesey/Getty Images
Callum McManaman is another player who has not seen much time on the pitch this season but he did make plenty of headlines when he did play on March 17 against Newcastle.
In that match, McManaman unleashed one of the most horrific tackles of the season on Massadio Haidara.
Haidara left the pitch on a stretcher while McManaman stayed upright on the pitch without any punishment from the referee.
4. Stephane Mbia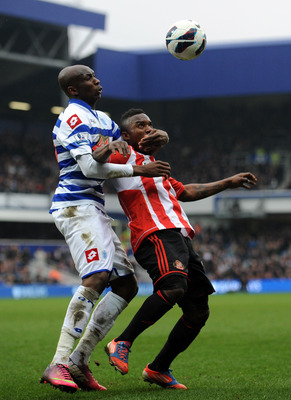 Steve Bardens/Getty Images
Stephane Mbia may not be finishing anywhere near the top of the table with Queens Park Rangers this season but he may finish on top of the individual disciplinary table.
In 24 EPL appearances, Mbia has averaged 1.8 fouls per game and he has recorded eight yellow cards.
To go along with the eight yellow cards, Mbia also has collected a red card back in October against Arsenal.
That red card and the foul he committed against Wigan on Sunday cost QPR three points that the Loftus Road outfit could use right now.
3. Steven Pienaar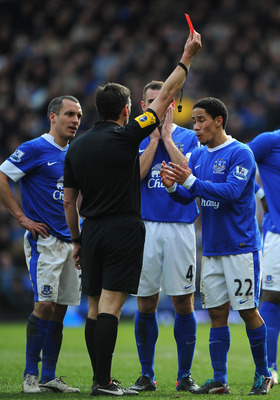 Michael Regan/Getty Images
Steven Pienaar's name does not instantly pop up in a conversation about dirty players but if you look closer, the South African midfielder belongs on this list.
The 31 year old has picked up his league-high two red cards this season in quite the unique manner.
In the two matches where he was sent off, Pienaar earned two yellow cards instead of being sent off with a straight red.
Pienaar picked up two yellow cards in a nine-minute span against QPR on October 21 before he picked up a yellow in both halves against Manchester City on March 16.
Call this a coincidence if you want but Pienaar was sent off in the 61st minute of both those matches.
2. Luis Suarez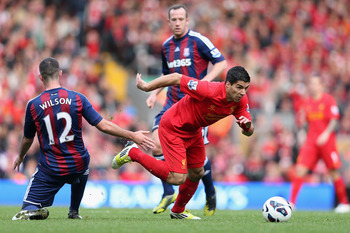 Clive Brunskill/Getty Images
Luis Suarez has been a controversial figure ever since his clearance off the line with his hand at the 2010 FIFA World Cup.
Suarez's reputation has not changed for the better this season with two more major incidents added to his resume.
In October, Suarez blatantly dove in search of a penalty kick against Stoke, an action that he later admitted to (via Daily Mail).
Suarez once again made the headlines in January when he batted a ball down with his hand on the way to scoring against Mansfield Town in the third round of the FA Cup.
To add to those two specific incidents, Suarez has recorded nine yellow cards this season, which is the most earned by any forward in the EPL.
1. Craig Gardner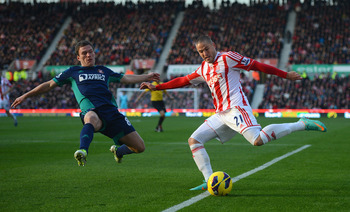 Michael Regan/Getty Images
No player in the EPL has earned more yellow cards this season than Craig Gardner has.
In 31 matches for Sunderland, Gardner has become the only player to reach the double-digit mark in yellow cards with 10.
Gardner's spot on top of the disciplinary table may be the only thing that the Black Cats will win this season as they are in the middle of a relegation battle at the moment.
Who do you think is the EPL's dirtiest player this season?
Comment below or leave me a comment on Twitter, @JTansey90.
Keep Reading