15 Slumping MLB Players Who Most Desperately Need Instant Turnarounds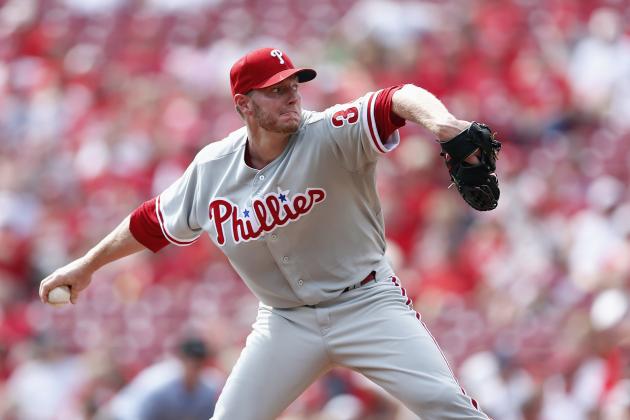 Joe Robbins/Getty Images

Baseball fans, be on the lookout for tired cliches being thrown around when it comes to any of the players on this list.
From "one week doesn't make a season" to "baseball is a marathon, not a sprint," fans, managers and front offices around baseball are all in damage-control mode when talking about struggling players on their ballclubs.
Essentially, they are all doing their best impressions of Kevin Bacon in Animal House:
Except all is not well.
It's too early to panic—that cliche is one that I'll buy into right now—but things need to get better in a hurry for that phrase not to fall into the abyss of empty words.
The 15 players on this list are slumping badly—and their respective teams need them to turn things around in a hurry.
Begin Slideshow

»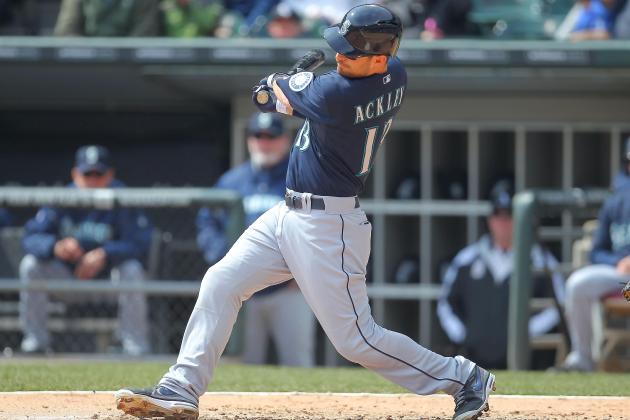 Dennis Wierzbicki-USA TODAY Spor

2013 Stats: 9 G, .100/.182/.100, 0 HR, 0 RBI
After breaking onto the scene with a .273/.348/.417 slash line in 2011, good enough for a sixth-place finish in the AL Rookie of the Year voting, Dustin Ackley has been, well, awful for the Seattle Mariners.
Since the beginning of the 2012 season, Ackley owns a .220/.289/.317 slash line, which, when combined with that of light-hitting shortstop Brendan Ryan, gives Seattle one of the weakest-hitting middle infields in baseball.
Only 25, Ackley can still get his career back on track and trending upwards, but eventually, his lack of production is going to force the team's hand, and Nick Franklin, the team's top middle infield prospect, could ultimately be called up from the minors to replace him.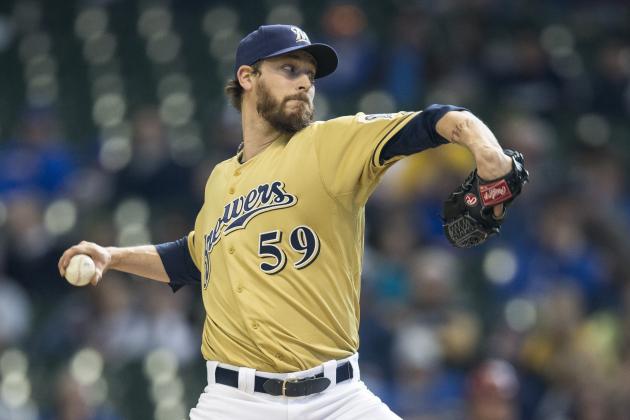 Tom Lynn/Getty Images

2013 Stats: 4 G, 0-2, 24.30 ERA, 3.30 WHIP, 3.1 IP, 9 H, 2 BB, 4 K
If anyone on this list needed a strong start to the 2013 season, it was John Axford, the embattled closer for the Milwaukee Brewers.
Make that former closer, as he's already lost his job, replaced by Jim Henderson in the ninth inning.
According to Troy Renck of the Denver Post, it hasn't taken opposing scouts long to figure out what Axford's biggest problem is:
Scout on Axford: Hitters seeing release point so well almost as though he's tipping pitches.

— Troy Renck (@TroyRenck) April 4, 2013
That makes his issues mechanical, not physical, and that puts the onus on Milwaukee's coaching staff to get him straightened out. The Brewers simply cannot afford to have the bullpen continue to give games back to the opposition—that's what cost the team a playoff spot in 2012.
If Axford fails to turn things around quickly, he runs the risk of becoming nothing more than an afterthought for manager Ron Roenicke, only seeing action when the game is truly out of reach one way or the other.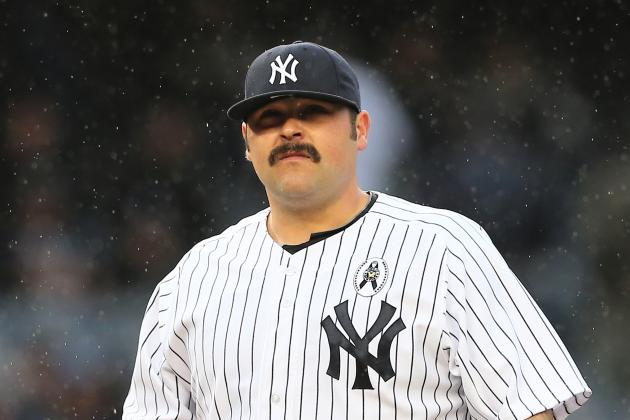 Elsa/Getty Images

2013 Stats: 3 G, 13.50 ERA, 3.75 WHIP, 2.2 IP, 4 H, 6 BB, 4 K
Is it possible that the most ridiculous-looking mustache in baseball was behind Joba Chamberlain's dreadful start to the 2013 season?
Chamberlain shaved the growth under his nose before the Yankees landed in Cleveland for a four-game series, telling reporters, "It wasn't doing us any good, so I got rid of it."
Maybe he's on to something, as Chamberlain's first outing sans mustache saw the 27-year-old reliever not allow an earned run for the first time all season. Yet he cannot find the strike zone with any regularity, having walked a pair of batters in each of his three appearances.
New York's bullpen was supposed to be a strength on a team whose lineup has been ravaged by injury.
Chamberlain is doing his best to not only prove that theory incorrect, but to pitch his way out of New York, as he is set to become a free agent at the end of the season.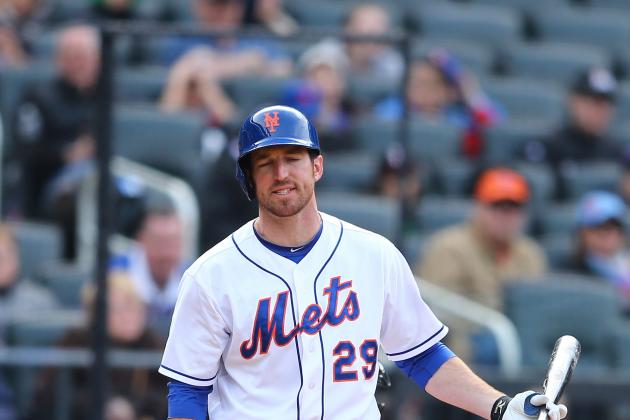 Al Bello/Getty Images

2013 Stats: 8 G, .129/.229/.226, 1 HR, 2 RBI
Some will say that Ike Davis doesn't belong on this list, simply because we saw Davis do this last season—get off to a horrible start only to rebound, going on a tear in which everything he hits either falls in or goes over the outfield fence.
But as manager Terry Collins tells Andy Martino of the New York Daily News, Davis' struggles in 2013 are nothing like those he had in 2012:
It's a lot different. Last year, I don't think he felt very good. He played and played and played through some tough circumstances. His ankle, I don't think, was 100 percent. The Valley Fever made him feel bad, but he went out there and played.
So with no injury excuse or illness to fall back on, what's the reason for Davis' putrid start to the season, skip?
Home run hitters, when they get into slumps, they just want to hit homers. That's the first thing they think of. I had a young player years ago who was a big home run hitter. We've got to get Ike to be the Ike that we saw two years ago in the first half, where the more contact you made the more dangerous you became.
The Mets have a chance to be one of the surprise teams in baseball this season, serving as a much tougher opponent than many believe they can be while contending for one of the two wild-card spots in the National League (sorry Mets fans, but this team isn't going to beat out Atlanta or Washington for the division).
They can't do that without Davis, and the team needs his production in the middle of the lineup if it hopes to even dream about getting back to playing meaningful baseball in October.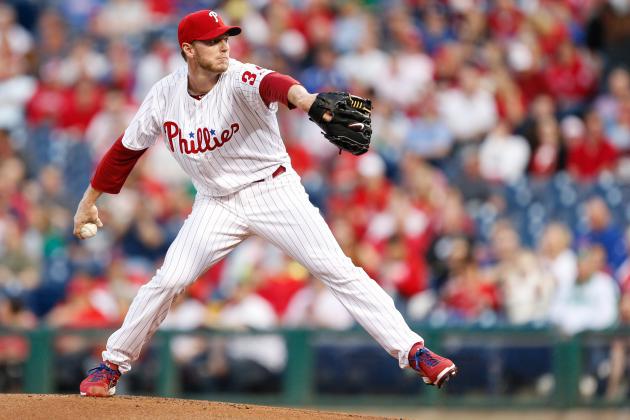 Brian Garfinkel/Getty Images

2013 Stats: 2 GS, 0-2, 14.73 ERA, 2.45 WHIP, 7.1 IP, 12 H, 6 BB, 12 K
The good news? Roy Halladay is striking out batters at a higher rate than he ever has before, averaging 14.7 strikeouts per nine innings of work.
The bad news? Everything else.
Halladay has allowed 12 earned runs and three home runs in his two starts thus far this season. He has struck out 12 in 7.1 innings, but has also walked six batters, resulting in a 7.4 BB/9 rate, by far the worst of his career.
There is something seriously wrong with the two-time Cy Young Award winner, who has now pitched to a 4.95 ERA and 1.28 WHIP over his past 27 starts, dating back to last season.
Phillies GM Ruben Amaro Jr. continues to live in denial, laying the shtick on thick for CSN Philly's Jim Salisbury recently:
He'll figure it out. Doc will figure it out.

He'll get as much time as he needs. If he needs 30 starts he'll get it. As long as he's healthy and he keeps working at it—as much as he needs.
That's all well and good, but it's not as if Philadelphia has any other choice.
The team is built to win now, and Philadelphia cannot do that without Halladay pitching like the guy who went 40-16 with a 2.40 ERA and 1.04 WHIP over his first two seasons in a Phillies uniform.
At this point, whether that pitcher still exists is a legitimate question to ask.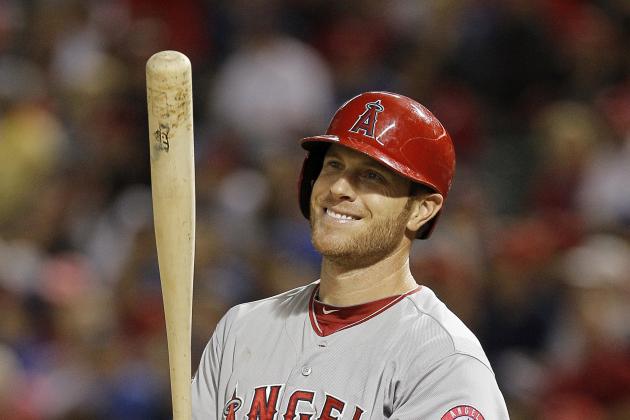 Brandon Wade/Getty Images

2013 Stats: 8 G, .156/.237/.219, 0 HR, 4 RBI
It's impossible not to see the comparisons between Albert Pujols' arrival in Los Angeles last year and Josh Hamilton's in 2013.
Both were the biggest names on their respective free-agent markets, both landed lucrative multi-year deals from the Angels and both got off to horrific starts in Angels uniforms.
So far this season, Hamilton has gone 1-for-14 with four RBI when stepping to the plate with runners in scoring position. For a player with the natural talent and past success that Hamilton has, that simply cannot happen.
As CBS Sports' Scott Miller points out, Angels fans have been taking out their frustration on the entire team, not Hamilton specifically:
And guess what? Josh Hamilton isn't being booed, but #Angels are. In first inning. Of home opener. And he thought boos would be left in TX!

— Scott Miller (@ScottMCBS) April 10, 2013
With the Angels trailing the Houston Astros in the standings, Hamilton's continued inability to produce with runners in scoring position is going to see those boos re-directed sooner, rather than later.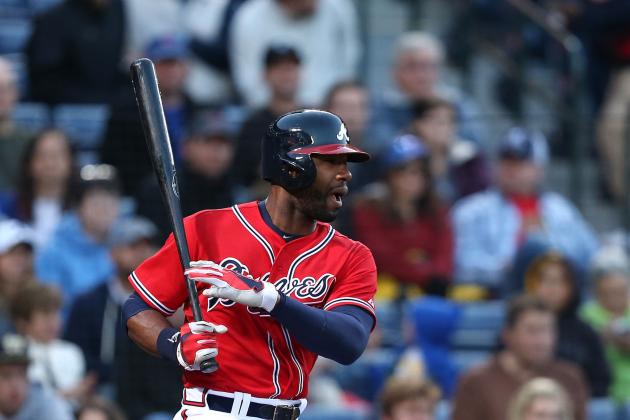 Mike Zarrilli/Getty Images

2013 Stats: 9 G, .071/.257/.179, 1 HR, 2 RBI
The 2013 season started off well enough for Jason Heyward, as the 23-year-old went 2-for-4 with a two-run home run against Philadelphia in Atlanta's second game of the season.
Since then, Heyward's bat has fallen silent.
How bad have things gotten? San Francisco's Barry Zito, who steps to the plate every fifth day, has more hits on the season than Heyward does.
To the team's credit, Atlanta continues to win despite receiving no production from its young right fielder, who is still playing Gold Glove defense.
While Heyward has hit second in Atlanta's lineup more often than anywhere else, it may be time to consider dropping the 23-year-old in the lineup, as evidenced by his career numbers (minimum 200 plate appearances):
| | | | | | | | |
| --- | --- | --- | --- | --- | --- | --- | --- |
| Batting | PA | BA | OPS | HR | RBI | BB | SO |
| Second | 675 | 0.260 | 0.782 | 18 | 60 | 85 | 135 |
| Third | 451 | 0.244 | 0.738 | 15 | 54 | 45 | 115 |
| Sixth | 242 | 0.313 | 1.043 | 18 | 34 | 28 | 36 |
| Seventh | 239 | 0.230 | 0.722 | 6 | 30 | 30 | 54 |
Continued struggles will eventually prove to be costly, both for the Braves and the youngster's psyche.
As we'll see with another member of the Braves later on, it's not as if manager Fredi Gonzalez doesn't have options.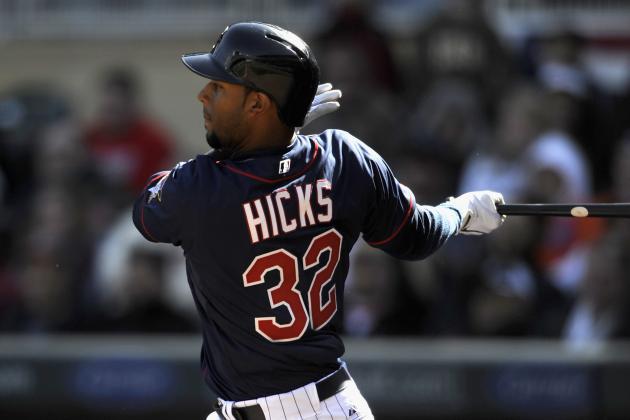 Hannah Foslien/Getty Images

2013 Stats: 8 G, .057/.108/.057, 0 HR, 3 RBI
My pick for AL Rookie of the Year, Aaron Hicks looks like he needs more seasoning in the minor leagues.
That the 23-year-old switch-hitter has managed only two hits this season is bad enough, but he's striking out. A lot—more than 43 percent of the time, according to FanGraphs, while drawing walks in only five percent of his plate appearances.
It's no surprise that Hicks is striking out, as he posted three consecutive minor league seasons with triple-digit whiffs. But those were accompanied by high walk totals of 88, 78 and 79, and it's that ability to work the count and get on base that we have yet to see during the regular season.
Minnesota has options, albeit not great ones, to replace Hicks should he continue to struggle badly. If he plans on sticking with the Twins for the duration of the 2013 season, Hicks needs to start making contact and getting on base for the heart of Minnesota's lineup to drive home.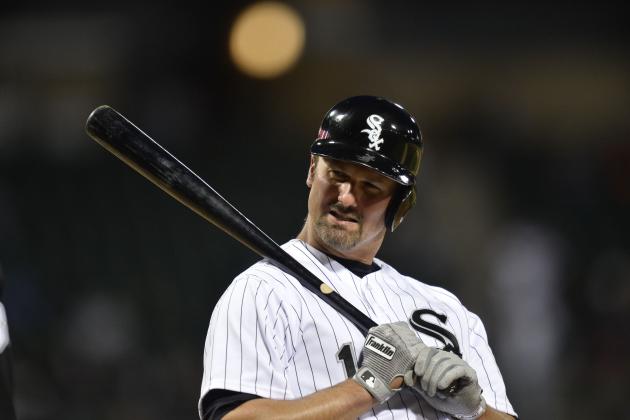 Brian Kersey/Getty Images

2013 Stats: 7 G, .154/.233/.308, 1 HR, 5 RBI
Don't be fooled by Paul Konerko's five RBI in seven games as a sign that he's making productive outs—four of them came in one game.
After a scorching spring training that saw the 37-year-old first baseman hit .338 with five home runs and 13 RBI, Konerko has looked every bit his age thus far in the regular season.
According to FanGraphs, the only discernible difference between what the six-time All-Star, who owns a career batting average of .282, has done for more than a decade and what he's doing today is that Konerko is lofting the ball into the air more often than ever before.
Nearly 60 percent of the time that Konerko makes contact, he's hitting a fly ball—up from a career mark of 41 percent—while keeping it on the ground only 17 percent of the time, nearly 20 percent lower than his career rate.
Chicago simply doesn't have the firepower to hang with the other contenders in the American League without Konerko swinging the bat as we've come to expect.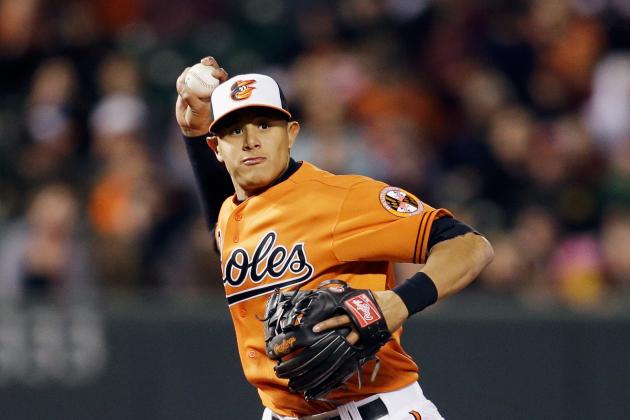 Rob Carr/Getty Images

2013 Stats: 8 G, .200/.243/.314, 1 HR, 4 RBI

Big things are expected from Manny Machado in 2013, as the 20-year-old shortstop-turned-third baseman embarks on his first full season in the big leagues.
So far, Machado has struggled hitting in the two-hole, failing to get on base with any regularity. When he does make contact, the ball is typically on the ground—and hit right at an opposing infielder.
While he might be struggling at the plate, Machado has been phenomenal with the glove, making an early case for Gold Glove consideration with plays like this one, robbing Boston's Shane Victorino of an extra-base hit.
Manny Machado can withstand lasers: atmlb.com/146i6VT

— MLB (@MLB) April 8, 2013
Machado's not in danger of losing his job or being demoted to the minors, as such a move would be counter-productive at this point. But if the Orioles are going to repeat their success from a year ago, the team needs Machado to start producing with a bat in his hands, even if it's only drawing walks and getting on base.
After crushing what would eventually be a game-winning three-run home run off of Boston's Joel Hanrahan in the top of the ninth on Wednesday, perhaps Machado is starting to turn a corner.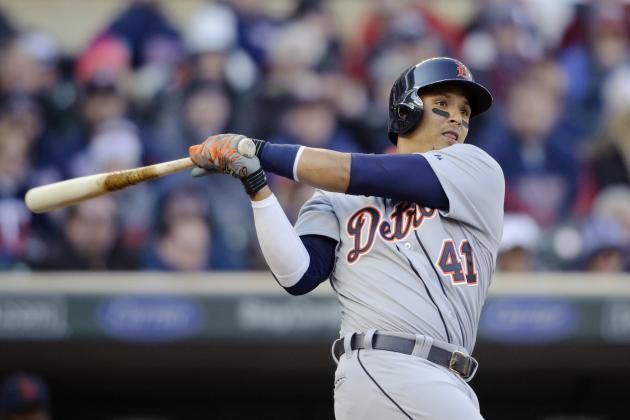 Hannah Foslien/Getty Images

2013 Stats: 7 G, .120/.233/.120, 0 HR, 2 RBI
After he missed all of the 2012 season due to a torn ACL in his left knee, Victor Martinez' return to the Detroit Tigers' lineup was supposed to make an already potent offense that much more dangerous.
It was only two years ago that Martinez hit .330 with 12 home runs and 103 RBI, and that's the kind of production that Detroit is counting on from the 34-year-old designated hitter, especially with Prince Fielder hitting ahead of him.
Certainly, Martinez is talented enough that, sooner or later, he will emerge from his slumping ways. But in what is sure to be a hotly contested AL Central, Detroit needs more than the three singles and pair of RBI that V-Mart has provided thus far if it hopes to win the division for the third consecutive season.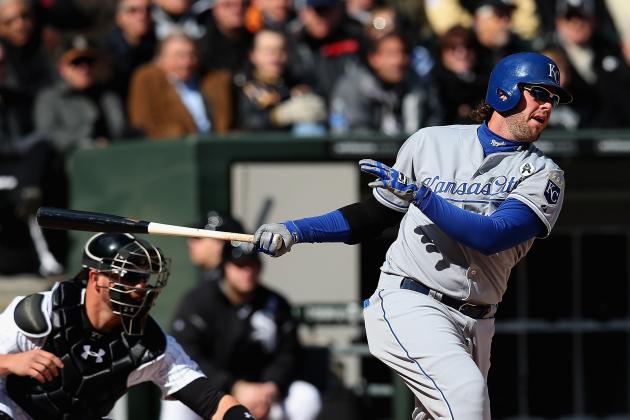 Jonathan Daniel/Getty Images

2013 Stats: 8 G, .194/.265/.258, 0 HR, 1 RBI
It's far too early in his career to call 24-year-old Mike Moustakas a bust—but Kansas City's talented third baseman has yet to live up to the considerable hype that has surrounded him since the Royals selected him with the second overall pick in the 2007 MLB draft.
To his credit, Moustakas has cut down on his strikeout rate while drawing walks at a higher pace than he did in 2012, and the Royals (6-3) sit alone atop the AL Central despite Moustakas' lack of production.
But that success will be fleeting without significant contributions from the team's cleanup hitter, who, slotted between Billy Butler and Salvador Perez, has no excuse for not producing. He's seeing pitches to hit but hitting them right at the opposition.
With a career batting line of .248/.300/.391 (that's an OPS below .700) in more than 1,000 plate appearances, is it possible that this is as good as it gets for Moustakas?
Kansas City had better hope not, for the team's chances at short-term and long-term success will take a major blow if Moustakas turns out to be the next coming of Fernando Tatis.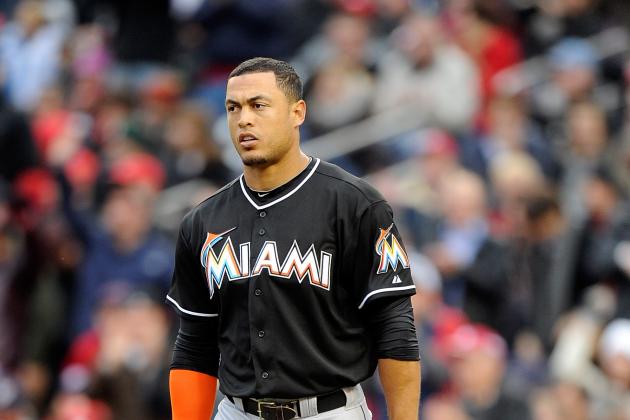 Greg Fiume/Getty Images

2013 Stats: 9 G, .167/.342/.233, 0 HR, 0 RBI
That's not a typo—Giancarlo Stanton has yet to drive in a run in 2013.
Perhaps we shouldn't be surprised that Stanton is off to such a bad start—he hit .242 with one home run and nine RBI in April last season before finally waking up, and he's the only real slugger on a Miami squad that is largely devoid of quality major league talent.
I have no doubt that Stanton's power will come—with more raw power than anyone in baseball, it's only a matter of time before he gets into a groove—and he is walking more often than he ever has before, something we all saw coming after the Marlins' latest fire sale.
Why would a team pitch to him? If I were a major league manager, my pitchers would put Stanton on base every chance they got, forcing—no, daring—someone else in Miami's lineup to beat my squad.
But that doesn't change the fact that Stanton, both for the Marlins' sake and his own psyche, needs to start producing at the plate.
J. Meric/Getty Images

2013 Stats: 8 G, .250/.400/.286, 0 HR, 1 RBI
Nick Swisher has been solid defensively at first base, but Cleveland certainly expected more bang for its buck offensively when it signed the affable 32-year-old to a four-year, $56 million deal this past winter.
He's getting on base often enough, drawing as many walks (seven) as strikeouts, but one RBI and eight total bases after eight games simply isn't going to get it done hitting cleanup in the Indians lineup.
The first month of the season isn't traditionally Swisher's strongest month, so there's reason to believe that the hits will start dropping with more regularity as the season rolls on.
That said, the fact that Swisher has as many RBI as leadoff hitter Michael Bourn is not the kind of initial impression Swisher wanted to make on Chief Wahoo or his tribe of Indians faithful.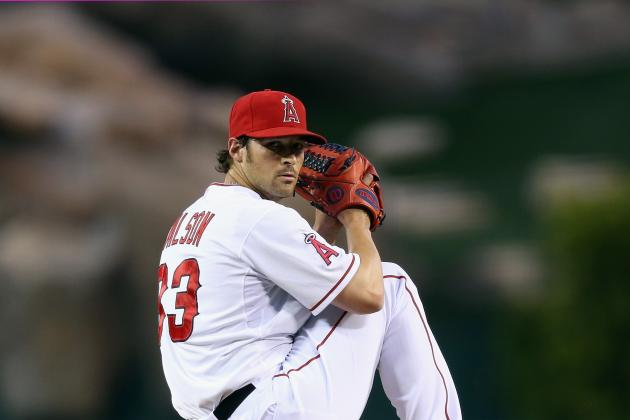 Jeff Gross/Getty Images

2013 Stats: 2 GS, 0-0, 5.25 ERA, 1.50 WHIP, 12 IP, 11 H, 7 BB, 11 K
With the ace of the staff, Jered Weaver, out for at least a month with a fractured left elbow, C.J. Wilson becomes Los Angeles' default ace, a role that, thus far, he has proven to be ill-equipped to fill.
As Gerry Fraley of the Dallas Morning News points out, Wilson has been terrible of late in an Angels uniform:
C.J. Wilson in his last 21 starts with Halos: 5-6, 5.02 ERA.

— Gerry Fraley (@gfraley) April 10, 2013
Wilson apologists will point to the fact that he needed surgery to remove bone spurs from his throwing elbow this past winter to explain away most of those numbers, but that doesn't explain why he's walking batters at an alarming rate in 2013—and it doesn't make his numbers this season look any better.
To be fair, the Angels offense isn't exactly helping the team's pitching staff find success—but that's even more of a reason why Wilson needs to raise the level of his game and pitch like the front-of-the-rotation starter that the Angels thought they were getting when they signed him prior to the 2012 season.