The Phoenix Suns 2008-09 Breakdown II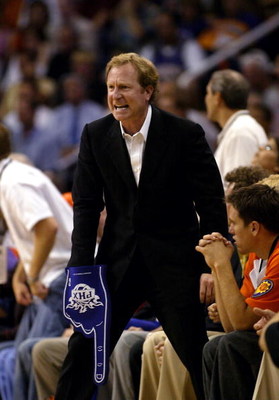 The Phoenix Suns are starting to think about next year. In the meantime it looks like Robert Sarver and Steve Kerr have no idea what to do.
Kerr gave some clues in his final press conference of the season saying, that the Suns had a big problem defending the pick and roll, and that they need a faster big man. Kerr also said Robin Lopez, their former draft pick, will hopefully fill that spot.
Kerr also noted that the first thing the Suns plan on doing is signing coach Alvin Gentry. Gentry did a very good job in the second part of the season, he had the Suns back to being the highest scoring team in the league, and the best part was that he gave the bench players good minutes so we can see what they can do.
So here the breakdown of the Phoenix Suns 2008-09 season.
Steve Nash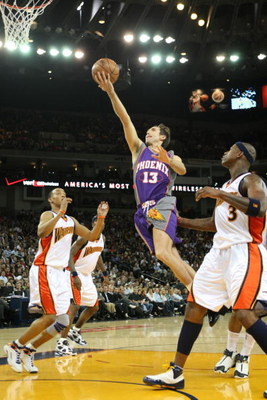 Why Stay?
He is still one of the best point guards in the league. If Coach Alvin Gentry stays, he knows that no one can run the "seven seconds or less" better then Nash. Also, Nash is still the best shooter in the NBA today.
Nash can still run and he still looks like he is in good shape. I believe he can play three to four more years.
Why go?
This season Nash will still be in demand, and if the Suns want to get a young replacement for the future then now is a good time. Also, Nash is not a good defender (understatement) and with all the athletic and young PG's out there today you can use a better defender.
Possible replacements—Jose Calderon, Baron Davis, Chris Paul (if N.O plans on letting him go so they can save money).
(Note: Steve Kerr said that Nash is the face of the franchise and that he wants him to finish his carrier in Phoenix)
Amar'e Stoudemire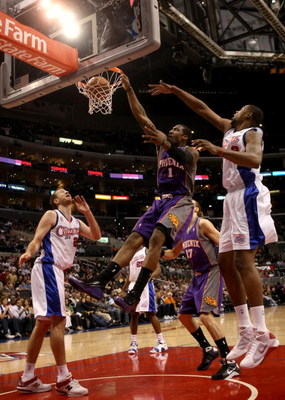 Why Stay?
Soudemire is one of the best offensive power forwards in the game today. He can shoot from long range and he can take any player one on one. Amar'e is perfect for the running game. A player his size, with his athletic abilities is not easy to find.
Why go?
For someone with Stoudemire's size and athletic abilities he should be a much better defender and rebounded. One of the things the Suns need so they can go all the way. They need someone who can grab rebounds and block shots, as well as help stop the pick & roll.
Stoudemire did not succeed doing that.
Possible replacements—Chris Bosh, Al Jefferson, David Lee, Rasheed Wallace, I know he is 35, but just think of him Rasheed and Shaq together.
(Note: Alvin Gentry love Amar'e and believes his perfect for the running game. But if Kerr gets a good offer he might take it)
Shaquille O'Neal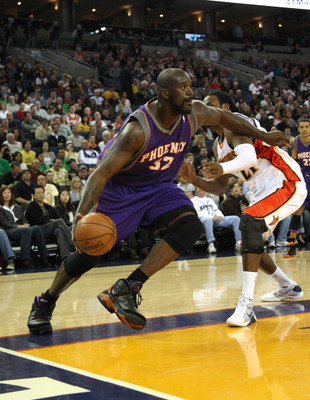 Why stay?
Shaq showed this season that he is still one of the most dominate centers in the game.
The Suns were able to run with Shaq on the court, Gentry even changed the phrase to "seven seconds or Shaq".
Shaq gives the Suns the option to play inside. He shot the highest percent in the league this season, and if he can keep it up one more season then the Suns will still have an inside offensive game.
Why go?
Shaq takes a lot of room up in the middle, it caused Amar'e to slowdown a bit. Nash also had problems driving to the hoop.
The big problem is his defense, Shaq was not able to help stop the pick & roll and he is not a great shot blocker or rebound man. He also has a big contract, if the Suns want to release some cap then they need to trade Shaq.
Possible replacement—Ben Wallace, Marcus Camby, David Lee, Emeka Okafor.
Notes: Shaq said he wants to "slim down," lose around 20 pounds so he can move better. He also had an amazing season. Gentry loves the possibility of running and playing Shaq inside if needed.
Grant Hill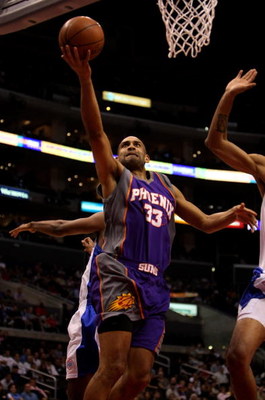 Why stay?
Hill had his best season, after many years of injuries, last year. He played in all 82 games this season. He was the best defender on the team, and he was not afraid to take the money shots when needed. If he can keep it up for one more year the Suns have to re-sign him. Hill is also the perfect veteran player you would want your young players to hang out with.
Why go?
Hill is not getting any younger, although he had a great season, and even at the end of the season he was looking sharpe, you can't guarantee that he can keep it up next year as well.
Possible replacements, money will need to be added—Vince Carter, Richard Jefferson, Tayshaun Prince, Shawn Maron.
Note: Hill wants to stay in Phoenix and most likely the Suns won't offer a rise, so hopefully he will stay.
Jason Richardson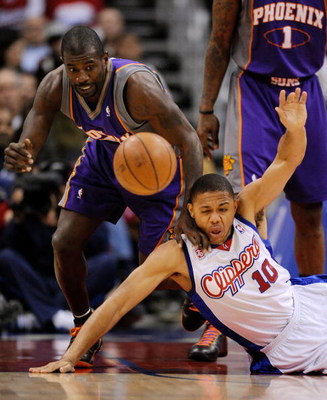 What stay?
Jason is young and he is an amazing scorer. He can create his own shot and can shoot from downtown. Jason is also good on the boards for a shooting guard and as we all know the Suns need men on the boards.
Why go?
Jason made some critical defensive mistakes that cost the Suns games. His defense is soft. The shooting guard needs to be a tough defender so he can help and backup Nash.
Possible replacements—Richard Hamelton, Vince Carter, Tracy McGrady, Jason Terry, Reja Bell, Richard Jefferson
Note: Richardson had two incidents this year, the Suns management where not happy about it. Also the Suns wanted better defense from him.
Matt Barnes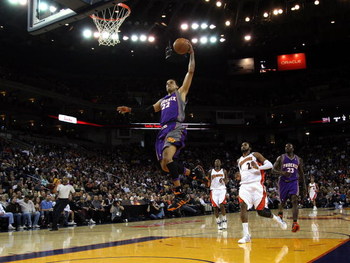 Why Stay?
Barnes had a good season, he shot well from three point range and averaged 5 rebounds a game. Bottom line is that he was good offense. Barnes is still young and has a lot to prove.
Why go?
Just like all other Suns players, his defense was not so good and he disappeared in many games offensively. He needs to play tougher. The Suns signed Barnes to the minimum contract for one year. Barnes had a good season and most likely will want a raise. There are good chances he will get them elsewhere. The Suns might not want to open their wallets next season.
Possible replacements—Shawn Marion, they will need to open the wallet big time, Tayshaun Price.
Note: Barnes will probably get better offers from different teams this year and the Suns won't be offering much more then they are giving today.
Louis Amundson
Why stay?
Amundson had a great season, he's a very physically player. He also was one of the best defenders on the team this year. The perfect player to come of the bench. He blocks shots, rebounds, and can finish hard on the fast break.
Why go?
Don't let him go.
Possible replacement—No one
Jared Dudley
Why stay?
He came in the middle of the season and got to play much more under Gentry. On the floor he proved to be a hard worker and a good three point shooter.
Why go?
Don't let him go. He's a perfect player for coming off the bench. He is young and can only get better.
Possible replacement—No One
Robin Lopez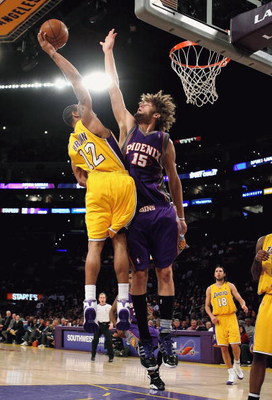 Why stay?
When Lopez got minutes from Gentry he showed that he can play good defense and can block shots. He just needs to improve his rebounding. He can be the center the Suns have been looking for, a strong big defender.
Why go?
Don't let him go, he is the perfect player for coming off the bench and is a future starting center.
Possible replacement–No one
Stromile Swift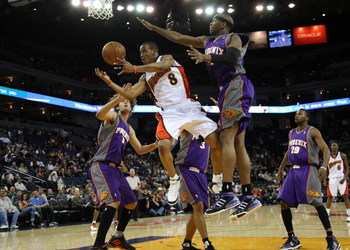 Why stay?
Swift has game, but has not yet shown it. The question is can Gentry bring it out of him? Swift has great athletic abilities and can block shots. He also has the ability to finish strong on offensive.
Why go?
Swift has not yet shown what he's got. The question is can Gentry get it out of him?
Alando Tucker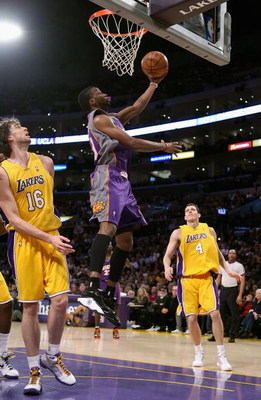 Why stay?
Tucker was injured most of the season and did not get to play much, hopefully he can get some more playing time and show us what he's got.
Why go?
Same as above.
Goran Dragic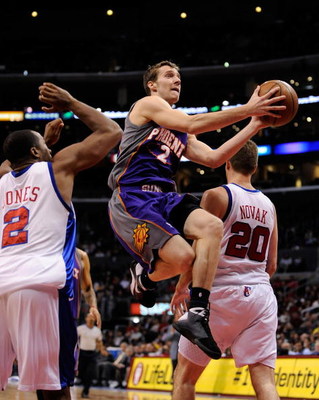 Why stay?
Goran has shown that he can play defensive, and is very athletic with long arms.
He just needs some more confidence. He has a good shot from all ranges. We have to remember that coming to Phoenix to be a future point guard of the team is a big thing, especially when you've had, Steve Nash, Jason Kidd and Kevin Johnson playing before you. Dragic has to bulk up and get some muscles on him if he wants to succeed.
Why go?
Dragic needs to bulk up. No other reason.
Keep Reading

Phoenix Suns: Like this team?