UEFA Champions League: Changes Barcelona Must Make vs. PSG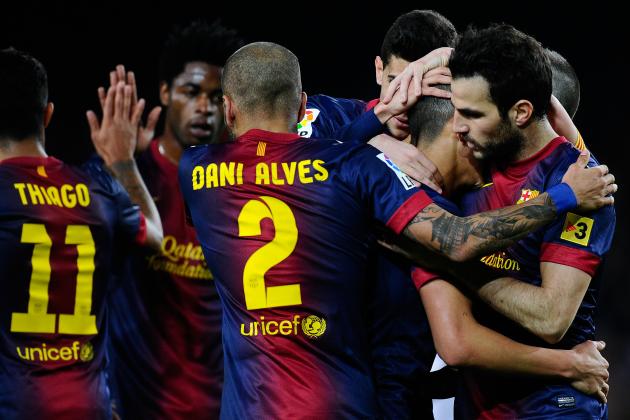 David Ramos/Getty Images

The pre-match hype to this week's Champions League match at the Camp Nou has so far focused on Barcelona's defensive conundrum and the availability of Lionel Messi, yet neither issue holds the key to this tie.
The Catalans are justifiably popular favourites to win this season's title, but their triumph hinges on necessary improvements following last week's efforts against Paris Saint-Germain.
Blaise Matuidi's deflected equaliser in injury time ensured Barca left the Parc des Princes with a bittersweet taste in its mouth.
"Bad luck" somewhat contributed to the underwhelming result, but it is said in football you create your own luck.
Tito Vilanova's men controlled the game for much of the night but lacked the tempo and intensity which allowed them to steamroll Massimo Allegri's AC Milan.
The Parisians might be down on away goals, but expect few changes from Carlo Ancelotti.
PSG do not need to go looking for their goal. Their chances will come—that much is guaranteed against Barca.
If the Blaugrana make the following improvements to their game, however, they will move one round closer to a final in Wembley.
Begin Slideshow

»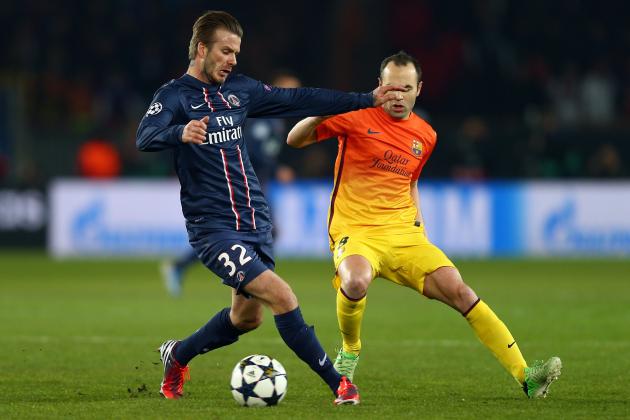 Clive Rose/Getty Images
Andres Iniesta moves in on PSG's David Beckham.
With the amount of possession Barcelona enjoy, you would be surprised how often they score on the back of a few quick passes after stealing the ball in the opposition half.
Other than Leo Messi's early corker, all of Barca's goals against Milan were scored in this fashion.
One or two passes. That's all it takes.
Pressing is key to Barcelona's cavalier tactical approach to football.
To use the Milan game as a useful comparison again, Barca managed eight interceptions and 10 tackles in the opposition half as they pressed high with great urgency at the Camp Nou.
In contrast, at the Parc des Princes they only managed two interceptions, both in an unthreatening zone by Dani Alves, and three tackles in PSG's half.
Winning early ball provides the likes of Xavi, Iniesta and Messi with space to work while their opposition is still reorganising.
Thus, pressing is not only the cornerstone of Barcelona's defence but also their offence.
The Blaugrana must work harder off the ball and get up in the faces of PSG's defence if they are going to force a breakthrough on Wednesday night.
Expect more intensity in front of the Camp Nou.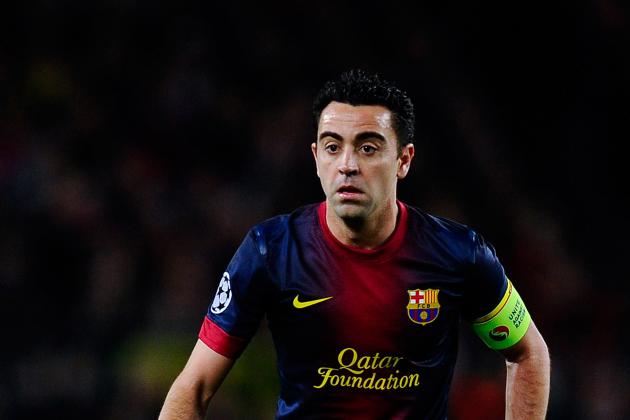 David Ramos/Getty Images
Xavi is key to Barcelona victory.
When asked why his team was able to dominate Milan in their 4-0 victory, Barcelona captain Xavi cited two reasons: their pressing and that they "moved the ball really well."
They did move the ball well—they moved it fast.
When Barca fans sit down to watch their beloved team play, they know what to expect. Barcelona's style is consistent and unchanging.
However, there is one thing that sets Barca's best games above the others: tempo.
When the Blaugrana are at their best, their midfield maestros are fizzing the ball about the pitch like a hockey puck.
Against PSG last week, Barcelona took too long to send the ball forward. The passing was not crisp enough and the transition between the lines not fast enough.
Equally visible was the fact that their conductor Xavi Hernandez was not fit.
Xavi's fitness the key
The Spanish midfielder, who had returned from international duty with a thigh injury, had rushed himself into this game.
The unfortunate truth is this is not an abnormality for Barca's No. 6. He simply plays too often for a veteran of 33.
In Paris, Xavi looked uninspired and often slow in possession.
While he completed 41 passes into the final third, none of these really penetrated.
If Barcelona are to up their tempo in the second leg, however, they have the right man to lead them.
No footballer on the planet can control the game as well as Xavi.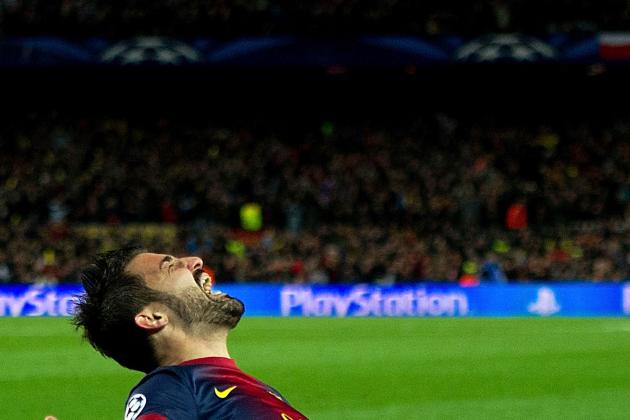 Gonzalo Arroyo Moreno/Getty Images
David Villa has been in fine form this year.
From a man who takes many touches to influence a game to another who needs very few.
Many doubted David Villa's place at Barcelona at the turn of the year, but recent performances have reminded all exactly what he has to offer.
David Villa is a natural goalscorer, and in and around the box, he is always a threat.
So where was he in the first leg against PSG?
I can confirm he was on the team sheet, but I personally lost him shortly after.
In all fairness though, the Asturian only needs to see the ball a handful of times, but they must be in the right area.
In the potential absence of Leo Messi, the likes of Fabregas, Iniesta and Xavi must find Villa moving into space in the box, because he will find the back of the net.
In all 12 games in which "El Guaje" has scored this season, Barcelona have won.
If Villa scores, Barca will win against PSG.
All stats courtesy of FourFourTwo Stats Zone, WhoScored.com and Soccerway.com.
What changes do Barca need to make against PSG this Wednesday? Who holds the key to victory? What will be the outcome?
Join the discussion below and join me on Twitter Follow @palabrasBarca