Every NFL Team's Best Draft Day Trade Chip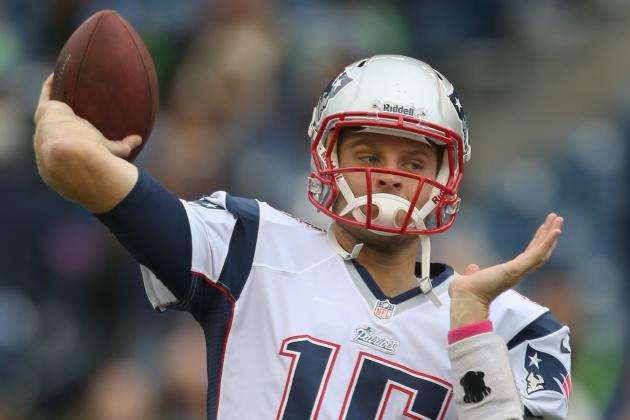 Otto Greule Jr/Getty Images

Trades are somewhat of a rarity in the NFL. However, during the draft, picks are dealt frequently. With the influx of exchanging picks, players are on occasion thrown into the fold to sweeten the pot.
Trading players is tricky based on the variance in scheme from team to team and the fact that teams are usually low on cap space when the draft rolls around.
There's no doubt that teams will shuffle around their picks come April 25th. So, in preparation, let's see what each NFL team's most valuable trade chip is.
Both players and picks can qualify as a trade chips. However, this slideshow isn't naming the most valuable trade commodities, so don't expect to see Julio Jones or Patrick Peterson listed. To be considered a trade chip on this list, the player must be logically expendable to his current team.
Without further ado.
Begin Slideshow

»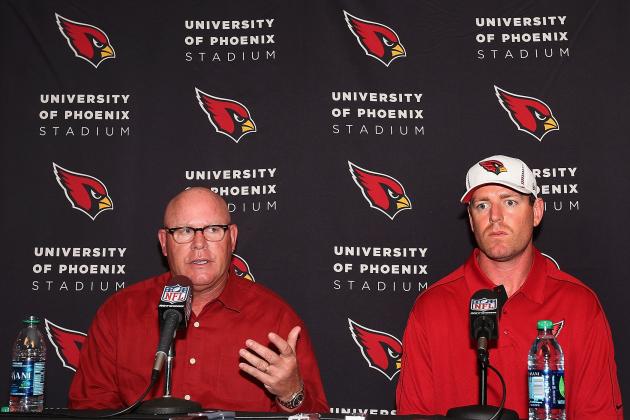 Christian Petersen/Getty Images

The Cardinals have been sending up smoke signals on their draft intentions all offseason. One minute, they love Matt Barkley, then Geno Smith; then they trade for Carson Palmer, indicating he will be their starter this season.
Before the Palmer acquisition, I would have argued that Larry Fitzgerald was Arizona's top chip, as letting him erode during a rebuilding process would be mutually detrimental. But after trading for Palmer, keeping Fitzgerald is now a must.
The Cards have more needs than draft picks (seven), so their best chip is the seventh overall pick. They could parlay it into a later first-round selection and a middle-round selection.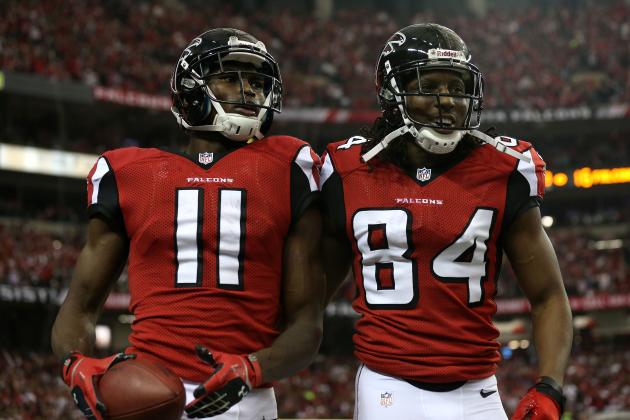 Streeter Lecka/Getty Images

Coming off the heels of hosting the NFC Championship Game, the Falcons have had a solid offseason.
The only positional weakness they have yet to address is defensive back. Even with Dunta Robinson and Brent Grimes on the roster, Atlanta let opposing teams back into games last season through their vulnerability defending the pass.
This year's stock of defensive backs drops significantly after Dee Milliner, whom Atlanta has no chance at drafting with their 30th pick. So, to either move up or acquire a starting-caliber corner, Atlanta might have to part with its best trade chip: Roddy White.
The 32-year-old White is facing the back nine of his career. He is still a sincerely talented receiver who could really benefit a team lacking a No. 1 target. Julio Jones clearly ascended as Atlanta's best receiver last season, and with Tony Gonzales returning and Steven Jackson complementing Jacquizz Rodgers in the backfield, Atlanta could continue its offensive prowess without White and would certainly improve by solidifying its secondary.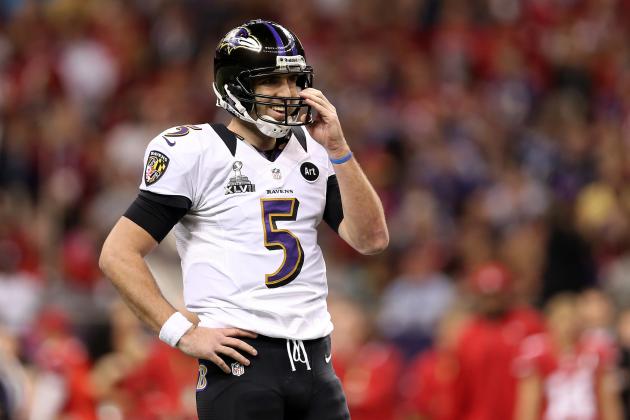 Christian Petersen/Getty Images

The Ravens need to add more youth to this roster before their salary cap is taken hostage by Flacco's outrageous contract.
They possess all of their draft picks and also the sixth-round selection they received from San Francisco in exchange for Anquan Boldin.
The Ravens' deepest position is running back, but in recent years the value for backs has plummeted, so it's highly unlikely Bernard Pierce or Ray Rice would draw much value.
Therefore, Baltimore's best trade chip is its pick at the bottom of the first round. The Ravens could use depth, and by trading their pick, they could get multiple picks lower in the draft.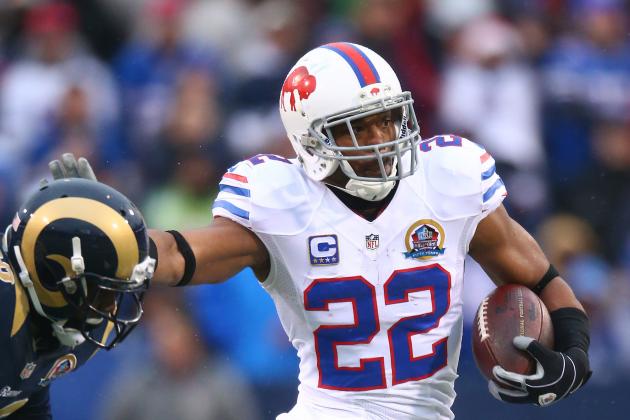 Tom Szczerbowski/Getty Images

Outside of C.J. Spiller and Stevie Johnson, who are both untouchable, Buffalo doesn't have a lot to offer.
As we approach the draft, it appears more and more likely that Buffalo is going to stuff its eggs into the rookie quarterback basket, disqualifying its eighth overall draft pick as its best trade chip.
As stated in the Ravens slide, running back value has depreciated significantly over the past few seasons, which hurts Buffalo's stockpile of solid running backs. Still, its best trade chip is Fred Jackson, a tough three-down back who missed most of last season due to injury.
While Jackson was injured, C.J Spiller stepped up and looked like Clemson-Spiller, breaking off big plays in both the running and passing games.
Jackson had a strong 2011 campaign, averaging 5.5 yards per carry. His durability is a significant issue, but due to Buffalo's depth and his cheapish contract, perhaps a veteran back of his caliber could draw a late-round pick.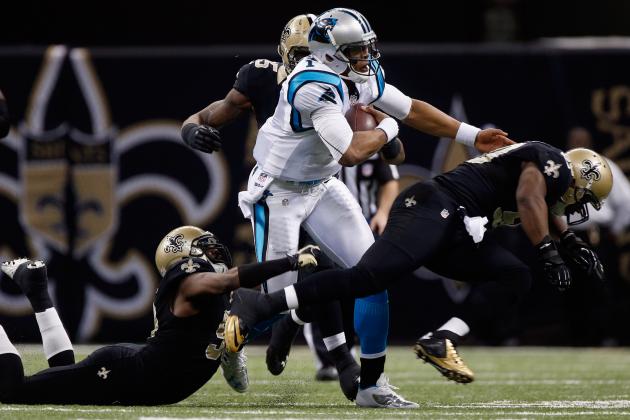 Chris Graythen/Getty Images

It's hard to find trade available trade commodities on the Panthers roster.
They have two over-paid, underachieving running backs, neither of whom would yield much in the trade market. Carolina has had a strong offseason so far but still has holes offensively it will need to address come draft time.
With only five draft picks, Carolina's best chip is its 15th overall pick. That is a good spot to be in when luring teams lower in the draft to move up in exchange for multiple picks.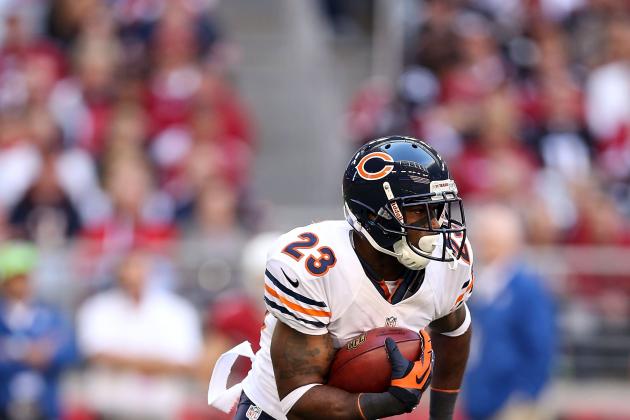 Christian Petersen/Getty Images

The Bears have been active this offseason, and with draft guru general manager Phil Emery at the helm, expect them to be active during the draft.
Chicago only possess just five picks after sending its third-round pick to Miami in the Brandon Marshall deal. I can see Emery dealing for a late-round pick.
How will it acquire such a late-rounder? Devin Hester.
The Bears have indicated that Hester will not reprise his unflattering role as a receiver and will instead be limited to the return game. So why not deal him?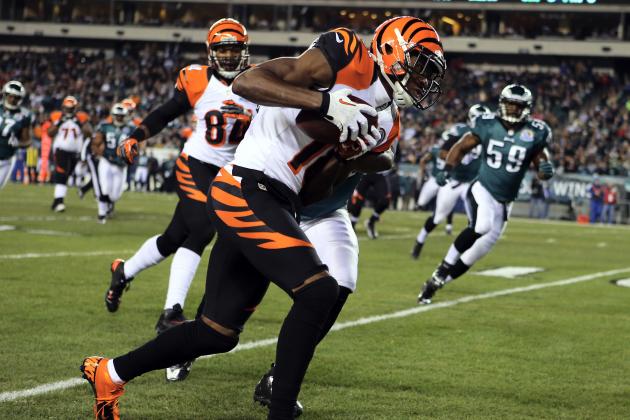 Elsa/Getty Images

The Bengals are sitting pretty entering the draft.
Via the heist they executed on Oakland in exchange for Carson Palmer, they have two second-round draft picks. The one they acquired from Oakland is their best trade chip.
It's the fifth pick in the second round, 37th overall, and could be used to catapult the Bengals up into the first round. They possess eight picks overall, so there is little reason for them to acquire more picks.
The 37th overall pick could also be prime territory for a team looking to add a quarterback, Matt Barkley and Tyler Wilson should be available, and Cincinnati could swap the pick for future draft picks.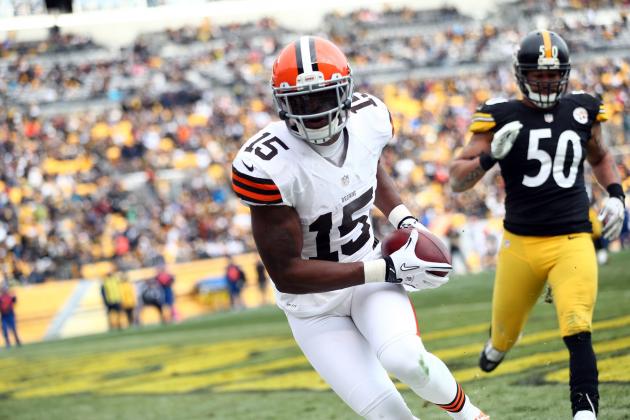 Karl Walter/Getty Images

The Browns are a quarterback away from being a solid team.
Even with the elder-statesmen-rookie Brandon Weeden, the youthful Browns were competitive last season. One of their budding young talents is Greg Little. Little employs a variety of talents that get him open against opposing coverages. The only problem is he struggles to catch the ball.
Little is still only 23 years old, and, historically, receivers have acquired hands through experience—see Terrell Owens. Yet the Browns should see what value Little holds during the draft. The already have a young receiving corps—Josh Gordon, Travis Benjamin, Jordan Cameron—and Little could be seen as a project for a different team.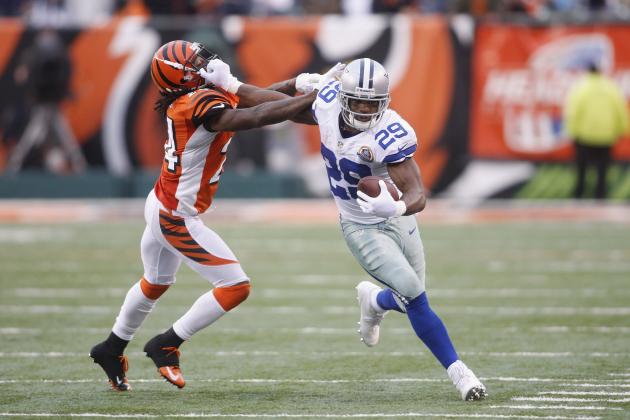 John Grieshop/Getty Images

The Cowboys struggled to maintain an offensive balance last season.
Romo and the passing attack were electric, ranked third in the NFL, but the rushing attack struggled mightily, ranking 31st in the league.
Now, a good deal of that disparity is due to the play-calling strategy of Jason Garrett. Because of this, the Cowboys' best trade chip is the multi-talented and oft-injured DeMarco Murray.
Murray certainly would command interest in the market, and the haul could add depth for the Cowboys, who are cap-stricken and could benefit greatly from some extra draft picks.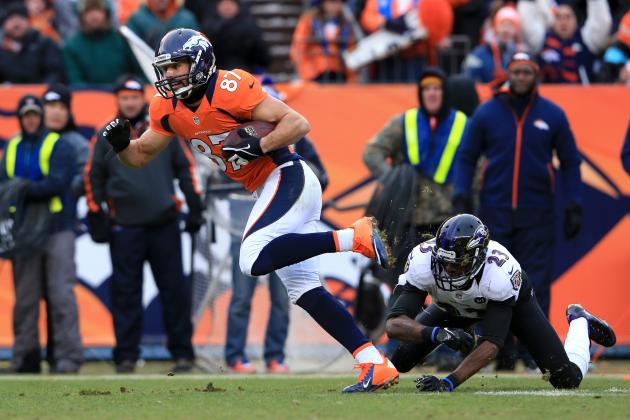 Doug Pensinger/Getty Images

Denver's acquisition of Tom Brady's favorite receiver Wes Welker was one of the most noteworthy transactions of this offseason.
The transition seems natural, as Wes Welker is a short-yardage assassin and Peyton Manning is sensationally accurate on intermediate routes. Furthering the seamless transition, both Welker and Manning are vertically challenged.
Welker's arrival makes Eric Decker expendable. Decker now finds himself as the third option for Manning, and Denver could trade him for a middle-round pick.
Before you start shouting at your computer screen thinking that it would be insane for any team to offer a mid-round pick for Decker after Anquan Boldin drew only a sixth-rounder, remember that Boldin was due $6 million, whereas Decker is on the books for just $1.5 million.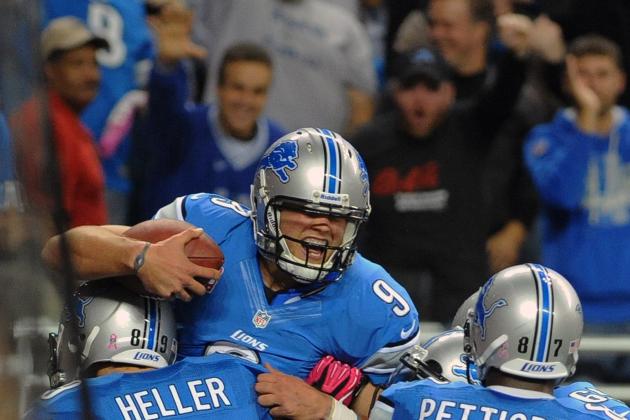 Al Messerschmidt/Getty Images

The Lions were the best bad team last season, losing nine of their 12 games by one score or less.
The Lions have talent on this team, hence their best trade chip is the fifth overall pick.
This pick could be tempting to a handful of teams drafting behind the Lions who might feel it necessary to jump up ahead of Buffalo and Arizona to secure a quarterback or to select Star Lotuletei, Sharrif Floyd or any other falling prospect.
The Lions could move back into the first round and add additional picks this year and/or in the 2014 draft.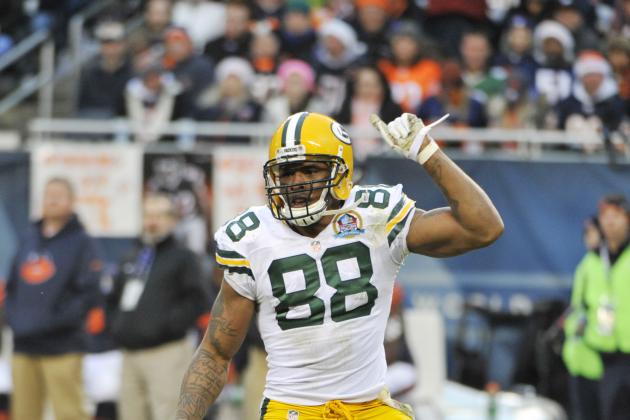 David Banks/Getty Images

Maybe the Packers were too busy negotiating the contract extension for Aaron Rodgers and didn't realize it, but Jermichael Finley received a $3 million roster bonus on March 27th.
Given his propensity for drops, the wealth of surrounding talents Green Bay possesses and the many holes the Packers have defensively, it was surprising that they didn't move him prior to March 27th.
The past is the past, but Finley still is the Packers' greatest trade chip and could retrieve solid compensation.
If Dr. Frankenstein entered the tight end-creation business, Jermichael Finley would be the result. He has all the physical tools; he just seems to lose focus and, by result, his hands on occasion.
However, his focus could be stimulated if he was the primary, or even secondary, focus of an offense. There are a handful of teams where he would be a logical fit—Cleveland, Tampa Bay, Philadelphia, Carolina, Houston, Oakland and either New York team, to name a few.
Scott Halleran/Getty Images

The Texans' 2012 season ended once again in the divisional round of the playoffs, which is indicative of their recent team stability but also of an apparent stagnation.
When a team reaches this level of playoff stagnation, it's time to change things up.
For Houston, this could mean altering its offensive scheme slightly. With this goal in mind, the Texans' best trade chip is Ben Tate.
The 24-year-old back had an impressive rookie season—942 yards and 5.4 yards per carry—and, when healthy last year, ran well. Arian Foster's continued excellence makes Tate both expendable and valuable.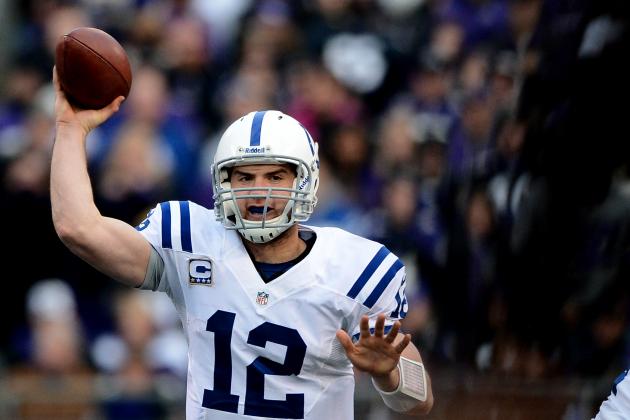 Patrick Smith/Getty Images

The Colts have a mere four draft picks this season.
This isn't a significant detractor, as the Colts are one of the youngest teams in the league, but still, Indianapolis could benefit from adding some picks. Their first pick comes at the 24th slot, and it is their best trade chip.
That pick could draw the Colts multiple mid-round picks if Indianapolis chooses to move back in the draft, which would allow it to add some needed defensive depth.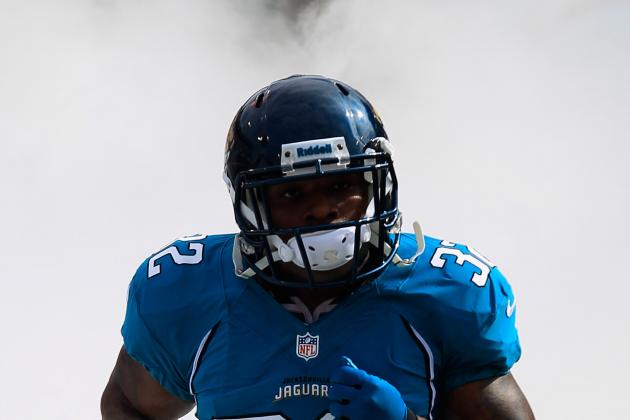 Chris Trotman/Getty Images

It is difficult to project Jacksonville making significant gains in 2013.
The Jaguars have some good young talent, but not enough to emanate much confidence. And when you don't have many expectations, you may as well deal your older talent.
Maurice Jones-Drew's discontent has been documented over the past few years. In 2012, the Pro Bowler ran well, gaining 4.8 yards per carry in limited action—just 86 carries.
Jones-Drew is 28, which is old for a running back, but he certainly could return some late-round draft picks for this young, directionless team. His departure could allow some younger backs to develop—hopefully ones that weren't on the roster a season ago, as the collection of Jones-Drew replacements all struggled in 2012.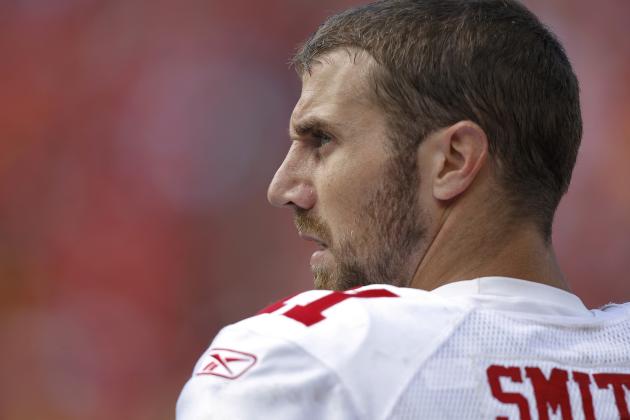 Joe Robbins/Getty Images

The Chiefs aren't entirely in rebuilding mode.
Their acquisition of Alex Smith is the indication. They could benefit from using their first overall selection, possibly on a talented left tackle in Luke Joeckel, but adding multiple pieces might be their best play.
By trading the first overall pick, the Chiefs would get a pick farther back in this year's first round and perhaps multiple additional picks or a future first-round selection.
The first overall pick was incredibly valuable in 2012 and certainly isn't as valuable this season, but it is still Kansas City's best trade chip.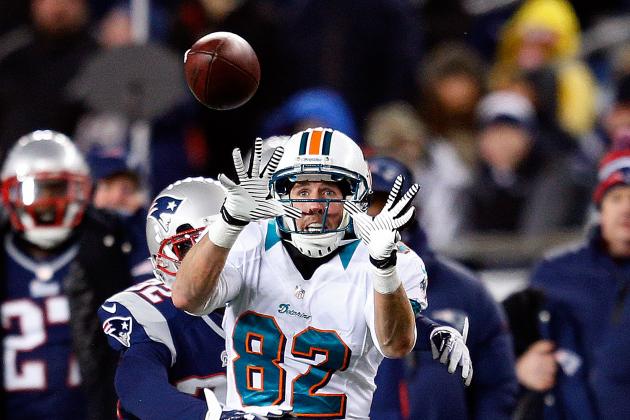 Jim Rogash/Getty Images

Catapulting off a spendy offseason, the Dolphins have nine draft picks. I'm going to cheat a bit here and say their best trade chip is the quantity of middle-round picks.
The Fins maintain a wealth of picks in the early rounds—two seconds, two thirds and a fourth—and could parlay the combination of a few of them to jump back into the first round.
Miami could still use some help offensively, and if it sees a player on its board slipping late into the first round, it possesses plenty of ammunition to move up and grab him.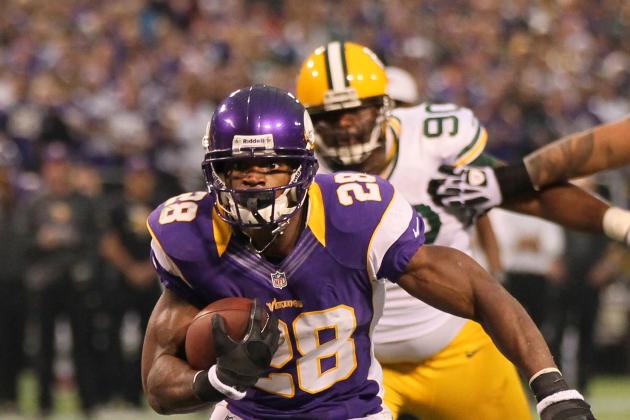 Andy King/Getty Images

The Vikings are tied with San Francisco for the most picks in this year's draft with 11. After a strong draft class a season ago highlighted by Harrison Smith, Matt Kalil and Jarius Wright, Vikings fans should feel confident in their impending draft.
Their best trade chip lies in their two first-round picks—the 23rd and 25th overall picks—that, in combination, could elevate them much higher in the draft. With needs at corner and linebacker, Minnesota could make a play on Dee Milliner—though that would likely cost more than its two first-round picks—or Xavier Rhodes.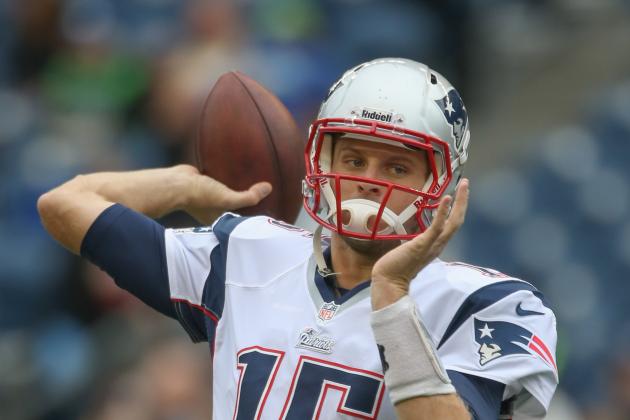 Otto Greule Jr/Getty Images

We all knew that when the Patriots drafted Ryan Mallett, it wasn't with the intention of replacing Tom Brady. It was to pull a Matt Cassel: develop and trade.
Now is the time for New England to deal Mallett, as the league has a need at quarterback and a lackluster class of rookies to address the need with.
Mallett is a pocket quarterback who has a rocket launcher for a right appendage, and his time in the NFL has silenced many of the personality concerns surrounding him.
He is untested, but historically, teams rename the lack of experience as "potential"—see Matt Flynn and Kevin Kolb. The former Arkansas Razorback would be a great fit to immediately start in Cleveland, Jacksonville or New York (Jets). Mallett would be valuable to compete for the starting job in Tampa Bay, Tennessee, Arizona, San Diego or Minnesota.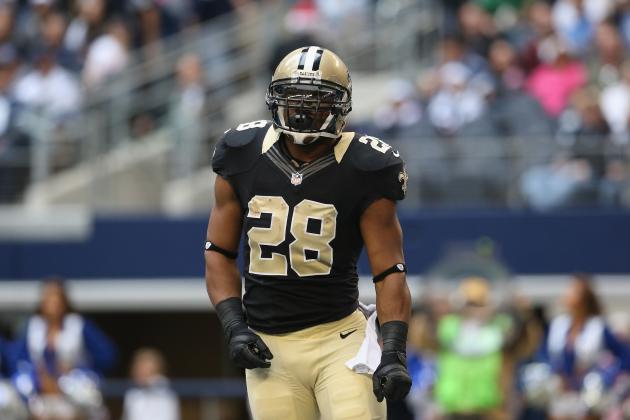 Ronald Martinez/Getty Images

The Saints are chomping at the bit for the 2013 season to begin so they can wash the sour taste of the 2012 season out with the reunion of Sean Payton and Drew Brees.
The Saints, much like Dallas and Detroit, place little value in running the football. So, as much as it will hurt them to admit their drafting failure, the Saints' best trade chip is the former Heisman Trophy winner Mark Ingram.
Ingram hasn't been spectacular since entering the league in the 2010 draft, but I think fit could be a significant factor in that. He's a power back with girth, a complete contrast to Darren Sproles, who is the Saints' prototypical running back.
Ingram won't return New Orleans the first-round pick it used on him, or even a second or third, but could bring the Saints a strong mid-round pick if dealt to a system he fits into.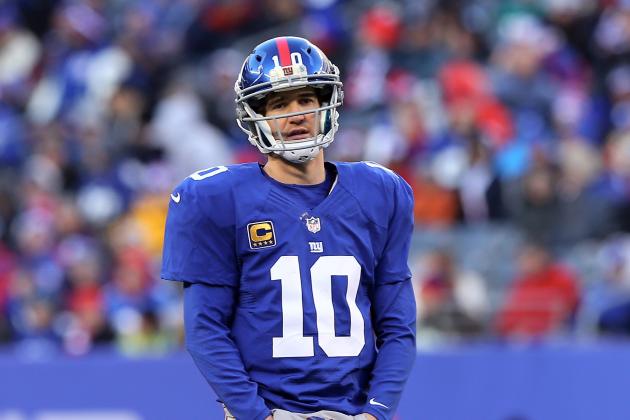 Elsa/Getty Images

It's difficult to find a player on the Giants' active roster that they would be willing to trade. So their best trade chip is the 19th overall selection.
The Giants have seven draft picks this year and could swap the 19th to move back a few slots in the first round and gain either a mid-rounder this season or next.
The Giants lack significant need at any one position, so they would benefit from stockpiling picks and drafting for value.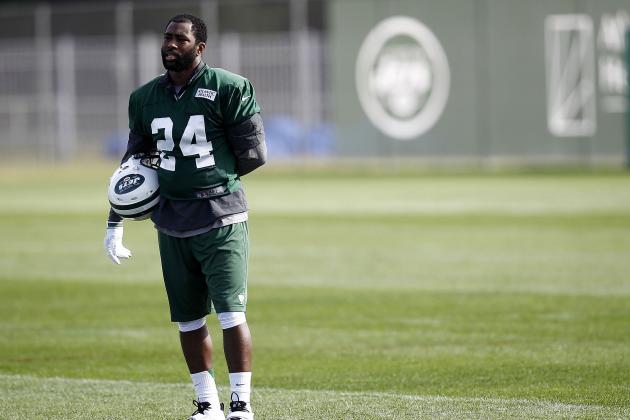 Jeff Zelevansky/Getty Images

Any followers of Tim Tebow shouldn't hold their breath, because he is not their most valuable trade chip—it's Darrelle Revis.
How valuable Revis is seems to fluctuate by the day. Since the Jets started shopping Revis Island earlier this offseason, their rumored expected haul has been variant.
The Jets have little choice but to trade Revis. Like spilled milk, the damage is already done.
New York, in the grievous fashion that only the Jets are capable of, have done an atrocious job of marketing Revis, as their intention to trade him has been shockingly public.
Revis has a gentle ego as we all know, and hearing a new report each day about the Jets' failed attempts to trade him can't be sitting well with the All-Pro corner.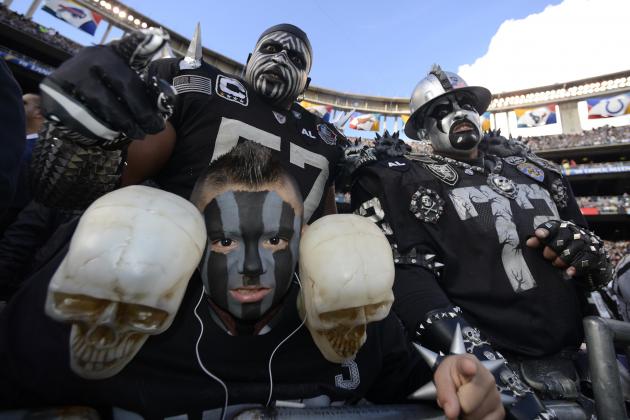 Donald Miralle/Getty Images

I was surprised how little the Raiders received for Carson Palmer.
Their overall swap of Carson Palmer for Matt Flynn may work out, but only time will tell. Whoever loses the quarterback competition between Flynn and Terrelle Pryor holds trade value, but until that battle plays out, Oakland needs both.
So, in turn, the Raiders' best trade chip is their third overall draft pick. The Raiders will likely use the pick, but if they consider trading the pick, it could bring them value in return, as Oakland has a litany of positional needs.
Among said needs is an entire defense, a receiver, and a few offensive linemen. I would like to see the Raiders take Milliner with the third pick, but it is their best trade chip nonetheless.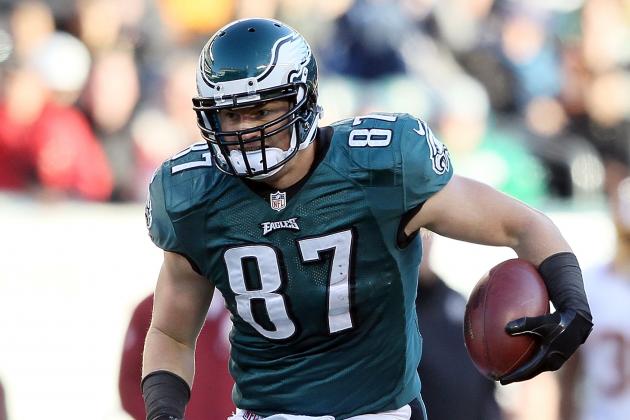 Alex Trautwig/Getty Images

The Eagles have nine draft picks to add depth to Chip Kelly's first roster.
Considering their signing of the dynamic tight end James Casey, the Eagles' most expendable and valued trade chip is Brent Celek.
Celek is a strong possession tight end, bringing down 57 receptions for 583 yards in 2012, but his athletic limitations minimize his value to the Eagles, who, under Kelly, will run a similar offensive scheme to the one he employed at the University of Oregon.
Celek won't bring the Eagles a high pick, but the league values tight ends, and Celek could be a good acquisition for a team more fitting to his skill set.
In combination with one of Philadelphia's nine picks, trading Celek could move the Eagles up in the draft.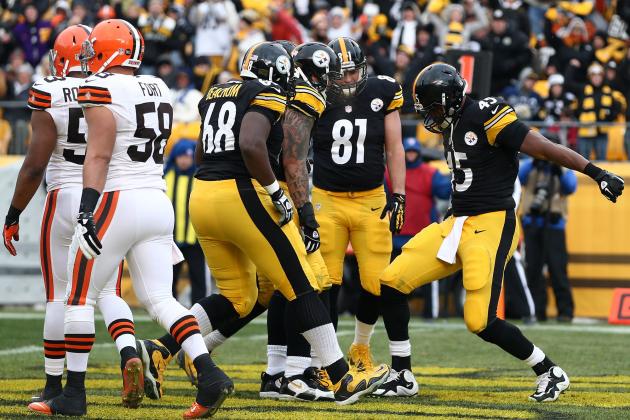 Karl Walter/Getty Images

The Steelers need to have a strong draft to compensate for losing Mike Wallace, James Harrison and Keenan Lewis.
There isn't a non-essential player on the Steelers roster that holds value, so the Steelers' best trade chip is their 17th overall pick.
Pittsburgh possesses seven draft picks and, after missing the playoffs in 2012 and losing starters from last season via free agency, could benefit from expanding its number of draft selections.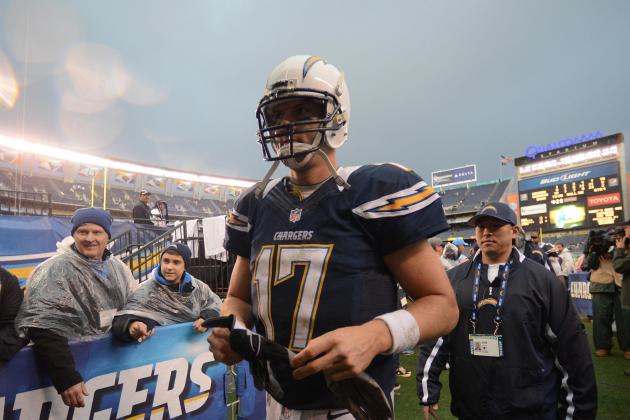 Donald Miralle/Getty Images

If this draft had a better crop of quarterbacks, I would say Philip Rivers is San Diego's best trade chip. However, it doesn't, and the Chargers would have no one to replace his diminishing talent with.
So, the Chargers' only real trade chip is their 11th overall draft pick, which is situated right in quarterback alley. Quarterback Alley is the range of first-round picks from 8-14 where teams historically panic and reach on quarterbacks after watching signal-callers going ahead of them. Ryan Tannehill (8), Jake Locker (8), Blaine Gabbert (10) and Christian Ponder (12) are recent examples.
If the Bills take a quarterback eighth overall this year and start the run on quarterbacks, expect teams behind the Chargers to inquire about trading with San Diego to move up in the draft.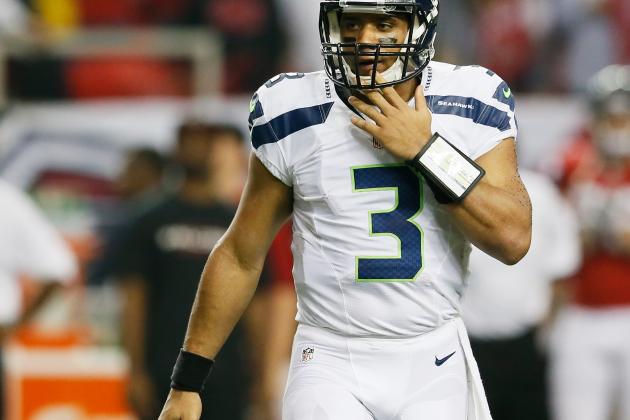 Kevin C. Cox/Getty Images

Seattle's fantastic offseason was further improved when it dealt its best trade chip, Matt Flynn, to Oakland last week.
Following the deal, the Seahawks now have seven draft picks, none of which are in the first round.
With Flynn gone, the Seahawks' best trade chip, considering their lack of glaring needs, is their highest draft pick—the 24th pick of the second round.
There would be little reason to add picks this season, but if a good enough offer with 2014 picks is presented to Seattle, you might see it move back.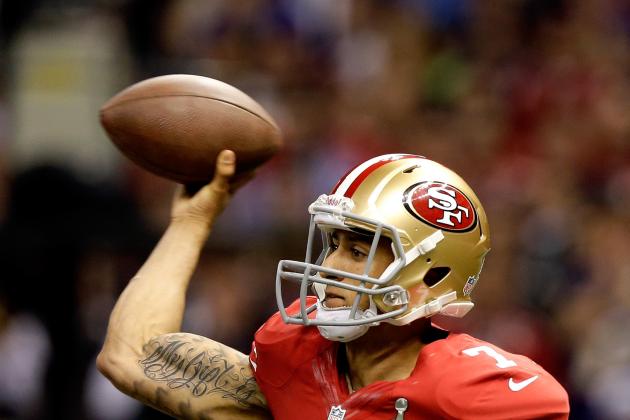 Ezra Shaw/Getty Images

It is frightening that the 2012 runner-up has 11 draft picks. Of its stockpile of picks are two second-rounders and two third-rounders.
Like the Seahawks, the 49ers traded their best chip when they sent Alex Smith to Kansas City for a second-rounder, leaving their best current chip as the 31st pick in the second round.
With the 31st and 34th overall picks, the 49ers will be able to secure two high-value picks, leaving flexibility with the late-second-round pick. With this pick, San Francisco could begin building its 2014 draft arsenal.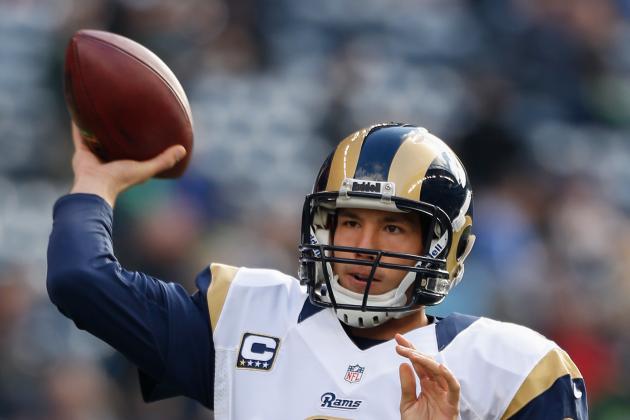 Otto Greule Jr/Getty Images

The Rams have two first-round picks as a result of trading the 2012 second overall pick to Washington, which, of course, became RGIII.
The Rams really overachieved considering their talent a season ago, so I wouldn't recommend they trade either of the picks, but their best chip is the two picks.
Like the Vikings, the Rams' two mid-first-round picks could be parlayed into a higher first-round pick.
Kevin C. Cox/Getty Images

Tampa Bay appears to be the eventual landing spot for Darrelle Revis, though the fact that the trade still hasn't been brokered might worry Buccaneers fans.
Tampa must get Revis at this point, without over-paying, of course, as they have let Roy Miller and Michael Bennett leave for the apparent purpose of reserving cap space for Revis.
The losses of Miller and Bennett will bring about a decline in Tampa's staunch run defense, but Revis could alleviate those concerns by significantly improving its hideous pass defense.
Tampa's best trade chip is its 13th pick, which ProFootballTalk indicates will be used to lure away Revis.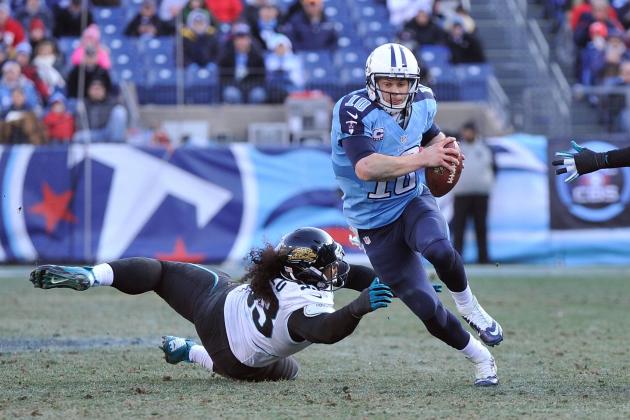 Frederick Breedon/Getty Images

Like the Chargers, the Titans own prime Quarterback Alley real estate with the 10th overall pick, and that is their best trade chip.
The Titans have to put their faith behind Jake Locker for a full season to decipher whether or not he is the guy they drafted in Quarterback Alley in 2011—which they appear to have done by axing Matt Hasselbeck and bringing in the reliable yet un-threatening Ryan Fitzpatrick.
The Titans could swap the 10th pick for a later first-rounder and a mid-round pick.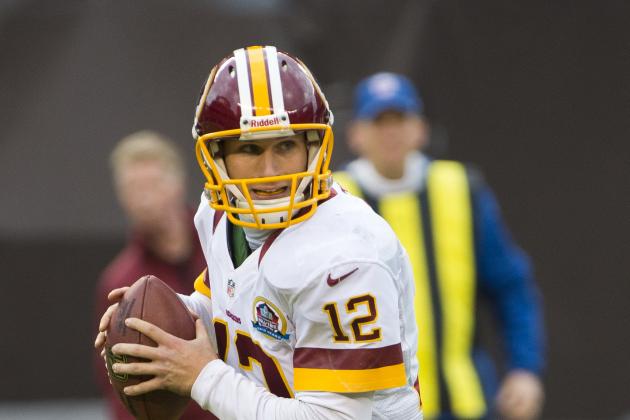 Jason Miller/Getty Images

It might be too risky for the Redskins to trade their best chip, Kirk Cousins.
Adrian Peterson's superhuman recovery has spoiled sports fans into expecting RGIII to make a similar recovery from the same injury. This, of course, could have unsettling consequences.
Kirk Cousins played very well last season in relief of RGIII. As noted in multiple slides earlier, quarterback is a serious need in the overall landscape in the NFL, and Cousins is among the most valuable backups along with Ryan Mallett.
Trading Cousins is risky because Washington can't be certain that RGIII will recover fully. If it trades Cousins and Griffin isn't ready at the start of the season, Washington will have to look to either Pat White or Rex Grossman, neither of which should inspire much confidence.