Predicting Results in the Premier League Race for the Champions League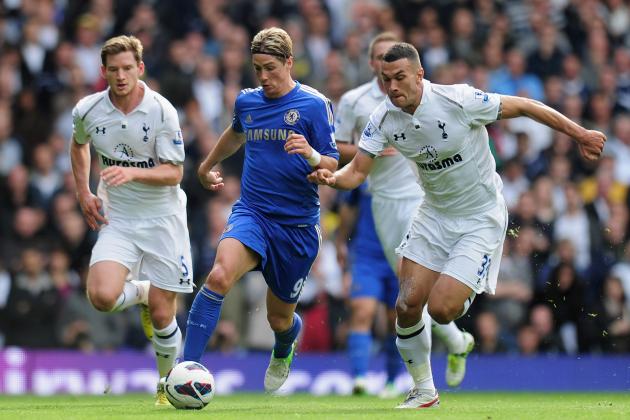 Shaun Botterill/Getty Images
Who will win the race for a top four place?
We're another week closer to the finish of the Premier League and the identity of the top four is no clearer after the latest round of fixtures.
Tottenham were the main losers from the piece after dropping two points in an ultimately winnable game with Everton, and their position is further weakened by the absence of Gareth Bale.
Andre Villas-Boas' side haven't won a match in which Bale hasn't scored since January, and next up they face a resurgent Manchester City at White Hart Lane.
Chelsea were less than convincing in a narrow 2-1 win over Sunderland on Sunday, but unlike Spurs, they did what mattered and are grinding out results at the right time of the season.
Currently floating along nicely in fifth are Arsenal. With no other commitments, Arsene Wenger's boys have chalked up 21 points from a possible 27 since losing to Chelsea at Stamford Bridge, and the Gunners can also lay claim to possibly the friendliest remaining fixtures of the three clubs.
Yet all of the Champions League chasers have been prone to trips and falls over the course of the campaign, so who can hold their nerve to clinch one of the two remaining spots?
I take a look at each club's remaining games and predict who will pick up what points, and how that will have a bearing on the final standings.
I'm not Nostradamus, so it's unlikely I'll be calling each of the 19 games exactly right. Let me know how you see the race going and which of the three will claim the places.
Begin Slideshow

»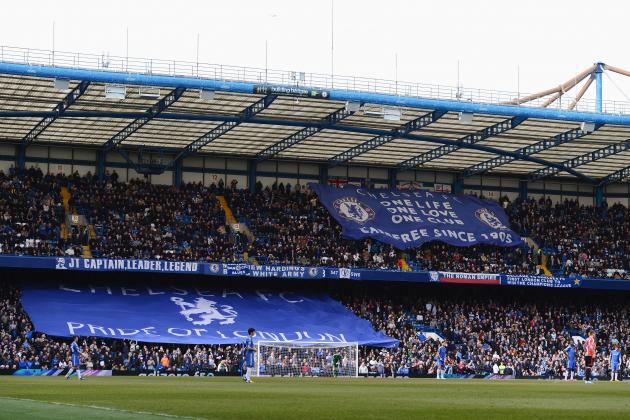 Mike Hewitt/Getty Images
Can Chelsea prolong their Champions League run?
Current Position: 3rd (Played 31, Points 58, GD +27)
At present the Blues have a healthy goal difference advantage over Tottenham—with a game in hand—and sit two points above Arsenal, but their assault is made all the more complicated by a hectic schedule, which shows no sign of easing.
If Chelsea advance in either cup competition they're still in, then games against Aston Villa and the crucial Tottenham clash will still need to be assigned a date, and three games a week until the close will have effects on a squad which has been light since the start.
By my reckoning Rafa Benitez's side will only need to pick up 11 or 12 points to secure a top-four berth, so where will they come from?
Fixtures:
Fulham A 17/4
Chelsea make the short trip across west London to play Fulham a week on Wednesday—just three days after their FA Cup semifinal with Manchester City.
The Blues have only won two of their last 10 away fixtures, and they were to Middlesbrough and Sparta Prague.
Playing on a heavy Wembley surface won't do any favours to weary limbs, and although Fulham have little to play for, I can see the Cottagers giving as good as they get and claiming a draw.
Prediction: Draw (59 points)
Liverpool A 21/4
Chelsea don't have a particularly good recent record against Liverpool anywhere, let alone at Anfield.
The noise from the Kop will be cranked up for Rafa's return, and the Blues will also more than likely have a Europa League semi to come a couple of days later.
The Reds are still in the hunt for a European finish themselves, and given Chelsea's limitations on Merseyside and a volume of games, I'm going for a home win here.
Prediction: Liverpool win (59 points)
Swansea City H 27/4
With the greatest respect to Swansea, this is probably Chelsea's easiest match of the run-in and one they have to win.
With the potential for dropped points lurking all around, the Blues must claim maximum against mid-table teams at home—even if the Swans visit will likely sandwich two Europa League semis.
Michael Laudrup's men have little to play for and Chelsea will be keen to avenge the 2-0 Carling Cup loss here at the beginning of the year.
One game Chelsea cannot afford to even draw, and I think they'll win.
Prediction: Chelsea win (62 points)
Manchester United A 4/5
The Blues will be hoping United would have wrapped the title up by the time they meet with the Reds, having four games prior to this to pick up the necessary 10 points.
Either way, Chelsea have good memories of playing at Old Trafford, and with the heat off Sir Alex Ferguson's side, I think the visitors could claim a vital draw despite probably playing the second leg of the Europa League semi just a few days before.
Prediction: Draw (63 points)
Tottenham H 8/5
If either Tottenham or Chelsea progress from the Europa League quarters, it's looking like their crucial meet will be played on May 8th.
This could be the game which swings the whole thing, with a win for either side giving them a huge advantage over the other.
Spurs will be desperate for Gareth Bale to be back for this one, but even still I think they're running out of legs and haven't won at Stamford Bridge for over 20 years.
I think on home turf Chelsea have enough quality and know-how to nick a vital three points in a result which should seal their place in the top four.
Prediction: Chelsea win (66 points)
Aston Villa A 12/5
It might be jumping the gun a bit, but if Chelsea get to the FA Cup and Europa League finals, then this game will pose a real problem for the Premier League fixture schedulers.
The FA Cup final is due this weekend, with the Europa League final on the following Wednesday and the final game of the season on the Sunday after that.
Regardless, the Blues haven't picked up many victories at Villa Park down the years, and Paul Lambert's side could still be in a dogfight to stay up.
This is the sort of game where Chelsea need to wrestle a win and—even considering other fixtures—I think they will.
Prediction: Chelsea win (69 points)
Everton H 19/5
If it comes down to the final game of the season, then Chelsea should beat Everton at home.
The Toffees will already have packed their suitcases for their summer holidays, and the Blues will need one last hurrah to push them over the line.
A draw may be good enough, but I think Chelsea will claim the maximum to secure that top four spot.
Prediction: Chelsea win (72 points)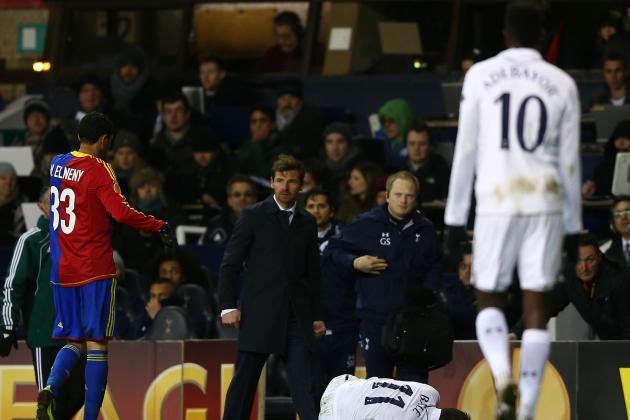 Paul Gilham/Getty Images
Will Bale blow cost Tottenham?
Current Position: 4th (Played 32, Points 58, GD +15)
Gareth Bale's goals have been the catalyst for Tottenham's push all season, so they will now have to prove they can get results without their Welsh wonder.
Andre Villas-Boas' men haven't won a game in which Bale hasn't scored since New Year's Day, and with one win in six, their form is deserting them at the wrong time.
Bale's initial diagnosis isn't as bad as first feared, and he's likely to be back to bolster his side's hopes of securing the Champions League spot which so often cruelly avoids them.
Spurs could be better served going out of the Europa League this week, but either way they need to rally without their star man and start picking up some points.
Fixtures:
Manchester City H 21/4
The Citizens have slipped up on the road a few times of late, but they were back on song against Manchester United on Monday.
With their title virtually gone, Roberto Mancini's men can play with freedom, and that makes them a dangerous proposition.
Three successive home draws will have increased the tension around White Hart Lane, and I can see City adding to that with a win.
Prediction: Manchester City win (58 points)
Wigan Athletic A 27/4
Predicting games with Wigan involved is a mugs game, so I'm really shooting into the dark here.
Tottenham could have the first leg of the Europa League semi a few days before this, but even if they don't, trips to relegation-threatened Wigan are always tough.
If the Latics click then they could well win, but they're just as likely to get it horribly wrong.
As per, much will depend on if Bale's back and fully fit, and taking all into consideration, I'll be sitting on the fence.
Prediction: Draw (59 points)
Southampton H 4/5
The Saints have been on a hot trot in recent weeks, and a couple of winnable games prior to this may mean they're well clear of the drop zone.
That's probably the best case scenario for Spurs, but they'll need to get a grip and win this game regardless of any exterior factors.
This is a very presentable opportunity to keep the pace up, and one I think they'll take.
Prediction: Spurs win (62 points)
Chelsea A 8/5
I hate the term, but this really is a six-pointer.
A win for either will probably finish the other off, but out of the two, Chelsea would probably be better suited with a draw.
They've got the better goal difference, a game in hand, form and fitness and some decent fixtures on their side, so Spurs will probably need to win at a ground where they haven't tasted success since Nelson Mandela was in prison.
The best I can see them getting is a draw, and I don't even think they'll get that.
Prediction: Chelsea win (62 points)
Stoke City A 12/5
Stoke's hideous run of form in 2013 has seen them pulled into the relegation scrap, so a trip to the Britannia will be high on nobody's list of favoured destinations.
The Potters will need to rekindle some of their fighting spirit of yore to pull away from danger, and it won't be pretty.
Spurs could potentially be in the Europa League final a couple of days after this, which makes Stoke an even more perilous proposition, but with Bale in toe I think AVB's men will just about have enough to get the result.
Prediction: Spurs win (65 points)
Sunderland H 19/5
If things go the way I've predicted, then even a win at home to Sunderland on the last day could be academic.
Paolo Di Canio looked to have shaken some life into the Mackems at Chelsea on Sunday, yet they still ended the afternoon in the bottom three.
The relegation battle will go right down to the wire, meaning Sunderland could need something to stay up. But Spurs need the points as much as they do and should be good enough to beat a very poor team.
Prediction: Spurs win (68 points)
Michael Steele/Getty Images
Giroud points the way towards the top four
Current Position: 5th (Played 31, Points 56, GD +27)
At present Arsenal are technically third in a three-horse race, but they have none of Chelsea's fixture concerns or Tottenham's injury and form worries.
Jack Wilshere has been out, but that hasn't stopped the Gunners winning six of their last seven league games to nestle in nicely behind the pack.
Arsene Wenger's side have become used to eventually landing a top-four finish, and on paper they have the easiest itinerary of the lot.
So how will they fare?
Fixtures:
Norwich City H 13/4
On recent form this has to be considered a dead cert, and I can't see anything other than a comfortable Arsenal win.
Norwich aren't in any immediate relegation danger, and they'll probably pick up enough points elsewhere to survive.
But they won't get anything here, and Arsenal will.
Prediction: Arsenal win (59 points)
Everton H 16/4
As they demonstrated at the weekend, Everton have the ability to get results at grounds of teams above them, and this won't be a walk in the park for the Wenger Boys.
David Moyes' side are always competitive, and they will be eyeing a sixth-place finish with the potential of a Europa league spot.
But Arsenal have found a groove and have a very strong home record against Everton.
Prediction: Arsenal win (62 points)
Fulham A 20/4
Craven Cottage isn't exactly the most daunting venue on the circuit, and by the time this game comes around, Fulham may be counting down the days until they're on the beach.
Arsenal have won five of their last six away in all competitions and should have Jack Wilshere back in the fold soon enough.
The Gunners have had a few scrapes against the Cottagers in recent seasons, and that could mean they're pegged back for a point.
Prediction: Draw (63 points)
Manchester United H 28/4
Depending on how other results go, Manchester United could tie up their 20th league title with a win at the Emirates.
Sir Alex Ferguson would love nothing more than securing the Premier League crown on Arsene Wenger's doorstep, and with both clubs having spacious fixture lists before then, this could be a feisty throw back to the old days.
United aren't in full flow at the moment and Arsenal will want to rain on any victory parade, so I think both sides will have to settle for a point.
Prediction: Draw (64 points)
Queens Park Rangers A 4/5
At the current rate, QPR could already be consigned to the Championship by the time Arsenal visit, and even if they aren't I would fancy the Gunners to give them a kick towards it.
Harry Redknapp's side are in shambles, and if they are gone by this game, I cannot imagine any of their overpaid mercenaries exerting anything other than the minimum effort.
I reckon it will only be Arsenal in need of the points, and I think they will get them.
Prediction: Arsenal win (67 points)
Wigan Athletic H 12/5
From the outset you'd fancy Arsenal all day, but Wigan went to the Emirates at a similar stage last season and won.
The Latics will be in the thick of it for this game, but with the Gunners needing a result to aid their Champions League quest, I don't think they'll make the same mistake twice.
Prediction: Arsenal win (70 points)
Newcastle United A 19/5
If all goes according to the way I've predicted, then Arsenal should be guaranteed a top-four spot before the final game of the season.
Newcastle will be no higher or lower than safe in mid-table, so this will have a very "end of season" feel to it.
With the pressure off, it could go either way, but out of the two I'd back Arsenal to turn it on and finish things off in style.
Prediction: Arsenal win (73 points)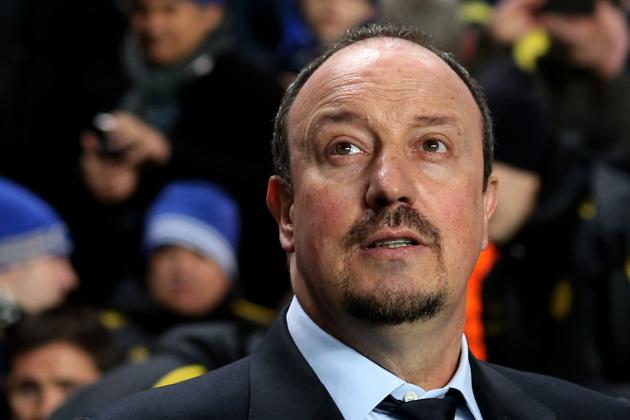 Scott Heavey/Getty Images
A job well done from Rafa the gaffer?
3rd - Arsenal 73 points
4th - Chelsea 72 points
5th - Tottenham 68 points
By my reckoning Arsenal will take advantage of a friendly fixture list to win enough games to see them over the line comfortably enough.
It's much tighter for the final place with Chelsea pipping Spurs by what looks a stretch, but this was based on a Blues win in that crunch clash at Stamford Bridge, A draw or Spurs victory would completely change the complexion of things.
If Spurs claim the honours that night, then they'd pip Chelsea to the post. And even a draw would cut the four-point gap to just one, meaning there's little margin for error elsewhere if the Blues are to grab that final Champions League slot.
What do you think? Have I called these games right or wrong and what will the top four look like in your eyes?
Post your comments below, or hit me up on Twitter @bainesyDiego10