Broncos 2013 Draft Updates: Latest News, Trade Rumors & Predictions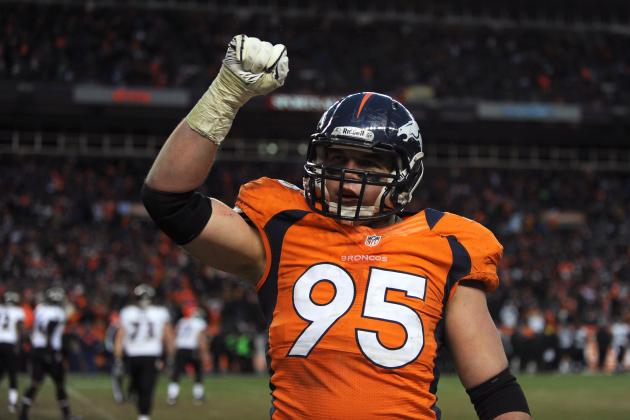 Dustin Bradford/Getty Images
The Broncos landed defensive end Derek Wolfe in the draft in 2012.
The Denver Broncos are a Super Bowl contender. Every move that will be made is a move done with the eye on the prize. The draft isn't just an opportunity to improve the roster, but an opportunity to find an impact player at a position of need that will put the Broncos over the top.
What the Broncos do in the draft could very well impact their chances of hoisting the Lombardi trophy next season. The Broncos are specifically looking for a defensive end, middle linebacker and running back to round out an already deep roster.
Keeping track of every rumor, report and storyline is always the challenge in the days leading up to the draft, but you are in luck. This slideshow is to keep you updated on all the latest and I'll even throw in a mock draft for you to laugh at just to keep you entertained.
Check back often as this information will be refreshed until the conclusion on the 2013 NFL draft.
Begin Slideshow

»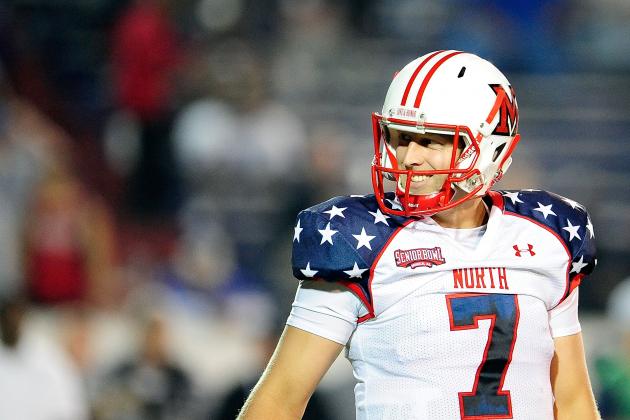 Stacy Revere/Getty Images
The Broncos have looked at two late-round quarterback prospects including Zac Dysert.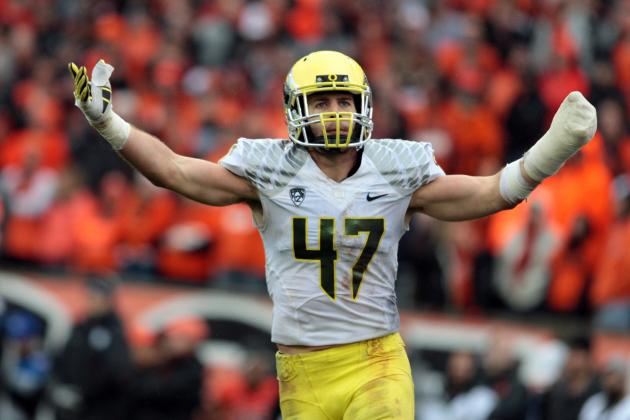 Scott Olmos-USA TODAY Sports
Kiko Alonso could be the solution to the Broncos' problem at middle linebacker.
Round 1, Pick 28 (28): Cornelius Carradine, DE
Round 2, Pick 26 (58): Kiko Alonso, ILB
Round 3, Pick 28 (90): Christine Michael, RB
Round 4, Pick 28 (125): Josh Evans, FS
Round 5, Pick 28 (161): Terry Hawthorne, CB
Round 7, Pick 28 (234): Travis Johnson, OLB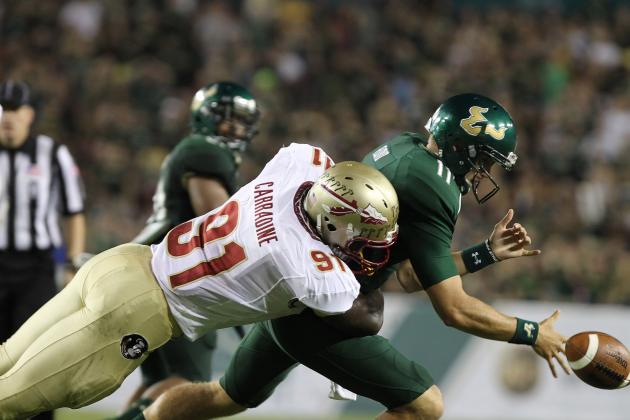 Kim Klement-USA TODAY Sports
Cornellius "Tank" Carradine may fall because he's recovering from an injury.
The Broncos had a little bit of "sticker shock" when shopping for a replacement for the departed Elvis Dumervil. Dwight Freeney was the top option, but he wants $6 million annually according to NFL Network's Michelle Beisner. John Abraham was another option, but the 35-year-old pass-rusher wanted a two-year deal according to Mike Klis of the Denver Post.
Pairing Robert Ayers with a rookie pass-rusher now seems like the best option for the Broncos. Cornellius Carradine would be a good choice for the Broncos at No. 28 because he is one of the few good pass-rushers in the draft that played primarily right defensive end in college.
Carradine is recovering from a torn ACL, which could give Ayers a fair chance to win the job outright. Ayers would get a fair chance to win the job and Carradine would have time to heal fully from his injury.
Another option would be Alex Okafor, but he's more of a run-stuffing defensive end despite his smaller than average size for the position. Datone Jones is a bigger hybrid run-stuffing defensive end that doesn't seem to fit what the Broncos want to do on defense.
The only other option would be to wait on drafting a defensive end in hopes of finding a good pass-rushing specialist in the middle rounds. Quanterus Smith, Margus Hunt, Sam Montgomery and Michael Buchanan are just a few names to watch.