Why Liverpool Must Sell Left-Back Jose Enrique This Summer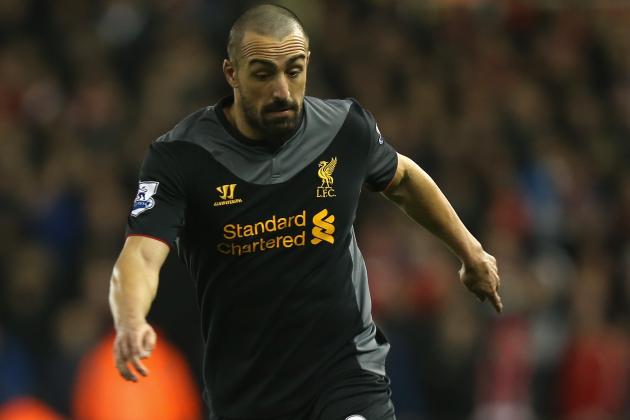 Bryn Lennon/Getty Images

Liverpool's transfer activity this summer looks to be heavily weighted in the area of central defence, but manager Brendan Rodgers must make sure not to neglect the left-back, which also requires some attention.
At the present moment, Spaniard Jose Enrique is in possession of the role, but the manager would be wise to offload him during the summer transfer window and find an upgrade to add to the side.
While there is no doubt that Jose Enrique has qualities of his own which should be recognised, they are not necessarily attributes which are beneficial in the present Liverpool team and, as such, go from a drawback to an outright hindrance to the side.
Here are the main reasons why Rodgers should be looking to sell Jose Enrique this summer and replace him with better options.
Begin Slideshow

»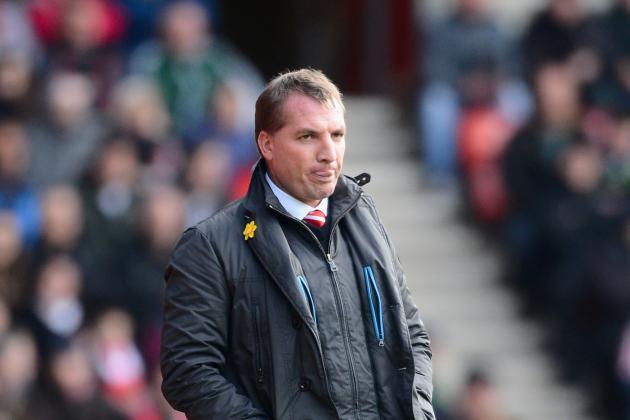 Mike Hewitt/Getty Images

Much has been made of whether Liverpool have the "big funds" available this summer to buy genuine quality and improve the team.
The short answer is: Of course they do—simply selling those who do not add enough to the team should raise anywhere from £35 to £45 million. Andy Carroll, Seb Coates, Martin Skrtel, Jose Enrique—those four alone should raise in excess of £35 million, which can be reinvested in better quality, younger and more suited players to the side.
Jose Enrique was signed by the Reds two years ago for around £6 million, and at 27 years of age he should have more or less held his market value, give or take a million or so. The estimated market value of £12.5 million is fanciful and would actually make the left-back even more of a must-sell, but even receiving the amount they first paid for him would represent a real-terms profit for Liverpool, taking into account player amortisation over the period of his Anfield career.
While the very top left-backs in the world would move for in excess of £10 million, Liverpool won't attract those players this summer anyway. However, they can certainly attract a very good one for slightly less, which would be almost entirely paid for by the sale of the Spaniard.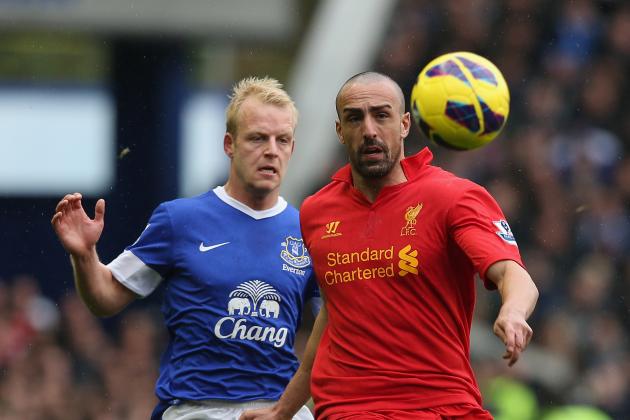 Clive Brunskill/Getty Images

Bottom line with transfers: Players should be sold when they are not performing well enough.
Some Liverpool fans will argue that Jose Enrique has been showing good form of late—fine, but is "of late" good enough? The bare facts are, the Reds' No.3 has offered far more poor months of form than good ones since arriving from Newcastle United.
Having started like a house on fire after arriving from the North-East, Jose Enrique had perhaps two or three good months before—around November—falling away entirely. He eventually lost his place in the team—so tame were his performances—despite the Reds not having another senior left-back available.
This season it has been the opposite way around; he started dreadfully, costing the team a plethora of chances against them in the early part of the campaign, and he quickly lost his place in Rodgers' team.
After a spell in and out the team, and pushed forward into an unfamiliar role in desperation of some form—and attacking options—Jose Enrique has been back in the team in his usual left-back role since Christmas, aside from three or four games where he was ruled out with injury.
All told, that amounts to approximately 20 months at Anfield so far, with at most six months of those yielding acceptable-to-good performances.
Enough?
Not even close, not for Liverpool, not for the top four of the Premier League.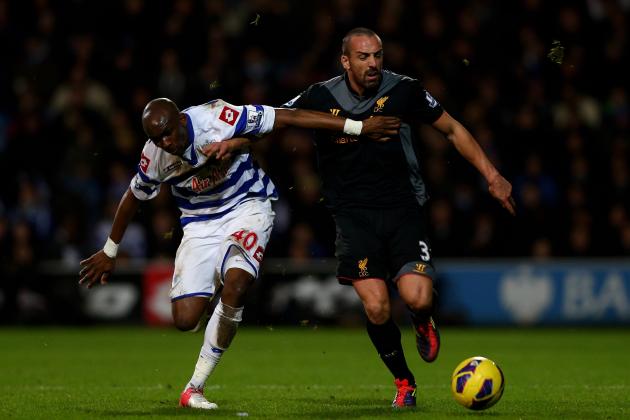 Paul Gilham/Getty Images

Let's address some myths over Jose Enrique's big strengths going forward, shall we?
The left-back is often acclaimed as being a progressive, strong, rapid full-back who troubles the opposition defence with his runs with the ball, surges toward the byline to stretch defences and links up effectively with the front men.
In short, that he is a massive threat going forward for the team.
Here's a very quick key statistical breakdown of Jose Enrique this season in the Premier League:
| | | |
| --- | --- | --- |
| Minutes played | Goals | Assists |
| 1762 | 2 | 4 |
For a left-back—especially one who hadn't previously scored in the league—two goals and four assists is not a bad return at all. That should be rightfully acknowledged, and any effective replacement is going to have to do as well, or better.
But it tells far from the whole story.
Exactly how much of a creative threat is Jose Enrique? Not much, as it turns out. In his 23 league appearances this season, he has produced exactly 19 chances for his teammates—less than one per start (20 starts, three appearances off the bench).
That is less than Jordan Henderson, less than Stewart Downing, less than the oft-derided Joe Allen and far less than fellow full-back Glen Johnson (38).
Perhaps one reason for this—and read carefully, for given the nature of the team and the tactics Brendan Rodgers seeks to employ, this alone should make him a prime candidate for sale this summer—is his relatively atrocious ability to consistently pass the ball well.
Jose Enrique has the worst pass completion rate, bar none, out of any outfield Liverpool player to have started eight or more league games this season.
The only players to suffer an overall worse rate, taking into account everybody in the squad, are the two goalkeepers (who play more longer, therefore are more likely to commit unsuccessful, passes), Andy Carroll (played a total of 18 minutes) and Philippe Coutinho (only seven starts, therefore fewer passes, which count as a greater percentage each).
In the final third, where Jose is expected and supposed to have such a big impact, his pass completion rate drops to a frankly unbearable 61 percent. Compare that to the team average of 73 percent over more than 5000 passes and right-back Glen Johnson's 72 percent.
Also, Jose's crosses—and Liverpool are decidedly not a crossing team any more—are appalling. He has managed to find a teammate from a grand total of five crosses this season. Five. In 1762 minutes. His percentage of accurate crosses is worse than Johnson's, worse than Raheem Sterling's and far worse than the three reliable crossers in the team—Downing, Luis Suarez and Steven Gerrard.
Final third threat? Or final third liability?
His intolerable, interminable unwillingness to release the ball early frequently costs Liverpool the chance to capitalise on fast-moving attacks, delaying a pass until all tempo and options are lost.
Frequently his raids down the left end when he finds himself up against two or more defenders, having passed up the chance to play the ball infield earlier, and he in the end needs to turn back on himself to shield the ball and, ultimately, face going backward or lose the ball. This happens multiple times in most matches.
Sure, Liverpool might retain the ball if he turns back to Lucas, or Daniel Agger, but the momentum of attacks are lost.
His pace and power do, nonetheless, ensure that he has a chance of joining attacks quickly and offering support to teammates, and also enabling him to outstrip opposition defences at a sprint. What comes at the end of those dribbles, however, is often not as impressive.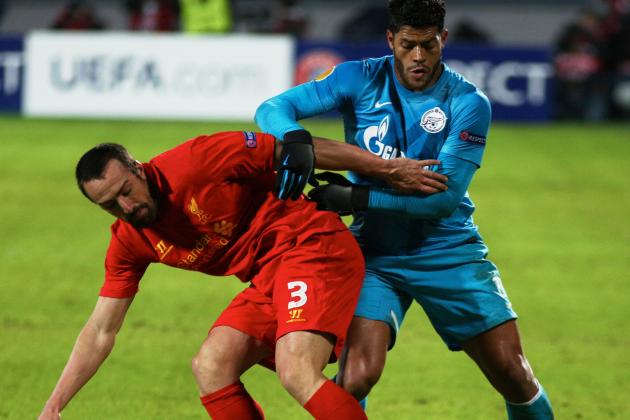 Oleg Nikishin/Getty Images

Back up the pitch to Jose Enrique's primary function, then—as a defender.
Let's look at his defensive statistics, compared to the rest of his first-choice teammates. To accuratley scale Jose Enrique's achievements in terms of his position, the lowest-scoring value is in bold in a direct comparison between he and Glen Johnson.
This direct comparison excludes the centre-backs who would naturally have higher numbers of clearances to make, but lower numbers of one-on-one battles to face on the ground.
| | | | | | |
| --- | --- | --- | --- | --- | --- |
| 2012-13 Stats // Player | Jose Enrique | G. Johnson | M. Skrtel | D. Agger | J. Carragher |
| Minutes played | 1762 | 2684 | 1978 | 2740 | 992 |
| Headed clearances | 10 | 52 | 97 | 102 | 33 |
| Total clearances | 37 | 103 | 166 | 173 | 54 |
| Tackles won % | 81 | 82 | 85 | 70 | 71 |
| Ground duels won % | 54 | 51 | 58 | 67 | 53 |
| Aerial duels won % | 33 | 57 | 70 | 61 | 45 |
| Mins per ground duel won | 19.0 | 18.6 | 47.1 | 36.0 | 58.4 |
| Mins per aerial duel won | 220.3 | 45.5 | 27.8 | 26.6 | 99.2 |
| Mins per challenge won | 12.15 | 10.13 | 13.93 | 13.56 | 26.81 |
| Interceptions | 28 | 53 | 38 | 51 | 8 |
It makes for interesting reading, no denying.
Glen Johnson is frequently derided as not being good enough defensively—yet he outscores Jose Enrique in every key metric with the slight exception of percentage of ground duels won.
In pure numbers, that is Jose Enrique winning 93 out of 173 (makes one every 10 mins), and Johnson winning 144 out of 283 (makes one every 9.5 mins).
Take whichever key defensive reading you wish as the most important; the bottom line is that the Reds' No.2 makes any kind of all total defensive challenges more often than the No.3 (5.8 mins vs. 7.0 mins) and, crucially, wins them more often too (mins per challenge won statistic).
Less easy to capture statistically, but also important to the overall ability of an individual and a team to defend, is the nature of a player to hold his position well and, in the case of full-backs specifically, to stop wide attacking opponents being a threat.
Jose Enrique has a job to do in the attacking third of the pitch so being out of position defensively is a hazard which is tough to overcome, but when he is there, his absolute base requirement is to stop a cross or attacking pass being made from his flank.
Too often, he proves incapable of doing this. A lack of commitment in making tackles at times hinders his ability to stop attackers, as he much prefers to utilise his upper-body strength and pace to position himself between attacker and ball on the run, rather than make a challenge. This is absolutely fine when it works—but one moment of lack of concentration, or a stronger-than-average wide forward—see Hulk in the photo—and he gets himself in all sorts of bother.
Jose Enrique has cost chances on goal as a result of trying to manoeuvre his way around an opponent with the ball at his feet, shielding it with his body, and being caught in possession. His reluctance to make tackles or challenges also allows more skilful players to dance past him down the touchline with very little pressure being applied.
For the most recent of instances, see Mo Diame for West Ham on his mazy dribble at the weekend.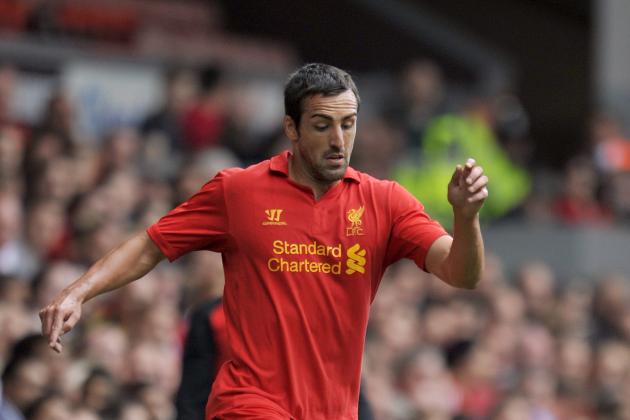 Clint Hughes/Getty Images

Much of the problem with Jose Enrique, in terms of being a key player for Liverpool, comes from his nature. He's far from a bad player, and indeed in the right set-up he could be a hugely useful tool, but his reactionary approach to football is simply not suited to the Reds.
Too much is done by instinct—the "get the ball, go forward" approach, rather than a measured look to see where the best initial pass is or whether a dribble down the line will achieve anything other than gaining yardage.
Instant, first-time-hit crosses to the six yard box where nobody lurks dangerously, impetuous, right-footed shots from 25 yards in the closing moments of the game: It all undeniably points to the left-back having a low amount of intelligence on the pitch which does not lend itself to a team which tries to structure attacks with constant recycling of possession, movement and vertical threat from different angles of the front line.
Better decisions being made in possession going forward would significantly help him, and the team, be more proactive in creating chances and, more importantly being effective in creating chances. At the other end of the pitch, a more than one-dimensional approach to defending should be a very basic requirement.
Before concluding, acknowledgements must also be made.
Jose Enrique is one part of a team, who all impact on each other on the pitch and off of it. From the outside looking in, it appears that the left-back plays a significant social role in the team, be it with the younger Spanish lads at the club or the more senior players.
He comes across as friendly, caring and a generally happy member of the squad, and given the significance of a Spanish/South American presence at the club, an exit of one player or more in these external circles can have a big impact.
It is not just football needs on the pitch which must be catered for, but also business aspects of the club and social aspects of players' lives which must be kept in good working order for a successful side to emerge.
Liverpool have big needs in the summer transfer market, especially in the centre of defence and then arguably in the holding midfield role.
But right after those two, a challenger or a direct change at left-back is very much a needed switch for the Reds, for increased progression at both ends of the pitch.
Statistics and player data taken from EPLindex.com