Duke Basketball: Who Will Replace Seth Curry, Ryan Kelly and Mason Plumlee?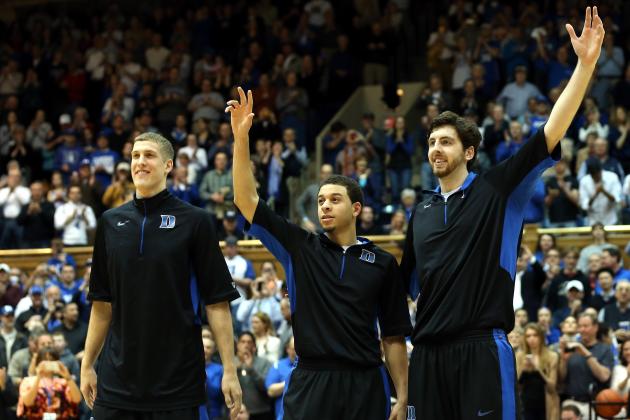 Streeter Lecka/Getty Images

With just under a minute left to play against the Louisville Cardinals in the NCAA tournament—a game that quickly spiraled out of control for the Duke Blue Devils—Seth Curry, Ryan Kelly and Mason Plumlee exited the floor for the final time in their college careers.
It was a disappointing end to the collegiate careers of three of the finest players to step foot on the Duke campus.
Together, they closed out their careers with a 317-54 (85.4 percent) win-loss record for the Duke basketball program. In addition, all three were a part of the Blue Devils' fourth national championship in 2010.
Looking ahead to next season, as significant as the departures of Curry, Kelly and Plumlee are, head coach Mike Krzyzewski will have at his disposal another talented collection of players that should prove to be a championship-caliber team.
In the following three slides, I reveal the three players from Duke's 2013-14 team who will emerge to replace the senior triad of Curry, Kelly and Plumlee and guide the Blue Devils on their quest to a fifth national title.
Begin Slideshow

»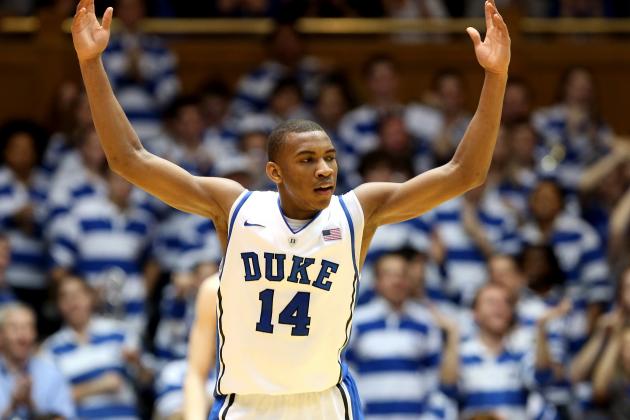 Streeter Lecka/Getty Images

It cannot be stressed enough how good Rasheed Sulaimon performed in his freshman season.
Despite not receiving any individual accolades, Sulaimon was easily one of the top freshmen in the country.
And more importantly, he was a vital contributor in Duke's run to an Elite Eight appearance in the NCAA tournament.
Next season, however, greater emphasis will be placed on the 6'4" shooting guard to succeed. After setting the bar extremely high for himself in his first year at Duke, how Sulaimon responds to the expectations of being thrust into a more significant role as a sophomore will speak volumes on the type of season the Blue Devils will have.
With a fiery spirit and a winner's mentality to complement an outstanding skill set, Sulaimon should make a smooth transition from being a role player as a freshman to fulfilling the potential of a star in his sophomore campaign.
2013-14 Season Prediction: 13.5 PPG, 3.9 RPG, 2.3 APG, 1.0 SPG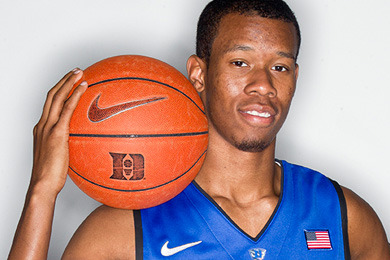 Duke Blue Planet
How good is Mississippi State transfer Rodney Hood, you ask? On a team that consisted of Seth Curry, Ryan Kelly and Mason Plumlee, the 6'8", 210-pound forward was arguably the best of them all.
Unfortunately, upon his arrival at Duke after transferring from the Mississippi State basketball program, Hood was forced to sit out this season due to NCAA transfer rules.
To take you back, Hood's freshman season as a Bulldog was a success. He garnered All-SEC Freshman Team honors after averaging 10.3 points, 4.8 rebounds and 2.0 assists per game.
After months of getting acquainted to the Duke system, Hood is now primed for big things in the 2013-14.
His addition is among the most notable of the incoming players, as he will instantly step into a leadership role in Duke's pursuit of a fifth national championship with unlimited potential.
The athletic, slashing southpaw possesses a skill set that can only be summed up in one word—smooth. With great length, versatility and the ability to become an elite defender, Hood will be a dynamic wing forward for the Blue Devils next season.
2013-14 Season Prediction: 14.2 PPG, 6.3 RPG, 2.9 APG, 1.9 SPG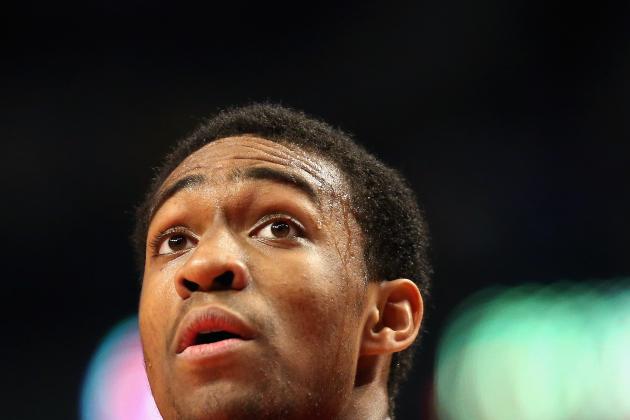 Jonathan Daniel/Getty Images

On the day of Dec. 20, 2012, it was one of the greatest recruiting moments for Mike Krzyzewski and his Duke Blue Devils.
Jabari Parker, a consensus top-three ranked senior, gave his verbal pledge to the Blue Devils in one of the most highly anticipated collegiate decisions in high-school recruiting history.
The versatile 6'9", 225-pound forward will become the centerpiece for Duke next season, as his addition will instantly catapult the Blue Devils as a championship favorite in the 2013-14 season.
Fully capable of playing multiple positions on the floor, Parker will likely begin his career at the power forward position as a stretch 4 for the Blue Devils. With the talent level to score in the low post, as well as from the perimeter, Parker should excel in what could be a short stay in Durham.
Additionally, the Chicago native is a proven winner that produces championship-winning seasons.
Throughout an illustrious high-school career at Simeon Career Academy, Parker became only the second player in Illinois high-school athletics history to start for four consecutive state basketball champions.
With Seth Curry, Ryan Kelly and Mason Plumlee departing, Coach K couldn't have landed a more perfect replacement to lead his team in 2013-14 than Jabari Parker.
2013-14 Season Prediction: 17.7 PPG, 8.8 RPG, 3.2 APG, 1.7 SPG