NFL Studs Who Will Suffer a Sophomore Slump in 2013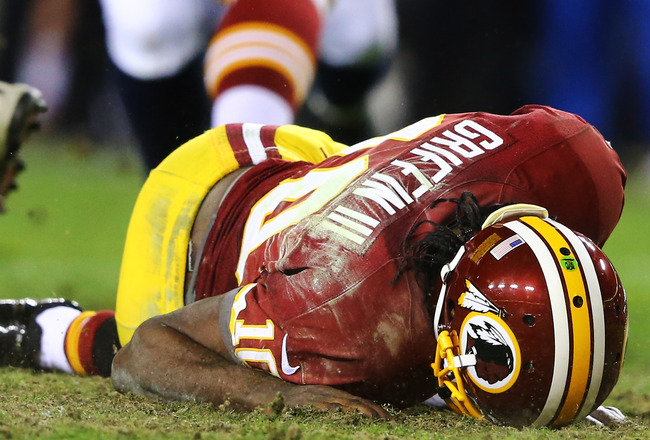 Robert Griffin III has to overcome an injury, as well as eight players in the box every time he steps under center.
Al Bello/Getty Images
The 2011-12 NFL season witnessed a thought-to-be mediocre draft class flourish into one of the most exciting crop of rookies in recent memory.
Three first-year quarterbacks led their teams to the playoffs and represented their respective conferences in the Pro Bowl. Two running backs burst onto the scene and solidified themselves as starters in crowded backfields. And a plethora of defensive players worked their way to become season-long starters.
But teams now know what to expect when they face these talented rookies, and they can mold their game plans around the rookie's game to shut him down. It seems unlikely that all of these players will be able to produce the same numbers as they did in 2012, and many of them will experience a decline in production.
Here we break down which players will suffer from a sophomore slump in 2013.
T.Y. Hilton: Indianapolis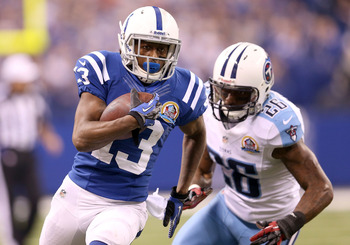 T.Y. Hilton surprised a lot of people in 2012. Look for him to drop off next season.
Andy Lyons/Getty Images
T.Y. Hilton was selected with the No. 92 overall pick of the 2012 NFL draft, after a highly successful career at Florida International.
In his rookie campaign, Hilton caught 50 passes for 861 yards and seven touchdowns. He averaged 17.2 yards per catch, which is impressive for a wide receiver who is only 5'9", 183 pounds.
He proved to be a reliable target for fellow rookie Andrew Luck and helped the Indianapolis Colts reach the playoffs after missing them the previous season.
However, the Colts already have veteran wideout Reggie Wayne, and they brought in recently released Darrius Heyward-Bey to add to the receiving corp.
Hilton will likely be a third option for Luck and see a dramatic decrease in statistics.
Doug Martin: Tampa Bay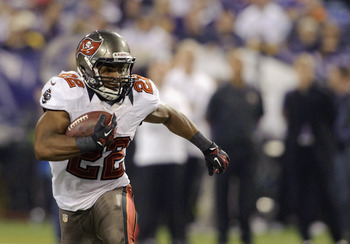 Doug Martin will attract a ton of attention from opposing defensive coordinators in 2013.
Hannah Foslien/Getty Images
Doug Martin had a phenomenal rookie season in Tampa Bay. He rushed for 1,454 yards and 11 touchdowns. But he also showed he was a threat in the passing game, as he caught 49 passes for 472 yards and one score.
He had a monster game on Nov. 4 against the Raiders. Martin rushed for 251 yards and scored four touchdowns.
He proved he was an every-down back, and that might have been his ultimate downfall.
With the Buccaneers' passing game not as elite as Tampa Bay fans would like, the team relied heavily on Martin to carry the load for the offense, as his numbers show.
But that will only make it easier for opposing defensive coordinators to hone in on this one player and eliminate him from the game.
Look for Martin to struggle against the better defenses around the NFL in 2013.
Robert Griffin III: Washington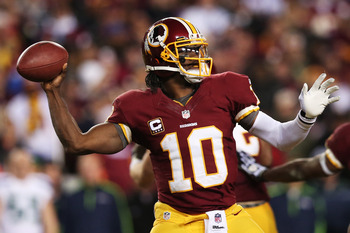 Robert Griffin III has a long road ahead of him before he will be able to perform at the level he reached in 2012.
Win McNamee/Getty Images
The 2012 AP Offensive Rookie of the Year, Robert Griffin III put up impressive numbers in his first NFL season, despite a few injuries, including a torn ACL that he suffered in the Washington Redskins' first-round playoff game against the Seattle Seahawks.
Griffin III met and surpassed expectations in his rookie season, passing for 3,200 yards, 20 touchdowns and only five interceptions.
He is rehabilitating his knee in order to return for the 2013 season-opener, which is unheard of for an injury this severe. But Redskins head coach Mike Shanahan said Griffin III will set a record in terms of recovery time, according to Sports Illustrated.
Still, an injury like this is hard to come back from (unless you're Adrian Peterson). Griffin III will have to be cautious when he leaves the pocket to escape defenses, and that could restrict him from making plays like he did in 2012.
The aftershock of this injury will affect his performance in 2013, and he and the Redskins will suffer because of it.
Keep Reading