WrestleMania 29: WWE Needs to Continue the New Pre-Show Format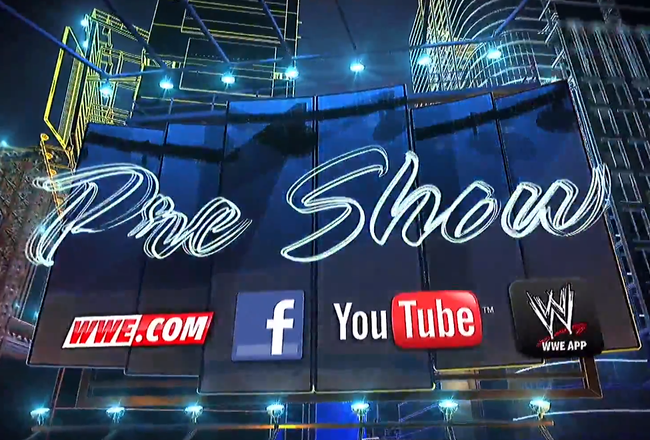 (photo courtesy of WWE.com)

WrestleMania 29 had a unique hour-long online pre-show. The presentation of it looked very much like an NFL pre-game show.
Matt Striker and Josh Matthews handled duties at ringside during the pre-show and the Intercontinental Championship match between The Miz and Wade Barrett. The other group of commentators was something a bit different for WWE.
This group discussed the matches themselves and predicted winners for them.
Positioned in MetLife Stadium overlooking a portion of the audience, this setup looked like it was a pre-game show for a professional sport. Each of the four commentators wore suits and ties, which made them look even more like a sports pre-show commentating team.
Dusty Rhodes provided commentary from a WWE Hall of Fame perspective. Kofi Kingston gave knowledge as a present WWE Superstar. Jim Ross drew on multiple decades of expertise as a commentator to deliver his perspective. Finally, Scott Stanford served as a moderator of sorts for the three WWE Superstars.
By having different well-known personalities discuss the upcoming matches, it gave each match a sense of historical importance.
WWE should continue to use this type of format for their pre-shows for three reasons.
Gives a Sense of Realism to the Matches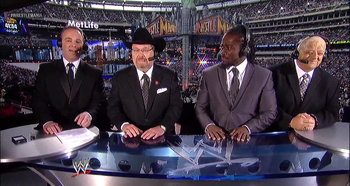 (photo courtesy of WWE.com)
When each WWE employee discussed a match, they did so many times by using sports analogies.
Football analogies were particularly popular during the pre-show.
While discussing The Shield vs. Randy Orton/Sheamus/Big Show match, Kingston used a football analogy. This analogy described The Shield as working like a winning football team. On the other hand, Orton/Sheamus/Big Show was described as a team not acting like a unit.
Most of the time, the WWE Universe is not privy to WWE Superstars giving their analysis of matches. This type of analysis also makes each match seem more important.
Such credibility in answering why a match is important is exactly what WWE needs to make its product more appealing to mass audiences.
The WrestleMania 29 pre-show gave fans something they have not seen before by having various Superstars analyze matchups.
This should definitely continue in the future.
Offers Fans a Different Insight Into the Matches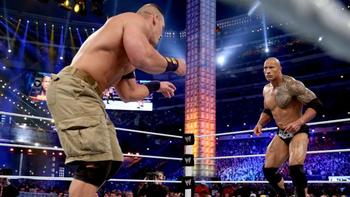 (photo courtesy of WWE.com)
Many members of the WWE Universe are extremely opinionated.
Oftentimes, the opinions of WWE Superstars are not heard. By having WWE Superstars analyze matches, it can help in understanding WWE on a different level.
This type of discussion with WWE Superstars is revolutionary. It brings an insight to the matches that helps make pro wrestling much more sport than entertainment.
Dusty Rhodes, Kofi Kingston and Jim Ross all had thoughtful opinions on the WWE Championship match between The Rock and John Cena.
Jim Ross felt that John Cena would win the match if it went over 30 minutes. Kofi Kingston warned that Cena needed to avoid the mistakes he made last year. Dusty Rhodes described how it was time for each to show what they have in the ring.
These insights also let fans get to know WWE personalities in new and meaningful ways.
In a world of social media and fan/Superstar connectivity, a thorough pre-show with differing insights can help fans understand their favorite Superstars better.
A longer online pre-show should continue in order to give fans more incentive to watch.
The Professionalism Makes the Event Seem Important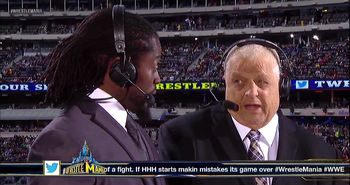 (photo courtesy of WWE.com)
With each member of the analysis team in a suit and tie, it makes the pay-per-view event seem more important than just an average television show.
The separate staging in an arena for a rotating analysis team could set a new standard for WWE pre-shows.
Every month, WWE could have a different WWE Hall of Fame member, current WWE Superstar and a member of the commentating team analyze the matches.
The event itself will look more professional. Also, it will suggest the true importance of each match.
Many times, fans will discuss who will win before an important match. If a pre-show features this type of discussion, it will be a continuation of what many fans are talking about already.
This type of hype can be useful to WWE in making the matches themselves seem all important.
Read more from Sean McCallon on the Double Axe Handle Blog.
Keep Reading