Clemson Football: Spring Game Winners and Losers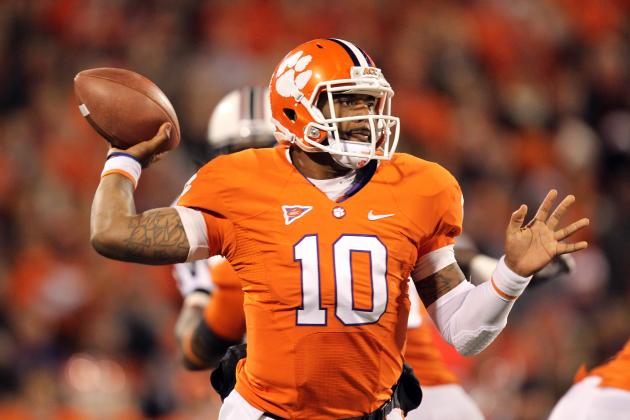 Streeter Lecka/Getty Images

Clemson's spring game ended with the Orange team beating the White. But honestly, that's just a subplot to the importance of the game. Tajh Boyd sat out so Dabo Swinney was forced to take a look at all of his backup quarterbacks in the game.
Cole Stoudt played well to secure his backup jump, but a bunch of other storylines were in effect as well. Follow along as we go over the winners and losers from the Clemson Tigers spring game.
Begin Slideshow

»
Streeter Lecka/Getty Images
Finding a replacement for Andre Ellington will be tough.
The rushing attack had trouble finding a ton of holes all game. However, this could be more attributed to injuries that were occurring on the offensive line and the top notch defensive line doing its job effectively up front. The Clemson linebackers were flowing to the ball almost untouched.
Clemson does have some talent in its backfield that should be effective, but it would be wise for Swinney to keep his running back group centered around Zac Brooks and Roderick McDowell. They looked like they had the most vision in Saturday's game and would benefit the most from playing with Boyd.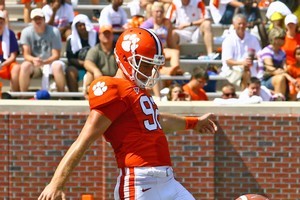 Courtesy OrangeAndWhite
Brad Pinion is an excellent all-around punter and kickoff specialist. He proved it Saturday with multiple booming punts and some kickoffs that went through the back of the end zone. His effectiveness as a punter helped the Orange defense with good field position.
As a kicker, he was even very effective despite missing one field goal wide left and having one field goal blocked. Pinion had such a good game that the announcers kept saying he should be the player of the game. That's high praise, especially for a punter.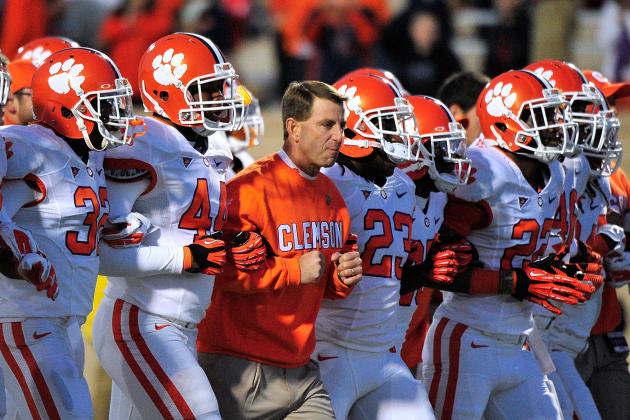 Grant Halverson/Getty Images
Dabo Swinney will have to make sure his training staff takes care of the injuries well.
Multiple injuries along the depth of the offensive line will hurt the long-term prospects of the offensive line. While only one projected starter was actually injured in center Ryan Norton, the effect of losing multiple reserves can hurt.
Linemen Kalon Davis and Shaq Anthony were both able to come back into the game at a later time, but the amount of injuries is not a good thing for a team trying to solidify its depth along both sides of the ball.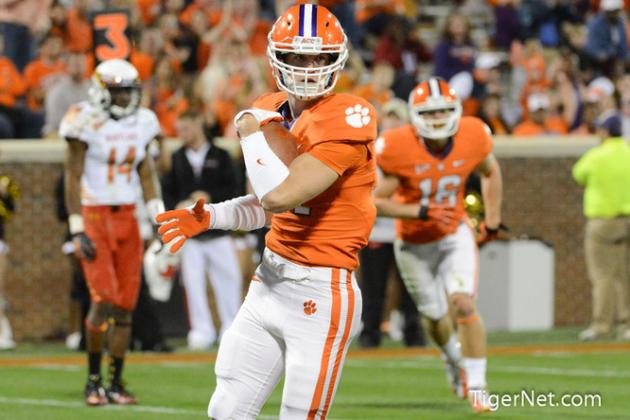 Courtesy TigerNet.com
Stanton Seckinger had a couple of key catches in the spring game. But he also had a huge touchdown catch that showed he deserves to play a somewhat sizable role within the offense as a pass-catching H-back, wide receiver and slot player.
If the Clemson coaching staff wants to play this the smart way, they would start Seckinger as the 11th member of the offense. Playing him like Jaron Brown out wide, inside at the slot or even as a second tight end next to Jordan Leggett or Sam Cooper, would be the best role for him.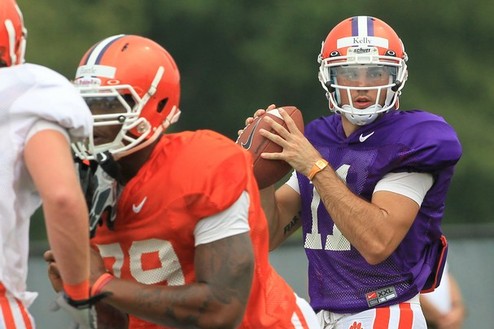 Courtesy OrangeAndWhite.com
Early in the first quarter, Chad Kelly was running the offense well but then pulled up on a run after looking to get his foot caught in the turf. The resulting effect of his run was him getting a knee injury that has been confirmed by Orange And White.com's official twitter feed:
Per #Clemson: Chad Kelly might have a torn ACL.

— Orange and White (@orangeandwhite) April 13, 2013
This hurts the Clemson offensive depth should they lose Boyd for any period of time. But Kelly was the third-string quarterback, and Nick Schuessler looked to have won a scholarship with his play.
This unfortunate event for Kelly could end up being a good thing long term by giving him an injury redshirt so that as an academic junior, he could still wind up with four full years of eligibility with the football team.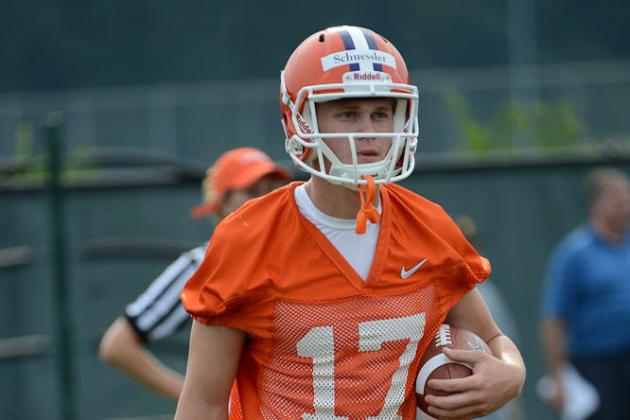 Courtesy TigerNet.com
With the Kelly injury and his own play Saturday, Schuessler looked to have an excellent day for the spring game. While he did have an interception late in the game, he was still able to turn in a great performance for the White and the Orange team.
His play on both sides of the ball coupled with the Kelly injury means that he should be first in line for the scholarship that should be opened up. He can be a good third quarterback for the Tigers and in a worst-case scenario is the long-term backup for the squad.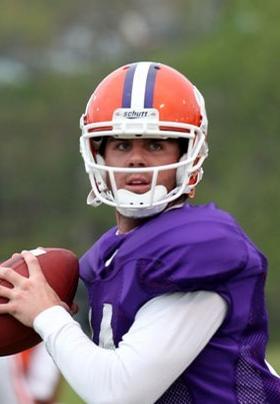 Courtesy OrangeAndWhite.com
Quarterback Donny McElveen wasn't effective despite showing a solid statistical performance. He was throwing multiple lame-duck passes that were close to being intercepted. The play of those around him bailed him out and even turned into a couple of touchdowns.
He showed why he doesn't deserve the scholarship that Schuessler looked to have won Saturday. McElveen will be a solid scout team quarterback for the Tigers, but if he ever ends up on the field, the Tigers will be in a ton of trouble.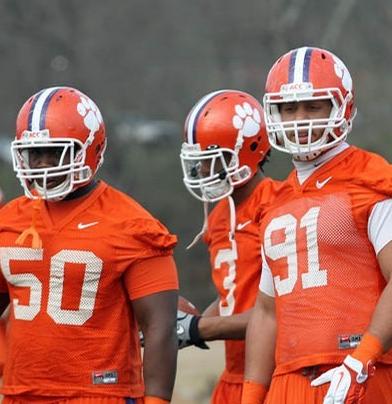 Courtesy OrangeAndWhite.com
Grady Jarrett did his best Jonathan Babineaux impression out there Saturday. He was busting through gaps in the rushing game and disrupting the passer on passing plays. He showed excellent twitch off the snap and showed the quickness needed to play effectively in the ACC.
Jarrett's 6'1", 290-pound frame looks like it's all muscle, and he could parlay a dominant year in the ACC into great defensive ratings for the Clemson defense. He should be put on NFL draft watch lists, especially if he can turn in performances like Saturday during the season.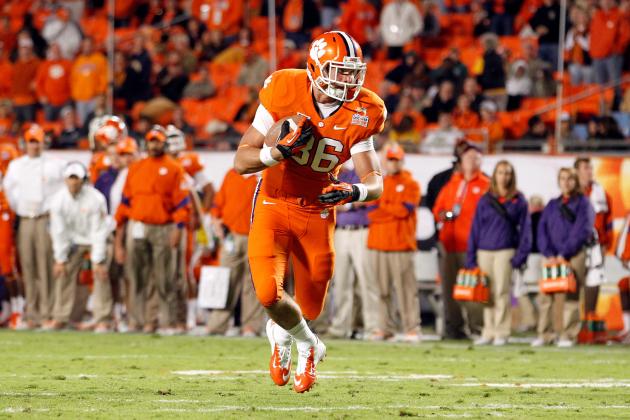 J. Meric/Getty Images

Sam Cooper was one of the Tigers who was going to fight for the starting tight end spot in the fall. However, with an injury in Saturday's game, he opened the door for another tight end or two to possibly take his spot on the first team.
After he went down early in the first quarter, the reserve tight ends all showed explosive abilities in the passing game that would make him a backup. If he can do the same in practices in the fall, he might not have lost his job. But he will have to show the same kind of explosion Leggett and Seckinger did.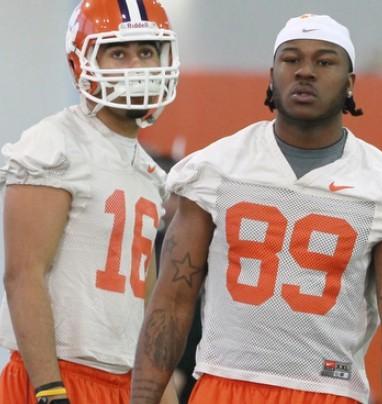 Jordan Leggett (16) during spring practices. Courtesy OrangeAndWhite.com
Speaking of Leggett, he's shown Saturday that he should win the starting tight end job. He was excellent as a blocker on the edge. He was able to wall off the linebackers at the second level and created good push if his running back could bust it outside.
As a receiver, he truly excelled, though. He was regularly targeted for short passes in clutch situations and caught everything thrown his way. He even turned a 4th-and-2 pass that was a short first-down catch into a long 51-yard touchdown with excellent yard-after-catch ability.
He could be more than just a freshman starter at tight end, too. He could possibly be part of the Freshman All-American team at the position.
All stats used are either from Pro Football Focus's Premium Stats, ESPN, CFBStats or the NFL. All contract information is courtesy Spotrac. All recruiting rankings come from 247Sports.com.
Scott Carasik is a Featured Columnist for Bleacher Report. He covers the Atlanta Falcons, NFL and NFL Draft. He also runs DraftFalcons.com.