Clemson Football 2013 Spring Game: Live Analysis, Notes and Recap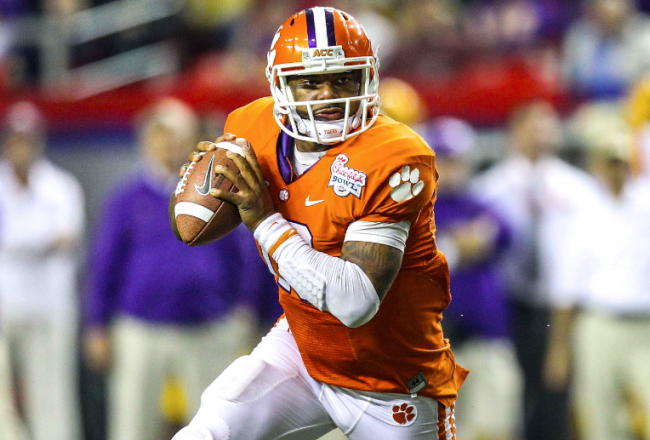 Orange 34, White 26 — Final
The Clemson football team wraps up their spring game with quite a few good things and a couple of bad. Grady Jarrett and Jordan Leggett look like they will end up as break out stars, and backup quarterback Cole Stoudt looks to have secured his job.
There were also a ton of injuries along the offensive line and at tight end. But the biggest injury of all of them was Chad Kelly's ACL tear early in the first quarter. Hopefully, the Tigers can continue good offensive momentum into the season and start a very promising season in 2013.
Scott Carasik is a Featured Columnist for Bleacher Report. He covers the Atlanta Falcons, NFL and NFL Draft. He also runs DraftFalcons.com.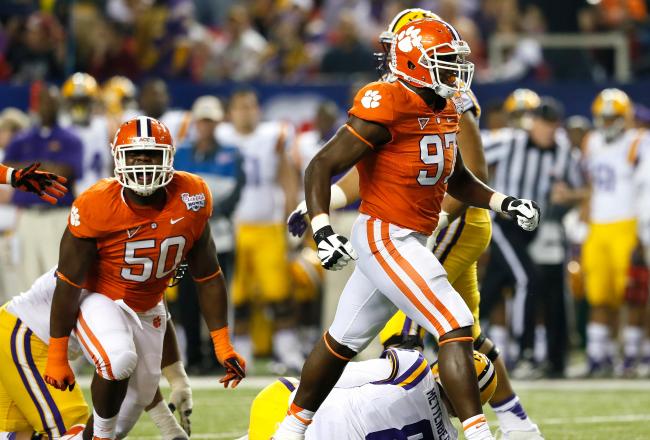 On the final drive of the game, Nick Schuessler started it off with a big pass to Adam Humphries. Germone Hopper dropped the pass on the second play of the two minute drill. Another Grady Jarrett sighting on his second and third sacks of the game ended it and won it for the Orange.
Orange 34, White 26 — End 4th Quarter
The first down play was a no gainer for the orange running backs. Another pair of runs brought the game clock to just 2:22 before Brad Pinion kicked a huge field goal to bring the Orange up 8 points.
Orange 34, White 26 — 2:22 4th Quarter
After taking over at his own 25, Nick Schuessler was sacked by Tavaris Barnes. An incomplete pass set up a long third down. On 3rd and 20, Schuessler missed his target deep to set up a long fourth down. After another fair catch interference penalty, the Orange will take back over at the White 27.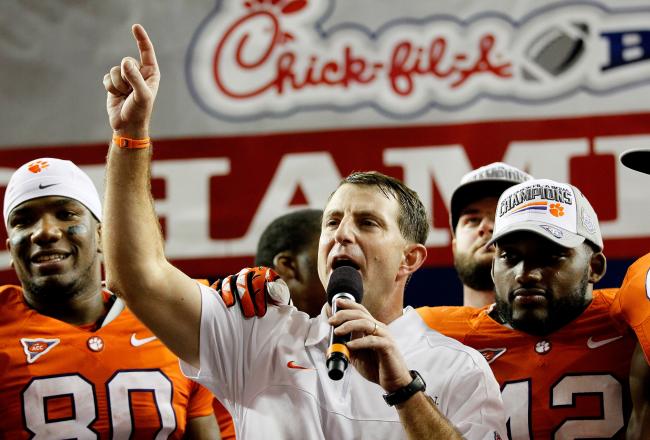 After a pair of runs set up a short 3rd down, C.J. Davidson gains the first down on third down. After a quick pass for nine yards and an incompletion, the 3rd-and-1 play was snuffed out in the backfield by the White defensive line.
Then a huge pass to Jordan Leggett on 4th-and-3 for the first down and the touchdown. He took a quick hitting pass intended for a first down another 50-plus yards for the touchdown.
Orange 31, White 26 — 5:18 4th Quarter
On 1st-and-10 from mid-field, Nick Schuessler missed an open receiver. After a short run set up 3rd-and-10, Schuessler missed his tight end over the middle. The punt by Andy Teasdall went out at the 31-yard line for the Orange Team.
While Chad Kelly's anterior cruciate ligament may be torn, his anterior cruciate swagament is still intact #getbettersoon #Clemson

— Max Kinser (@max_kinser) April 13, 2013
Taking over at the Orange 35, Nick Schuessler was sacked for a big loss on a blitz. On 3rd-and-18, it was intercepted by Kellen Jones for a huge game changing play. That was followed by a Travis Blanks interception of Donny McElveen's deep pass.
Nick Schuessler gained 13 yards on the zone read right after the Blanks interception. A quick pass to Germone Hopper set up a 2nd-and-5. Then, a slow developing run for no gain and a pass to Andrew Maass gained the first down. Maass then went down on the hit with an injury.
Spring Game: Kellen Jones picks off Schuessler and returns it 44 yards. #Clemson

— Orange and White (@orangeandwhite) April 13, 2013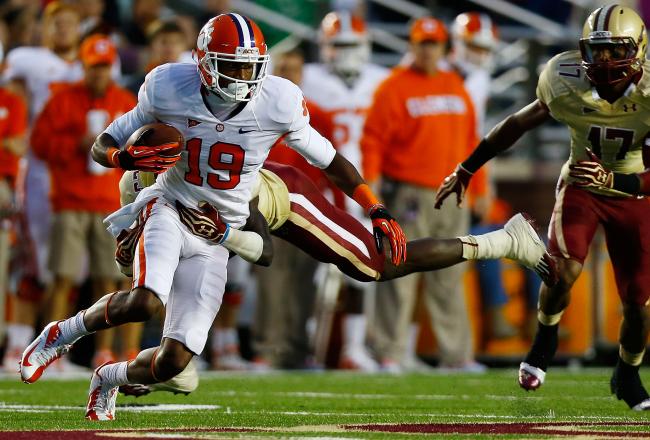 Closing out the third quarter with no scores, the White will take over with the ball in Orange territory. The running clock will make the fourth quarter come and go very quickly.
Orange 24, White 26 — End 3rd Quarter
After the punt gave the Orange the ball back at their own 12, C.J. Davidson gained three yards on the first play. A Danny McElveen pass set up a 3rd-and-short, but the White snuffed out the short run to set up another punt. Brad Pinion punted it to the opposing 32-yard line where it was fair caught.
"@orangeandwhite: Per #Clemson: Chad Kelly might have a torn ACL."......if so you figure a definite red shirt (medical) ?

— Jon Ansberry (@jon_d_ansberry) April 13, 2013
After the Chandler Catanzaro punt, the Orange team takes over at their own 22-yard line. The offensive line has been creating a solid push in the running game but the defensive line has been able to fight off the blocks well. The backs look pretty good though. Good vision and solid burst.
Another three and out for the Orange, Nick Schuessler had a poor pass and a short run to set up a 3rd-and-7 for the White. After gaining the first down, the defense snuffed out another zone read run. An incomplete pass set up a 3rd-and-11 play where Jay Jay McCollough got stuffed to set up another fourth down.
On the first play from scrimmage in the 2nd half, George Johnson got a 5-yard gain. Then the Orange offense stalled and was forced to punt. Brad Pinion sent it 43 yards down field to the White 30-yard line.
For the White's first play at the half, Nick Schuessler took over for Cole Stoudt and gained four yards. After a quick hitting pass for the first down, Schuessler missed Wes Forbush over the middle on what should have been a long touchdown. On 3rd-and-10, Schuessler ran it a couple yards, but was stuffed to force the fourth down.
#Clemson backup QB Chad Kelly has possible torn ACL from spring game injury. Further evaluation coming tomorrow, per school.

— Jeremy Fowler (@JFowlerCBS) April 13, 2013
At the half, the offenses have taken completely control of the game. The defenses need to show up in some way, shape or form. The pass defense should benefit greatly in the fall when their freshman recruits come in. They need it.
The two offenses at #Clemson spring game combined for 632 yards on 90 plays in the first half. The White had 353, the Orange had 279,

— Will Vandervort (@steelerwill) April 13, 2013
I feel like a celebrity here... Signed autographs at taken fan picture... I feel home... #Clemson

— harrison moon (@harrisonmoon1) April 13, 2013
If I could be anywhere in the world right now I would be in Death Valley!!! #gotigers #clemson #missit

— Sarah Edwards (@SarahEllin) April 13, 2013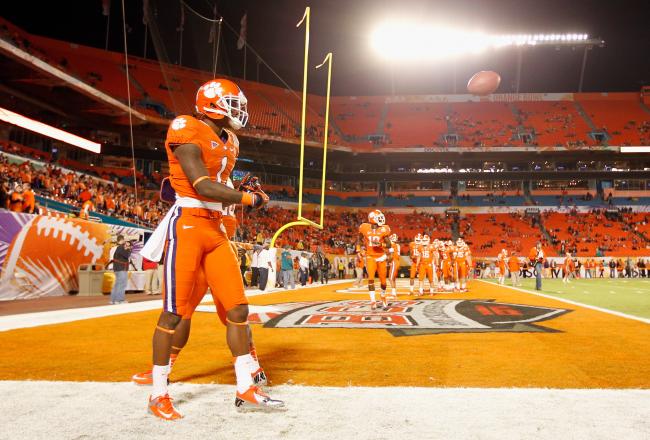 Cole Stoudt had an excellent first pass after the punt, but threw an interception to the Orange team. The first two passes went to Charone Peake and gained a first down and set up a short second down. Nick Schuessler was sacked, and then, threw it to Jordan Leggett for another first down.
Then another huge catch by Martavis Bryant set up the Orange in the red zone. Good pressure by the White defense forced a sack on first down. But Dabo Swinney decided to take it into the half with a field goal attempt by Brad Pinion, and the kick was blocked.
Orange 24, White 26 — Halftime
After a pair of runs gained six yards, Shaq Anthony went down with an injury. On 3rd-and-4, Martavis Bryant caught the pass and brought it out to the opposing 47. Then, C.J. Davidson lost the ball and yardage to set up a longer second down.
On third down, Nick Schuessler ran for a gain to bring it to 4th-and-5. Brad Pinion had a great punt to pin the White inside of it's own 5-yard line.
Cole Stoudt has passed for a Spring Game record 304 yards. Breaks Charlie Whitehurst's watermark of 290 in 2000. #Clemson

— Manie Robinson (@maniebeingmanie) April 13, 2013
The White defense finally held on for it's firs three-and-out of the game. After a kick catch interference gave the White the ball at the 45, they opened with a short run on first down, but Ryan Norton went down with an injury.
On the very next play, Adam Humprhies took a pass right over the middle form Cole Stoudt for a huge 54-yard touchdown. But the PAT was missed.
Orange 24, White 26 — 5:38 2nd Quarter
And just like that Cole Stoudt hit Stanton Seckinger for a huge touchdown. The Clemson tight ends have been excellent today.
Orange 24, White 20 — 7:25 2nd Quarter
Catanzaro missed the PAT. He's been off today. #Clemson

— Michael Burns (@curecruiting) April 13, 2013
Taking over at their own 35, the Orange got lost two yards on a pair of runs. Martavis Bryant took the ball out of the air on third down to reset the downs. After a run and another Jordan Leggett catch, the 1st-and-10 play was a huge run by Nick Schuessler for a long touchdown run.
Orange 24, White 14 — 7:36 2nd Quarter
A short run and an incompletion set up a third-and-7 from the 30. Cole Stoudt then hit Sammy Watkins for the first down. After going back to Watkins to bring it to the 50, Stoudt almost threw an interception. Then Stoudt hit Watkins on a quick slant for a 50-yard touchdown to crush the Orange defense for another touchdown.
Orange 17, White 14 — 9:38 2nd Quarter
There goes Sammy. 50yd TD catch from Stoudt. Slant pass + speed. 17-14 Orange, 9:38 2Q. #Clemson

— Michael Burns (@curecruiting) April 13, 2013
C.J. Davidson and Jordan Leggett showed their worth on this drive. Nick Schuessler brought it to the 25 before getting stuffed to set up the 42-yard field goal attempt for Bradley Pinion. Pinion missed it though to give the ball back to the White team.
There is no one on the Orange team that can cover Wakins so far. #Clemson #springgameprobems

— Will Vandervort (@steelerwill) April 13, 2013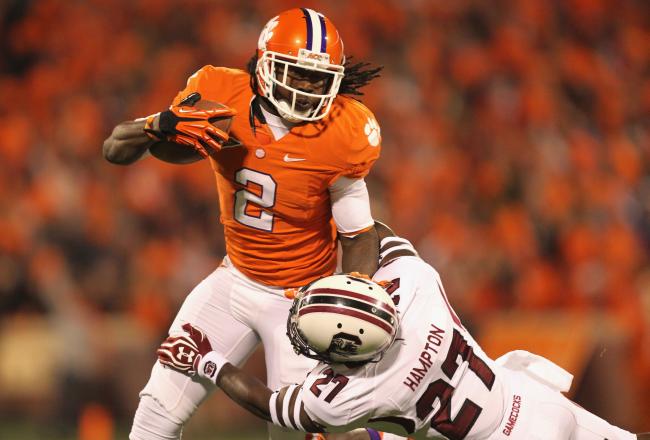 After a 3rd-and-2 only gained the first down, Cole Stoudt underthrew Sammy Watkins but Watkins should have caught the ball for a huge gain. Roderick McDowell gained a first down on a run and then Germone Hopper got a great block on a screen pass to bring it across the 50-yard line.
On 1st-and-10 from the 40, Stoudt evaded pressure and then hit Watkins behind the defense for a big time touchdown.
Orange 17, White 7 — 13:46 2nd Quarter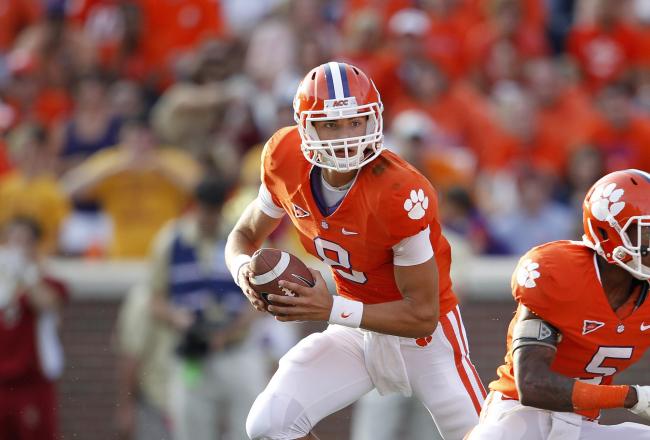 After a penalty and a run gave the Orange another first down, McElveen had a bad pass that was dropped. Then Jay Guillermo got called for holding. 2nd and 20 was a sack by Vic Beasley to set up a ridiculously long third down—which was an incompletion.
Brad Pinion is a beast with another huge punt on fourth down. Germone Hopper caught a quick pass from Cole Stoudt for no gain. Then Stoudt brought it out to the 33-yard line to set up a short third down to end the quarter.
Orange 17, White 0 — End 1st Quarter
Cole Stoudt opens up the next drive with a 9-yard hitter to Sammy Watkins. After a pass interference gave the White their initial first don of the game, Zac Brooks gained three yards on a sweep. Stoudt mishandled the snap.
On third down, Stoudt hit Watkins again for a first down. Then on the next first down play, Stoudt telegraphed a screen pass that Robert Smith snuffed out. Another deep catch by Watkins was followed by a big run by Zac Brooks to bring them within the Orange 15.
2nd-and-10 was a sack by Grady Jarrett. On 3rd-and-17 from the 22, the ball was tipped and Chandler Catanzaro got his first field goal attempt—which went wide left.
Whoever drafted the Orange team has a future as a GM...Orange leads White 17-0 w/6 mins left in 1st qtr. #Clemson

— Manie Robinson (@maniebeingmanie) April 13, 2013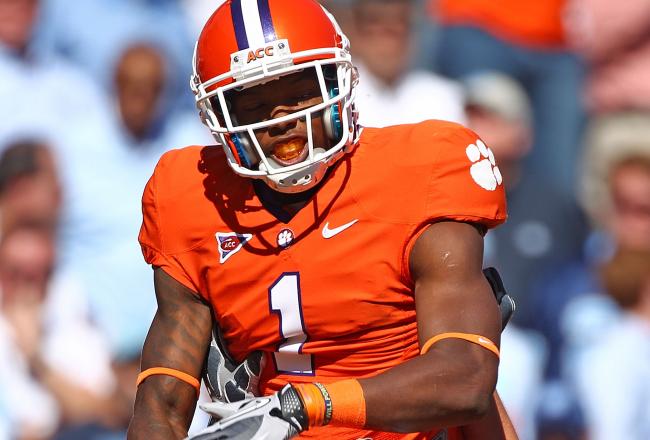 Bradley Pinion has been doing extremely well with some solid kickoffs, an extra point and a field goal.
Starting from their 25, Cole Stoudt completed a quick pass for no gain. Then he missed Sammy Watkins on the second down play. Stoudt hits another pass for nine yards. Then on 4th-and-1, the Orange defense dropped the White for a loss.
The Orange defense has been nothing short of spectacular. And so has the offense. Donny McElveen hit Martavis Bryant on the first play after the fourth down stop for a touchdown.
Orange 17, White 0 — 6:16 1st Quarter
Matt Porter dropped a touchdown from Donny McElveen on 3rd-and-7 to set up a field goal by punter Matt Pinion. Matt Pinion crushed it through with no issue.
Orange 10, White 0 — 7:44 1st Quarter
Kelly is on his way to the locker room. Copper is in the locker room for test as well. #Clemson #springhgameproblems

— Will Vandervort (@steelerwill) April 13, 2013
Starting at their own 24, Cole Stoudt missed Sammy Watkins on a huge pass, but the White got stuffed by the Orange once again.
D.J. Howard is doing extremely well out of the backfield for the Orange. Chad Kelly ran down the field and got hit by Travis Blanks. Kelly looks like he got his foot caught in the turf on the hit and had to be helped off of the field by Tahj Boyd.
This article is
What is the duplicate article?
Why is this article offensive?
Where is this article plagiarized from?
Why is this article poorly edited?

Clemson Football: Like this team?