Sharrif Floyd: Video Highlights for Former Florida DT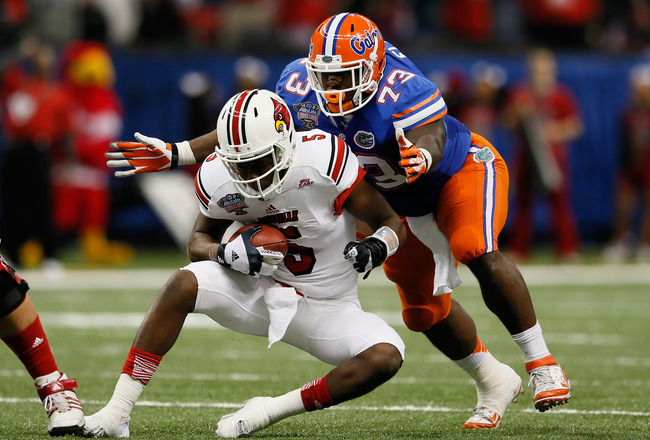 Kevin C. Cox/Getty Images
Sharrif Floyd may not be the biggest prospect at the defensive tackle position, but he's still been able to quickly shoot up draft boards recently.
The reason for this is that Floyd shows off some very impressive quickness and athleticism. His versatility on the defensive line during his career at Florida makes him an appealing prospect regardless of the defensive scheme.
There are plenty of great prospects in the 2013 NFL draft, but Floyd is good enough to potentially be a pick in the top five. Here are a few highlights of Floyd that show off just how good he could be in the NFL.
September 8th vs. Texas A&M
Most players would struggle making the move from defensive end to defensive tackle, especially early on in the season.
Floyd didn't seem to have much trouble with it.
Floyd was able to make a pretty big impact in this game. He made a few tackles, which is even more impressive considering how quickly the Aggies get the ball out of the backfield.
What was even more impressive was Floyd's awareness. You can see on several plays that Floyd reads the option and responds accordingly, something that college players tend to struggle with.
November 3rd vs. Missouri
The Gators were given a bit of a scare against the Missouri Tigers, but they were able to pull out the win, 14-7. Floyd finished the day with five tackles, including a few big ones in the backfield.
Throughout the game, Floyd was a versatile piece on the defensive line. He played anywhere on the line from nearly over center to the outside of the offensive line. It didn't matter where he was positioned, as he was able to get through the line regardless of where he was.
The ability to move around on the line is a big reason NFL scouts like Floyd so much. From watching this game, it's easy to see why.
Sugar Bowl vs. Louisville
Bowl games are a great place to boost your draft stock since the entire country will be watching. Even though the Gators lost to the Louisville Cardinals, Floyd had a big day that included five tackles and two sacks.
Floyd did a good job getting into the backfield during this game, and he blew up more than a few plays. Look at the play around the 2:41 mark, and you can see that he does a good job quickly getting off the snap. Even though the play was a completion, he certainly blew up the backfield on the play.
Just remember that a defensive tackle isn't going to make a big play every snap. Floyd held his own the whole game and was able to make a big impact for the Gators despite the loss.
2012 Season Highlights
The transition from defensive end in 2011 to defensive tackle in 2012 was certainly a success for Floyd. He finished the season with 13 tackles for loss and 6.5 sacks, earning First Team SEC honors.
One of the bigger things that Floyd was able to do in 2012 was work through the double team. The Florida State Seminoles double-teamed Floyd quite a bit, but Floyd worked through it and got to E.J. Manuel a few times.
Making big plays like Floyd did all last season will help your draft stock a lot. This video is proof of that.
NFL Combine Workout
A lot of defensive tackles use their size and strength to break through the line, but Floyd has a different set of skills that make him quite unique.
The 40-yard dash unofficial time of 4.93 seconds is a pretty solid number for a guy that weighs in at 297 pounds, but the other drills are what really set him apart. In the agility drills, he shows surprisingly quick feet that help him switch direction much faster than most defensive tackles.
The end of the video reveals a bit about Floyd as well. Despite being relatively quiet during the interview, he answers questions about going up against a certain blocking scheme and using certain moves to separate with a bit of confidence.
The workouts look solid, and they certainly are a factor as to why teams are looking to draft this guy.
Keep Reading

Minnesota Vikings: Like this team?