Big Ten Football: Power Ranking the Best Mascots in the Conference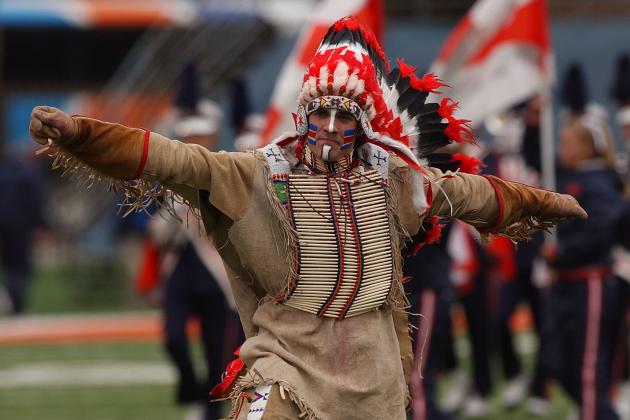 Jonathan Daniel/Getty Images
Yes, this indeed used to be a B1G mascot...
Mascots are as iconic as football teams themselves, leading the charge as football and basketball teams take the field every season. Mascots bring entertainment and pride for each fanbase that has the luck to have one.
As spring football winds down and the long grind through summer drills begins across Big Ten country, let's have a fun debate: Which B1G team has the best mascot? The inquiry is highly subjective, but I will consider each of the following factors:
1. Actually having more than a nickname: "Mascot" is defined as an object, animal, or person that brings good luck or symbolizes a particular organization, and this is different than "nickname," which is the name we use to refer to these players and teams. A mascot must be a live object, not just a label to make this list (but we will briefly discuss those schools without mascots on the next slide).
2. Uniqueness or Distinctness: Mascots are all over sports, especially at the high school and college level. Therefore, it is better if your team's mascot stands out from a crowd.
3. Embodies the spirit of the university: When at their best, mascots are a reflection of the people making up the community of the university. This helps fans get behind a mascot more than anything else.
4. Fun for fans and opponents: mascots are here to entertain us, and that includes opposing fans as well as fans of the home team. There is a fun factor that makes some mascots more enjoyable to watch than others, and this is the most intangible of the factors I will consider.
That's enough explanation. Everyone else will have their own factors and decisions and I'd love to hear you rank them in the comments. But to start the conversation, here is my list of the best mascots in the Big Ten.
Begin Slideshow

»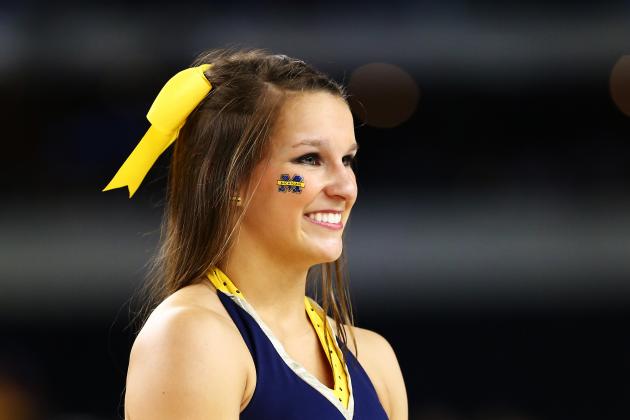 Tom Pennington/Getty Images

There are three teams that do not have a live mascot of any sort, and these teams therefore become ineligible for consideration on this list. But there is a history here for a couple of the teams:
Illinois
The Fighting Illini did have a mascot named Chief Illiniwek until 2007, when the movement against derogatory Native American mascots hit a fever pitch and made most college versions go away. The Chief held on longer than others such as the Redskins at Miami of Ohio, but it was still pretty objectionable on the whole.
Until Illinois changes the team name, which does not appear likely anytime soon, then do not expect a revival of the mascot. All told, it's for the best. We don't need to offend anyone.
Indiana
Here's a team that is just too snooty for simple pleasures such as mascots. Instead, the university has adopted the nickname for residents of the state of Indiana, and "Hoosiers" is completely meaningless beyond that.
I'd like to imagine that a Hoosier mascot would be like the bird that represents the meaningless Virginia Tech Hokies. Why not have something for the fans to rally about? This is a complete failure on Indiana's part.
Michigan
The Wolverines did have a mascot back when the legendary Fielding Yost coached the football team in the 1920s and 1930s. However, the two live wolverines (one named Biff) did not catch on and were dropped from the program.
That is unfortunate, because how fun would it be to see a feisty wolverine chase other mascots around the field, especially Brutus Buckeye? Imagine a game between Georgia and Michigan where Uga and Biff would do battle. Now that would be fun!
But alas, we will just have to wish for future mascots from these schools who currently abstain.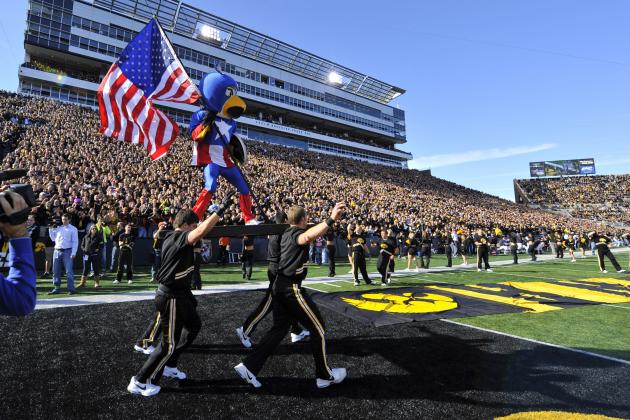 David Purdy/Getty Images
Nice Captain America uniform, boss
Herky has long been the mascot for the Hawkeyes, a name that is a strange fit for Iowa. If Herky wore goofy outfits like the Captain America one shown in this picture all the time, it is highly likely he would skyrocket up the list. However, he does not.
The hawk is pretty distinctive, but unfortunately the solid head on this character is a bit scary. Mascots should be fun for the kids, not moderately disturbing.
The hawk also does not seem to have much of anything to do with Iowa, either the state or the university community. However, Cornhuskers was already taken, so you do what you can. Herky is not one of the more fun mascots to watch as well.
All told, Herky comes in dead last on the list. However, that still ranks above all those losers on the last slide, so take heart in that, Hawkeye fans.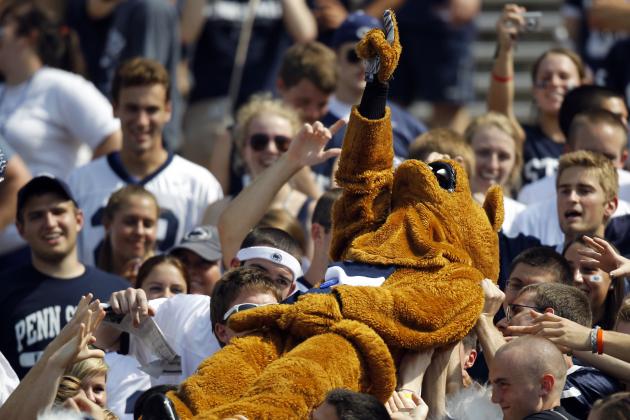 Justin K. Aller/Getty Images
Loved by Happy Valley, but not much to see here
Penn State came into the conference in 1993, and it only took 20 years for the conference to expand eastward and make the Nittany Lions feel like a central piece of the conference. While Penn State did bring everything from football tradition to scandal to the conference, what the university did not bring was a great mascot.
The Nittany Lion does not have a fun name—it merely takes the same name as the team nickname. The Nittany Lion is just a lion costume with a scarf, which looks like something you could rent to do birthday parties for kids. Or cheer at any old Pennsylvania high school on Friday nights.
The Nittany Lion is also not unique. Unless I have missed something, the lion does not represent the university community or the local area all that well either.
That being said, the mascot is less offensive and scary-looking than Herky, so the Nittany Lions avoids the cellar of this list.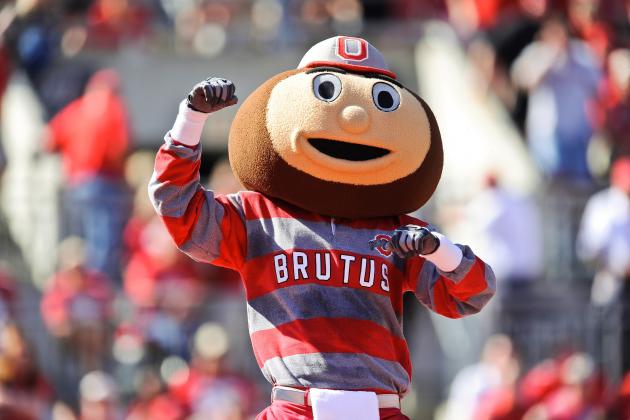 Jamie Sabau/Getty Images
This hurts the head if you think about it much
This will certainly draw some raised eyebrows and hate from Buckeye Nation, but Brutus simply does not match up to many others on this list. Brutus is an oversized buckeye nut (which is a poisonous worthless nut, if you did not know) on a man's body.
That simply makes zero sense, folks. ZERO SENSE.
Now, of course something silly can be highly fun, and the buckeye nut does have an inviting grin on his face, but this is just too ridiculous to be taken seriously as a symbol to rally around. Plus, the buckeye nut does not represent the university community well, unless you consider them all crazy nuts (Michigan fans are nodding, I know).
Brutus does fit my first big factor, uniqueness, but this is not what I would consider a good type of unique. Just weird and strange.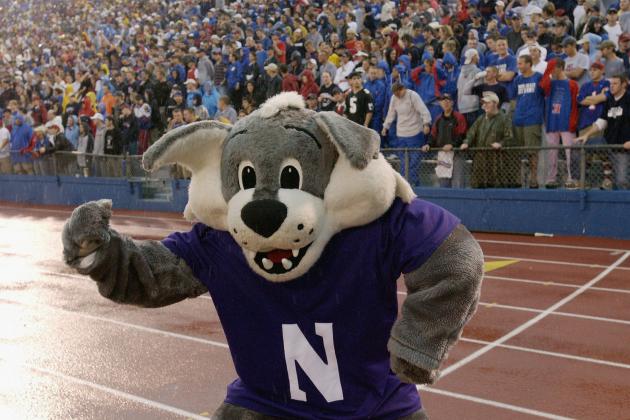 Dave Kaup/Getty Images
Purple power!
Northwestern brings another feline mascot to the mix, this time a wildcat. While such an overused mascot would be a blase choice, Willie actually has a bit of charm to him. It must be the purple shirts and uniforms he wears depending on the sporting event he is attending.
While a wildcat is not unique at all, the fun-looking face and soft exterior of this mascot just make kids and adults want to hug Willie, then sit down and cheer on the Northwestern team as it hopelessly endeavors to keep up with the big state schools of the Midwest.
The wildcat also does moderately embody the spirit of the university, because you never know with Northwestern when a big upset is going to happen. They are the wild card of the Big Ten, an outlier than cannot be ignored or overlooked—just like a wildcat in the woods, waiting to get you when you drop your guard.
Willie will have trouble going much higher on this list, unless wildcats become unpopular at the 20 other colleges who use the same mascot.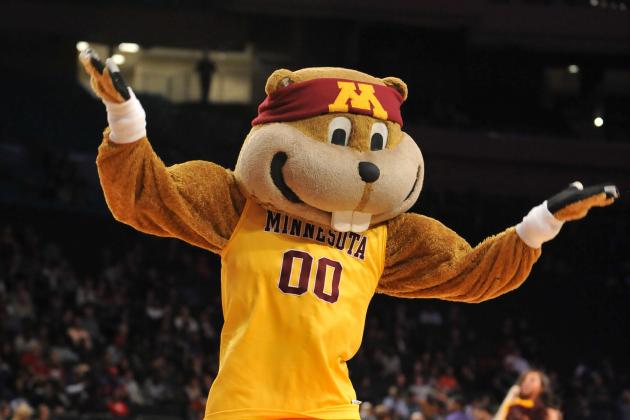 Jason Szenes/Getty Images
How could you not love a doofy face like this?
The northernmost school in the Big Ten has to survive a lot of snow and cold, crappy weather, which may explain why the school is the only one with a stadium that serves beer during football season. As a result, it totally fits to have a goofy-looking mascot in a nice warm fuzzy outfit.
Although there's really no such thing as a "golden" gopher, it is definitely possible to find plenty of gophers in the state of Minnesota. Plus, the gopher looks like a silly sibling who is ready to punk the other teams in the conference when they least expect it.
Minnesota may not have the advantages or tradition of success that other conference schools have, but these kids know how to have fun. And nothing says fun like a bucktoothed gopher.
In addition, of all the animal mascots out there, Minnesota has found something unique in selecting the gopher. Goldy is not invited to golf outings thanks to Caddyshack, but he is welcome at all other sports.
A fun leader of the program pushes Goldy into the top five, and there's a much bigger gap in my mind between Goldy and Willie than there is between Goldy and the top of this list.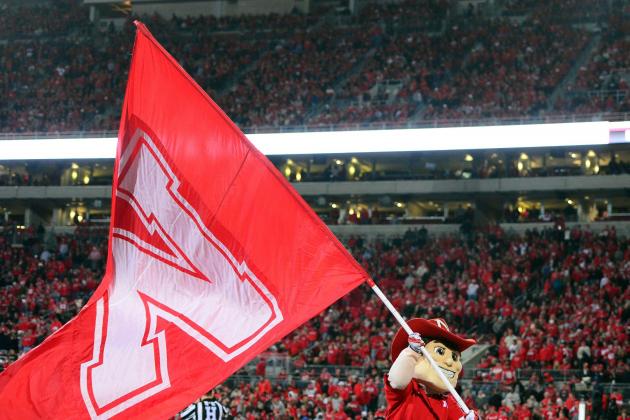 Andrew Weber-USA TODAY Sports
Herby is just a guy with a gigantic flag!
Nebraska and Minnesota are just about tied for fourth. But nobody likes ties, so I put this duo of mascots above Goldy Gopher.
Herbie Husker is a cowboy with big old forearms and a cowboy hat that would fit the size of Texas, if Nebraska could stomach that state. Nebraska also has Lil' Red, an overalls-wearing inflatable balloon that just makes you smile when you see him.
While neither one of these stands out on their own, the duo just screams what Nebraska is about. Coveralls and farmers and cowboys and CORNHUSKERS! Yes indeed, these symbols fit Nebraska and the university community like a glove.
Surprisingly, these mascots are also relatively distinctive for being a generic inflatable balloon and dude in a big cowboy hat. Compared to the rest of the Big Ten, though, these two stand out, as most other mascots are full body suits of armor or fur.
Fans and kids love these mascots, and the big grins invite you in for the beating Nebraska is about to put on you. Unless it is men's basketball or a football conference championship game.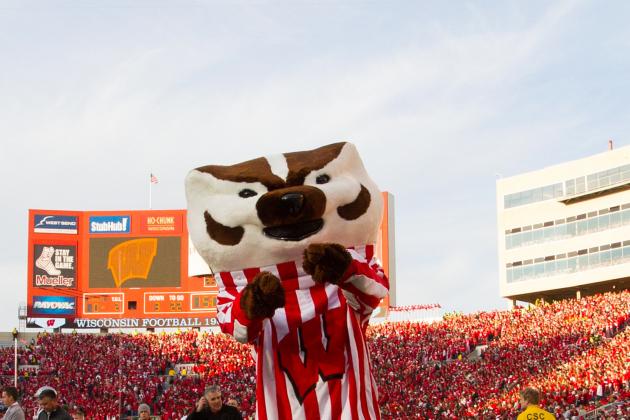 Jeff Hanisch-USA TODAY Sports
Bucky owns the Rose Bowl
Nothing says "On Wisconsin" like the big badger in a striped sweater. Bucky is in the sweet spot of silliness and approachability that makes a good college mascot.
A badger also fits the spirit of the Wisconsin sports teams and universities. A badger has a fighting stance even when cornered and is incredibly protective of its home. Anybody who has tried to win in Camp Randall Stadium or the Kohl Center knows just how tough these badgers protect the house.
Plus, despite the past three Rose Bowl games providing evidence to the contrary, Wisconsin is a lovable underdog in this conference of mega-state schools. Just like a badger might surprise larger animals and humans when given the opportunity, Bucky is worth rallying around.
Bucky also has the same level of uniqueness that Goldy has, which is a positive. However, you'd rather have a fighter in your corner with a neutral expression than a goofy grinning gopher, so Bucky ranks just a bit higher on this list.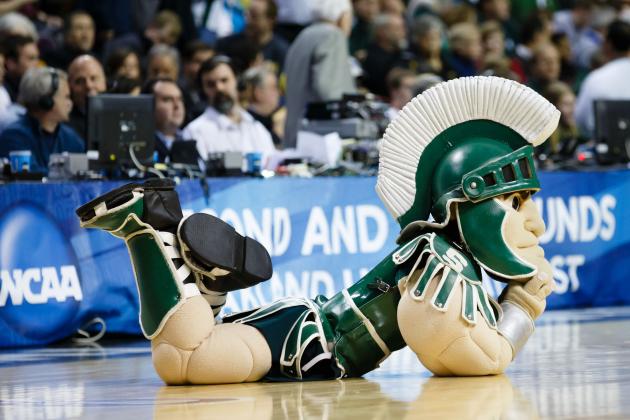 Rick Osentoski-USA TODAY Sports
Sparty, laying down on the job
Sparty is just what you would expect from a mascot for a team called the Spartans. The Michigan State symbol is a green-clad warrior with amazing definition in the arms and legs. In addition, Sparty has a big head and helmet that matches the uniforms of the football team. Sparty looks like he could play football right alongside Andrew Maxwell and the rest.
Actually, he'd probably be a better quarterback, but I digress.
Sparty is a perfect match for the fighting underdog gladiator spirit of Michigan State University. While they may be overlooked at times in favor of big boys Ohio State and Michigan, this is a shining star that is on the rise and cannot be ignored. Plus, Sparty has the best dance of any mascot in the country.
Sparty is more unique than one would expect for the spartan/trojan/gladiator type of mascot. His oversized head and body just bring a fun dimension to what was intended to be a relatively serious-looking mascot.
Sparty is all fun and comes close to the top spot. However, he falls just short.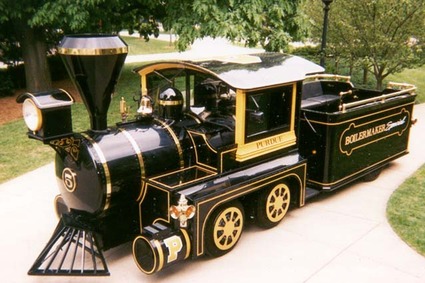 Courtesy Purdue Reamer Club
The Boilermaker Special is the name of the train that represents Purdue University, especially at football games. Add to that Purdue's manly mascot Purdue Pete, and you have a dynamic duo that cannot be topped.
The Boilermaker Special is one of only three vehicle mascots in college football, the others being the Sooner Schooner at Oklahoma and the Ramblin' Wreck at Georgia Tech. But the train is far cooler than a stagecoach or a dumpy old car.
There's little more distinctive than a vehicle, and a train fits exactly the theme of the university, which is a bunch of smart engineers and scientists. But the engineer makes a nice double-meaning, with the conductor of the train also being an engineer.
Plus, a train is far more distinct and impressive than a guy in a silly suit. Purdue has one of those, and he has a hammer that would make every other mascot but Sparty cringe in horror during a battle.
Purdue may not be elite on the field and court every season, but this mascot pair is nearly perfect.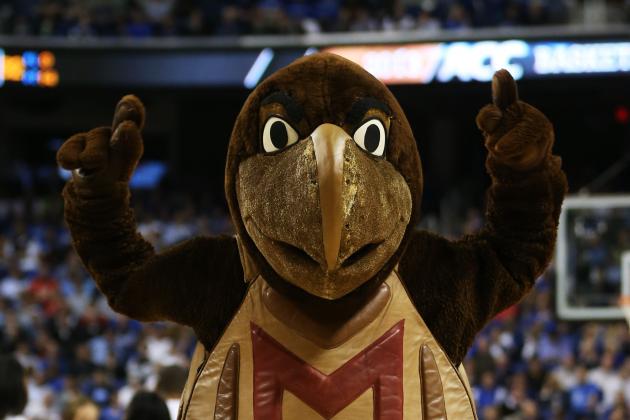 Streeter Lecka/Getty Images
Fear the Turtle!
Looking ahead to next year, the Big Ten will be adding two more schools with mascots to the mix. If you are wondering how they stack up, here is my hypothetical ranking of each.
Maryland
The mascot in College Park is Testudo, who is a terrapin (or turtle). That may not fit the spirit of the university community very well, but it is unique and fun. Everybody loves turtles, except maybe rabbits.
Plus, Testudo does not have a shell that looks like the simply awful state flag or uniforms that Maryland teams wear. So if your eyes bleed from the uniforms or the sports action, you can always be entertained by Testudo instead.
Testudo would rank between third and fourth on the list, just ahead of Herbie Husker.
Rutgers
The state university of New Jersey has some problems with the sports programs right now, but they will get those sorted out by next year. Which means Rutgers will be ready to do battle right away.
The mascot there is the Scarlet Knight, and he is kind of a stock representation of the team nickname. The fun that Sparty's appearance brings to push him up the list is wholly lacking from the Scarlet Knight. Plus, while knights are cool, there's not much connection to the community or fun about him.
The Scarlet Knight would rank between sixth and seventh on the list, just ahead of Brutus Buckeye.
Thanks for reading. Please let me know how you would rank this fun list differently below, and I look forward to bringing more serious football analysis or silliness to you next week.