The Miami Heat (60-16) are running short on regular-season goals at this point of the year.
Their majestic 27-game surge is a thing of the past. Home-court advantage throughout the Eastern Conference playoffs is already tied up, and Miami's biggest threat for the best record in the league, the San Antonio Spurs, sits a distant three games behind and has some more pressing injury concerns.
So Miami coach Erik Spoelstra has adjusted his rotation accordingly. LeBron James (hamstring) and Chris Bosh (knee) have started seeing some badly needed rest to enter the postseason in peak physical form.
Dwyane Wade (knee) has also been racking up the DNPs of late, but he might be seeing similar time off regardless of the situation. He's been dealing with soreness and swelling in his knee for nearly a month, and recently conceded that he may be out for the remainder of the regular season or even longer (via Michael Wallace of ESPN.com).
Rob Grabowski-USA TODAY Sports
Ideally, this recent rest period returns Wade to 100 percent for Miami's attempted title defense. But given the potential seriousness of the injury and his history with knee problems (he experienced soreness in his knee during last season's championship run), the Heat would be wise to start thinking about a Plan B.
The question on the mind of every Miami fan is just what kind of impact Wade's ailment may make on the team's postseason chances.
Considering there's a strong possibility that the back end of the playoff bracket will not change before season's end, the Heat are looking at a likely first-round matchup with the 37-39 Milwaukee Bucks. The same Bucks team spiraling through a 3-7 mark in their last 10 games, a group that the Heat have already disposed of twice this season.
Miami handed Milwaukee a 13-point loss during its prolonged winning streak.
In other words, the Heat could very well be looking at an opening-round sweep even if Wade doesn't suit up for the series.
After the first round, though, things get a little trickier for the Wade-less Heat.
Assuming the current standings hold true, Miami's facing a second-round meeting with either the Brooklyn Nets (44-32) or the Chicago Bulls (42-34).
On the surface, the Nets would be the preferred matchup for Miami. The Heat have routed the Nets three times this season by an average margin of 21 points per game.
But they haven't squared off with Brooklyn since Jan. 30, meaning they haven't met up with Deron Williams 2.0. Williams has thrust himself back into the elite ranks of the point guards by averaging 23.1 points (on 48.8 percent shooting from the field) and 7.8 assists (against 2.6 turnovers) since March 1.
When Williams is rolling, he's a good enough shooter to draw out the defense and an elite-level finisher when he attacks the basket.
Then again, the Bulls have already defeated the Heat twice this season, including the streak-busting 101-97 win on March 27.
And things won't ease up at all in the Eastern Conference Finals.
The surging New York Knicks and steady Indiana Pacers, two teams holding a combined 5-2 record against the Heat, are the most likely teams awaiting Miami.
And it's anyone's guess who will emerge from a deep Western Conference, which houses a horde of clubs presenting their own unique set of challenges for the Heat.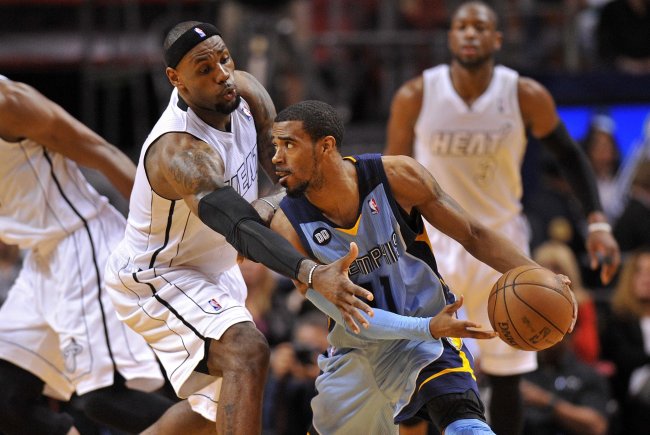 Steve Mitchell-USA TODAY Sports
Even with an elevated level of competition, though, Miami's a threat with or without Wade.
Plugging in Ray Allen (43.0 three-point percentage), Mike Miller (40.0) or James Jones (career 39.9) helps create ideal floor spacing for LeBron James to attack off the dribble. Pairing Norris Cole and Mario Chalmers allows Miami to push the tempo, while sliding Shane Battier into the backcourt gives the Heat formidable size.
Would you still consider Miami the favorite if Wade can't get back to 100 percent?
And Miami's still the Finals favorite even without Wade. You'd be hard-pressed to find a contender out West without legitimate concerns. And you can't find an Eastern Conference club with less than a double-digit deficit behind Miami.
But this could bring the vulnerability that frankly has been absent in recent months.
Wade has reminded the basketball world that he's still one of its biggest stars in today's game. He can change games with his offensive creativity (21.3 points, 52.1 field-goal percentage and 5.0 assists) or his suffocating defense (1.9 steals).
The Heat would love to have a healthy Wade to start the postseason.
But they're the league's best team even with a hobbled Wade in the trainers' room.