Grading Performance of Newest Cleveland Indians Players After First 10 Games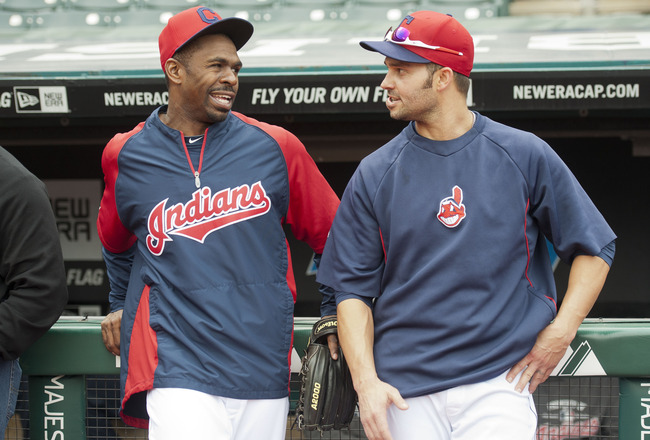 Jason Miller/Getty Images
The Cleveland Indians roster went through a complete overhaul this offseason.
With newcomers Michael Bourn, Nick Swisher, Mark Reynolds, Trevor Bauer and others, expectations are rising this year in Cleveland.
The Tribe has played 10 games so far in 2013, and while some players are off to hot starts, others are struggling to get out of the gate.
Here's how the performances of the 12 newcomers grade out through the first 10 games.
All 2013 stats courtesy of Clevelandindians.com.
All stats from prior seasons courtesy of Baseball-Reference.com.
All stats current through April 14, 2013.
Michael Bourn (CF)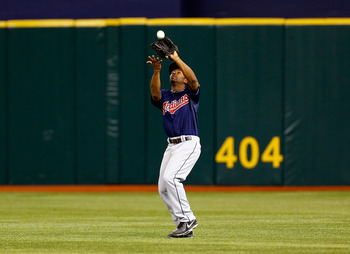 J. Meric/Getty Images
Michael Bourn landed in Cleveland late during the free-agency period.
Bourn's $7 million salary in 2013 makes him the third highest paid player on the Indians this season.
Through the team's first 10 games, Bourn has done exactly what the Indians are paying him for.
While hitting out of the leadoff spot, Bourn is slashing .293/.341/.512 with one HR, four doubles, one triple, one RBI, six runs scored and a stolen base.
Over the course of his career, Bourn has averaged four home runs per-162 games.
So, the fact that Bourn has a home run to his credit already is a major plus for the Indians.
Expect Bourn to do in 2013 exactly what he always does: get on base, steal and score runs.
Stat Line: 9 G, 41 AB, 12 H, 2 BB, 8 K, .293/.341/.512, 1 HR, 4 2B, 1 RBI, 1 run scored, 1 stolen base
Grade: A-
Nick Swisher (1B/RF)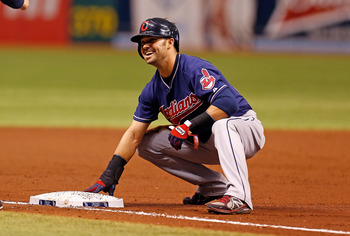 J. Meric/Getty Images
Nick Swisher enjoyed four successful seasons with the Yankees from 2009-12.
This offseason, Swisher cashed in on that success to the tune of a four-year, $56 million contract.
Swisher is expected to be a centerpiece in Cleveland's revamped lineup. Thus far, he has been one of the team's biggest offensive contributors.
Swisher is a gamer. Of all the players on this list, he is the only one to appear in all of the Indians' first 10 games.
Through those 10 games, he is slashing .303/.465/.455
To go with that slash line, the switch-hitter has one HR, two doubles, four RBI and four runs scored.
Swisher is getting on base frequently and has struck out as many times as he's walked—eight—and this early in the season, that's where his value is most apparent.
Stat Line: 10 G, 33 AB, 10 H, 8 BB, 8 K, .303/.465/.455, 1 HR, 2 2B, 4 RBI, 4 runs scored
Grade: A
Mark Reynolds (DH/1B)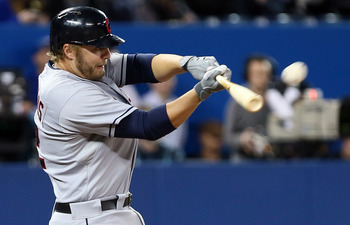 Abelimages/Getty Images
Mark Reynolds has built up a slugger's reputation over his six full MLB seasons.
Coming into the 2013 season, a right-handed power threat was something the Indians desired greatly, and that desire culminated in the signing of Reynolds.
Built straight from the Adam Dunn mold, Reynolds offers plus-power with an awful lot of strikeouts—career 2.76 K/BB ratio.
This season, he has lived up to that reputation.
In nine games played, the 29-year-old DH is slashing .257/.289/.743 with five HR, two doubles, 13 RBI and eight runs scored.
As previously mentioned, Reynolds strikes out a lot. In 38 plate appearances, he has struck out eight times—a 21.1 percent strikeout rate.
Though that's higher than the 18.3 percent league average over the course of his career, Reynolds has struck out significantly less this season than he normally does—32.5 percent.
Should that strikeout rate persist, his OBP will skyrocket, and he could be in store for a career year with the Indians.
Stat Line: 10 G, 35 AB, 9 H, 2 BB, 8 K, .257/.289/.743, 5 HR, 2 2B, 13 RBI, eight runs scored
Grade: A-
Drew Stubbs (RF)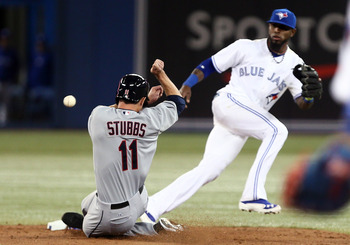 Abelimages/Getty Images
In four seasons with the Cincinnati Reds, Drew Stubbs went from being a highly touted prospect to trade fodder following two straight seasons of severe disappointment.
Stubbs' struggles with the Reds were chronicled by his declining ability to get on base and an egregious amount of strikeouts.
This past offseason, the Indians acquired Stubbs from the Reds in the same three-team deal that landed them Trevor Bauer.
Upon acquiring Stubbs, the Indians promptly inserted him into the depth chart as one of their three starters.
Thus far, in 2013, he has displayed the same struggles he faced while playing for the Reds.
Through his first seven games with the Tribe, he is slashing .200/.222/.257 with two doubles, two RBI and a stolen base.
What's most troubling about Stubbs is his strikeout rate. In 36 plate appearances, he has struck out 14 times, which translates into a massive 38.9 percent strikeout rate.
Over the last few years, his strikeout rate has led to an ever-increasing inability to get on base, and that has carried over into 2013.
If Stubbs' struggles continue through the regular season, he could find himself with yet another team in 2014.
Stat Line: 9 GP, 35 AB, 7 H, 1 BB, 14 K, .200/.222/.257, 2 2B, 2 RBI, 1 stolen base
Grade: F
Ryan Raburn (OF/2B)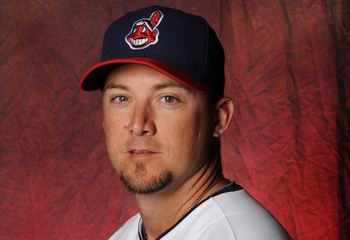 Rich Pilling/Getty Images
Ryan Raburn was brought in by the Indians to fill a void as a utility player.
Raburn has the ability to play multiple positions including first, second, third and all three outfield positions, which could prove to be valuable should he rebound from his 2012 struggles.
The 31-year-old utility man was released by the Tigers last season and failed to hit above the Mendoza line in 66 games with Detroit—.176 batting average.
Raburn is looking to resurrect his career with the Indians in 2013, but so far, he's struggled to do so.
In six games played, he has collected 17 at-bats while slashing .200/.333/.333 with two doubles, and four runs scored.
The reclamation project that is Raburn's career has yet to take off in Cleveland, but so far he's about as productive as the team's everyday right fielder.
Stat Line: 5 GP, 15 AB, 3 H, 3 BB, 4 K, .200/.333/.333, 2 2B, 4 runs scored
Grade: D
Mike Aviles (IF)
J. Meric/Getty Images
As we progress through the 2013 season, Mike Aviles could prove to be one of the more shrewd pick-ups for the Indians.
Aviles was acquired in November from the Blue Jays along with catcher Yan Gomes, in exchange for Esmil Rogers (per Bostonglobe.com).
Last season, as a member of the Boston Red Sox, Aviles had arguably his best season as a professional slashing .250/.282/.538 with 13 HR, 60 RBI, 57 runs scored and 14 stolen bases.
His OBP in 2012 was nothing to write home about. However, the other stats are impressive and, should they carry over into 2013, Aviles will be a valuable asset for the Tribe.
He has played six games with the Indians and is currently slashing .294/.333/.471 with one HR, three RBI and three runs scored.
Whether he serves as a utility infielder or defensive replacement, Aviles will be a productive player.
Stat Line: 6 GP, 17 AB, 5 H, 1 BB, 2 K, .294/.333/.471, 1 HR, 3 RBI, 3 runs scored
Grade: B+
Brett Myers (SP)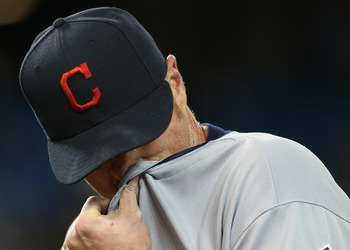 This picture pretty much sums up the Brett Myers experience through 10 games.
Tom Szczerbowski/Getty Images
Brett Myers came to the Indians in the offseason as an unrestricted free agent.
After serving solely as a reliever with the Houston Astros and Chicago White Sox in 2012, Myers was placed in the starting rotation with the Indians.
Thus far the move has proven to be an utter disaster.
Myers has made two starts with the Indians, neither of which have been remotely close to what they were hoping for when they signed the 32-year-old.
In his two starts, he's gone a combined 10.1 innings while allowing a 12.19 ERA, a 1.94 WHIP and ratios of 3.5 K/9, 1.7 BB/9, 2.0 K/BB and 15.7 H/9.
Myers' struggles as a starter are well documented—4.30 ERA and a 1.34 WHIP in 250 starts—but his first two starts in 2013 are on a whole different level.
Stat Line: 10.1 IP, 12.19 ERA, 1.94 WHIP, 3.5 K/9, 1.7 BB/9, 2.0 K/BB, 15.7 H/9
Grade: F
Trevor Bauer (SP)
J. Meric/Getty Images
Trevor Bauer has become somewhat of an enigma in this league.
He has immense talent and the potential to be a front of the rotation type starter.
However, Bauer's attitude and headstrong nature were enough to convince the Diamondbacks that he was not worth the time or effort—USA Today's Bob Nightengale chronicles this deterioration here.
Bauer wound up in Cleveland—along with Drew Stubbs—as the centerpiece of the three-team deal in which the Indians sent Shin-Soo Choo to the Reds.
Bauer's first start with the Indians came off the heels of Scott Kazmir's trip to the DL and only furthered the concerns surrounding the team's top prospect.
Bauer took the loss in his first start and was only able to go five innings while allowing three earned runs on two hits, seven walks and two strikeouts.
The 22-year-old was promptly demoted to Triple-A Columbus, where he will likely remain until he either forces his way onto the rotation, or another injury occurs.
Bauer's so talented that it would be shocking if he proved unable to live up to his full potential. However, fans should keep close tabs on him throughout the season.
Stat Line: 1 G, 0-1, 5.0 IP, 5.40 ERA, 1.80 WHIP, 3.6 K/9, 12.6 BB/9 0.29 K/BB, 3.6 H/9
Grade: C-
Matt Albers (RP)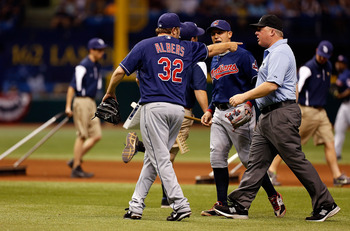 J. Meric/Getty Images
Matt Albers was a throw-in for the Indians from the Trevor Bauer trade.
Albers has worked primarily as a reliever for the past five seasons, and he will continue in that role with the Indians.
Over his 281 relief appearances, he has registered a 4.21 ERA, a 1.46 WHIP and ratios of 6.8 K/9, 4.3 BB/9 and 8.8 H/9.
This season, Albers has appeared in four of the team's eight games allowing a 5.40 ERA and a 1.80 WHIP with ratios of 7.2 K/9, 5.4 BB/9 and 10.8 H/9.
Albers is suitable for mop-up duty—e.g. Brett Myers' first two appearances—but don't expect him to serve much of a purpose in tight, late-inning games.
Stat Line: 4 G, 1-0, 5 IP, 5.40 ERA, 1.80 WHIP, 7.2 K/9, 5.4 BB/9, 1.33 K/BB, 10.8 H/9
Grade: C
Rich Hill (RP)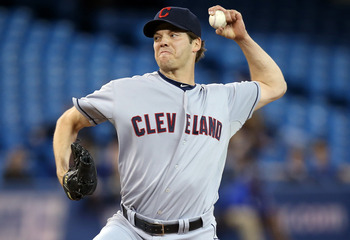 Tom Szczerbowski-USA TODAY Sports
Rich Hill made his way to Cleveland via free agency this offseason.
He served as a starter through the 2009 season but over the last three seasons, he has worked solely as a reliever.
Hill made 40 appearances as a reliever between 2010 and 2012 working to a 1.14 ERA and a 1.26 WHIP with impressive ratios, including 10.2 K/9, 4.3 BB/9 and 7.1 H/9.
This year, he has made just two appearances and has yet to capture that same level of success with the Indians.
In those two appearances, Hill has pitched just 1.2 innings, allowing a 10.80 ERA and a 2.40 WHIP with ratios of 5.4 K/9, 10.8 BB/9 and 10.8 H/9.
Stat Line: 2 G, 0-0, 1.2 IP, 10.80 ERA, 2.40 WHIP, 5.4 K/9, 10.8 BB/9, 10.8 H/9
Grade: D-
Bryan Shaw (RP)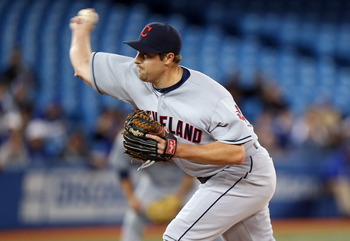 Tom Szczerbowski-USA TODAY Sports
Bryan Shaw was the final piece of the Indians' three-team-deal with the Diamondbacks and Reds this past offseason.
Shaw is young—25 years old—and the best reliever who joined the Indians this year.
He owns a career 3.15 ERA and a 1.37 WHIP over 91.1 innings pitched.
This season, Shaw has shown improvement over his first three games with the Indians in the form of a 2.45 ERA, a 0.82 WHIP and ratios of 7.36 K/9 and 7.36 H/9.
Shaw has yet to appear in many games for the Tribe, but he's yet to walk a batter and has shown that he can be a valuable part of the organization.
If he continues to pitch like this, Shaw has the potential to be a difference-maker at the back-end of an already talented Indians bullpen in 2013.
Stat Line: 3 G, 0-0, 3.2 IP, 2.45 ERA, 0.82 WHIP, 7.36 K/9, 7.36 H/9
Grade: A-
Yan Gomes (C)
Jason Miller/Getty Images
Yan Gomes was the other half of the return package the Indians received in exchange for Esmil Rogers.
Gomes has some prior big league experience and appeared in 43 games with the Toronto Blue Jays in 2012.
He didn't have much success in his first big league season as he registered just a .204/.264/.367 slash line with four home runs, 13 RBI and nine runs scored over 98 at-bats.
With the Indians this year, Gomes has appeared in only three games, logging 11 at-bats with a .091/.091/.364 triple slash, one home run, two RBI and a runs scored.
Gomes may not stick with the club and will, in all likelihood, be sent down when Lou Marson returns from the DL.
Stat Line: 3 G, 11 AB, 1 H, .091/.091/.364, 1 HR, 2 RBI, 1 run scored
Grade: D-
Keep Reading

Cleveland Indians: Like this team?