Michigan vs. Louisville: Breaking Down Title Game's Biggest Position Battles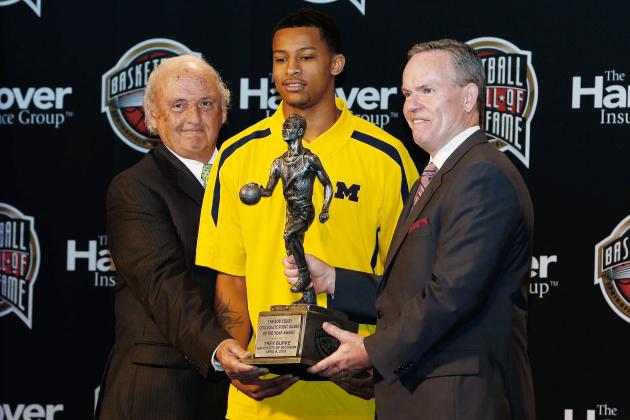 Mike Zarrilli/Getty Images

After weeks of breathtaking action, we've finally arrived at the 2013 NCAA National Championship Game. The college basketball Gods have spoken, thus leaving us with a battle between the Michigan Wolverines and Louisville Cardinals.
The question is, which positional battles will determine the team that emerges victorious in one more game to decide who etches their names into the record books?
There's no shortage of star power in this game, as Hall of Fame head coach Rick Pitino leads the Cardinals against Naismith Player of the Year award winner Trey Burke and the Wolverines. Contrary to popular belief, however, the stars are not the only ones involved in this one.
It will take a team effort—so who has the team to win?
Begin Slideshow

»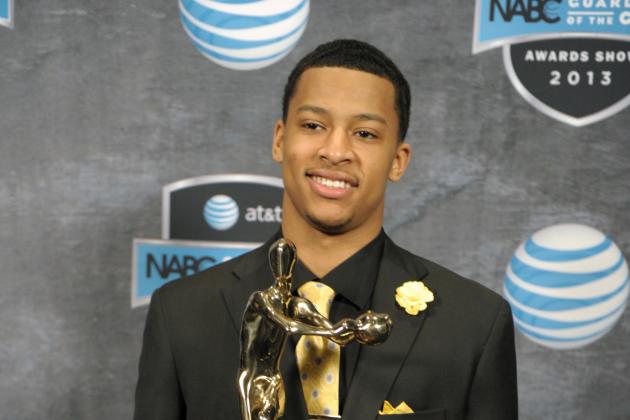 Moses Robinson/Getty Images

When the Louisville Cardinals play the Michigan Wolverines for the National Championship, all eyes will be on the point guards. It is there that we will find our greatest battle of wits, as Michigan's Trey Burke faces Louisville's Peyton Siva.
This just so happens to be the most complicated dissection of any positional battle we have.
Burke is the better all-around player, which his Naismith and Wooden award trophies provide evidence to. With that being said, Siva is a defensive master at the collegiate level who has a long history of locking down elite opponents.
Even as we give Michigan the edge, there's always the outside chance that Burke is smothered by Siva's defense. There's also the possibility for him to go off for 20.
Due to Burke's status as a dynamic playmaker, he earns the edge—just not by as much as you may have thought.
Advantage: Michigan Wolverines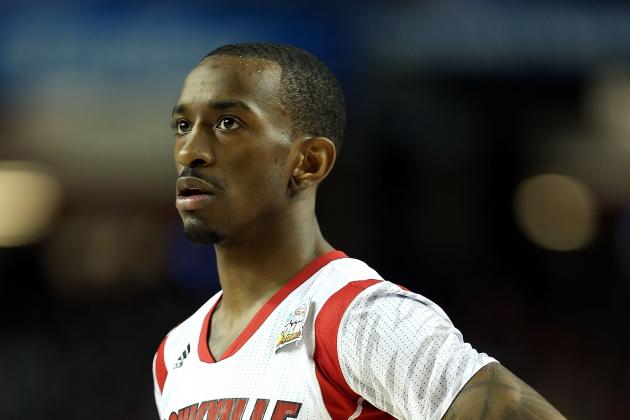 Andy Lyons/Getty Images

In terms of NBA potential, you could make a case that Tim Hardaway Jr. is a significantly better player than Russ Smith. One could also state that Hardaway Jr. owns a powerful advantage over the 6'1" Smith by standing at 6'6".
With that being said, Smith has been one of the best players in the 2013 NCAA tournament—regardless of the caliber of opponent he's face with.
Thus far in the NCAA tournament, Smith is averaging 25.0 points per game on 50.0 percent shooting from the field. No matter what your debate is on Hardaway's behalf, we can't argue with that type of success.
Smith has been sensational.
Advantage: Louisville Cardinals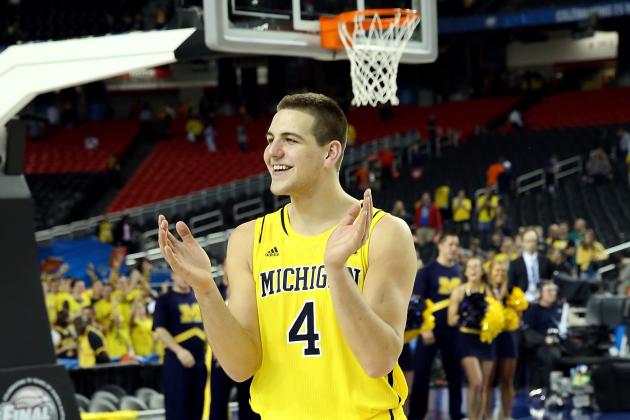 Streeter Lecka/Getty Images

If the Michigan Wolverines win the 2013 National Championship, there will be a powerful crowd voting Mitch McGary as the NCAA tournament's Most Outstanding Player. After all, McGary is leading the Wolverines in scoring, rebounding, blocks and steals during the tourney.
With that being said, McGary is about to run into some NBA-caliber competition in Gorgui Dieng.
McGary outdueled Jeff Withey when Michigan played the Kansas Jayhawks, tallying 25 points and 14 rebounds on 12-of-17 shooting. With that being said, Withey is far from elite when it comes to lateral quickness and leaping ability.
Louisville Cardinals center Gorgui Dieng, however, is as explosive as they come.
Dieng is one of the best interior defenders in the nation, pairing dominant physical gifts with marvelous anticipation. Against driving scorers or low-post players, Dieng is a dominant force when it comes to locking down the opposition.
The question is, can Dieng handle McGary's non-stop motor and win the effort plays? That will be what decides this game.
Unfortunately for the oddsmakers out there, no one holds a distinct two-way advantage in this one.
Advantage: Push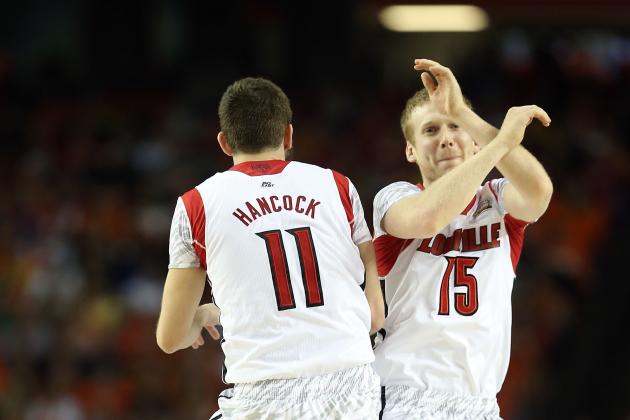 Andy Lyons/Getty Images

At small forward and power forward, the Michigan Wolverines hold an advantage in terms of production via the likes of Nik Stauskas and Glenn Robinson III. When it comes down to deciding this battle on the court, however, we look no further than the second units.
A group of players that has been phenomenal for both of these squads.
Louisville Cardinals swingman Luke Hancock, a junior three-point marksman, was huge during the Final Four, scoring 20 points in a 72-68 win. Beyond his production, however, is Hancock's poise and leadership.
Paired with freshman Montrezl Harrell and Final Four hero Tim Henderson, the Cardinals have a powerful bench.
As for Michigan, their second unit doesn't receive the attention they deserve. Caris LeVert came up big against Syracuse, hitting two three-pointers, while Spike Albrecht has become a tournament celebrity after his Final Four heroics.
With 6'10" big man Jon Horford and former starter Jordan Morgan, the Wolverines have an impressive second unit of their own—but is it enough to top Louisville's?
We'll give the edge to Hancock's leadership.
Advantage: Louisville Cardinals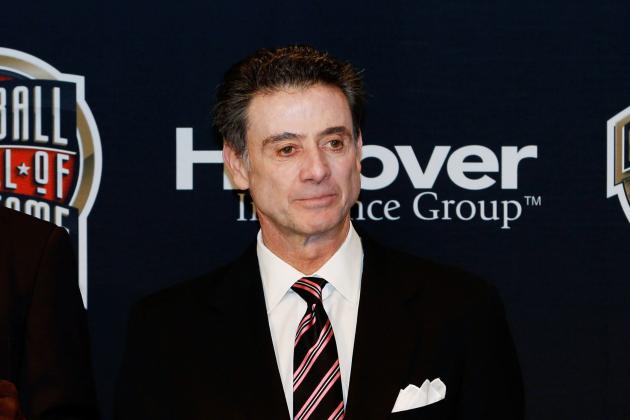 Mike Zarrilli/Getty Images
That's a Hall of Fame jersey.
Michigan Wolverines head coach John Beilein is one of the best in the nation. Not only has he led Michigan to the National Title game, but he's transformed them from the laughing stock of the Big Ten to the class of the conference.
Unfortunately, there's just no comparing Beilein—or most other coaches, for that matter—to Louisville Cardinals lead man Rick Pitino.
Pitino has won a National Championship, made seven Final Four appearances and brought his teams to the Elite Eight in 11 different seasons. To put it simply, Pitino is a one-of-a-kind legend in college basketball.
That's exactly why he's an inductee in the 2013 Naismith Memorial Hall of Fame (via ESPN).
Beilein can hold his own, but when it comes to drawing up the right play, few have ever done it as well as Pitino. That will be the case during this game, as the Hall of Famer pursues his second career National Championship.
If he succeeds, Pitino would become the first coach in NCAA history to win a national title at two different schools.
Advantage: Louisville Cardinals