Updated Rankings of Top 5 NBA Players at Every Position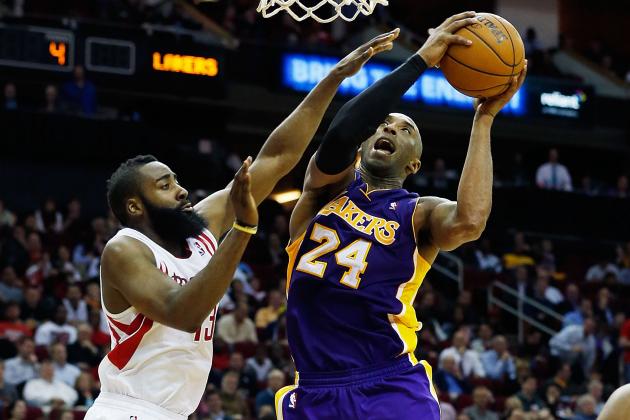 Scott Halleran/Getty Images

Even though the 2012-13 NBA regular season is nearly finished, our rankings of the top five players at each position keep shifting.
The chase for playoff positioning has fueled the performance of several stars, while some are just playing for pride or a better contract.
In the point guard hierarchy, the Western Conference rules. Are Stephen Curry's latest heroics enough to move him up a spot or two?
What about Carmelo Anthony's recent scoring binge? The small forward class is stacked, but he's been phenomenal.
Find out where your favorite stars stand as we break down the best at each position.
*Minimum of 50 games to qualify. Players declared out for remainder of season were omitted.
Begin Slideshow

»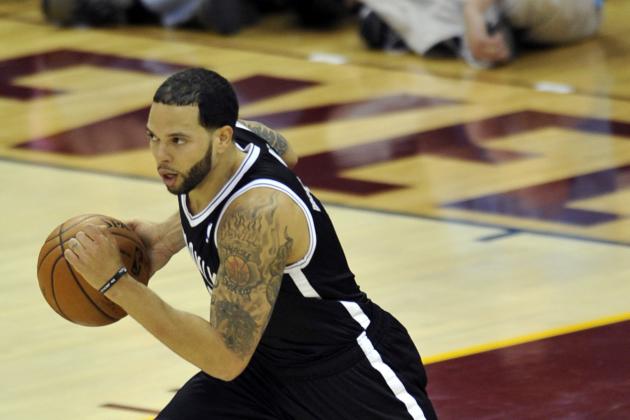 David Richard-USA TODAY Sports

2012-13 Stats: 36.6 MPG, 18.7 PPG, 7.7 APG, 44% FG, 38% 3PT
After struggling to produce for much of the season, Brooklyn Nets floor general Deron Williams is returning to his All-Star-caliber form just in time.
In his last 10 games, he tallied 23.2 points per game on nearly 50 percent shooting. His assist numbers haven't suffered at all during this stretch, as he's dishing 7.9 dimes per game.
D-Will's most recent games have been some of the best of the season. He notched 30 points against the Chicago Bulls on just 16 shots and added 10 assists for good measure. Two nights later, he dropped 32 points on 18 shots to accompany six assists.
P.J. Carlesimo needs more of this calculated aggression from Williams heading into the playoffs.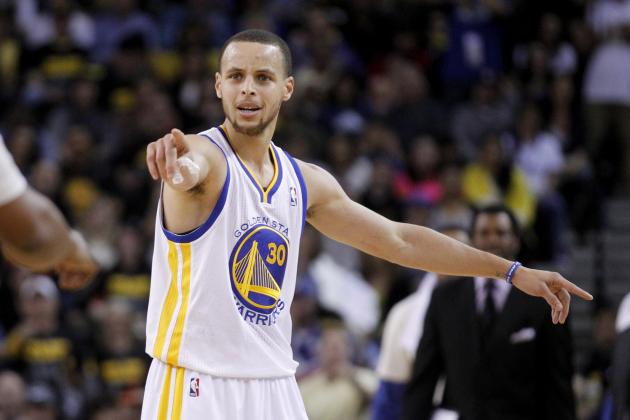 Cary Edmondson-USA TODAY Sports

2012-13 Stats: 38.3 MPG, 22.5 PPG, 6.9 APG, 1.6 SPG 45% FG, 45% 3PT
Stephen Curry was considered one of the biggest names left off the 2013 All-Star roster, but let's be honest; it's not accurate to call him an All-Star.
He's more than that. He's superstar material.
Since the All-Star break, the conductor of the Golden State Warriors orchestra has posted seven 30-plus-point games and eight games with eight-plus assists. It's not uncommon for him to score 25 while dishing 10 or more assists.
The most impressive aspect of his game is the ease with which he handles the ball and the efficiency of his long-distance stroke. Kevin Durant is the only other player in the league who scores 20-plus while shooting better than 40 percent from three-land.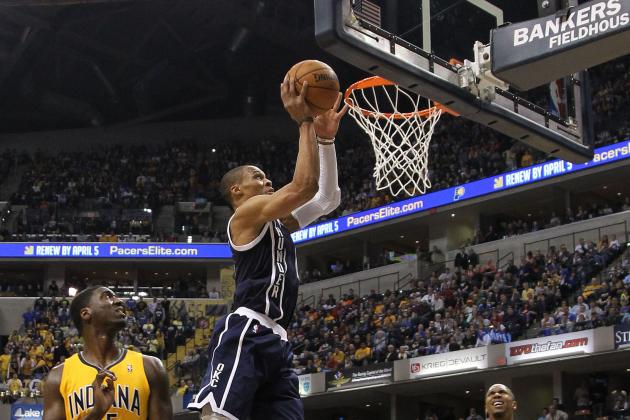 Brian Spurlock-USA TODAY Sports

2012-13 Stats: 35.3 MPG, 23.4 PPG, 7.6 APG, 5.4 RPG, 1.8 SPG 44% FG, 32% 3PT
When Oklahoma City Thunder star Russell Westbrook puts his mind to getting to the rim, there's almost no way to stop him.
His ability to stop on a dime and elevate for a jumper is a great tool, but his talent for driving to the tin is more valuable. Opposing defenses have to overcompensate to stop him, and he makes them pay with dump-offs to Serge Ibaka or kick-outs to Kevin Durant.
Westbrook's influence on the game goes far beyond his offensive playmaking skills. His perimeter defensive pressure is effective as usual, and lately his glass work has been outstanding (6.4 rebounds per game in his last 10 games).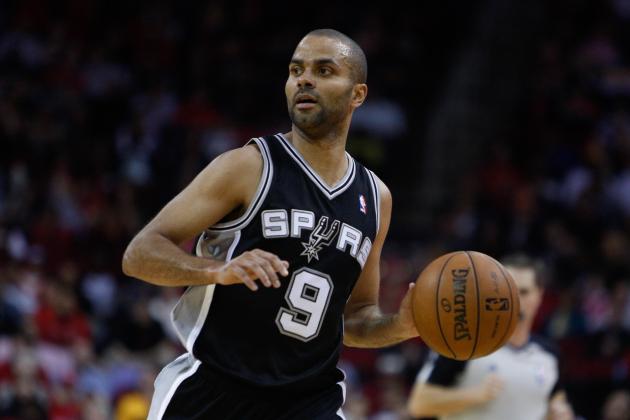 Thomas Campbell-USA TODAY Sports

2012-13 Stats: 33.1 MPG, 20.6 PPG, 7.5 APG, 53% FG, 35% 3PT
Tony Parker's ankle has substantially limited his activity for a little over a week, but there's plenty of time for him to get stronger before the playoffs.
Prior to his most recent ankle woes, the San Antonio Spurs guard was generating offense at a high level. He maintained a good balance between scoring and facilitating, but unfortunately the Spurs went 3-3 during his brief comeback from the first ankle setback.
Parker has become prolific at locating the soft spots in the defense, then attacking and finding contact. He usually draws two or three shooting fouls each game, which boosts his scoring totals and keeps defenses on their heels.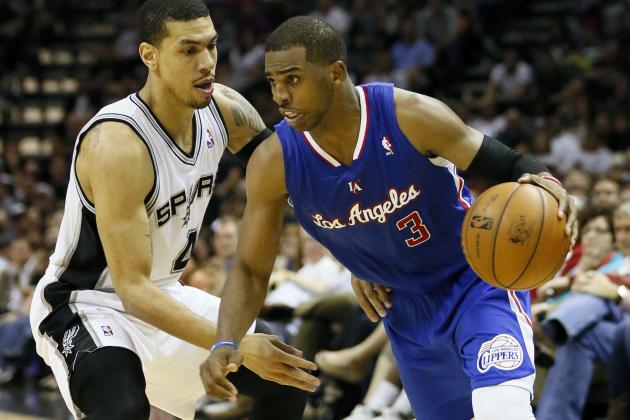 USA TODAY Sports

2012-13 Stats: 33.4 MPG, 17.0 PPG, 9.6 APG, 2.4 SPG, 48% FG, 32% 3PT
The Los Angeles Clippers' first division title in franchise history is tangible proof of Chris Paul's impact.
On both ends of the floor, he leads the team by setting the tone for how it plays. Just when the defense thinks he's slowing things down for a reset, he burns them for a drive and dish in the lane. As a perimeter stopper, his anticipation skills are unmatched.
Vinny Del Negro runs a squad with lots of options and plenty of bench support, but it's vastly better when Paul's on the floor. According to 82games.com, his net points per 100 possessions is plus-10.1.
He has a bushel of regular-season accolades. Now can he cement his legacy as an all-time great point guard by leading the Clippers to the NBA Finals?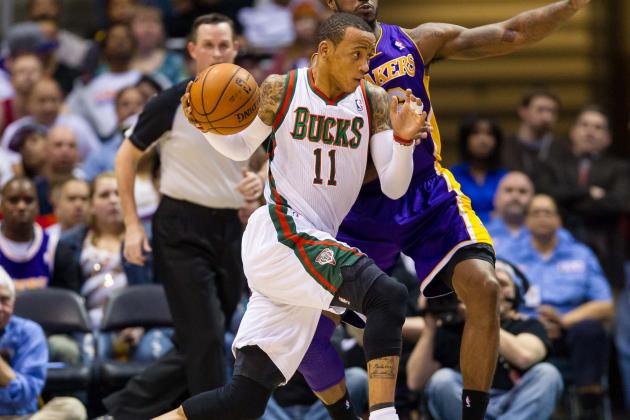 Jeff Hanisch-USA TODAY Sports

2012-13 Stats: 37.9 MPG, 19.3 PPG, 6.0 APG, 2.0 SPG, 42% FG, 28% 3PT
Despite his inconsistent and woefully inefficient shooting, Milwaukee Bucks high-flyer Monta Ellis grabs the fifth shooting guard spot due to his creativity and ball distribution.
A combo guard who can play the point or on the wing, Ellis commits a slew of turnovers and his shot selection is overambitious. However, the positives outweigh the negatives from a playmaking opportunity standpoint.
In the last handful of games, Ellis' aggressiveness has benefited the collective effort.
A win over the Charlotte Bobcats was fueled by his 19 points and 14 dimes, and less than a week later, the Bucks topped the Toronto Raptors on the strength of his 22 points and nine assists.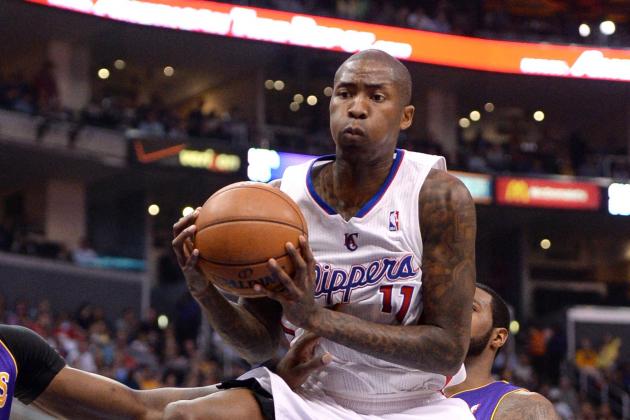 Jayne Kamin-Oncea-USA TODAY Spor

2012-13 Stats: 29.5 MPG, 16.7 PPG, 2.5 APG, 44% FG, 37% 3PT
A critical component of the Los Angeles Clippers' first 50-win season is Jamal Crawford's gigantic boost off the bench.
He has kept up his productive pace deep into the season, chipping in 20-point games on a weekly basis and stretching defenses for Blake Griffin and Chris Paul to operate.
Crawford is superb in catch-and-shoot scenarios as well as off the dribble, and his shooting confidence is unfazed even when defenders are guarding him closely.
His role as an explosive reserve wing will play a big part in determining L.A.'s playoff fate.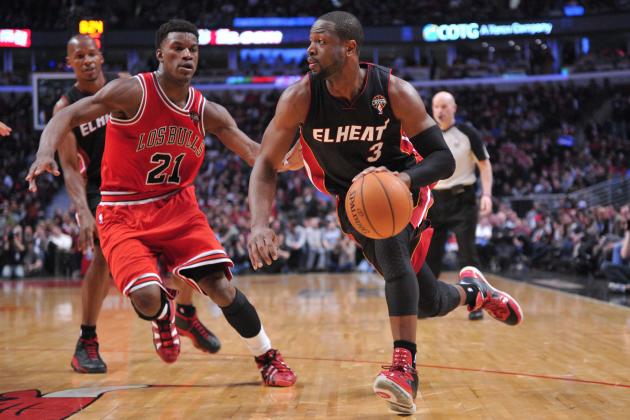 Rob Grabowski-USA TODAY Sports

2012-13 Stats: 34.8 MPG, 21.3 PPG, 5.0 APG, 5.0 RPG, 1.9 SPG, 52% FG, 26% 3PT
Injuries to his ankle and knee have kept Dwyane Wade out of the Miami Heat lineup for more than a week, and he might be out for the rest of the regular season, according to ESPN.com.
Once the swelling goes down and the postseason tips off, he should be back to his superhuman self as the Big Three aim for a repeat.
Even though his vertical explosiveness has taken a slight dip this season, Wade is producing because he's finding easier ways to score and better timing to cut and exploit the defense.
His opportunistic defense and aggressive offense will make life miserable for opposing shooting guards in the playoffs.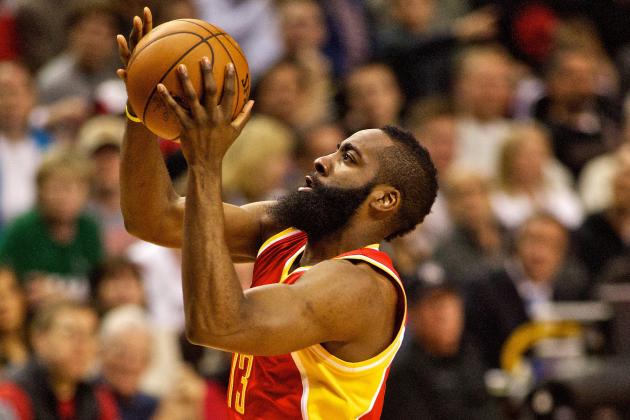 Craig Mitchelldyer-USA TODAY Spo

2012-13 Stats: 38.2 MPG, 25.8 PPG, 5.9 APG, 1.8 SPG, 44% FG, 37% 3PT
At the time of the preseason trade, we didn't know how much the addition of James Harden would affect the Houston Rockets' playoff hopes. It's safe to say he exceeded everyone's expectations by leading the team nearly 10 games over .500 and flirting with the No. 6 seed.
He's been the catalyst of Kevin McHale's early-offense machine all year.
Give him an inch, and he'll take a dunk or draw a foul. Give him the open floor, and he'll attack and make you pay by hitting the open man in stride. Give him space on the perimeter, and he'll confidently bury a triple.
And even when you don't give him anything, he'll take it from you.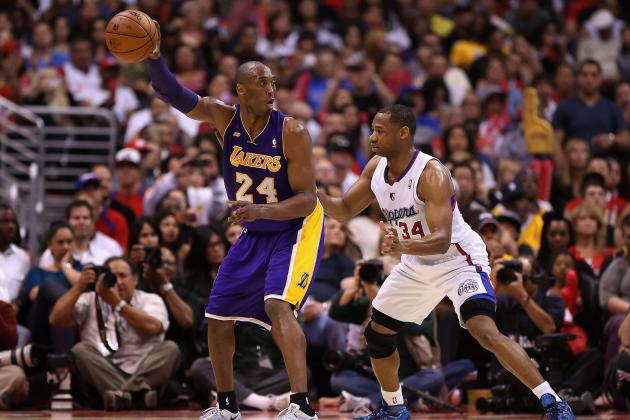 Christian Petersen/Getty Images

2012-13 Stats: 38.4 MPG, 27.0 PPG, 6.1 APG, 46% FG, 32% 3PT
Amid the dysfunction and recovery of the 2012-13 Los Angeles Lakers, we relearned how amazing Kobe Bryant is.
His leadership and execution during L.A.'s quest for a playoff spot has been remarkable, as he's basically been playing both point guard and shooting guard for most of the season.
Last week, he came one rebound shy of recording triple-doubles on back-to-back nights. In his last 10 games, he's putting up the kind of numbers LeBron James is getting in his prime: 26.1 points, 8.5 assists and 6.1 rebounds per game.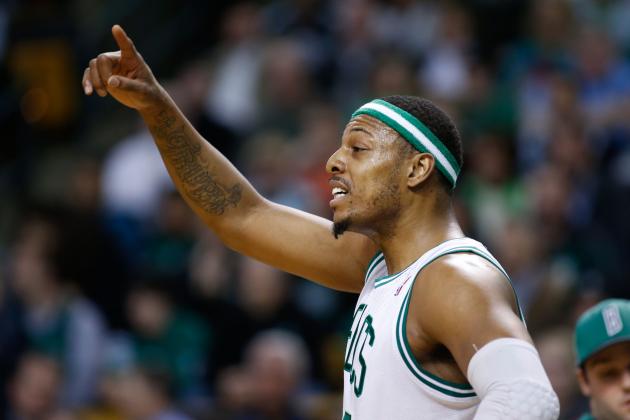 Greg M. Cooper-USA TODAY Sports

2012-13 Stats: 33.8 MPG, 18.7 PPG, 6.4 RPG, 4.8 APG, 43% FG, 38% 3PT
Paul Pierce has been in and out of the lineup lately, but once the playoffs arrive, the Boston Celtics' first-round opponent will wish he was out for good.
He's always looking for his shot, but he's even more interested in making sure the Celtics get the best possible shot. That's why his 2012-13 assist percentage (25.2) is at a career best, according to Basketball-Reference.com.
The Celtics are different than they were in the past, but they'll still have Pierce's clutch shot-making and competitiveness as they try to make an underdog run in the East.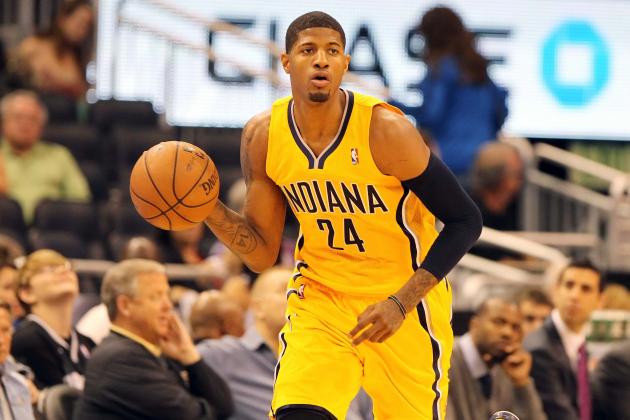 Kim Klement-USA TODAY Sports

2012-13 Stats: 37.6 MPG, 17.5 PPG, 7.7 RPG, 4.1 APG, 1.8 SPG, 42% FG, 36% 3PT
A couple of horrendous shooting outings doesn't change Paul George's status as one of the most complete players in the NBA.
Take the Indiana Pacers win over the Los Angeles Clippers as an example. George shot 47 percent to net 23 points, including seven free throws, and that's just the beginning. He also tallied 10 assists, six rebounds and four steals, all while committing just one turnover.
That kind of versatility gives Indiana an excellent chance to advance to the Eastern Conference finals for the first time since 2004.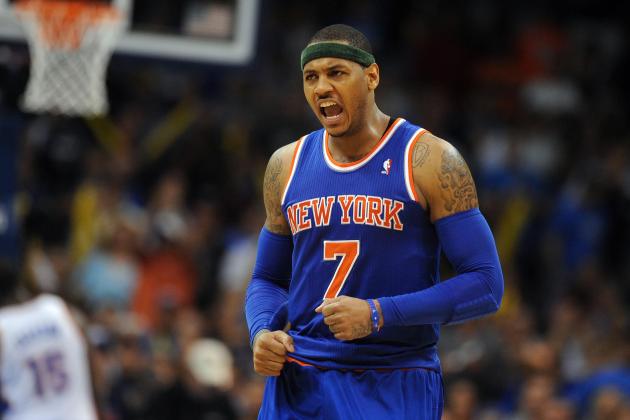 Mark D. Smith-USA TODAY Sports

2012-13 Stats: 37.2 MPG, 28.4 PPG, 6.6 RPG, 2.5 APG 45% FG, 38% 3PT
Visiting fans are getting their money's worth when the New York Knicks are in town, because the Knickerbockers' 12-game winning streak has turned into the Carmelo Anthony road show.
His four straight 35-plus-point games include three consecutive 40-plus-point games. 'Melo is making a mockery of one-on-one coverage, and even the best defenders in the game are struggling to slow him down.
Anthony is vying for the scoring title because he's such a versatile offensive weapon. He can hurt you off the ball as a spot-up option, burn you by putting it on the deck and bully you on the offensive glass and in the post.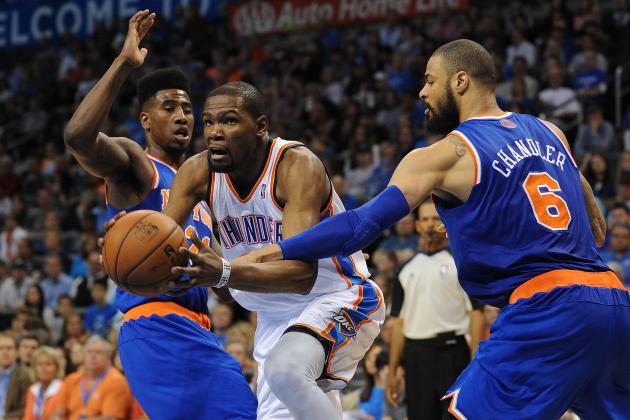 Mark D. Smith-USA TODAY Sports

2012-13 Stats: 38.7 MPG, 28.4 PPG, 7.9 RPG, 4.5 APG, 51% FG, 41% 3PT
Speaking of offensive versatility, Oklahoma City Thunder megastar Kevin Durant continues to carve up the Western Conference.
He's selective on his triple tries, gets loads of points within 15 feet and earns frequent trips to the charity stripe. Mix in 4.5 assists per night and his outlandish 122 offensive rating makes more sense.
Durant is also committed to success on the defensive end. He works hard to keep his man in front of him and has become a capable shot-blocker (he's recorded 29 multi-block games so far in 2012-13).
In OKC's remaining regular-season games, he'll try to carry it to the No. 1 seed and home-court advantage through the West bracket.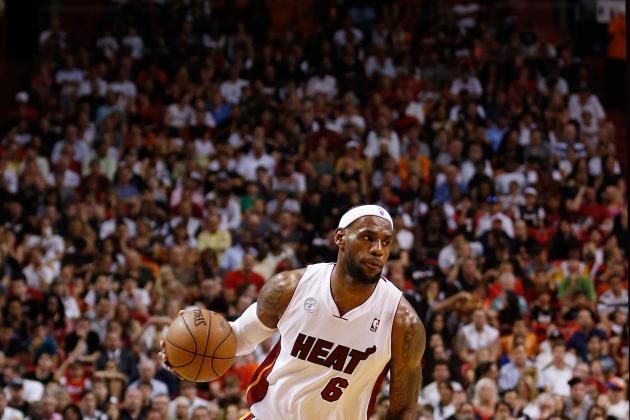 USA TODAY Sports

2012-13 Stats: 38.1 MPG, 26.9 PPG, 8.1 RPG, 7.2 APG, 1.7 SPG, 56% FG, 41% 3PT
At this point, LeBron James has dominated the regular season in every way possible, so we're all just waiting to see what his 2013 postseason performance will look like.
He's on pace to finish the 2012-13 campaign with some insanely good numbers. It will be the first time King James has averaged eight rebounds and seven assists, and he'll shatter career highs in field-goal percentage and three-point percentage.
Keep an eye out for his low-post work in the playoffs. Will he commit to pounding the paint several times per game or revert back to his guard tendencies?
Rick Osentoski-USA TODAY Sports

2012-13 Stats: 31.7 MPG, 16.1 PPG, 9.5 RPG, 48% FG
Chicago Bulls power forward Carlos Boozer has been a rebounding machine the past couple weeks, notching double-doubles in eight of his last 10 games.
His effort on the glass and efficient involvement in the Bulls offense is a major reason Chi-town has maintained a winning pace with Joakim Noah sidelined.
Through the first couple months of the season, Boozer had no chance of cracking the top five power forwards. He's climbed his way back onto our radar by cleaning up the defensive boards and helping Chicago put enough points on the board to earn a playoff berth without Derrick Rose.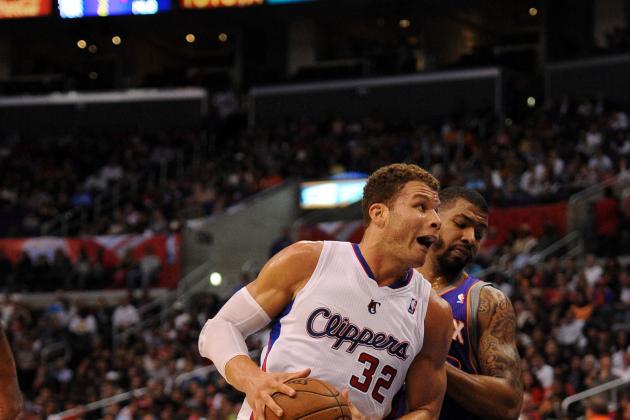 Kelvin Kuo-USA TODAY Sports

2012-13 Stats: 32.5 MPG, 18.2 PPG, 8.4 RPG, 3.7 APG, 54% FG
Blake Griffin's nagging calf injury has limited his effectiveness somewhat, but Los Angeles Clippers fans were glad he helped dispatch the Phoenix Suns and clinch the Pacific Division against the Los Angeles Lakers.
In the win over the hometown rivals, Griffin looked much more like his usual self. And by usual, we mean terrorizing opponents in transition, netting 24 points, ripping down 12 rebounds and dealing five assists.
His jump shot couldn't have been colder, but he was a huge factor in the game because he attacked the bucket.
Vinny Del Negro wants to bottle that up and save it for playoff warfare.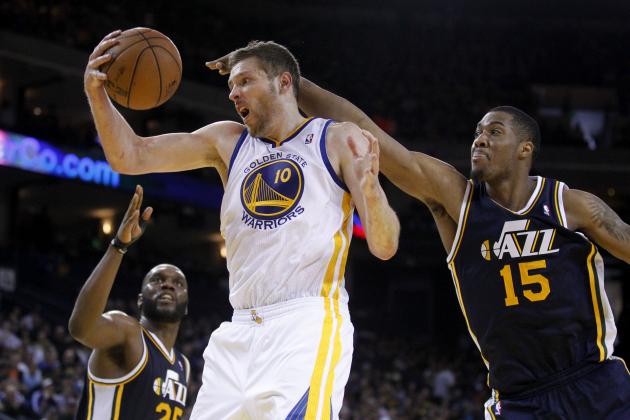 Cary Edmondson-USA TODAY Sports

2012-13 Stats: 36.9 MPG, 18.6 PPG, 11.3 RPG, 3.6 APG, 52% FG
With 11.3 boards per game, Golden State Warriors star David Lee owns the highest rebounding mark among power forwards in 2012-13.
Mark Jackson wants to get the most out of his scoring prowess and low-post hustle, so he's giving him heavy minutes down the home stretch of the regular season. Lee has logged 40-plus minutes in three of the Dubs' last five games.
In return, the All-Star has churned out 20/10 performances in five of his last six games.
A potential first-round matchup for Lee against the Denver Nuggets' frontcourt would be fun to watch.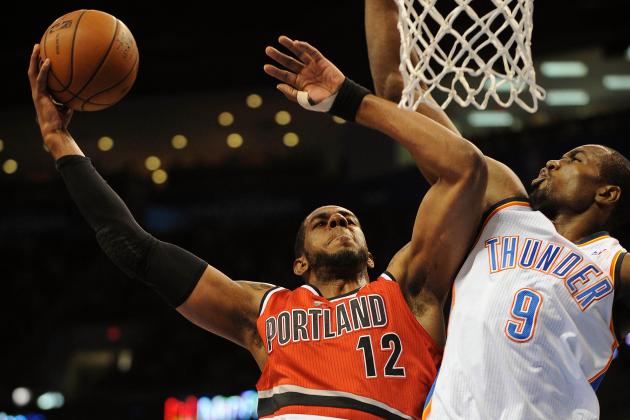 Mark D. Smith-USA TODAY Sports

2012-13 Stats: 37.9 MPG, 21.1 PPG, 8.9 APG, 48% FG
It's been a miserable end to the season for the Portland Trail Blazers, but that's not stopping LaMarcus Aldridge from battling every night.
The six-year pro returned from his ankle injury with a flurry, notching 32 points and 13 rebounds against the Houston Rockets.
It showed how dangerous he is when his inside and outside game are clicking at the same time. Aldridge was money with his high-post and baseline jumper, and he pounded the low block for offense, too.
USA TODAY Sports

2012-13 Stats: 30.1 MPG, 17.7 PPG, 10.0 RPG, 2.7 BPG 51% FG
In his last 10 full games, Tim Duncan is absolutely killing it.
How's 24.8 points, 12.9 rebounds and 3.0 blocks for you? Not bad for a guy who keeps getting doubted every offseason.
Duncan's rim protection has reached a career-best clip this season. He's swatting 3.2 shots per 36 minutes, a pace that puts almost every other NBA player to shame.
We keep worrying about his age, but Father Time actually has several adversaries: His timing, positioning, skill and team chemistry have all upgraded in 2012-13.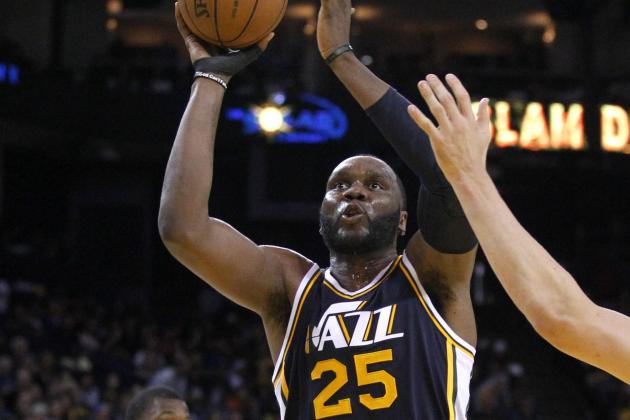 Cary Edmondson-USA TODAY Sports

2012-13 Stats: 32.9 MPG, 17.5 PPG, 9.1 RPG, 49% FG
One of the biggest reasons the Utah Jazz have won seven of eight is Al Jefferson. They're hanging onto the last playoff spot in the West because he's playing so efficiently.
In addition to scoring 18.5 points on 53 percent shooting in his last 10 games, Jefferson snared 8.5 boards and 2.1 steals per game.
He's known primarily as a skilled offensive player, and for good reason. But his efforts on the other end have been solid this year.
If the Jazz do clinch the final spot, the fans have Jefferson to thank.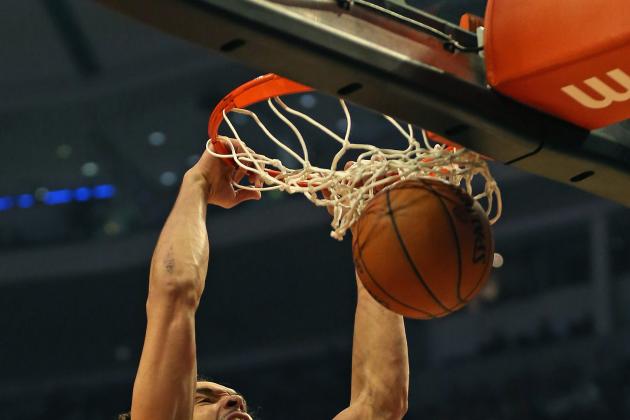 Jonathan Daniel/Getty Images

2012-13 Stats: 37.5 MPG, 12.2 PPG, 11.4 RPG, 4.1 APG, 2.2 BPG 48% FG
Joakim Noah's plantar fasciitis has kept him out longer than Chicago Bulls fans hoped, and he's having trouble dealing with it, according to the Chicago Sun-Times.
Tom Thibodeau will be extremely careful with Noah for the rest of the regular season, because the center is integral to the club's playoff defense and interior physicality.
He's worth much more than the 12 points and 11 rebounds he averages. Noah's defensive intensity and pride on the offensive glass are key to the Bulls' hard-hat culture.
They can't afford to have a half-strength version of him in May and June.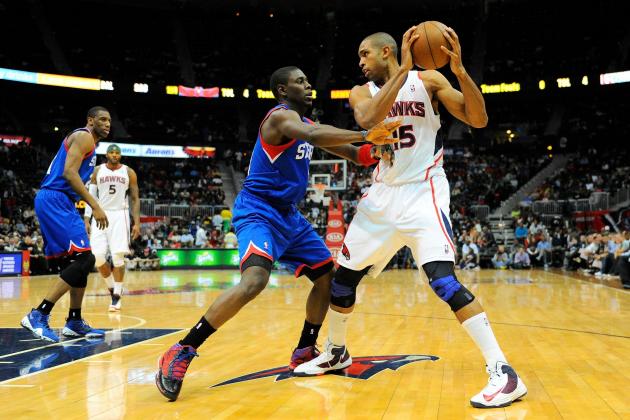 Dale Zanine-USA TODAY Sports

2012-13 Stats: 37.3 MPG, 17.4 PPG, 10.2 RPG, 3.2 APG, 54% FG
He doesn't turn heads like Dwight Howard or get the major-market love of Tyson Chandler and Brook Lopez, but Al Horford belongs in this group as much as anyone.
The Atlanta Hawks center complements his low-post presence and pick-and-roll skills with an effective mid-range jumper perfect for pick-and-pop scenarios.
Larry Drew needs Horford's hamstring to get back to 100 percent as soon as possible, because a first-round clash with Roy Hibbert and the Indiana Pacers is looming.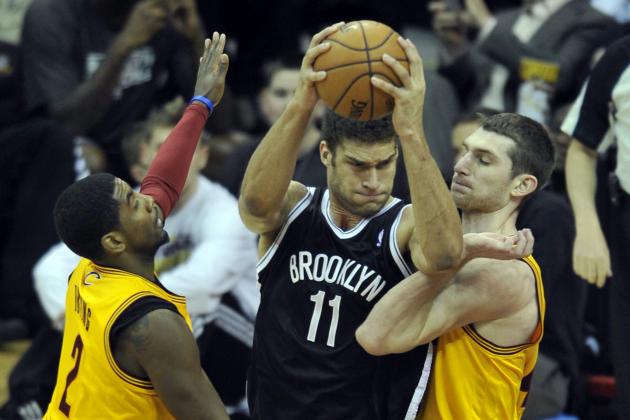 David Richard-USA TODAY Sports

2012-13 Stats: 30.6 MPG, 19.2 PPG, 6.9 RPG, 2.1 BPG, 52% FG
Although Brook Lopez's rebounding numbers are startlingly low for someone his size, his point production and value to the Brooklyn Nets is impossible to ignore.
His shooting touch and assortment of moves allow him to connect from anywhere on the floor. Lopez hits flip shots and baby hooks from close range, buries mid-range bank shots in his sleep and hits deep ones as well.
Brooklyn has relied on his half-court offense heavily throughout the season, and the 7-footer has led the franchise to the playoffs for the first time since 2007.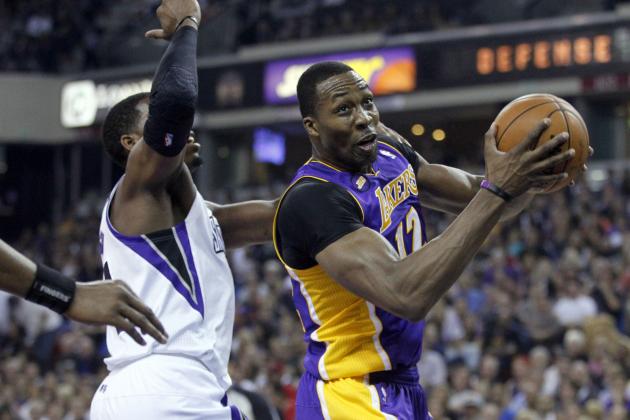 Cary Edmondson-USA TODAY Sports

2012-13 Stats: 35.6 MPG, 16.7 PPG, 12.5 RPG, 2.4 BPG, 57% FG
For much of the season, Dwight Howard's status as top center in the NBA was dubious at best. Now, it's clear that he owns the title.
Sure, he misses free throws like it's his job and his exploits haven't lifted the Los Angeles Lakers to the No. 8 seed.
Nevertheless, Howard deserves the top center spot simply because he's a scoring, rebounding and shot-blocking factory. And those blocked-shot numbers don't adequately illustrate how many shots he alters or discourages.
If L.A. makes the playoffs, Kobe Bryant will garner loads of attention. Meanwhile, Howard will be a huge reason why the Lakers will be a tricky first-round test.
For more interactive hoops talk, follow Daniel on Twitter: