2013 Cleveland Browns Schedule: Game-by-Game Predictions, Info & Analysis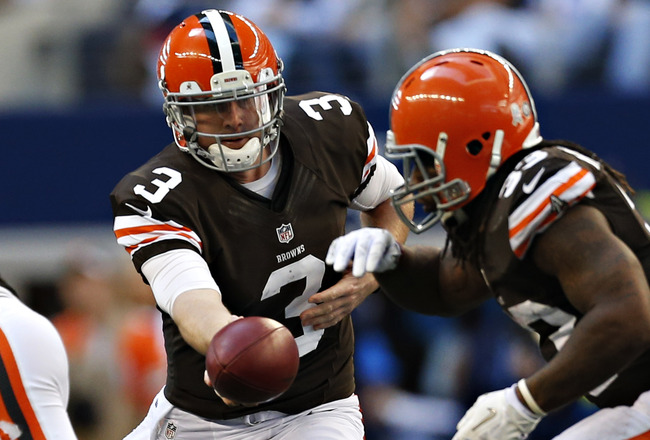 Wesley Hitt/Getty Images
While the start of the Cleveland Browns' 2013 season is still many months away, now is a perfect time to think about it, considering their official schedule was finally released on Thursday
Though we don't have a clear picture of what Cleveland's roster will look like come Week 1, that doesn't mean that we have to hold off on our regular-season predictions. The schedule release gives us ample opportunity to look at each of the Browns' home and away opponents and make guesses about how the team may fare.
Here's the Browns' 2013 season under a microscope, with game-by-game predictions for each of their 16 upcoming matchups.
Week 1: Browns vs. Miami Dolphins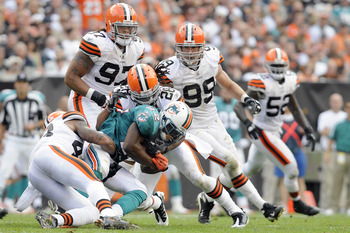 Jason Miller/Getty Images
Kickoff Time: 1:00 PM Eastern
Network: CBS
The Miami Dolphins spent the pre-draft part of the offseason trying to add as many free agents as their salary cap would afford in order to get better on both offense and defense. The Browns, in contrast, had even more cash to spend and while they did bring on some free agent talent, they were far more restrained with their money.
The season-opening meeting between the Dolphins and the Browns, therefore, is as much a clash of two football teams as it is a clash of two ideologies when it comes to team-building. And while the outcome won't forever put to bed whether youth-centered building via the draft or spending on established veterans is the best way to do so, it will be a good contest between two teams that exemplify the two schools of thought.
There are some similarities between the Dolphins and the Browns, like their second-year quarterbacks and the fact the two teams each have a dynamic, deep-threat receiver—for the Dolphins, veteran Mike Wallace, and for the Browns, 2012 supplemental draft pick Josh Gordon. And both pairs of players will have much to do with whether the Browns win or lose.
The Dolphins have been an almost-but-not-quite-there team for a few seasons now, and despite their free agency additions, they project to be in that situation again in 2013. The Browns should be able to take advantage of Miami's inconsistencies and get the edge over the visiting team.
Prediction: Browns, 17-10
Week 2: Browns at Baltimore Ravens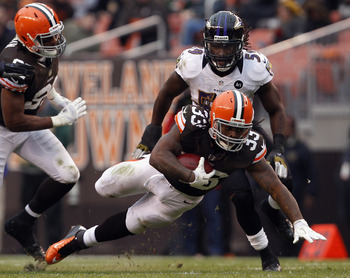 Matt Sullivan/Getty Images
Kickoff Time: 1:00 PM Eastern
Network: CBS
Taking on and defeating the Baltimore Ravens in their home stadium is a major task—especially when the Ravens are the defending Super Bowl champions. It's one thing to do so in the relative security of FirstEnergy Stadium, but at M&T, it might as well be Foxboro or Lambeau (two places the Browns will also travel to this season).
The Browns are a better, different team than they were in 2012 when they kept both games close with the Ravens; the Ravens, too, are a different team and could very well be even better this season. But, with math like that, that means the new-look-but-better Browns are still a step behind the Ravens. On the road, they won't get the win. They will, however, keep it surprisingly close as they did last season.
Prediction: Ravens, 31-25
Week 3: Browns at Minnesota Vikings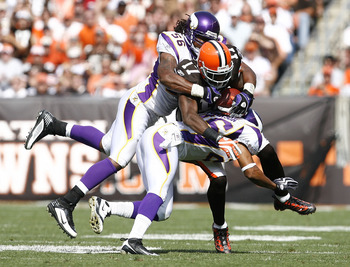 Matt Sullivan/Getty Images
Kickoff Time: 1:00 PM Eastern
Network: CBS
The Minnesota Vikings have swapped out Percy Harvin for Greg Jennings and the jury's still out on their quarterback, Christian Ponder, but they still certainly have NFL-best running back Adrian Peterson as well as top pass rusher Jared Allen.
They proved in 2012 that if those two are all they can rely on, it is still enough to get into the playoffs. That should make the Browns very wary of their road meeting with the team this year.
Coming off of a road stand against the Baltimore Ravens the previous week, the Browns will need to keep morale high against the Vikings. This is a thoroughly beatable team, it's just that the Browns must be vigilant and bounce back from their Week 2 loss at Baltimore.
Prediction: Browns, 17-13
Week 4: Browns vs. Cincinnati Bengals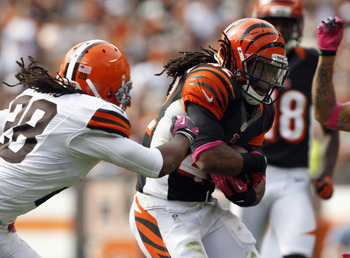 Matt Sullivan/Getty Images
Kickoff Time: 1:00 PM Eastern
Network: CBS
Though the Baltimore Ravens are the reigning Super Bowl champions, the Cincinnati Bengals might be, at this moment, the best team in the AFC North.
At the same time, however, they have a lot in common with the Browns—some very real veteran star power augmented by a lot of younger players and a quarterback who is still a work-in-progress. The only real difference is the presence of defensive tackle Geno Atkins (who had double-digit sacks in 2012) and wide receiver A.J. Green (unquestionably one of the league's best receivers).
Therefore, neutralizing the Bengals isn't a terribly complex problem. Getting to pressure-rattled quarterback Andy Dalton, keeping the ball out of Green's hands and finding a way to stop Atkins without letting another rusher through are the Browns' three biggest priorities when they face this team this year.
Depending on who the Bengals draft, they may also need to stop a pretty effective running back duo, as well.
The Bengals will be a major challenge for the Browns, as they're quickly becoming one of the most complete teams in the league. Though they have weaknesses and question marks in their own right, they certainly have fewer than the Browns. Cleveland will keep it close in this home contest, but won't manage to get it done.
Prediction: Bengals, 20-17
Week 5: Browns vs. Buffalo Bills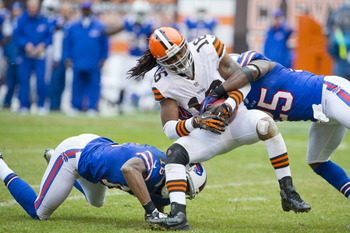 Jason Miller/Getty Images
Kickoff Time: 8:25 PM
Network: NFL Network, Thursday Night Football
The AFC North aside, the Cleveland Browns have an easier go of things at home this year than on the road. One of those relatively easy home competitors for 2013 is the Buffalo Bills, who went 6-10 in 2012, winning one more game than the Browns did last season.
Like the Browns, the Bills are in a time of change, with a new head coach and a quarterback situation that is unsolved. This will make them a particularly vulnerable team in 2013, especially when on the road. This should play to the Browns' advantage.
The Browns may also be a young and somewhat unsettled team in 2013, but they do have advantages on both offense and defense that make them a heavy favorite at home against Buffalo. Yes, the Bills have dangerous players like C.J. Spiller and Stevie Johnson, but they aren't impossible to stop.
Cleveland has enough talent to pull off blowout wins this season and this home game—the Browns' only national primetime matchup—against the Bills should be one of them.
Prediction: Browns, 27-10
Week 6: Browns vs. Detroit Lions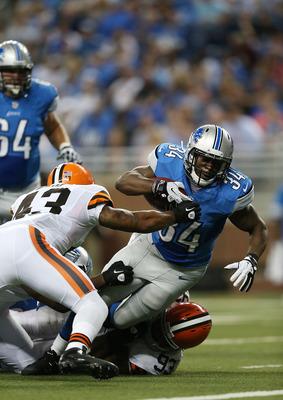 Leon Halip/Getty Images
Kickoff Time: 1:00 PM Eastern
Network: FOX
The Detroit Lions are an NFL riddle wrapped in an enigma wrapped in a Honolulu blue and silver uniform—it's nearly impossible to predict which version of the team will take the field from one given week to the next. It makes them dangerous and prone to being underestimated, but it also makes them look rather ridiculous at times, too.
If the Browns can make the Lions look bad early on in this matchup, they might not be able to dig themselves out of the hole. Sure, the Lions have wide receiver Calvin Johnson, but if they don't find weapons to pair with him, Johnson becomes far easier to neutralize.
Reggie Bush could be that player, absolutely, but we've seen examples of him being used both well and poorly, and he's prone to streakiness.
Both the Browns and Lions are unpredictable teams. The Browns get the edge here in a close game because they're the home team; it's hard to make any other guess this so far removed from the start of the season when we've yet to see what kind of team the Lions will (generally) be this year.
Prediction: Browns, 21-20
Week 7: Browns at Green Bay Packers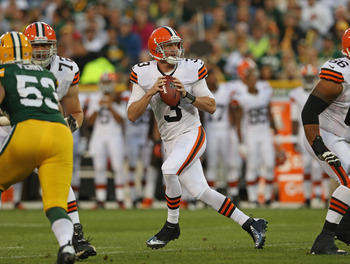 Jonathan Daniel/Getty Images
Kickoff Time: 4:25 PM Eastern
Network: CBS
The Browns' brutal stretch of road games continue with their meeting with the Green Bay Packers. Though the Packers do have holes in their considerable armor which the Browns may be able to pierce, the mere act of taking on a consistently playoff-bound team in their home stadium should be too much for the Browns to bear.
The Browns may be a team on the rise this year—they may even end the year with more wins than losses—but the Packers are a well-oiled machine that's perfectly constructed to win at home.
Upsets do happen, of course, and anything is possible with the season a seemingly endless amount of time away, but the gut reaction here is that the Browns can fight all they want, but they won't get a road win against the Packers.
Prediction: Packers, 35-23
Week 8: Browns at Kansas City Chiefs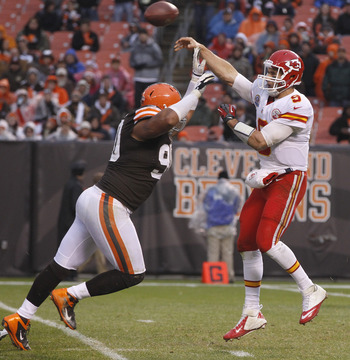 Matt Sullivan/Getty Images
Kickoff Time: 1:00 PM Eastern
Network: CBS
Finally, the Kansas City Chiefs seem to have found a way to make themselves a better, more cohesive team. They have Andy Reid as their head coach, Alex Smith as their quarterback and a cornucopia of choices on which to spend their No. 1 overall first-round draft pick.
While a complete turnaround cannot happen overnight—or in the span of a lone offseason—much like the Browns, the Chiefs seem to be headed on the right track.
These almost parallel storylines make the Browns' 2013 meeting with the Chiefs all that more interesting, as well as all that more difficult to predict. If these Chiefs were as they were in 2012, there's little doubt this present Browns iteration could crush them—they already did so last year, to the tune of 30-7.
They're not, however, so this matchup comes down to which improving team can translate their positive changes to the field the best.
So, who do you trust more: Brandon Weeden or Alex Smith? Trent Richardson or Jamaal Charles? Rob Chudzinski or Andy Reid? It's a tough comparison. The middle of the season is when teams start to separate themselves, and the Browns will prove they are tougher than anyone first expected with this win.
Prediction: Browns, 20-13
Week 9: Browns vs. Baltimore Ravens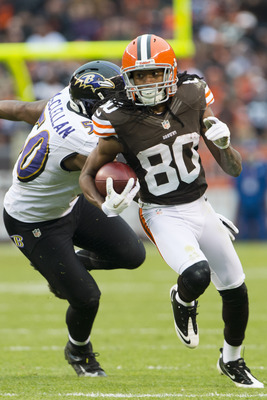 Jason Miller/Getty Images
Kickoff Time: 4:25 PM Eastern
Network: CBS
Though it may be but a hazy memory, the two times the Cleveland Browns took on the eventual Super Bowl champion Baltimore Ravens in 2012, they gave the Ravens quite a fight. Though both games were Browns losses, they certainly weren't blowouts, with the Browns losing by first seven points and then 10 points.
The winds of change have blown strongly in Baltimore since the Super Bowl win, with head coach John Harbaugh and general manager Ozzie Newsome preferring to clean house of the team's older players and skew younger.
At first, it looked like they'd be hobbling themselves in 2013 for higher returns in the seasons that followed, but even at this point, prior to the draft, the Ravens are starting to look like they'll be in just as good a shape when the 2013 season kicks off.
That being said, however, the Browns have undergone their own transformation in the past few months and will continue to do so in the months to come, all with an eye to finally becoming a contender in the division as well as the conference. Based on the two games last year, it looks like the Browns should be able to pull off a defeat of the Ravens on their home turf.
Prediction: Browns, 17-13
Week 11: Browns at Cincinnati Bengals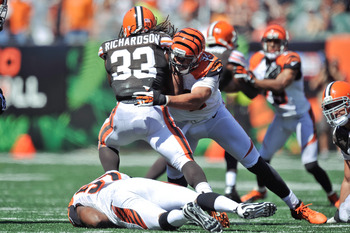 Jamie Sabau/Getty Images
Kickoff Time: 1:00 PM
Network: CBS
The Cincinnati Bengals aren't the most dominant team at home, which does help out the Cleveland Browns in this road contest. However, the Bengals are a very good team that has made the playoffs in the last two consecutive seasons and are at present my favorite to win the AFC North title and get back to the postseason in 2013.
This season looks to be a good one when it comes to the Browns' divisional win-loss record. I don't, however, see them being able to sweep the Bengals this year as I think they can against the hobbled Steelers.
Bengals defensive tackle Geno Atkins has shown uncanny ability to get to even the best-protected quarterbacks and the ever-growing number of offensive weapons for Andy Dalton could stretch the Browns' resources thin.
Prediction: Bengals, 30-20
Week 12: Browns vs. Pittsburgh Steelers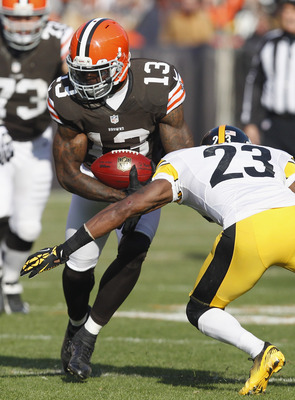 Matt Sullivan/Getty Images
Kickoff Time: 1:00 PM Eastern
Network: CBS
The Cleveland Browns managed to get a rare win over the Pittsburgh Steelers in 2012 thanks to Steelers quarterback Ben Roethlisberger being sidelined with a shoulder injury and the team's running backs' inability to not fumble the ball. It was a lucky set of circumstances which led to one of the Browns' mere five wins last year.
The Browns cannot hope for such a confluence of events to put things in their favor this year. However, with so many changes having occurred in both Cleveland and Pittsburgh since the teams' last meeting, it's not hard to imagine a similar result, even if Roethlisberger is on the field and the Steelers' backs don't fumble a single time.
At this point, though the draft is still in the future and not behind us, the Browns have a stronger defense than the Steelers and have many comparable or better components on offense. The main difference comes at quarterback, with the Steelers having the Super Bowl-winning Roethlisberger and the Browns likely starting second-year player Brandon Weeden.
If Weeden takes a leap now that he's had some NFL experience, the Browns are a team to watch this year. Roethlisberger, on the other hand, is injury-prone and lost one of his biggest weapons when Mike Wallace left in free agency. The stage is set for the Browns to catch the Steelers off guard, especially at home.
Prediction: Browns, 21-17
Week 13: Browns vs. Jacksonville Jaguars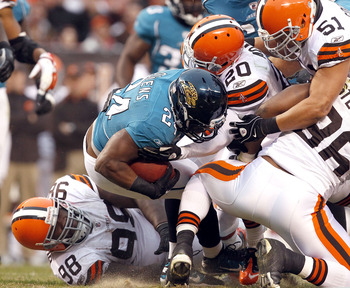 Matt Sullivan/Getty Images
Kickoff Time: 1:00 PM Eastern
Network: CBS
On a one-to-five sadness scale, where five is "all the sadness," the Jacksonville Jaguars actually have the Cleveland Browns beat. Much like the Browns in recent years, the Jaguars have had a lot of solid roster pieces in place, just not always on the same page nor at the right time. The quarterback issues they've had—Blaine Gabbert, Chad Henne, whoever's next—also feel similar to the Browns' woes at the position.
The big difference in 2013, however, is that the Browns have already made a major step forward while the Jaguars, who have made some free agency additions and shuffled their roster around, still don't seem quite ready for prime time.
It's hard to look at an NFL team and say "easy out," and doubly so when we're talking about a game that is still many months away from being played. But the Jaguars don't typically put up much of a fight at home, and this contest will be on the road, in Cleveland. The Browns have so many advantages over the Jaguars already, so it's hard to look at this game and see anything but a Cleveland win.
Prediction: Browns, 31-13
Week 14: Browns at New England Patriots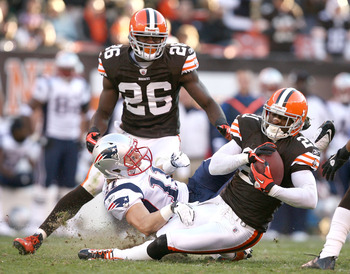 Matt Sullivan/Getty Images
Kickoff Time: 1:00 PM Eastern
Network: CBS
A young team still trying to find their footing never wants to see the New England Patriots on their upcoming schedule, and it's even worse when that game is being played in the Patriots' backyard.
Patriots quarterback Tom Brady's football knowledge likely surpasses that of half the Browns' roster combined, and when you add Brady's head coach Bill Belichick into the mix, it's just hard to see Cleveland being able to keep up.
Keep in mind that for all of the improvements the Browns have made since the 2012 season wrapped, this is still a team coming off of a 5-11 season. A blowout loss to a big-name team is likely in the cards for the Browns this year, especially considering the string of them they'll have over the course of the season. Consider this game a learning experience of sorts.
Prediction: Patriots, 38-14
Week 15: Browns vs. Chicago Bears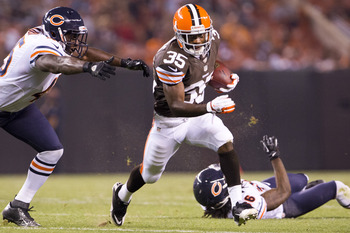 Jason Miller/Getty Images
Kickoff Time: 1:00 PM Eastern
Network: FOX
Though much of the Cleveland Browns' home schedule for 2013 is relatively easier—at least, on paper—than their road contests, it doesn't mean they aren't going to have to host any potential playoff contenders. The Chicago Bears are one home opponent that should give the Browns a good deal of trouble.
The Bears aren't a perfect team, of course—and, in 2012, they weren't a playoff team either, despite their 10-6 record—but their recent history of relative success has made them confident. Though they too are dealing with the side effects of a wholesale coaching upheaval, like the Browns the moves have seemed to only put them in a better situation, despite the transition issues that seem to always pop up in this situation.
If the Bears once again have trouble keeping quarterback Jay Cutler protected, the Browns could capitalize on that weakness. However, at this point it appears that Cutler is the team's top priority. If the Bears come to town at full strength and with a better offensive line, it's going to be hard for the Browns to outscore Chicago.
Prediction: Bears, 24-17
Week 16: Browns at New York Jets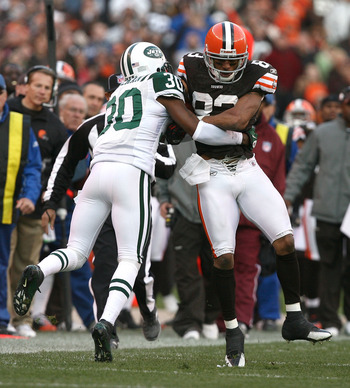 Matt Sullivan/Getty Images
Kickoff Time: 1:00 PM Eastern
Network: CBS
The New York Jets are in trouble. Everyone's jobs feel perpetually on the line and the comedy of errors seems unrelenting. This is going to be a desperate year for the Jets if they continue to walk the dark path of 2012 and unlike other situations, this desperation makes the Jets dangerous only to themselves.
The Browns are still working to build a complete team but even now, they're simply better than the Jets. It doesn't matter where this game is played or during what part of the season—the Browns win. The Jets are a mess and the Browns, they are not.
Prediction: 27-13 Browns
Week 17: Browns at Pittsburgh Steelers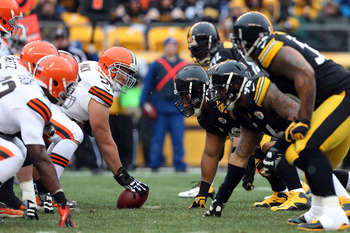 Karl Walter/Getty Images
Kickoff Time: 1:00 PM
Network: CBS
The Cleveland Browns haven't beaten the Pittsburgh Steelers in Pittsburgh since 2003—that's right, this season marks 10 years since they've gotten a win in the Steel City. Depending on what happens with the Steelers roster in the coming months, the Browns could finally get that most elusive of wins.
Currently, the Steelers need to add depth to their receiving corps, if not a bona fide starter, must improve their stable of running backs and their overall production, shore up an oft-injured offensive line and field a intimidating defensive front seven. For the first time in many years, there appears to be many a hole in the Steelers' generally buoyant ship.
This is the biggest window of opportunity the Steelers have inadvertently given the Browns to score a road win in Pittsburgh. As long as the Browns can get over the intimidation factor that is inherent to these two teams meeting, they can absolutely get this win. It would mean a sweep of the Steelers in 2013, too.
Prediction: Browns, 10-7
Keep Reading