With WrestleMania 29 in the books, this is my review of the "Showcase of the Immortals," after being part of the record breaking 80,676 fans in attendance at MetLife Stadium (WWE.com). And in my honest opinion, WWE and its Superstars put on a really good show at the "Grand Daddy of Them All."
Showcasing a card with returning favorites, legends and new stars ready for their time to shine, WrestleMania 29 was well worth the price of admission.
When I first got to MetLife Stadium the place was buzzing with excitement. Just the energy of being around more than 80,000 people was intense. As I walked around the stadium to find my seat, I felt the excitement and joy building with each step I took. I was at WrestleMania and it was going to be great.
I got to my seat and took in the beauty of the entire set: the ring covered with the Statue of Liberty canopy; the bridge entrance with the Empire State Building lit up behind it. It was an awesome sight to behold.
As the timer counted down to the beginning of the show, it was announced that the pre-show match was about to start. Now the fun begins!
Pre-Show Match: Intercontinental Championship, Wade Barrett (c) vs. The Miz
This was not a bad match to start off WrestleMania. The crowd was just settling into their seats and Barrett and Miz put on a good show. Barrett controlled most of the match, hitting Miz with his signature moves, The Winds of Change side slam and Wasteland. Barrett was gearing up to finish Miz off with a Bullhammer Elbow, but Miz countered and kept the match going. In the end Miz slapped on his new finishing maneuver, the Figure Four Leglock and got the Brit to tap out, earning the Intercontinental Championship.
How would you rank this year's WrestleMania?
The only disappointing thing about this match was the short length. They finished with over 12 minutes to go before the actual show got started. If this match would have went a little bit longer, it could have been really good.
Now it was time for the show to start!
There was a great video showing the perseverance of the people of New Jersey and New York after Hurricane Sandy to open the show, but the National Anthem was not sung and there were no pyrotechnics to open the show—two very disappointing aspects of the show as a whole.
Six-Man Tag Match: Sheamus, Randy Orton and Big Show vs. The Shield
What a good match to open the WrestleMania card! The fight started off quick with both teams volleying for control of the matchup.
Things started to pick up when Big Show ripped open Dean Ambrose's vest and hit him with some thunderous chest slaps. Not to be outdone, Sheamus took the vest off Seth Rollins and pounded his chest with his signature clubbing blows.
As the match continued, Sheamus was looking for a tag and Orton tagged himself in while Big Show was looking for the tag. Orton cleaned house and was preparing to hit an RKO (Randy Knockout) on Ambrose when Rollins launched off the top rope. Orton saw this and delivered a stunning RKO to an airborne Rollins.
Reigns took advantage of the distraction by planting Orton with a spear and Ambrose got the victory while Big Show stood on the apron doing nothing to save his partner or the match.
After the match, Big Show hit both Sheamus and Orton with his knockout punch, ending their partnership for good.
It was great to see The Shield successful in their WrestleMania debut and continue on their dominant streak in the WWE. I was really hoping that Orton would be the one to turn heel after the match, but instead it was the Big Show, which left me wanting a little more.
Mark Henry vs. Ryback
This match was supposed to be two giant powerhouses dueling it out, but it turned out to be a huge power outage. The match overall was slow and lackluster. It ended with Ryback picking Henry up for the Shell Shock but having it reversed into a slam with Henry (shockingly) picking up the 1-2-3.
I was very surprised that Henry was able to win this match. I figured this would have been a passing of the torch in a sense as to who is the dominant strongman in the WWE, but that is not what happened.
After the match Ryback got his revenge by hitting the World's Strongest Man with a Shell Shock.
Tag Team Championship Match: Team Hell No (c) vs. Dolph Ziggler and Big E Langston
This was a decent match for the tag titles, although I did not expect to see Ziggler and Big E win—and they did not.
It was good to see Langston in his debut match, but it he was not showcased enough to really make a memorable impact. It was terrible to see Ziggler "job" again.
The best part of this match was all the fans chanting "Yes!"
Fandango vs. Chris Jericho
I was really excited for this match. I really wanted to see what Fandango was capable of in the ring, and if anyone could make a budding star into a Superstar, it is Jericho.
I was expecting a good, fast-paced match, but was left with a dud.
Fandango did very little to impress the crowd in his debut, not really making a name for himself or even debuting any signature moves. The match seemed too hurried and didn't have enough time to grab the crowd's attention and keep it.
In the end, Fandango rolled up Jericho and got the victory, which I thought was the smart move to have happen for his career. But I was left unimpressed with his debut.
World Heavyweight Championship Match: Alberto Del Rio (c) vs. Jack Swagger
This match was a pretty good match. I personally wasn't too excited about this match, but with WrestleMania in full swing by this time, I was excited for all the matches.
One highlight of this match for me was Del Rio's introduction by Ricardo Rodriguez, as the audience introduced Del Rio with him with a deafening "Albertooooooo Del Rrrrriiiiiooooooo!"
During this match, the crowd was anxious and waited with baited breath for the end when everyone wanted Dolph Ziggler to make a run to the ring with his Money in the Bank briefcase in hand and finally cash in. The crowd even got a "We want Ziggler!" chant going during the title match.
When Del Rio made Swagger tap out to the cross armbreaker to retain his title, all eyes were on the stage, but Ziggler stayed in the back—much to the disappointment to the fans.
Undertaker vs. CM Punk
This was the match I paid to see. The buildup for this match was epic and so was the match itself.
Living Color played Punk to the ring with their hit and his entrance music, "Cult of Personality," which was a great sight. Undertaker's entrance was epic as always, coming up from under the stage with the blue lights, smoke and pyro. A great way to start the best match of the night.
The crowd was electric for this matchup and you could feel the intensity in the air as everyone knew that they were about to witness an epic match.
At the start of this match I was convinced that the streak would end. I thought it out and it made sense to me to have Punk beat Undertaker and beat the streak. So needless to say I was pumped for this match to get under way.
The entire match was great, going back and forth between the two Superstars. Punk blocked Undertaker's attempt at his signature move, Old School. Then he proceeded to hit that same move on Taker himself, further convincing me that this was a symbolic passing of the torch and that Punk would do what no man could do before.
Punk had himself a WrestleMania moment when he launched himself off the top rope to the outside of the ring and hit Taker, who was lying on the Spanish announce, with an elbow drop. Apparently Punk injured his knee on this move, but finished the match anyway.
Both men traded finishers as the crowd had their own battle going on with dueling chants of "Undertaker!" and "CM Punk!"
In the end, Undertaker hit Punk with a Tombstone Piledriver and Punk, just like 20 other men before him, fell to the Undertaker. This left me a little dejected and sad that I did not see history made and questioning what this means for Punk and if the streak could ever be broken.
Brock Lesnar vs. Triple H
In all honesty, this was a good match. I don't think it has been given enough credit because the crowd was too emotionally drained from the Taker/Punk match to really get into this one. I know I was. My throat was sore and my head pounded from screaming so much during the last match that I needed a breather.
Lesnar showed a lot of power by throwing Triple H around over his head with an impressive set of suplexes. He even suplexed The Game through the Spanish announce table as it failed to break when Punk hit Undertaker with the elbow drop.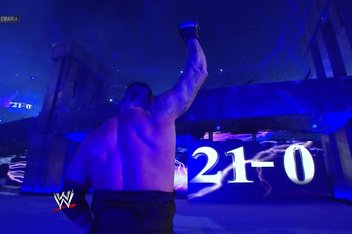 In the end, Triple H got the win after hitting Lesnar with a Pedigree on the steel steps.
WWE Championship Match: The Rock (c) vs. John Cena
I was not really looking forward to seeing this match because I already saw it last year, but I was excited to see the main event at WrestleMania.
As the match went on I—and the crowd—got more and more into it. Needless to say there were plenty of chants ringing through MetLife Stadium, ranging from "Let's go Cena" to "Cena sucks."
By the end, the match became a finisher-fest with each man hitting their finishers on more than one occasion and mocking their opponent's signature moves as well. Some saw this as boring, but I thought it was funny and well delivered.
The two men put on a good theatrical match ending with Cena pinning The Rock in the middle of the ring and regaining the WWE Championship. After the match, the two men—who seemingly hated each other beforehand—shared a moment of sportsmanship, which left me confused.
Didn't these guys just go through a two year battle in and out of the ring? And now they are being respectful and saluting each other. That didn't make sense to me.
All in all, I had a great experience at WrestleMania and I think it was one of the better WrestleManias in recent years.
What did you all think of WrestleMania 29? Comment below and let everyone know how you feel and let us know if you were there as well and how your experience was!