Tim Tebow's Possible Trade Destinations Continue to Disappear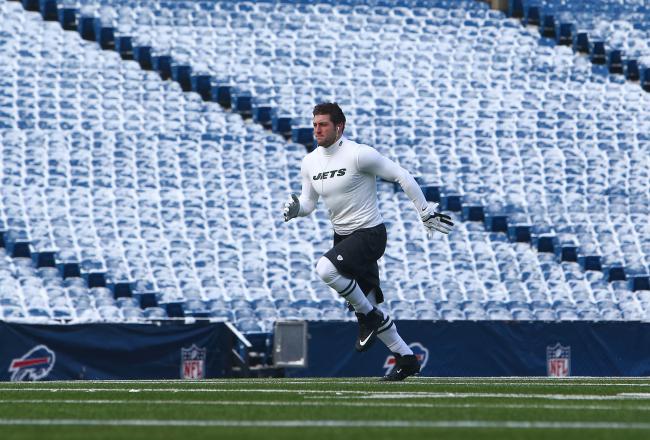 Tom Szczerbowski/Getty Images
Where is Tim Tebow heading? Or more appropriately, where can he go within the NFL?
Reports continue to come out that the few potential trade destinations for New York Jets' backup quarterback Tim Tebow are slowly disappearing.
The latest report comes from Danny O'Neil of The Seattle Times. The Seattle Seahawks, who are in need of a backup quarterback, are reportedly not interested in pursuing Tebow. As O'Neil writes:
The use of the option running game is also a reason many thought [the Seattle Seahawks] might look to bring in Tebow, the former first-round pick who played for the Jets last year after being acquired from Denver. While not a strong passer, Tebow is an effective runner as a quarterback and led the Broncos to a playoff victory two seasons ago... Instead, Seattle will be sifting through some of the remaining free agents that includes a pair of former first-round picks in [Brady Quinn] and [Matt Leinart].
The Seahawks are a team in obvious need of a backup quarterback following the trade of Matt Flynn to the Oakland Raiders. They were arguably the most feasible option for the Jets to get rid of Tebow and mitigate their losses from last year's trade. As Brian Ethridge of iSportsTimes.com put it:
As soon as the Seattle Seahawks traded backup quarterback Matt Flynn to the Oakland Raiders, the Seattle Seahawks had a need at quarterback position... When you consider that Tim Tebow and [Seahawks' starting quarterback Russell Wilson's] playing styles are not extremely different, it would make sense as to why the New York Jets would have interest in trading for him... With all of that said, the biggest reason a Tim Tebow to the Seattle Seahawks trade makes sense is because Tebow will be cheap. The Seahawks could likely acquire his services from the Jets for a seventh round draft pick.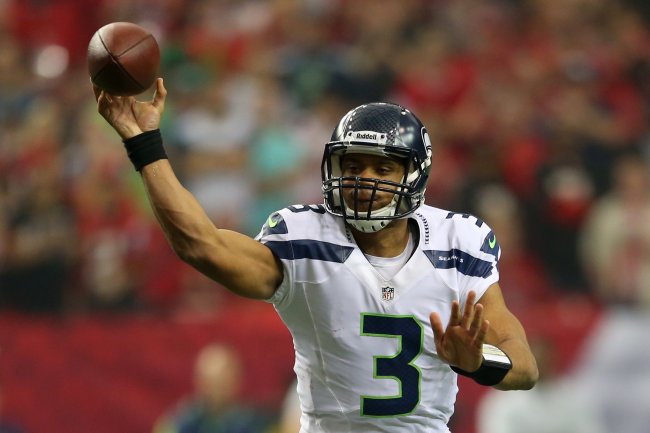 Mike Ehrmann/Getty Images
However, according to these latest reports that route is not going to be an option.
Before the Seahawks became the team of interest, it was the Jacksonville Jaguars and then the Kansas City Chiefs. The Jaguars were crossed off the list when general manager David Caldwell put his foot down, claiming:
I can't imagine a scenario in which [Tim Tebow will] be a Jacksonville Jaguar, even if he's released.

The Chiefs then seemingly took themselves out of the running by making a blockbuster trade with the San Francisco 49ers for quarterback Alex Smith.
The Jets continue to seek trades for their $2.6 million burden. However, as Conor Orr of The Star-Ledger reminds us, the task is an ongoing one that might not end any time soon:
Although it's a near certainty that Tim Tebow won't be on the Jets roster next season, the team is still looking for a potential trade partner to get something back for the former first-round pick.
Reports continue to come out that the Jets want to excise Tebow from the roster one way or another. The latest comes from Rich Cimini of ESPNNewYork.com:
Tebow is under contract for two more seasons, but his future with the team has been an ongoing storyline in the offseason. The Jets would like to trade him, sources said, but there has been no market and they're expected to release him after the draft.
Perhaps the toughest part of the situation for fans of the Jets to accept is that trading or releasing Tebow is easier said than done, especially because of salary cap ramifications. Brian Bassett of TheJetsBlog.com summarizes the inherent difficulties in the situation:
The Jets are doggedly trying to get cap relief from Tebow is the only explanation I can come up with on why he is still with the team. We're sure the Jets are doing everything they can to trade Tebow (and I wouldn't be shocked if he was some sort of throw-in in a Revis trade) but it seems highly unlikely that any team will suddenly become interested.
According to NYJetsCaps.com, the Jets are on the hook for $2.6 million in salary to Tebow this coming season. Even if they release him, they will be stuck with $1.5 million in dead money, taking away from total cap space.
While releasing Tebow appears to be a pill the Jets' front office is willing to swallow if necessary, it is understandable that they would want to pursue all possible trade routes first. If they can trade him, no matter how little the return, they can save that cap space.
This is why trading Tebow is so important for the Jets, who do not have a ton of cap space to waste this year.
For the moment, Tebow remains officially a member of the New York Jets. As such, he is expected to be present at the upcoming voluntary team workouts. Thus, his story in New York is not quite finished yet.
Source: Tim Tebow will report to Jets voluntary workouts next week if he is still on the roster. #nyj

— Brian Costello (@BrianCoz) April 8, 2013
Will the Jets manage to make some sort of trade happen? They certainly appear to be trying their hardest. The fans can only hope.
This article is
What is the duplicate article?
Why is this article offensive?
Where is this article plagiarized from?
Why is this article poorly edited?

New York Jets: Like this team?