7 Ways Fandango Can Succeed in WWE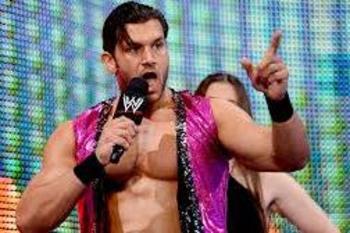 Photo courtesy of WWE.com
Fandango has only had one match so far, but many fans have already written off the WWE's newest superstar.
In fact, plenty of fans have proved unwilling to even give Fandango a chance at all and wrote him off as a "terrible" or "stupid" character almost as soon as he debuted. Of course, there are some fans who just can't stop singing his theme music, either.
While it's far too early to be able to tell whether or not Fandango will ultimately succeed in the WWE, that hasn't prevented a good chunk of the viewing audience to assume that he's destined to fail.
Although Fandango's performance at WrestleMania 29 wasn't anything great, he did well in the biggest match (well, the first match too) of his career, and of course, he picked up a huge victory over Chris Jericho.
It's clear that the WWE wants to build up Fandango as one of its top rising heels, but that is easier and said than done. There are plenty of ways to give him a better chance of succeeding, though.
Here are seven ways that Fandango, against all odds, can succeed in the WWE.
7. Compete Primarily on SmackDown
When debuting or returning superstars get put on Raw, they often struggle to find a consistent spot on the show because Monday nights are reserved largely for the WWE's biggest stars,
SmackDown, however, has proven to be more of a grooming grounds for up-and-coming talent and a place where often overlooked stars finally get their shot.
That's why you've seen so many stars rise up to the main-event picture on the blue brand over the last few years. Mark Henry, Christian, Sheamus and Daniel Bryan have all become World champions in large part because they were on SmackDown at the time they were elevated.
I mean, do you think Christian would have ever won the WWE Championship if he was on Raw? Probably not.
Would Henry have dominated Monday nights the way he did the blue brand for much of 2011? Highly doubtful.
The bottom line is that SmackDown is the better place to be if you're not solidified as a top star, so that's precisely where Fandango should spend most of his time.
The brand extension doesn't mean a whole lot these days, but if Fandango is going to compete primarily on one show, it should be the blue brand. That way, he can have a significantly better chance of truly making his presence felt in the WWE.
6. Constantly Improve
It's in the WWE's nature to push superstars to the top of the company before they're ready.
This was done a few years ago with Sheamus, who won the WWE Championship just six months after his debut, and more recently with Alberto Del Rio, who won the Royal Rumble not long after he first appeared on the main roster. At the time of their respective rises to the top of the WWE, neither Sheamus nor Del Rio was ready to be competing at the company's highest level.
But what happened after they struggled during their initial run at the top? They improved...drastically.
Sheamus and ADR have now solidified themselves as two of the WWE's best in-ring performers and arguably two of the top all-around performers in the company as well. Their success in the main event and World title scene can be attributed largely to all the improvements they've made over the last couple of years.
If Fandango wants to be at the same level as Sheamus and ADR, then he will have to constantly improve just like they did.
It's been said that you never stop learning in the wrestling business, so it's oh so important that Fandango takes everything he learns along the way, applies it and uses it to get better.
If he can do that, it doesn't mean that success is guaranteed. But he can damn sure bet that his chances of succeeding will be significantly better.
5. Make Him as Deplorable as Possible
During the buildup to WrestleMania 29, the WWE got some cheap heat on Fandango by having him constantly refuse to compete.
Creative did do a great job of getting him some legitimate heat, however, with his attacks on Chris Jericho. Not only did he come across as cowardly, but he looked vicious and aggressive as well when beating down Y2J.
As Fandango continues to move forward, it's absolutely imperative that the WWE does whatever it can to ensure that he comes across as the most deplorable heel possible, similar to how he was portrayed when attacking Jericho.
The problem with most of the WWE's heels these days is that, outside of CM Punk, not many of the company's top heels do anything truly appalling or detestable. If Fandango does that, however, he will immediately stand out as one of the most despicable heels on the roster.
His dancing generates heat, but it's probably not enough heat to sustain for the long run. He's going to have to do more than just aggravate the fans to have a chance of truly succeeding as an antagonist.
That's why the WWE must book Fandango to be as big of a heel as possible by having him do anything and everything, no matter how outlandish, to get what he wants and to make the fans hate him.
If he can do that, he won't be just another heel. He'll be one of the WWE's most hated villains.
4. Gradually Phase out His Dancer Gimmick
I'm probably in the minority here, but I actually have enjoyed Fandango's character so far and think it's a welcome change from the rather gimmick-less WWE.
That being said, I can certainly see why many think that his gimmick can only take him so far.
Although Fandango's entrance song is all the rage after this week's wild episode of Raw, you have to wonder if the ballroom dancer gimmick can ever go past the midcard. Much like Zack Ryder's Jersey Shore-like gimmick has been viewed by most as a midcard act, so has Fandango's ballroom dancing character.
Then again, Ryder was able to rise pretty high up the card in late 2011 and early 2012 before the WWE pulled the rug out from underneath him. Will the same happen to Fandango?
If the current buzz surrounding Fandango and his entrance music (crazy, huh?) continues like Daniel Bryan's "Yes!" chants did, then the sky is the limit for him. But if it fades away rather quickly, then we can't be sure if his gimmick will prevent him from climbing up the card.
While there's no doubt that Fandango has talent, the WWE may ultimately have to faze out his gimmick over time if it isn't clicking. Even though the gimmick is certainly unique and entertaining (at least in my view), Fandango may have to gradually drop it if he wants to reach the main event picture.
3. Have Him Win Consistently
The problem with many midcard heels is, quite simply, that they lose way too much.
You can look at talented up-and-coming heels like Wade Barrett and Antonio Cesaro, and of course, you know that they usually lose to other midcarders and main-eventers rather than beat them.
If Fandango gets booked this way, then he's going to be doomed.
No matter how talented a superstar may be, it can be extremely difficult for him to truly get over if he's booked to be a loser. We saw guys like The Miz and Alberto Del Rio struggle mightily as heels in 2012, and a big reason why that happened is because they lost just about every major match they had.
The WWE can easily avoid having Fandango struggle that much if, like the company did with him at WrestleMania 29, the creative team books him to be a winner.
We all know that the WWE often portrays its heels as cowards, and generally speaking, that usually doesn't work out all that well. But if Fandango can be booked as a legitimate threat to his babyface counterparts, he'll be in a better spot than most of his fellow heels.
It doesn't take a genius to figure this out, after all: Book a heel to win consistently, and the fans will start to take him seriously.
2.Get Lucky
Oftentimes, having success in pro wrestling is more about luck than anything else.
Luckily for Fandango, it appears he may have struck gold thanks to Monday's raucous Raw crowd. While it may not seem like much now, the simple fact that his entrance song has suddenly become so popular could prove to be a huge help for him.
When Daniel Bryan's "Yes!" chants got so over after WrestleMania 28 last year, it catapulted him to a WWE Championship feud and helped him evolve into one of the WWE's most popular stars. This year, it looks like humming Fandango's entrance song could be the new "Yes" chant.
If Fandango continues to generate reactions like that, then he will more than likely get over. If he gets over, then there's really no telling where, like with Bryan in 2012, those reactions might take him.
In many cases, the dominoes have to fall the right way for a star to get a chance to work at the top of the card. It happened earlier this year with Jack Swagger, whose new xenophobic gimmick, combined with Alberto Del Rio's title win, led him to a World title shot at WrestleMania.
Swagger's rise to the main event scene was more about luck and timing than anything else, and when it comes to Fandango, his chances of succeeding will likely be more about luck and timing, too.
He may have gotten lucky with this new craze surrounding his entrance music, and if he continues to get lucky, then he will be well on his way to a successful career.
1. Continue to Work with Big-Named Stars Like Chris Jericho
If perception is reality, then big things could be in store for Fandango.
Ever since he debuted, the WWE has given us this perception that Fandango is this huge deal. The elaborate entrance, the dance routine, the promos and the fact that he's feuding with Chris Jericho make many fans perceive him to be a big star.
The fact of the matter here is that if Fandango is portrayed and perceived to be a big star, then he could become one in reality.
A big reason why that's true is that his first feud was against Chris Jericho, who just so happens to be one of the biggest names in pro wrestling history. Of course, having his first match take place at WrestleMania helped as well.
The WWE is clearly trying to get Fandango over by having him work with an all-time great like Y2J right out of the gate, and should Fandango continue to work with big-named stars, then it's likely going to do wonders for him.
Right now, Fandango is coming across as very important because of who he's feuding with, so the creative team must keep that up or else it runs the risk of cutting off Fandango's momentum.
If this guy is going to succeed, he has to keep feuding with Y2J, Randy Orton, John Cena and all of the biggest attractions in the business. It's the easiest way to ensure that he doesn't fizzle out like so many others have.
Drake Oz is a WWE Featured Columnist for Bleacher Report. Follow him on Twitter!
Keep Reading