How Miami Heat Match Up Against Every Potential Conference Playoff Opponent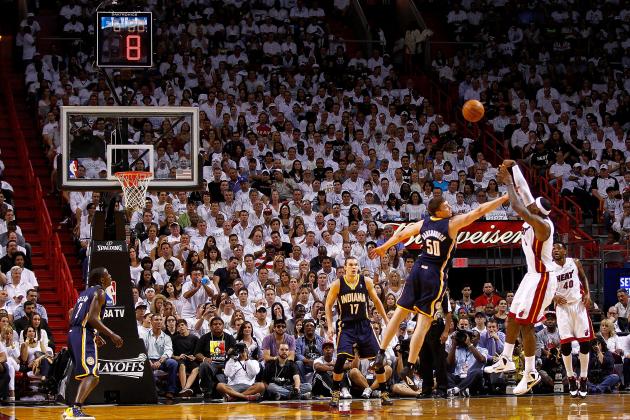 Mike Ehrmann/Getty Images

In the midst of setting the franchise record for wins, the Miami Heat are getting the necessary rest to prepare for the long haul that is the NBA postseason.
Starting two weeks from now, the Heat, as well as 15 others, will embark on a month-long journey that will reveal the top NBA team of the 2012-13 season. Judging by how well the Heat have played, however, there's going to be a lot of teams that will be competing for a silver medal.
Miami stands at 62-16 courtesy of a 27-game winning streak that lifted it from an above-average 29-14 record to an elite 56-14 in the span of a little less than two months.
In that span, the Heat took care of several other teams that have been claimed to be possible Heat-stoppers, including the Oklahoma City Thunder, Boston Celtics, New York Knicks, Indiana Pacers and the Chicago Bulls. It took a miraculous shooting effort for the Bulls to pull out a win and end the winning streak.
There will be a time to begin worry about what the West has to offer. For now, the focus is on the Eastern Conference. Although many will cite the Heat's struggles against teams like Indiana (1-2 in regular-season series), Knicks (1-3), and Bulls (1-2), it's nothing new.
Miami has struggled against the East's best before. You may remember the Heat went a combined 1-6 against the Bulls and Celtics in the 2010-11 regular season, yet they went 8-2 against those same teams in the playoffs.
The second season is a completely different beast. The Miami Heat will be looking to turn on that switch that they've been waiting to flip for the past six months, and they'll be starting off with these potential matchups in the East.
Begin Slideshow

»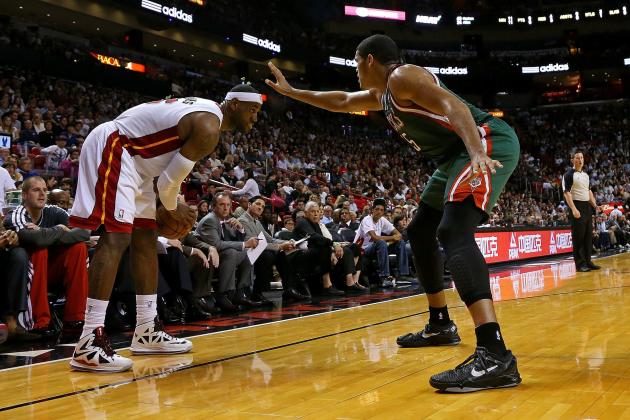 Mike Ehrmann/Getty Images

Regular-season meetings
at Miami (11/21): Heat 113, Bucks 106 (OT)
at Milwaukee (12/29): Bucks 104, Heat 85
at Milwaukee (3/15): Heat 107, Bucks 94
at Miami (4/9): Heat 94, Bucks 83
If Tuesday night's Heat win over the Milwaukee Bucks tells us anything, it's that the Heat are deserving of a first-round bye instead of playing the Bucks.
Without Dwyane Wade and Chris Bosh, while also missing 17 of their first 18 three-pointers, the Heat were still clearly the superior team in what's going to likely be the No. 1 vs. No. 8 matchup in the Eastern Conference playoffs.
LeBron James needed 30 minutes to record 27 points, seven rebounds and seven assists. The Bucks are seriously starting Marquis Daniels to contend with LeBron, also using Luc Richard Mbah a Moute and even 6'11" center Larry Sanders as defenders.
James finished with 28 points, 10 rebounds and seven assists in the Heat's previous meeting with Milwaukee, another easy victory in favor of Miami.
Milwaukee's mistake was letting go of Scott Skiles. Although his team was turning on him and he hasn't accomplished much outside of painfully average basketball, Skiles had been a thorn in the Heat's side since his days as the coach of the Chicago Bulls.
Skiles' defensive system had been a nuisance for the Heat, including yielding only 85 points to Miami in the second meeting of the season. Since his firing, however, Miami is 2-0 against Milwaukee with consecutive blowout victories.
What more needs to be said besides the fact that the Bucks' starting small forward will most likely be Marquis Daniels?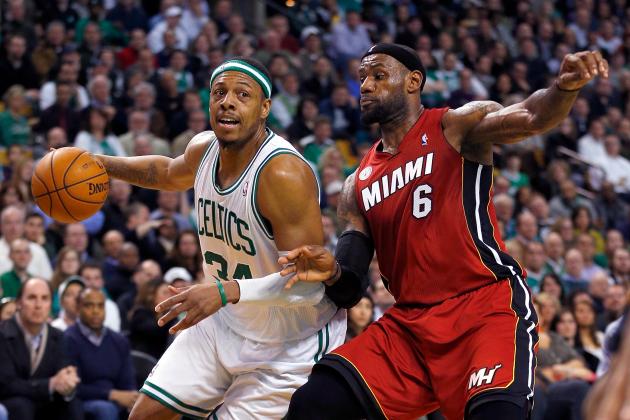 Jim Rogash/Getty Images

Regular-season meetings
at Miami (10/30): Heat 120, Celtics 107
at Boston (1/27): Celtics 100, Heat 98 (OT)
at Boston (3/18): Heat 105, Celtics 103
Consider the Boston Celtics as the team the Miami Heat would prefer not to see in the first round.
The Heat are obviously the better team in this matchup, and while they have only improved, the Celtics have dealt with significant injuries to key players and have been playing uninspired average basketball for a majority of the season.
The loss of Ray Allen prior to the start of the season hurt. But losing Rajon Rondo, Leandro Barbosa and just recently having 36-year-old Kevin Garnett return from an injury have caused this once powerful franchise to limp into the playoffs.
And yet, the Celtics will play the Heat each and every game as if it was Game 7 of the NBA Finals. It's in these matchups that a modern-day rivalry is clear and apparent.
The Heat had to overcome Jeff Green's 43-point effort in the third meeting to eke out a two-point victory, courtesy of LeBron James' game-winning jumper and Shane Battier's crucial late-game stop.
Boston has played Miami in each of the past two postseasons. Miami only needed five games to defeat Boston in the 2011 semifinals and recently needed seven games to defeat the Celtics in the conference finals.
The Heat were without Chris Bosh for the first four games of the series. He returned in Game 5 but failed to make a significant impact until Game 7, when he had 19 points and hit two three-pointers in a huge fourth-quarter stretch.
The Heat are allowing only 20 assists per game. Only four teams allow their opponents to have fewer assists in a game. Boston, however, has managed to eclipse that mark in each meeting.
Boston plays the Heat's defense well. Despite averaging a shade above 96 points per game on the season, the Celtics are averaging 103 points per game in their three meetings with the Heat.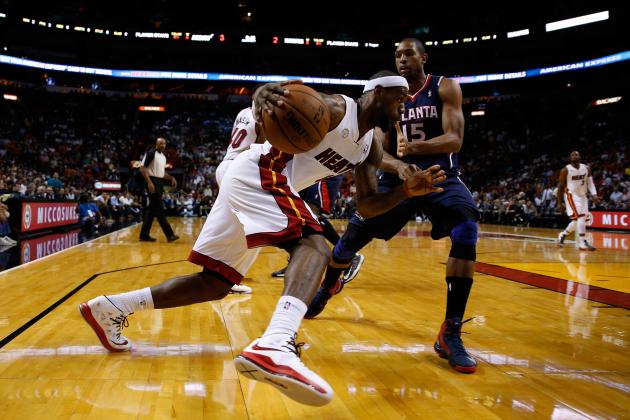 Chris Trotman/Getty Images

Regular-season meetings
at Atlanta (11/9): Heat 95, Hawks 89
at Miami (12/10): Heat 101, Hawks 92
at Atlanta (2/13): Heat 103, Hawks 90
at Miami (3/12): Heat 98, Hawks 81
Can you say dominance? The Atlanta Hawks are the second-best team in the Southeast Division, yet they have fared worse against the Heat than just about every other team in the division.
The Hawks have been dominated by the Heat since the creation of the "Big Three." Even with an excellent low-post presence in Al Horford and a plethora of shooters, the Hawks simply don't have the offensive firepower or the defensive stoppers needed to best the Heat.
The Hawks can bring back Joe Johnson if they'd like. It won't make a difference. Tell them to bring along 1986 Dominique Wilkins while they're at it.
The Hawks almost bested the Heat in the third meeting. Almost. Atlanta led by 10 going into the final frame but fell apart on defense as Ray Allen and Shane Battier began to rain down threes.
Miami used a 40-17 fourth quarter advantage to turn the game into a blowout. Remember when this team couldn't perform well in the final frame? It seems like it's been longer than two years.
Perhaps the best scenario that could play out in the conference playoffs for Miami would be the Hawks nabbing the No. 5 seed, defeating the Brooklyn Nets and then facing the Heat in the first round. Miami would be facing a team it hasn't lost to in two years.
Plus, more Josh Smith jumpers.
Unless Smith starts hitting those wayward jumpers by channeling Allan Houston, the former Heat-killer, the Hawks would get swept by a team that is simply better at just about every facet of the game.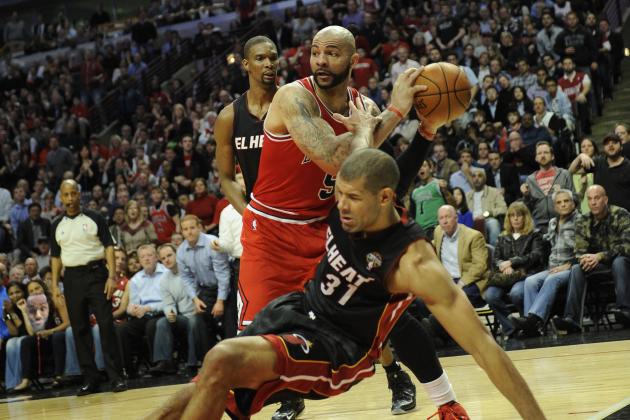 David Banks/Getty Images

Regular-season meetings
at Miami (1/4): Bulls 96, Heat 89
at Chicago (2/21): Heat 86, Bulls 67
at Chicago (3/27): Bulls 101, Heat 97
It was mighty impressive of the Chicago Bulls to end the Miami Heat's historic winning streak at 27.
Despite playing without Joakim Noah, Derrick Rose, Marco Belinelli and Richard Hamilton, the Bulls were able to put up 101 points and dominate the boards once again against a Heat team that seemed to possess what it took to eclipse a 40-year-old record.
The Bulls had a 43-31 rebounding edge, but that's not what beat the Heat. What it took was an uncharacteristically great shooting performance from a Chicago team that averages a league-worst 92.7 points per game and the fifth-worst shooting percentage in the NBA.
Of their 101 points, the Bulls scored 61 of those points from outside of the paint. The team that averages the second-lowest amount of three-pointers per game (5.1 on 34 percent shooting) hit eight threes at a 36-percent clip that night, with four alone coming from Luol Deng.
The Bulls shot 47 percent as a team. Did I mention that this Bulls team was playing without its starting point guard, shooting guard and center?
Miami is going to be willing to allow Deng, Jimmy Butler and Nate Robinson to shoot until they can't shoot anymore. Having 60 percent of your team's total offensive output come off of jumpers isn't offense that is capable of sustaining for seven games, especially against a defense like Miami's.
The Bulls fell in five games in 2011 to a Heat team that wasn't nearly as good as the team that is playing in 2013. That Bulls team in 2011, the best we've seen from that franchise since 1998, has been broken apart since then, as well as the plucky 2012 squad that won games thanks to an incredibly deep bench.
And Derrick Rose isn't walking through that door, at least not a fully confident Rose.
Even then, it wouldn't matter. Rose, when he was the reigning MVP, shot 1-of-15 in the fourth quarters of five conference finals games in 2011 when he was defended by LeBron James.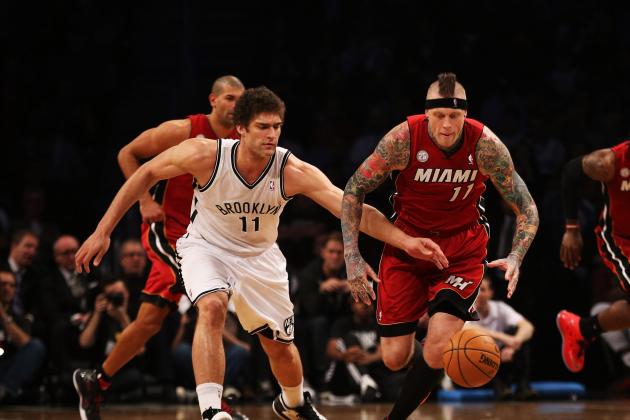 Al Bello/Getty Images

Regular-season meetings
at Miami (11/7): Heat 103, Nets 73
at Brooklyn (12/1): Heat 102, Nets 89
at Brooklyn (1/30): Heat 105, Nets 85
A 7-footer who can score? A quick, athletic point guard? If we listened to analysts, we would assume Brook Lopez and Deron Williams would be Miami Heat kryptonite.
It turns out that it takes a little more than a big who can score and an athletic floor general to beat the Heat. In fact, judging by how badly the Heat have beaten the Nets in three meetings, it's going to take a lot more than one of the league's top scoring big men and a guard who once dropped 57 points.
Lopez had eight points and seven rebounds in the first meeting, and 21 points and seven boards in the third meeting. He missed the second meeting, but he was present for the two Net losses that amounted to an average margin of victory of 25.
Williams, meanwhile, has struggled against the Heat. Believe it or not, Norris Cole has played excellent defense on Deron in all three of Miami's meetings with Brooklyn. Williams had 14 points and seven turnovers in the first meeting, 10 points and four turnovers in the second and nine points and six turnovers in the final meeting.
Deron's averages against Miami this season? 11 points on 40 percent shooting, 6.7 assists and 5.7 turnovers per game.
If the best opposing player is consistently putting up below-average or poor numbers against the Heat, then there's a slim chance the team will come close to stealing a game in a seven-game series.
Blame it on Reggie Evans for any future beatings. LeBron James went off for 24 points, nine rebounds and seven assists in a 20-point victory that included 3-of-4 shooting from deep. That statline came shortly after Evans cast James aside as "no different than Joe Johnson or Andray Blatche."
Also of note: Any team that lists Reggie Evans as a starter isn't going to beat Miami. Ever.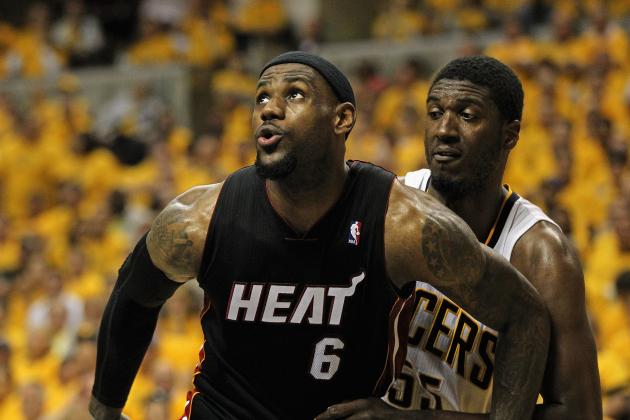 Jonathan Daniel/Getty Images

Regular-season meetings
at Indiana (1/8): Pacers 88, Heat 77
at Indiana (2/1): Pacers 102, Heat 89
at Miami (3/10): Heat 105, Pacers 91
This is as large a disparity as you can get between two teams.
In their two home games of the three-game series, the Indiana Pacers dominated the Miami Heat at all facets of the game. Both occasions were two of the few times this season where a Heat opponent was able to beat Miami not with tremendous shooting, but with excellent half-court defense and a multitude of ways to score.
The 77 points Indiana limited Miami to in the first meeting remains a season low for the Heat. In a game where Paul George scored 29 points and grabbed 11 rebounds, Miami had a combined 11 points from everyone who wasn't LeBron James, Dwyane Wade or Chris Bosh. Indiana got 25 points from their bench.
Miami shot 41 percent from the field. Indiana held a 55-36 rebounding edge, 22-7 on the offensive glass.
The Heat had a stronger offensive effort in the second meeting but allowed the Pacers to shoot 58 percent as David West needed only 15 shots to score 30 points.
The roles reversed in the final meeting. Miami shot 56 percent, Paul George shot 2-of-11 and Mario Chalmers, seriously, dropped a game-high 26 points.
The scariest part of that game? LeBron James scored only 13 points on 10 shots.
It wasn't a year ago when the Pacers tested the Heat by holding a 2-1 series lead in the semifinals only to lose three consecutive games. Of course, this was the series where Chris Bosh missed all but one half.
The Pacers are a big team, but the Heat didn't allow that to play as big a factor as Indiana would have liked last year. With Chris Bosh healthy, barring something catastrophic over the next few weeks, Miami will have a far more daunting frontcourt than the one it was pushing out last year.
Dexter Pittman started Game 3. Remember that? I try not to, but I can't.
With Bosh on the floor, the Heat can finally embrace the advantage they missed out when lacking a stretch-4: getting Roy Hibbert out of the paint and out of his comfort zone. In the lone game this season that Miami won, Bosh had 24 points and four rebounds to Hibbert's 16 points and four rebounds.
Indiana will need everyone to step up, especially Paul George, who played a heavy role in both wins and was awful in the loss.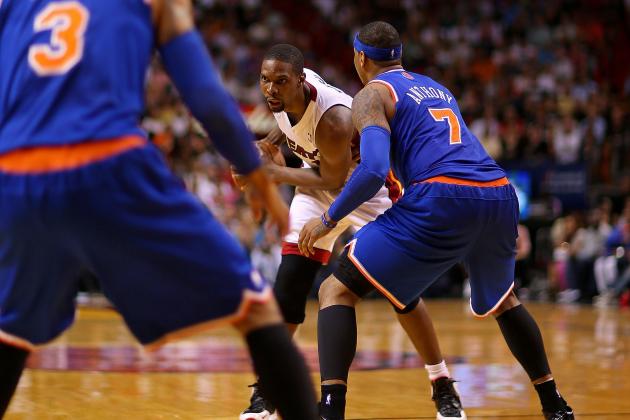 Mike Ehrmann/Getty Images

Regular-season meetings
at New York (11/2): Knicks 104, Heat 84
at Miami (12/6): Knicks 112, Heat 92
at New York (3/3): Heat 99, Knicks 93
at Miami (4/2): Knicks 102, Heat 90
They're the only team to beat the Miami Heat twice on their own floor and the only team to win three games by double-digits against Miami.
Obviously, the New York Knicks are the Heat's biggest threat, right? After Indiana was manhandled in that final meeting and following New York's recent win in their final meeting, albeit against a depleted Heat team, it should be safe to say that the Knicks are the biggest threat to Miami's championship run.
I'm not just talking about the Eastern Conference, either. New York has played Miami well enough this season to arguably be declared the team with the best chance of beating the Heat in the playoffs.
It seems that way, until you look at the way New York won all three of those meetings.
New York 104, Miami 84
Points in the paint: Heat 36, Knicks 22; Three-pointers: Knicks 19-of-36, Heat 7-of-20
New York 112, Miami 92
Points in the paint: Heat 42, Knicks 34; Three-pointers: Knicks 18-of-44, Heat 6-of-16
New York 102, Miami 90
Points in the paint: Heat 36, Knicks 18; Three-pointers: Knicks 14-of-27, Heat 8-of-20
As for the Heat's lone win?
Miami 99, New York 93
Points in the paint: Heat 42, Knicks 32; Three-pointers: Knicks 8-of-29, Heat 8-of-20
The Knicks converted 53 three-pointers in their three wins against Miami. That's an average of 17 shots from 25 feet or further away going in.
Carmelo Anthony's 50 points in the latest meeting? All 26 of his shots were taken outside of the paint. The 18 jumpers he made were the most any player has made in 17 seasons.
Layups will fall all the time. Jumpers won't.
If the Knicks and the Heat are to meet in the playoffs, it'll come in the Eastern Conference Finals. To get there, New York will most likely have faced Boston in the first round and Indiana in the semifinals, the league's two top teams when it comes to defending the perimeter.
Because they have no inside presence outside of Tyson Chandler, the Knicks are simply going to attempt to outshoot their opponent for seven games in order to vie for a championship.
The playoffs are a completely different beast. The defenses are better, the pace becomes slower and adjustments are made. New York will have a difficult time keeping up this torrid shooting pace long enough to contend with the Miami Heat for seven games.