Manchester United vs. Manchester City 2013: Bitter Rivals Destined for Draw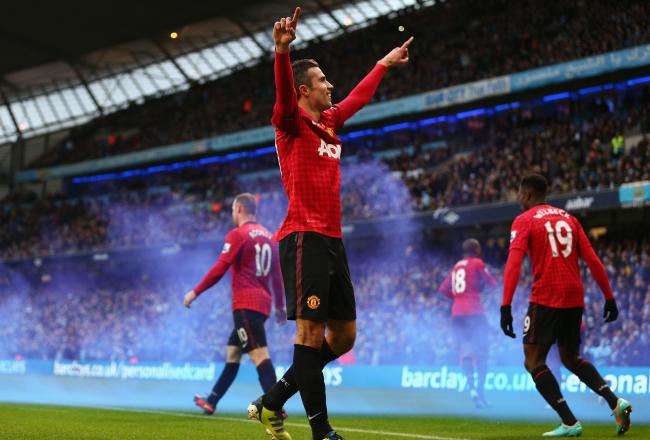 Clive Mason/Getty Images
Imagine for a moment the most tragic outcome for Manchester City when the team faces Manchester United on Monday afternoon. Imagine that City takes an early lead in the game and then goes up by two, all before the half.
Can't you just see the City supporters suddenly feeling the faintest twing of hope, knowing the team was about to cut United's huge lead on the Premier League table to 12 points with seven games remaining?
Can't you just envision the most optimistic of those fans holding on to the hopes that the team could pull off a crazy, late-season comeback, especially with Robin van Persie struggling for the Red Devils?
Now imagine that those two teams come out for the second half, and United quickly scores a goal. Suddenly, the lead doesn't seem too safe. Now United is full of energy, attacking and prodding and probing the City defense.
But Joe Hart and the back line remain sturdy. This is the group that has allowed the fewest goals in the Premier League this season, after all. They push aside United's many advances. They take the game into stoppage time, three points in their sights...and van Persie scores the game-tying goal, leaving City with only a point from the draw.
Nothing could be more tragic than that result, right? Sorry, City fans, but that's exactly what I think will happen when these teams meet.
I know, I know, it's a really specific prediction, but for awhile now it has just felt like it was United's year and, more importantly, like it most definitely wasn't City's year. Something about this City team just makes you think an unnecessary level of drama will accompany this match.
Maybe it was the ongoing Mario Balotelli debacle. Or the constant rumors that Roberto Mancini will be sacked. Or it could simply be that this group of City players—a band of highly-priced mercenaries that came together last season but haven't this year—don't always look like a team.
Sometimes, the pieces don't fit in the formations Mancini experiments with. Other times, City just looks like a group of individuals that has to out-talent foes. All the money in the world can't make players perform well together, after all.
Mike Hewitt/Getty Images
United generally doesn't have that issue, and I think a lot of that comes from the stability Sir Alex Ferguson brings and the fact that players like Ryan Giggs, Michael Carrick, Patrice Evra, Rio Ferdinand and Paul Scholes have been with the team for years means this United squad is hardly filled with mercenaries.
Sure, Wayne Rooney has struggled to define a natural role since van Persie's arrival, but it hasn't manifested in the team's play.
And that's why I think this game is destined to be a draw of the most tragic nature for City.
The talent is there. The motivation to beat a rival with little else left to play for should be there. The chance to quiet the Old Trafford crowd should be all the inspiration City needs. The one weak point for United for much of this season has been its back line, and City has the attackers to exploit it.
But United has often saved its best for late in games this year. The team has a knack for scoring a late goal, and van Persie isn't going to slump forever. There are plenty of players who can play the hero on this roster.
Last year, City denied United the Premier League title in the most dramatic fashion possible on the last day of the season. This year, the Red Devils will have their revenge, all but sealing the title with a thrilling draw in the most tragic way imaginable for their Manchester rivals.
This article is
What is the duplicate article?
Why is this article offensive?
Where is this article plagiarized from?
Why is this article poorly edited?