The 15 Worst Locker Room Cancers in NFL History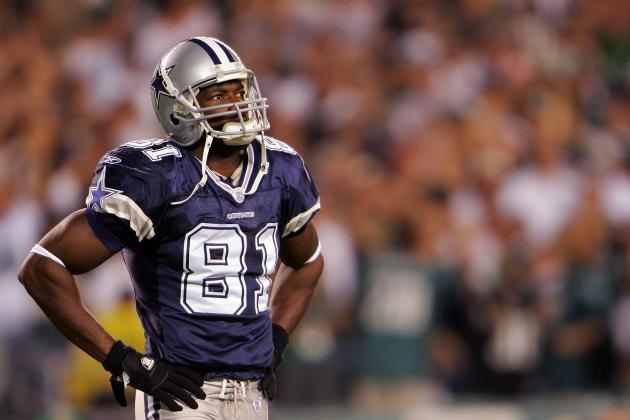 Chris McGrath/Getty Images

The term "locker room cancer" is a loaded one. What does it take to be considered one in the NFL?
A lot of times that involves fighting with coaches or fellow teammates. But having off-field issues can disrupt the team as well. Being a diva is an obvious choice as well.
Who were some of the biggest "cancers" in NFL history? Click through to find out.
Begin Slideshow

»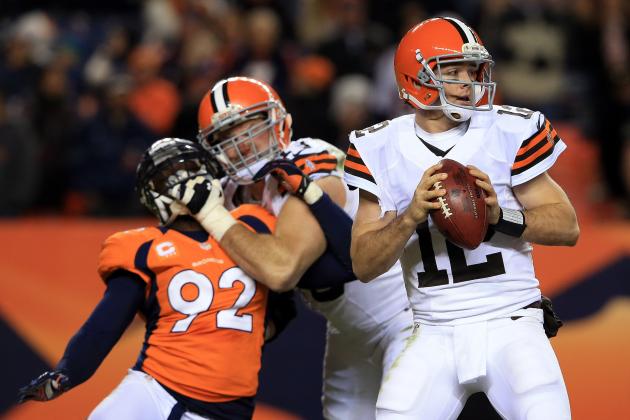 Doug Pensinger/Getty Images

Really, this should read "Brad McCoy," Colt's father.
McCoy took a big lick from James Harrison late in the 2011 season, which briefly knocked him out of the game. He was obviously concussed, but team officials let him back into the game almost immediately.
He would later be diagnosed with a concussion, which prompted Brad McCoy to criticize the team.
Apparently those comments "sealed his fate" in Cleveland, and the team drafted 28-year-old Brandon Weeden to replace him last year.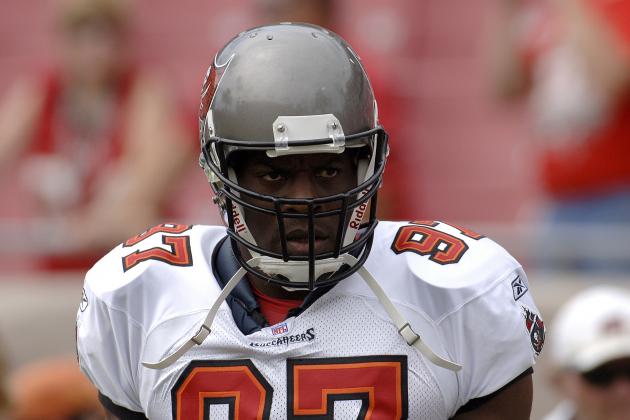 A. Messerschmidt/Getty Images

Simeon Rice became one of the league's best pass-rushers, but his career did not start out that way.
The rookie out of Illinois held out until mid-August after the Cardinals selected him in the first round, an unpopular stance for any rookie.
Four years later, he held out again in Arizona. This time he took a one-year deal, but not before disappearing from team headquarters before actually signing the contract.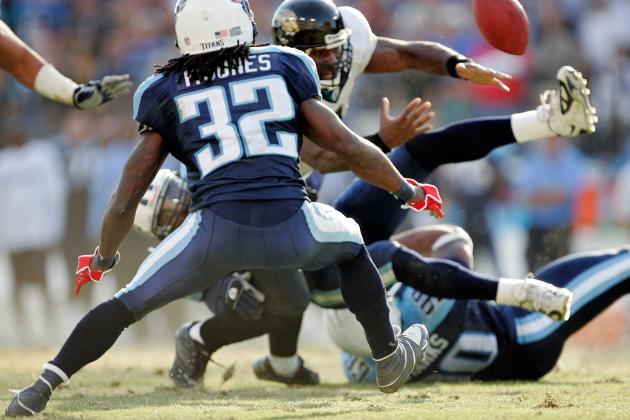 Brian Bahr/Getty Images

The Titans took a chance on the Artist Formerly Known as Pacman by drafting him sixth overall despite some off-field issues. It backfired almost immediately.
Adam "Pacman" Jones came into the league on probation. He got in even more trouble before his rookie season even began.
Jones has been arrested several times throughout his career, to the point where he was suspended from the league for a full season. His reinstatement came with a stern warning, which has apparently cured Jones of his off-field troubles.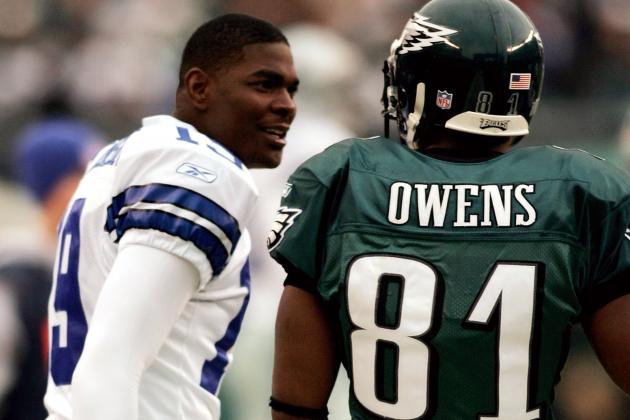 Doug Benc/Getty Images

It should be no surprise that the author of Just Give Me the Damn Ball is on this list.
Johnson wasn't quite on the level as Terrell Owens or Randy Moss, but there was no doubt there was diva in him.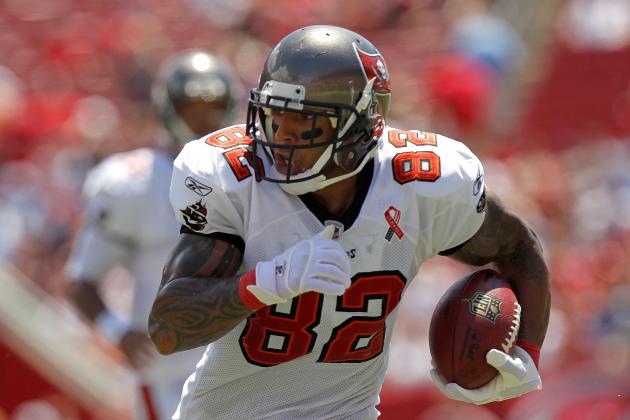 Mike Ehrmann/Getty Images

Kellen Winslow's career got off on the wrong foot, or leg rather. He broke his leg two games into his rookie year with the Browns.
Things turned ugly when Winslow was injured riding a motorcycle in a parking lot the following year despite his contract expressly forbidding the use of motorcycles. Winslow tore his ACL in the accident and was lost for the year.
After finally getting his career on track, Winslow ripped Cleveland GM Phil Savage for conditions in the locker room that led to a second staph infection. Savage suspended Winslow in retaliation.
Despite all this, he still got the richest contract in the history of the NFL at tight end after being traded to the Buccaneers.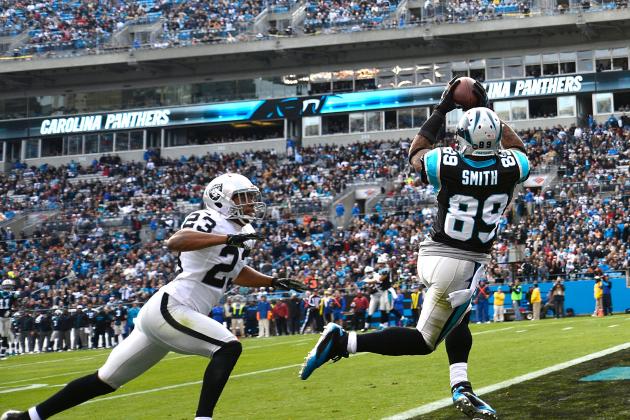 Grant Halverson/Getty Images

Steve Smith is a passionate player. But sometimes, he takes things too far.
Just ask the noses of Anthony Bright and Ken Lucas, which Smith broke. The talented receiver punched both teammates out six years apart in his career, proving maturity doesn't necessarily come with age.
He has seemingly mellowed out in recent years, though. Maybe 30 was the magic number.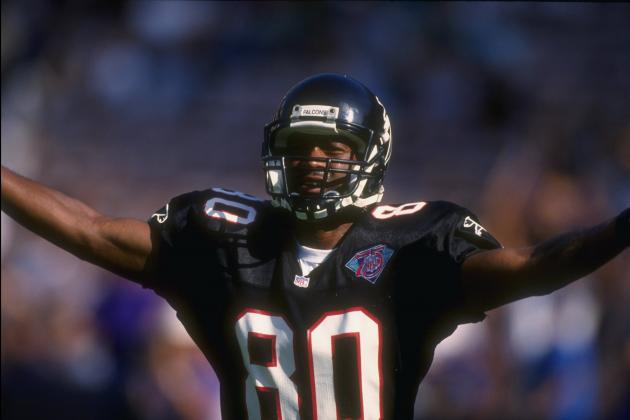 Al Bello/Getty Images

You know you might have a problem when you incite your girlfriend to burn the house down.
That is precisely what Lisa "Left Eye" Lopes of TLC fame did to Andre Rison's Atlanta home in 1994. Maybe the pair was simply too volatile, but they stayed together.
Rison was a talented football player, to be sure, but he left his mark wherever he went. He was brash, yelling at coaches and teammates at times and missing team meetings at others.
His star flamed out early, a reality that might have been avoided were it not for his antics.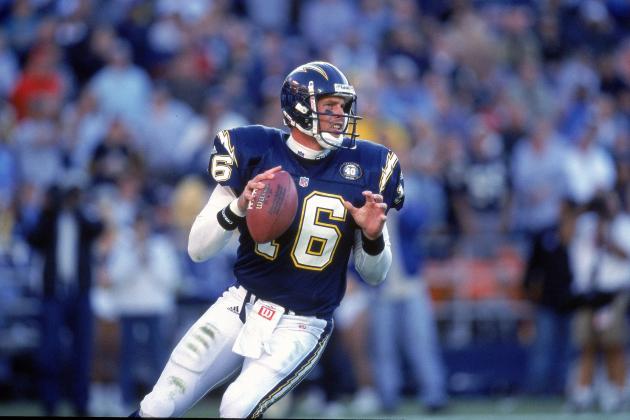 Stephen Dunn/Getty Images

Ryan Leaf will long be remembered as the biggest bust in NFL history. And it wasn't just because he was a poor quarterback.
Leaf had issues with teammates, exhibiting what they call an external locus of control—he blamed others for his failures.
The second-overall pick was so bad that the Chargers cut him after just three seasons.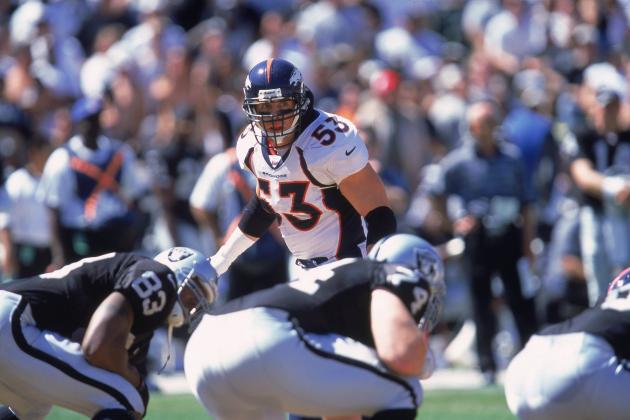 Stephen Dunn/Getty Images

Speaking of attacking teammates, Bill Romanowski might have been 'roid raging when he attacked Marcus Williams. Romanowski didn't just break Williams' nose, he crushed his face and knocked him out in the process.
Williams sued Romanowski for $3.8 million because of the incident, a suit that was later settled.
This was years after Romo spit in J.J. Stokes' face on national television as a member of the Broncos.
He might have been a big competitor, but he was also a major pain.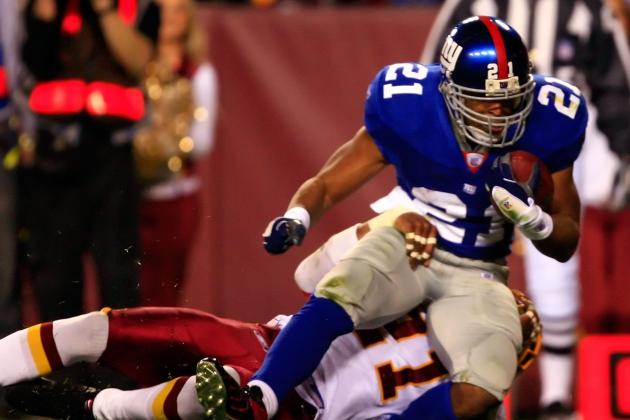 Jamie Squire/Getty Images

If ever a player was bitten by karmic justice, Tiki Barber is that man.
Barber once publicly groused about Michael Strahan's contract negotiations, calling the former defensive end selfish. That prompted a harsh response from fellow teammates.
Later, Barber would clash with Tom Coughlin, again airing out his grievances in public rather than keeping things in house.
Barber retired the year before New York's miracle run at a championship without him, proving that what goes around comes around.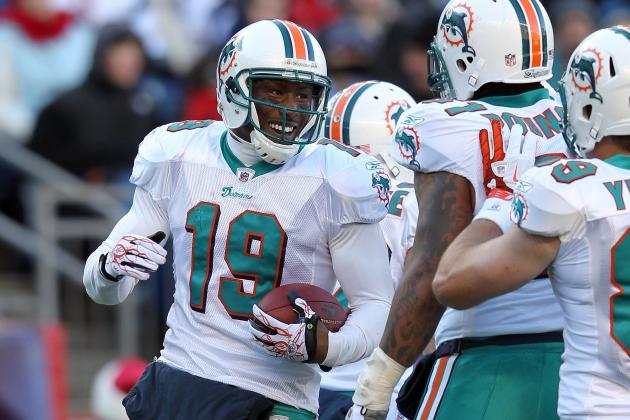 Jim Rogash/Getty Images

Things have been quiet for Brandon Marshall since he joined the Bears. But is there a sea of turmoil roiling below the clam surface?
His own past would say yes.
Marshall has been a headcase for some time. After some productive seasons in Denver, the trouble began.
He was suspended for three games—later reduced to one—for off-field incidents back in 2008. He was later suspended by the Broncos for sandbagging in practice.
His issues got him traded to the Dolphins, where his off-field problems continued. He eventually revealed that he was diagnosed with borderline personality disorder after an incident that sent him to the hospital with stab wounds.
By then it was too late for him in Miami, which traded the mercurial-but-talented receiver to Chicago for two third-round picks.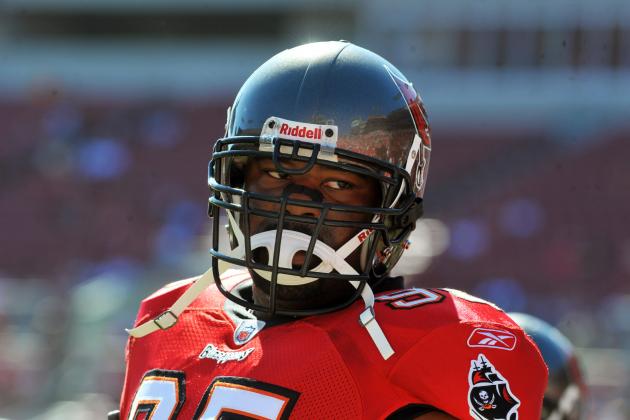 Al Messerschmidt/Getty Images

Before Ndamukong Suh was stomping on players and kicking Matt Schaub in the nether regions, there was Albert Haynesworth.
The big defensive tackle was primed to become the best player in the league at his position. Despite incidents where he kicked Justin Hedwig and nearly blinded Andre Gurode with a boot to the face, Haynesworth was in demand when he hit free agency.
The Redskins famously overpaid for his services, then switched to a 3-4 defense. Haynesworth was most displeased with the move, and it showed in his lack of motivation.
At one point, Haynesworth failed an easy conditioning test for Mike Shanahan, which barred him from joining the team for several weeks.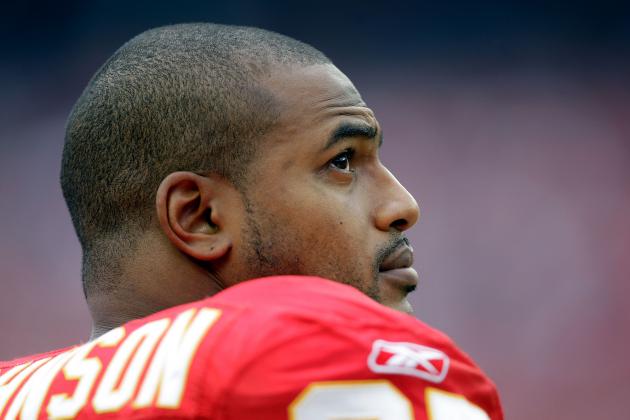 Jamie Squire/Getty Images

Dick Vermeil once told Larry Johnson to take off his diapers. This was, perhaps, some vehemence on Vermeil's part bubbling to the surface—the emotional head coach was against taking Johnson in the first place.
Johnson eventually made his way out of Vermeil's doghouse by virtue of turning on the jets after Priest Holmes suffered injuries.
After a while, things went south again for Johnson and the Chiefs. He held out in 2007, ultimately getting a big five-year deal.
An injury, poor play and several suspensions later, Johnson was out of the league. He feuded with teammates and coaches all along the way.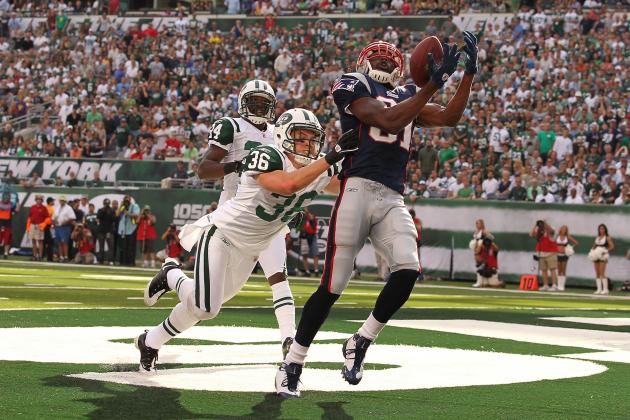 Al Bello/Getty Images

The second-best receiver in NFL history was also one of the more mercurial at his position.
Moss was more methodical in his actions, at least for the most part. Let's not bring up the time he tried to run over a traffic cop during his tenure with Minnesota. Or the time when he was fined for squirting a referee with a water bottle.
Or the famous "mooning" incident.
Okay, so Moss was more petulant than diva, but it cost him. Moss sandbagged when it suited him, usually when he felt he wasn't getting the ball enough.
He had a real good thing going in New England until he worked his way out of town.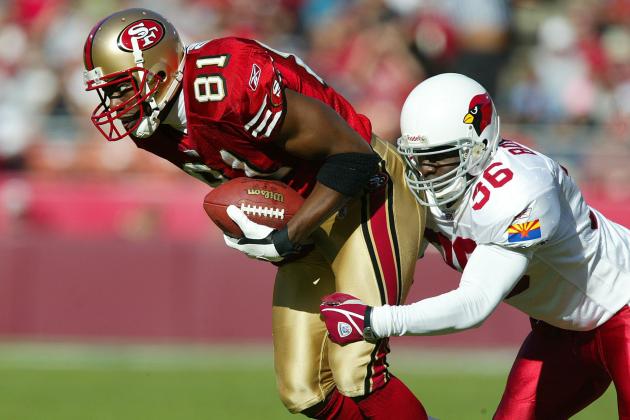 Jed Jacobsohn/Getty Images

The grandaddy of them all, Terrell Owens has burned more bridges than General Sherman on a march.
Owens might be up there with the greatest wide receivers in the NFL were it not for his diva-like personality. The wide receiver has spent time with six different teams as a result of his ever-open mouth, eager to throw teammates and coaches under the bus for his own personal gain.
If ever there was a locker room cancer, Owens is it.