WrestleMania XXX: Potential Main-Event Matches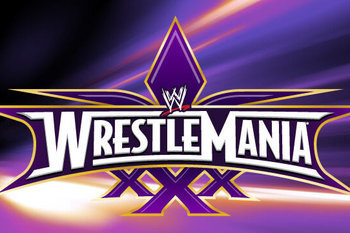 And so another Mania night leaves us. Some of us are left with bitter tastes in our mouths. Others are satisfied with the performances on The Grandest Stage of Them All.
Whether it was CM Punk falling to the dark machinations of The Undead One, Alberto Del Rio bringing his father to tears in retaining the World Heavyweight Championship or the resounding cry of "The Champ is Here" uttered by John Cena as he held the WWE Championship over his head, this Mania had something for everyone.
Still, even as we only just leave WrestleMania 29 behind us, it's hard not to question what awaits us in just one short year.
So much can change between now and WrestleMania XXX. WrestleMania 28 was meant to be just this—The Rock vs. John Cena for the WWE Championship. Yet, CM Punk would have none of that, as he made his name over the summer and turned the WWE on its ear. Just a classic example of how anything can happen in the WWE.
This year WWE arguably had three main events, and it looks to be standard practice. Next year we're likely to see names such as Brock Lesnar, The Rock, Cena and CM Punk in huge matches.
Add in The Undertaker and other established stars such as Randy Orton and Sheamus, and dark horses such as Daniel Bryan, Big Show, Mark Henry and potentially even Ryback, and you've got the makings of an event not to be missed.
With that said, I would like to share with you my thoughts for the main-event matches WrestleMania could feature. Some of these may seem a bit out of place or even counterproductive, but I implore you to take a chance and think about them for a minute.
I mean, my track record with creating feuds people would like to see isn't totally terrible.
Begin Slideshow

»
Honestly this is a match I think could have happened Sunday night. With Vince seemingly backing Ryback, and with Brock having Paul at ringside, we kill two birds with one stone.
Not only do we bring closure to Heyman vs. McMahon, but Brock is used in a much better capacity putting over Ryback as a threat to watch out for in the near future. However, we instead got Triple H vs. Brock.
So, I'm sure a lot of you are ready to start claiming "Rybotch doesn't deserve to face Lesnar," but I'm gonna have to stop you right there. People are claiming that Brock can't be taken seriously after losing two of his three matches since coming back.
However, I have to believe that, like Chris Jericho, Brock can lose to just about anyone, but he will not go down without giving his opponent a hell of a fight. That's the appeal of Brock Lesnar.
Add in his status as a part-timer, and you've got the perfect person to put people over, as long as they go into an event looking strong. Besides, Brock is paid an exorbitant amount of money to sit on his butt 360 days a year. I think he can more than afford to lose some matches.
Brock is a man known as "The Beast," but I think it's time for a new creature to make its mark in the WWE and I think Ryback can be that creature.
The Eating Machine of the WWE is always hungry, but as of late has suffered some serious setbacks. Heck, if anyone should be complaining about not being able to win the big one, that would be Ryback.
Time and time again, Ryback has had defeat handed to him when victory was in sight. Hopefully things change for Ryback this year. While I don't think Ryback will hold a World Championship this year, I do think it's within possibility for him to walk away with a midcard championship. He's beaten Antonio Cesaro enough times, you'd think he was U.S. Champion by now, so he could easily start building himself up in that manner.
After a good reign with the belt, he can eventually drop the title, or perhaps even hold onto it till Mania, putting up the belt against Brock Lesnar's contract.
Once again banishing The Beast from the WWE would be a huge boost for anyone, and I think Ryback could be the guy to do that.
A lot of people have been clamoring for John Cena vs. The Undertaker to happen at Mania, and I can't fault them for that. Heck, I was one of those people.
But thinking about it, perhaps a suitable alternative for such a match could exist in The Deadman going one-on-one with The Great One. I myself think this could be considered as much a dream match as Cena vs. The Undertaker.
One word has slowly become synonymous with The Rock, and that word is "Greatness." Rock's road has been positioned to put him in line to be considered The Greatest Superstar of All Time.
He's beaten the best the WWE has had to offer at The Big Dance. Hulk Hogan fell to The People's Champion. Stone Cold Steve Austin has crumbled at the hands of The Rock. Shocking the world, even John Cena couldn't overcome The Great One. One would think there's nothing left for The Rock when it comes to WrestleMania.
Enter The Undertaker.
One could have similar sentiments regarding The Undertaker's path. At 21 WrestleManias, The Undertaker has buried adversary after adversary, with each one seemingly more difficult than the last.
Yet year after year, they've come and they've fallen. Some of the greatest names in our industry have been unable to defeat The Undertaker at WrestleMania. The Rated-R Superstar, The Nature Boy, The King of Kings. Even Mr. WrestleMania himself failed to beat The Deadman.
So, how would The People's Champion fare against The Phenom? One can only imagine, but perhaps next year we could have our answer. Could The Rock solidify his name in history as The Greatest of All Time or will he become just another victim of the Demon of Death Valley?
A feud years in the making. A feud deferred. A feud that could reconnect one or both men with their better, darker halves.
This year, many fans were disappointed at the lack of a heel turn by Randy Orton. Though The Viper still stings, does he not? The correct answer is yes, because Randy has proven to be quite unpredictable. Especially when it comes to being the villain.
Chris Jericho spent the past couple of years in put-over duty. Sunday night, he had the unenviable job of putting over Fandango. I can't think too many Jericho fans—even people who applaud him putting people over—enjoyed this one. Honestly, I'm always the guy to stick up for the faces. Simply put though, it's not working out.
For both Randy and Jericho, these face runs have got to end. Jericho is good as a face, but he's great as a heel. Jericho is a guy that likes to reinvent himself, but I think there should also be a time when we stick with what works.
You know what worked best for Jericho, in my opinion? Jericho circa 2008—a.k.a. "The Best in The World." Jericho was on top of the world at that point, and I think by reverting back to that gimmick, Jericho can reach the top again (or at least better help others reach the top.)
As for Randy, I think it's just an accepted fact that Randy has always done his best work as a heel. From Rated-RKO to Legacy, Randy thrives in two types of situations. When he can either be a heel or act like a heel (i.e. an Extreme Rules, No Holds Barred, etc.-type match.) Yet, WWE continues to want to push him face.
A few years back, it was Randy who took Jericho out of the WWE. Following his initial return, Jericho started feuding with Orton, but due to a suspension by Jericho, that feud was derailed.
Perhaps it's time we close this chapter of their lives with a definitive ending? Maybe a Last Man Standing? Extreme Rules? Ironman match even. Regardless of the stipulation, I think we'd be in for an amazing match.
John Cena is kind of stuck between a rock and a hard place. There are two things people want to see. John Cena vs. The Undertaker and John Cena vs. CM Punk to headline a WrestleMania. Additionally, people have been clamoring for CM Punk to main event WWE's biggest PPV of the year.
Here we have another example of killing two birds with one stone. Arguably two of the best in the business going at it in one of the biggest nights in WWE history over the most prestigious prize wrestling has to offer in one of the most iconic and grueling match types. I don't think it could get any bigger than this in the WWE.
Every great pair has had their WrestleMania faceoff. Hulk Hogan and Randy Savage battled at WrestleMania V, and Stone Cold and The Rock waged war at Mania on three occasions. Cena, though, has never went one-on-one with his true rivals at The Big Dance. (Some say JBL could be counted, but I don't think JBL brought out much in Cena compared to many others. Same goes for Rock.) Not Edge, not Randy, and not Punk. I think it's time we change that.
CM Punk has proven on more than one occasion that in the ring, he and Cena can make magic. CM Punk is one of the best in the ring as far as the WWE goes, but even as WWE Champion, he's yet to headline WrestleMania, despite being in two main events.
Many people also point out that CM Punk doesn't have a true WrestleMania moment. (I consider back-to-back MiTB wins Mania moments, but that's me.) I think we have what WWE really could consider a perfect storm on our hands with this situation.
Cena has seemingly been able to get his groove back this year, starting the year off by dominating Dolph Ziggler on Monday Night Raw before winning the Royal Rumble—becoming one of only a handful of people to ever win more than one.
Sunday night he walked away from WrestleMania with his 13th World Championship, tying Triple H for most World Championships in the company and in the process breaking his own record for an eleventh WWE Championship.
Something's gotta give between Punk and Cena.
CM Punk—the Voice of the Voiceless, representing the disenfranchised, hardcore fans. The ones who see Cena as a cancer to not only WWE but professional wrestling.
John Cena—the Franchise, the face representing the new WWE, the family friendly, charitable sports entertainment empire, the hero to children the world over with his message of "Hustle, Loyalty, and Respect."
What more can be said? John Cena and CM Punk leave it all in the ring when they're on opposing sides. Even if they couldn't top the match they had before Mania, expect a Match of The Year Candidate if these two make it to Mania.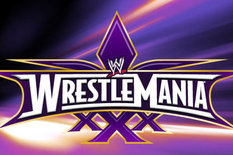 Just a couple of things I'd like to leave you with. The way the matches were listed isn't how they would be in the order of the card. I'm not going to say what I think should be the main event. That's more something for you, the reader, to converse with in the comments.
Along with that, I also want to point out that there are some people who may consider this card overkill. Though I think every match at Mania should feel special, like they could all main event lesser PPVs. None of these are even the world championship match, and Brock vs. Ryback could even be considered a midcard match, with the inclusion of the U.S. Championship.
WrestleMania next year has all the potential in the world, in my opinion. The hard parts are really picking who makes it to the PPVs themselves and deciding card placement, I feel. Anyway, thanks for the read and I hope you enjoyed this look at WrestleMania XXX, through my hopeful eyes.