WWE WrestleMania 29 Results: Grading Each Match at the Latest Pay-Per-View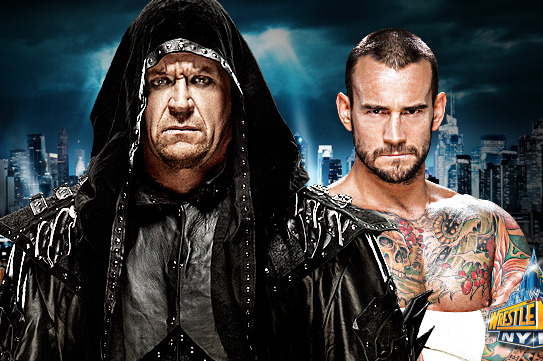 Photo from WWE.com
WrestleMania 29 closed with John Cena winning the WWE title on a night which featured matches of the average, the thrilling and the disappointing variety.
The event saw WWE's best performers and a handful of newcomers deliver compelling theater. Undertaker composed another masterwork. The Shield continued their run of excellence. Did those successes wipe out the memory of the pay-per-view's blasé offerings?
Every match, from the pre-show to the main event, is graded here on how well the wrestlers told their story, how entertaining their battles were and how often the action thrilled.
Begin Slideshow

»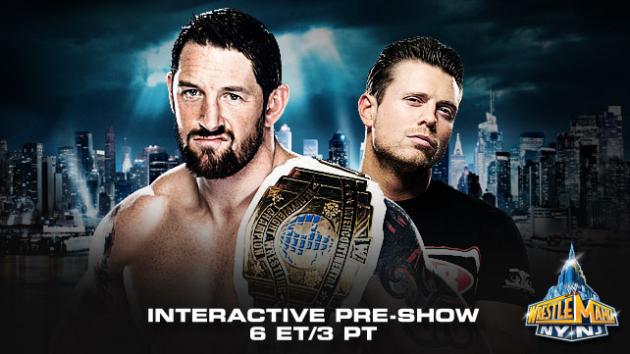 Photo from WWE.com
Grade: C-
Wade Barrett dominated for most of the match, but Miz ended up with the win, kicking the night off with a title change.
After Miz hit a sunset flip early in the match, Wade Barrett took control. Barrett kicked Miz in the gut and smashed him with right hands. Many of his blows echoed throughout MetLife Stadium.
The action was fluid and Miz and Barrett's chemistry was solid.
Each man attempted and failed their signature move. Miz kicked out of a Wasteland. Barrett escaped the figure-four the first time around, but not the second. He tapped out after a match that felt a touch rushed.
There isn't a lot here to pick apart, but little to rave about as well. The average undercard bout earns an average grade.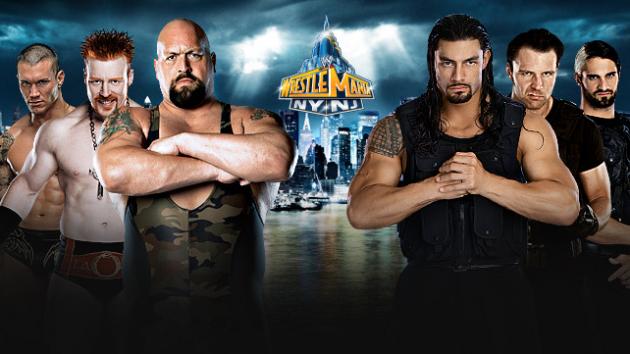 Photo from WWE.com
Grade: A-
Had these men been given a few more minutes, had the match featured an additional flurry or two, this would have been just as good as The Shield's previous work.
The bout opened with Sheamus and Roman Reigns slugging it out. It was soon apparent that Sheamus and Randy Orton felt uneasy about letting Big Show in on the action, so the big man had to force his way into the fray.
After a series of chest-reddening chops on Dean Ambrose, Big Show became the surprise weak link. The Shield tagged in and out and kept the World's Largest Athlete off his feet. Seth Rollins flew at him; Reigns pounded on him.
Sheamus hit a fun move where he rolled Rollins onto Ambrose.
The match was full of moments like these and the same buzzing energy fans have grown to expect from The Shield. Ambrose pinned Orton to end one of the better matches of the night.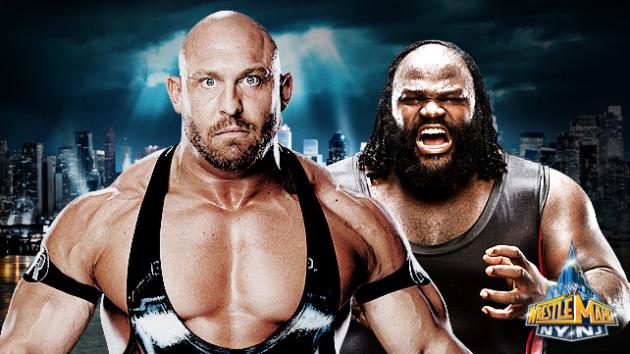 Photo from WWE.com
Grade: C
Ryback and Mark Henry's initial faceoff and how they charged at each other like rams had it looking like fans would be seeing a powerful brawl between behemoths. What followed, however, was a match that dragged.
Instead of building on those thunderous collisions that kicked things off, Ryback and Henry traded high-impact moves for wear-down holds, intensity for lethargy.
Fans weren't expecting a rapidly-paced battle, but some of the bearhugs should have been replaced with bursts of hard-hitting action.
The surprisingly one-sided match limped along until Henry's win.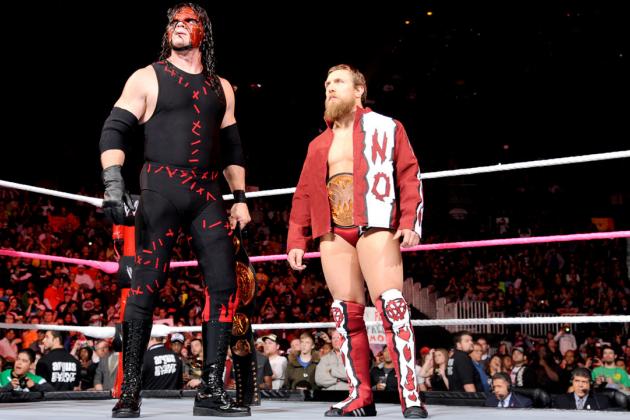 Team Hell No, still champs (Photo from WWE.com)
Grade: B-
Team Hell No and their challengers Dolph Ziggler and Big E Langston crammed a good amount of fun into the time they were given.
Ziggler tried to recreate Bryan's embarrassing WrestleMania from last year. He gave AJ Lee a kiss and came extremely close to getting pinned in mere seconds a la Bryan.
The action mixed slugfest with fast-paced wrestling.
Big E impressed with his power. Ziggler and Bryan showed off their great chemistry again.
After yet again making his opponents' offense look devastating, Ziggler attempted to end things with his Money in the Bank briefcase, only to find himself chokeslammed with gusto. The quality of this tag team clash shows WWE it has an option for an entertaining feud with these two teams.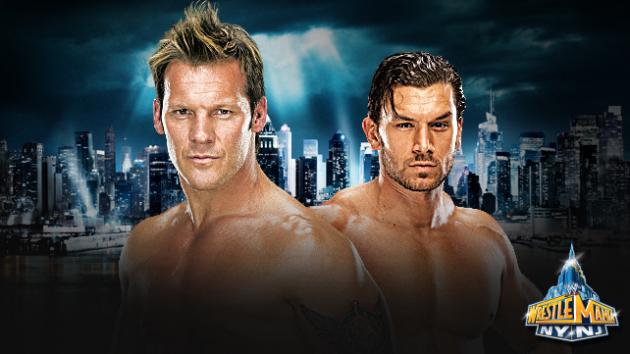 Photo from WWE.com
Grade: C+
It was more the mostly disinterested crowd that hampered Fandango's debut than the action itself.
This was the story of the rookie Fandango hanging in with the veteran Jericho. The ballroom dancer managed to avoid defeat at several points. He twice missed with the flying legdrop, only to win on a roll-up.
He and Chris Jericho put on a quality match, springing from the ropes, pounding each other with palpable hatred. There was just a lack of energy from start to finish. Maybe it was a case of lackluster chemistry or a case where the wrestlers couldn't find a way to connect to the audience.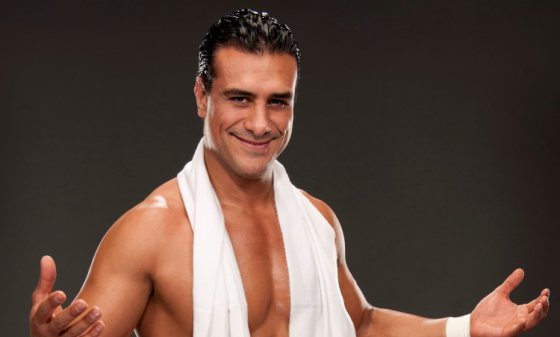 Photo from WWE.com
Grade: C+
An exponentially personal feud didn't deliver a climax at WrestleMania.
When fans think back to their favorite moments of the night, there won't be much for them to flash back to from the World Heavyweight Championship match.
Alberto Del Rio and Jack Swagger put on a solid match. It suffered from a lack of precision with each performer's moves and a chemistry that had little spark.
Swagger went for and locked in the Patriot Lock several times. Del Rio tried to get the Cross Armbreaker on his foe and eventually did for the win. For a match so reliant on submission holds, the selling of those holds wasn't nearly dramatic enough.
With this falling flat, WWE is going to have to do some serious thinking about whether they want to continue this rivalry.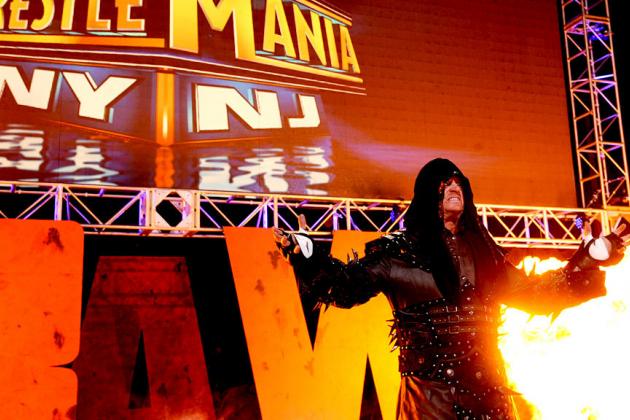 Undertaker, 21-0 (Photo from WWE.com)
Grade: A
Even with the majority of fans knowing full well that The Undertaker would not lose, he and CM Punk put on WrestleMania 29's most enthralling match. They sucked fans in early on and made the ring their stage for a drama that delivered in a big way.
Punk continued his mind games with Undertaker, slapping him flush in the face.
He then skirted around the ring to escape his riled-up opponent. Undertaker's anger made him slip up a time or two, but he soon dominated the match as expected. He stomped and clubbed Punk without mercy.
Punk turned an Old School from Taker into an offensive move for himself and then later mocked The Deadman by doing the move himself. He weaved this theme of mockery and contempt seamlessly into the action.
The drama of the near count-out, the flying elbow onto the table which would not give and Undertaker's snarl as he sat up during Punk's Anaconda Vise all made for a show-stealing match.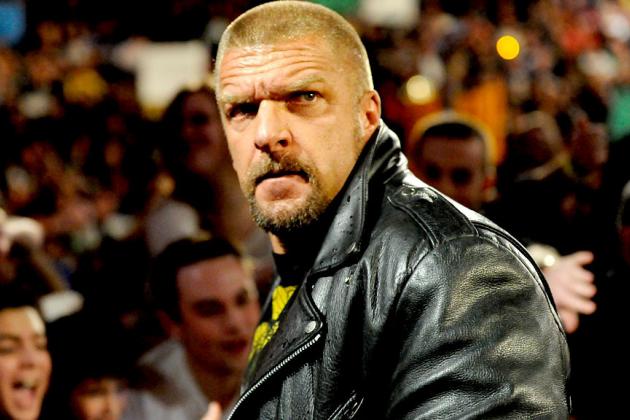 Photo from WWE.com
Grade: A-
The last third of Brock Lesnar's clash with Triple H was fantastic, taking the match from just another brawl to an engrossing battle of wills.
Their No Holds Barred match went to the outside early. Steel chairs, belly-to-belly suplexes and demolished tables all played a part in this violent drama.
Lesnar infused his MMA style, kneeing, elbowing and choking his way to dominance.
He looked every bit the beast he's made out to be. He smashed on Triple H and seemed to revel in every minute of it. "It's over now. Retire!" he shouted to his fallen foe at one point.
The two then turned their match into a war.
Triple H looked to wrench Lesnar's arm out of its socket, but the big man wouldn't tap out. It took a sledgehammer shot and a Pedigree on the steps to finally put down the monster.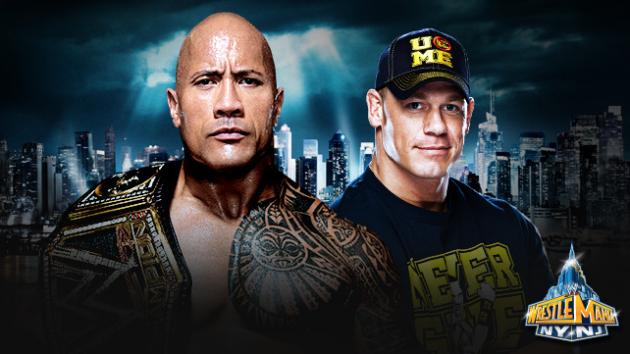 Photo from WWE.com
Grade: B
Take away the novelty of these two megastars meeting and replace it with contrived dramatic moments and subpar chemistry and you have the recipe for a disappointing main event.
The star power of The Rock and John Cena and the grandness of the stage they were on buoyed this effort to respectability, but it ultimately didn't meet expectations.
They began with the classic staredown and cautious, feeling-out process. Nitpickers would say that this portion lasted too long, but had the two men delivered great drama after this, no one would remember the delayed opening.
The match was hurt by the lack of believability.
Kicking out of a finisher is one thing, but to not be done in by three Rock Bottoms is just hard to swallow. On top of that, there was too much of either man taking his sweet time in deciding whether to give a People's Elbow or Five Knuckle Shuffle.
The talent of each man made for a big match, but one that is neither man's best work.