Ranking 2013 Masters Favorites and Contenders
Harry How/Getty Images
Tiger Woods will probably be getting another of these jackets Sunday night.
Conventional wisdom says Tiger Woods will win his fifth green jacket this weekend in the Masters at Augusta National Golf Club.
It's hard to argue with that wisdom, especially when you crunch the numbers that show Woods' game is pretty good coming into the week and that he's won three times on the PGA Tour already.
But what about Phil Mickelson, Rory McIlroy, Steve Stricker, et al?
Here's a list of 10 favorites and contenders for the fun that starts Thursday morning.
Begin Slideshow

»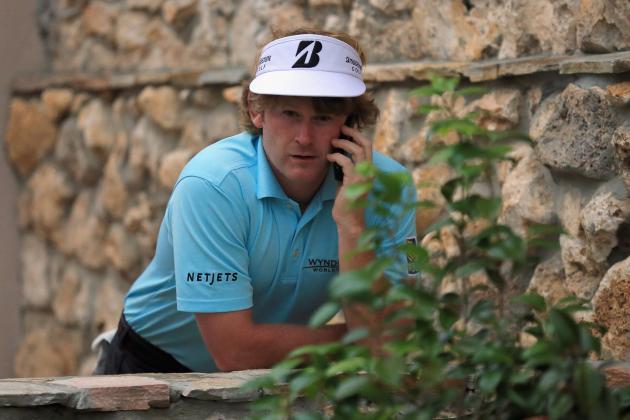 David Cannon/Getty Images
Brandt Snedeker's been looking for help since injuring his ribs.
Had Brandt Snedeker not suffered a rib injury, he very well could have been the favorite this week. Nobody was playing better golf than he exhibited by posting finishes of third, tied for 23rd, tied for second, second and first.
He missed the cut in his first two starts back and still showed some rust.
Augusta National isn't a great place to try to knock off rust, but if he can get even some of that mojo back, he'll be a factor in the Masters.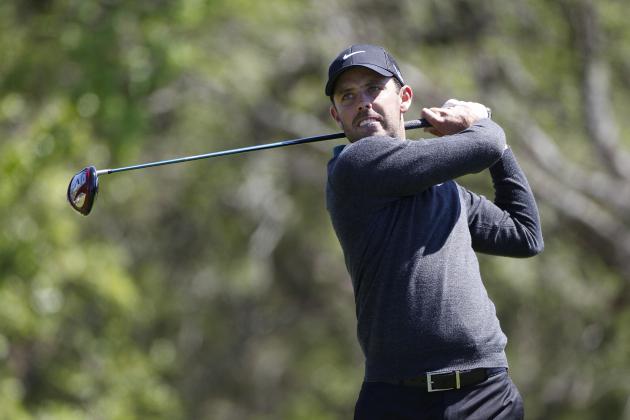 Michael Cohen/Getty Images
Charl Schwartzel has one of the best swings on the PGA Tour.
Schwartzel won the Masters two years ago with a birdie barrage over the last four holes to win and followed that up with a 50th last year.
He has a pair of top 10s in four starts this year and is a definite threat to reproduce that final-round 66 he had when he won. He also has a picture-perfect swing and a knowledge of the revered layout.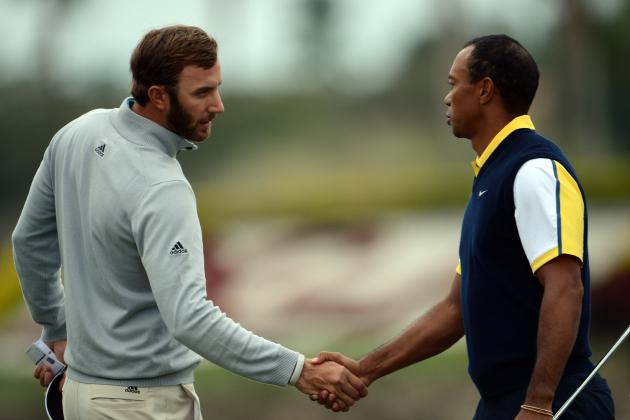 Stuart Franklin/Getty Images
Dustin Johnson shakes hands with a guy who's won the Masters four times.
Dustin Johnson has played in the Masters three years and has posted finishes of 30th-38th-38th. Hardly the sort of record that would engender much confidence for his fourth start.
He started the season off with a win and tied for fourth in the Shell Houston Open in his last start.
In between, there wasn't much to speak of. He has the length and an improved short game, and his putting will determine his ultimate fate.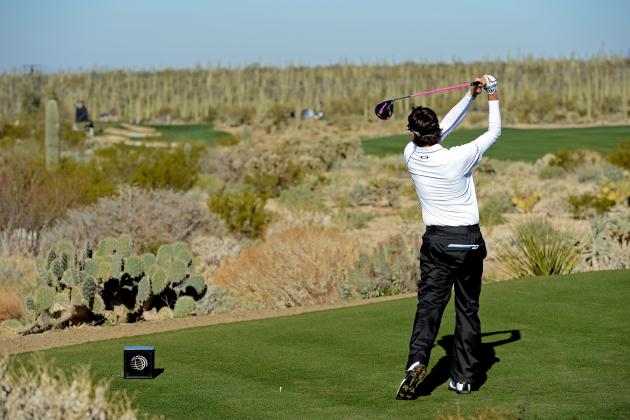 Stuart Franklin/Getty Images
Bubba Watson launches one toward the desert earlier in the year.
The defending champion, who executed one of the greatest shots in tournament history to win last year, deserves to be on this list, but maybe just as a contender.
He's had six top-20 finishes in seven starts this year, and maybe he'll surprise this week.
There is little chance of Watson repeating the championship, and he could well turn out to be a one-hit wonder. But he will be in the mix.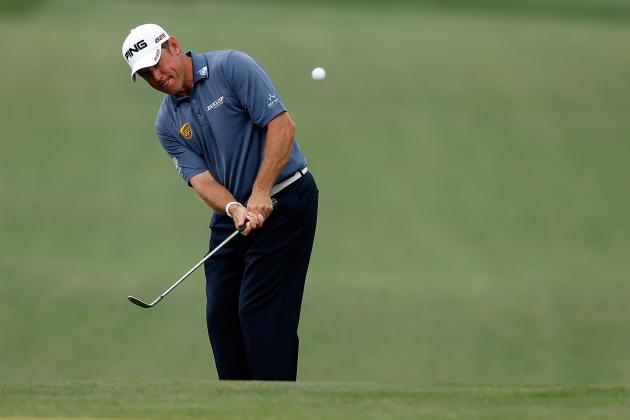 Scott Halleran/Getty Images
Lee Westwood will have to be on top of his short game at Augusta.
Westwood has finished third and second in the Masters two of the last three years.
He's always been held back by his short game and putting, but he's placed a lot of emphasis on those areas of his game, and maybe he's starting to see some results.
This will be his 14th Masters, and as with the rest of the majors, he's still looking for his first win.
He's not off to a particularly good start in 2013, but who knows? He could catch lightning in a bottle like Bubba Watson did last year.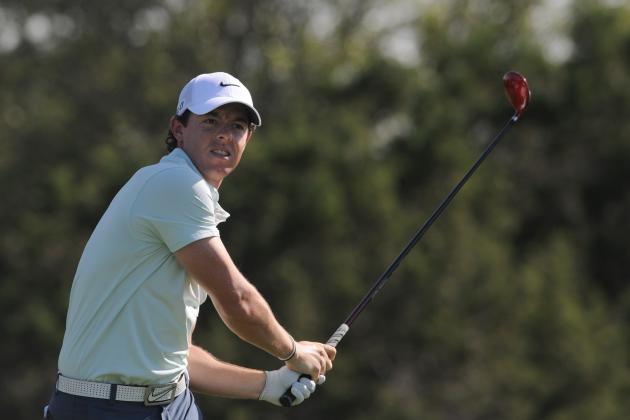 Steve Dykes/Getty Images
Rory McIlroy keeps searching for the magic with his new equipment.
Strange as it may seem, Rory McIlroy might be the biggest wild card of this event.
What kind of evidence do we have that the 23-year-old Irishman has his game together enough to avoid the silly mistakes he's been making and keeping him from shooting good scores?
And how do we know that the better play he showed over the last two rounds of the Valero Texas Open isn't a fluke and he won't go out and bumble his way around Augusta National?
Don't believe there are answers to either question, which makes him a wild card.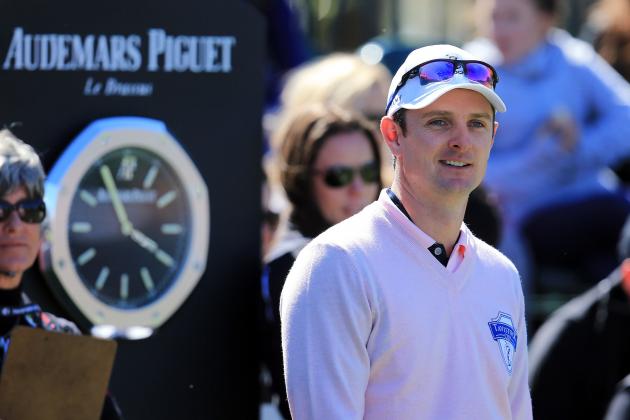 David Cannon/Getty Images
Time is ticking on Justin Rose's chance of excelling at Augusta National.
It's gotten to be something of a broken record with Justin Rose. He's good enough to win a major and has enough game to win the Masters, but he hasn't.
He's been down Magnolia Lane seven times and has a pair of top 10 finishes, including an eighth last year. In three starts on the PGA Tour this year, he's been in the top 20 each week.
There's really no reason why he hasn't won at Augusta, but he has shown the potential to do so.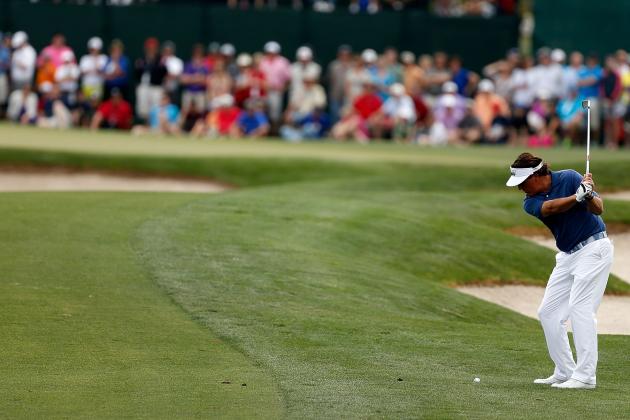 Scott Halleran/Getty Images
Phil Mickelson's short game should give him an edge at Augusta National.
The man has three green jackets in his closet, has recorded 13 rounds in the 60s and has single-handedly debunked the myth that left-handers can't win at Augusta National.
If there were an ounce of consistency in Phil Mickelson's game, he would be a strong pick behind Woods. He's definitely capable of winning, but will the Mickelson who won handily at Phoenix show up or will it be the one who tied for 60th the week after?
What will Phil do next?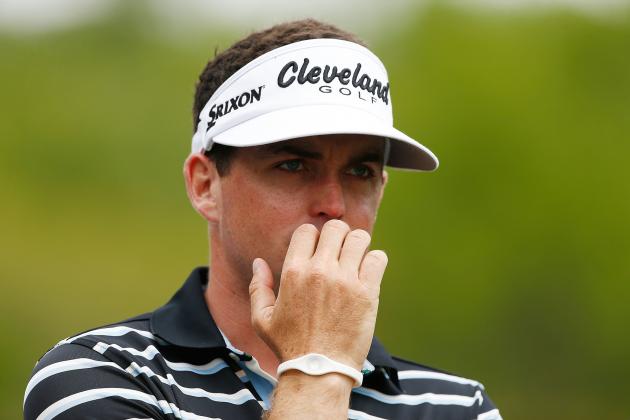 Scott Halleran/Getty Images
Keegan Bradley is turning into a bulldog on the course and that should serve him well this week.
It's hard to imagine a player of Keegan Bradley's pedigree being something of an under-the-radar player coming into this week. But he is.
He finished 27th last year, but the rest of year was a coming-out party and he was a star in the Ryder Cup.
Bradley is powerful and has a very solid short game. He made most of his $3.9 million after the Masters and hasn't slowed down this year.
Don't be surprised if he is a real factor this week.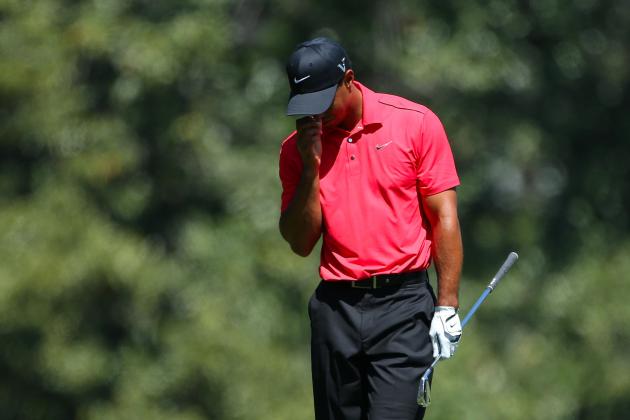 Andrew Redington/Getty Images
Too many shots that elicited this sort of reaction doomed Woods on Sunday in 2012.
The man has won three times on the PGA Tour already this year.
He's got his game under control, hitting 67 percent of his greens in regulation and, maybe most importantly, his putting seems to have returned. Woods leads the tour in strokes gained putting at 1.476, well ahead of second-place finisher Stephen Ames.
He's on his game and he's going to be playing on a course where he's won four times.
Everything points to Woods breaking an eight-year winless streak at Augusta National, but don't forget, he won the Arnold Palmer Invitational last year and then tied for 40th with Rory McIlroy.