Philadelphia Phillies vs. New York Mets: Live Score, Analysis of NL East Rivalry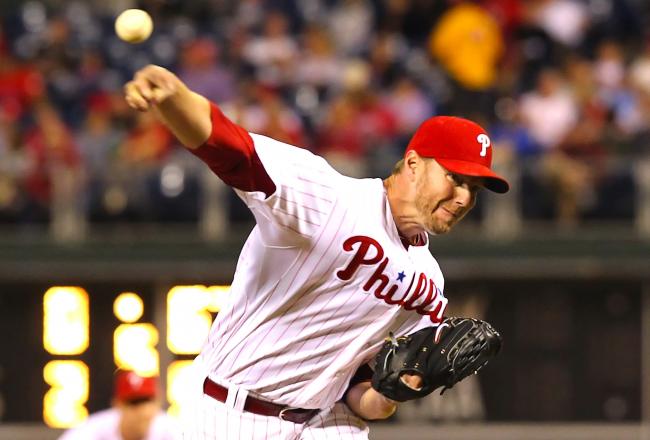 Final Score: Mets 7
Phillies 2
WP: Matt Harvey (2-0)
LP: Roy Halladay (0-2)
These two teams will square off again tomorrow night at 7:05 p.m. ET. The Mets will send Dillion Gee to the mound, who is 0-1 with a 1.42 ERA following his season debut. The Phillies will counter with Cliff Lee who, after an outstanding first start, takes a 1-0 record, 0.00 ERA and eight strikeouts to the mound as the Phillies look to even the series.

Roy Halladay entered the game as the focal point for the Phillies, and will certainly remain as such following a four inning performance in which he gave up seven earned runs while striking out just one batter. This comes after Halladay lasted just 3.1 innings in his season debut, yet managed to strike out nine batters.
At the plate, Ryan Howard and Jimmy Rollins drove in runs but the Phillies recorded just four hits in the game. The Phillies four through seven hitters did not manage any hits, drove in just one run and combined for six strikeouts.
Matt Harvey continued his tremendous start to the season by pitching another seven innings and striking out nine batters en route to his second win of the season. Harvey was still reaching the mid-90's with his fastball even after his pitch count reached 100, and has now given up just four hits and one earned run in 14 innings this season.
Harvey benefited from a first inning three-run home run by John Buck, as well as from RBI singles by Lucas Duda, David Wright and Ruben Tejada. All but two of the Mets starters managed at least one hit in the game.
Domonic Brown gets caught looking to end the game.
Josh Edgin picks up his first strikeout of the year and seals Matt Harvey's second win of the season.
Michael Young is battling to try and keep any hopes of a third straight ninth inning comeback alive for the Phillies.
Raul Valdes and Jeremy Horst have combined to pitch four shutout innings and strike out five batters in relief.
It will be interesting to see how Cliff Lee fares in Game 2 of this series, considering how Cole Hamels and Roy Halladay have pitched recently and how few run support he was given even in his first start this season.
Jimmy Rollins grounds out to shortstop but is able to drive in Erik Kratz to make the score 7-2 in favor of the Mets.
Kratz was awarded a ground rule double and advanced to third on a ground out by Ben Revere.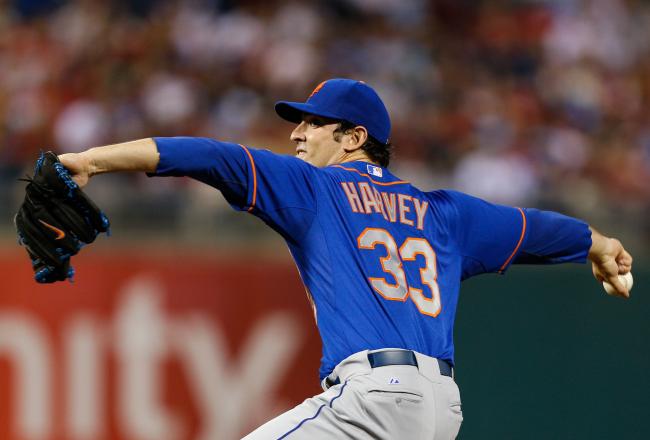 Josh Edgin relieves Matt Harvey after yet another outstanding start.
Maybe the Mets are tired of scoring, but Phillies relievers have now held them scoreless for the last three innings.
It's hard to see Harvey coming back out for the eighth inning with his pitch count now at 110. Nine strikeouts and three hits allowed over seven innings wouldn't be a bad way to wrap up his 12th carer major league start.
Harvey just threw pitch No. 103 at 97 mph.
Jeremy Horst threw 16 of his 20 pitches for strikes, and needed just 19 pitches to rack up three strikeouts. Halladay needed 99 pitches to pick up three strikeouts.
Harvey is still hitting the mid-90's with his fastball. That, combined with a 90 mph slider, has allowed him to cruise this season. In 13 innings, Harvey has given up just four hits.
Ryan Howard is still looking for his first home run of the season.
Harvey is having no problem hitting the inside part of the plate for two strikes against Jimmy Rollins.
Horst gets out of the inning by striking out two batters, despite giving up a double to David Wright.
Jeremy Horst relieves Chad Durbin and strikes out Collin Cowgill to start the inning.
Harvey strikes out 3 in 5th. Has 7 Ks for game. Bidding to become 1st player in franchise history to open season w/ 2 straight 10+ Kgames.

— Adam Rubin (@AdamRubinESPN) April 9, 2013
After walking Nix on four straight pitches, Harvey has taken advantage of the lower half of the Phillies order. He appears to be getting stronger and building confidence.
Ezequiel Carrera bats in the pitcher's spot.
Harvey walks Laynce Nix on four pitches. It could take a few pitches for him to get back into rhythm after a long gap in-between innings.
Durbin gives up a single to Ruben Tejada, allowing two more runs to score. The Mets now lead 7-.
Matt Harvey has the same number of strikeouts as Halladay and Durbin combined while throwing 50 fewer pitches.
Durbin relieves Roy Halladay, and has an 11.57 ERA so far this season.
This article is
What is the duplicate article?
Why is this article offensive?
Where is this article plagiarized from?
Why is this article poorly edited?