Final Four 2013: Unsung Heroes for Michigan Wolverines and Louisville Cardinals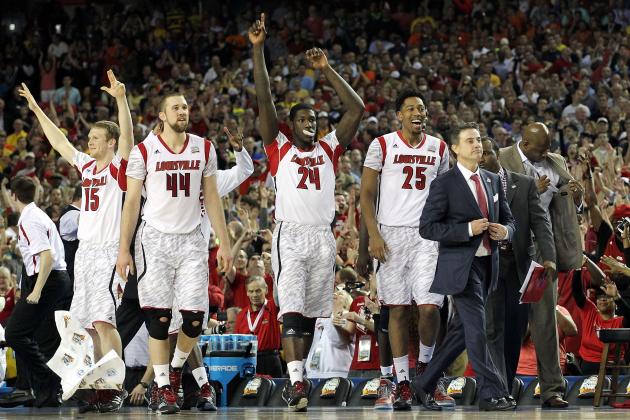 Andy Lyons/Getty Images
The Louisville Cardinals celebrate their Final Four win over Wichita State.
It's finally here.
On Monday night, a national champion will be crowned after months of anticipation.
The No. 1 overall seed Louisville Cardinals will take on the No. 4 seeded Michigan Wolverines.
Russ Smith and Peyton Siva headline for Louisville while Trey Burke and Tim Hardaway Jr. are the most recognizable names on Michigan's roster—although, Mitch McGary has stolen some of the spotlight thus far.
While these players are sure to have a major impact come Monday night, there is a player on each team that has the potential to determine a victory for either squad.
Let's take a look at that one dark-horse player on each roster who could be the key to victory.
They are guys who will make timely shots and do beneficial and productive things that don't show up in the box score, but will help identify them as unsung heroes if their team wins the national championship.
Begin Slideshow

»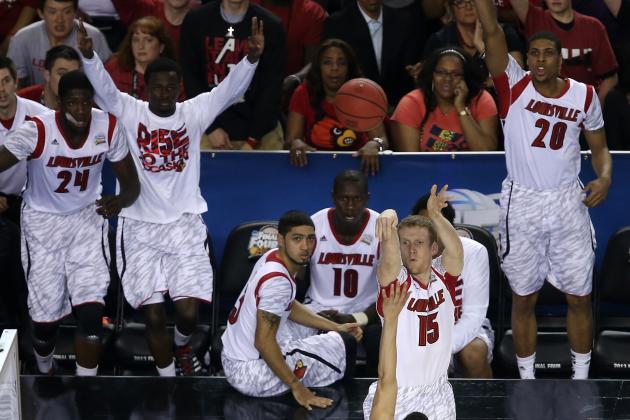 Streeter Lecka/Getty Images

When Kevin Ware went down Rick Pitino was forced to look elsewhere for a player to come off the bench and play mistake-free, efficient basketball on both sides of the ball.
Enter Tim Henderson.
Henderson is a walk-on junior who has played a total of just over 200 minutes in his collegiate career—including only 3.8 minutes per game this season.
None of that mattered against Wichita State, nor will it matter Monday night against Michigan.
When Wichita St. went up 12 points with just over 13 minutes to play, Louisville was flat and playing without energy.
They needed a lift in the worst way.
Tim Henderson then buried a couple of three-pointers on back-to-back possession to cut the deficit to six, but more importantly breathe fresh air into a stagnant Cardinals team.
The rest of the game belonged to Louisville, as they ended on 37-21 run to close out the game.
Come Monday night, Louisville will look for Henderson to repeat his timely crucial performance.
It's no secret that basketball is a game of runs.
If Russ Smith, Peyton Siva or even Luke Hancock hit a cold stretch at any point, expect Henderson to bail them out with a few big shots down the stretch.
While the main focus for Michigan's defense will be on Louisville's guards, Henderson probably isn't their main concern for obvious reasons.
With the ability of Smith and Siva to drive the lane and kick to open shooters like Henderson, he will certainly have the opportunity to knock down some shots.
The question is, will Henderson be a run-starter, run-stopper or both?
He stopped the Shockers run which led to a Louisville surge to end the game. But, can he do it again?
This remains to be seen.
What can already be envisioned, however, is Henderson in the corner with his hands at his chest, palms out and ready to catch a pass.
After he catches that pass, everyone in the building knows where that ball is going next.
For Louisville's sake, hopefully through the bottom of the net.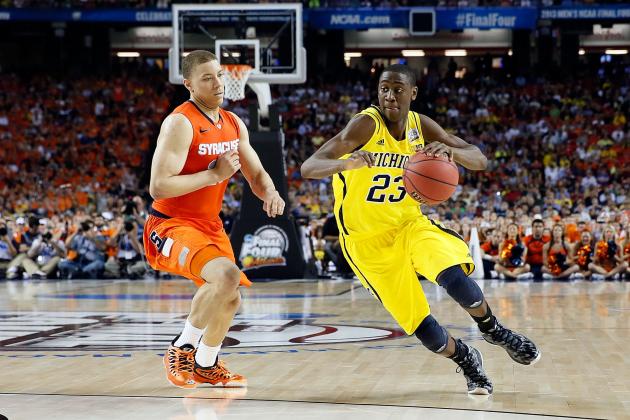 Kevin C. Cox/Getty Images

Eight points may not seem like a lot, but in the NCAA tournament every point is vital, especially those that come from bench players like Caris LeVert.
LeVert scored eight points, including two three-pointers in the first half against Syracuse to help his team advance.
The freshman is often overlooked due to the star power around him, but he has shown the ability to knock down jump shots or get to the hoop when need be.
LeVert picked up the slack for Trey Burke and Nik Stauskas, both who did not shoot particularly well—going a combined 1-of-13 from the floor.
Come Monday, LeVert may be called upon to be on the floor late in the game if Stauskas lays another dud performance.
Louisville will undoubtedly key on Burke and Hardaway Jr., which should open up some opportunities for LeVert.
Maybe he will knock down a few jumpers, but LeVert could add a boost to an already stingy Wolverine defense.
Down the final stretch of the game, LeVert may be asked to key on any of Louisville's capable scoring guards. Forcing players into bad shots does not factor into the box score, but expect LeVert to do just that.
While there is no guarantee LeVert will play as much on Monday as he did Saturday, look for him to be efficient on both sides of the ball.
His game won't earn him any major media attention or accolades, but his teammates have certainly recognized and appreciated his presence, especially on Saturday, and that makes it all worth it.
Adding a national championship wouldn't hurt, either.