10 Prospects Sure to Help the Orioles in 2013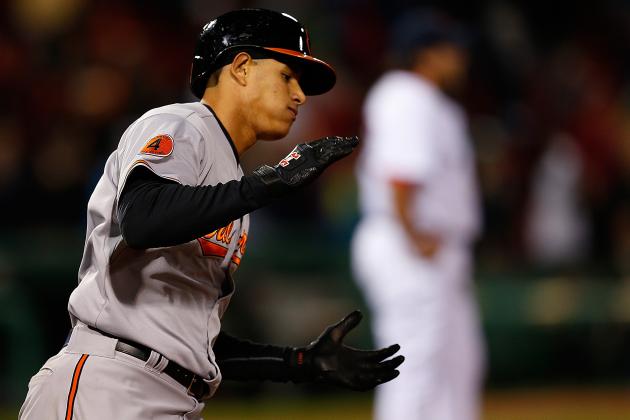 Jim Rogash/Getty Images

It's hard to argue there was a team that benefited more from their minor leaguers in 2013 than the Baltimore Orioles.
Manny Machado alone provided the city of Baltimore with numerous memories it won't soon forget. In addition, he solidified the team's defense at third base and added an extra spark as it challenged the Yankees for the American League East crown.
Aside from Machado, the O's also got huge performances from 26-year-old "rookie," Wei-Yin Chen, who was by far the Orioles' most consistent starter during the year. In addition to being the only Baltimore pitcher to start more than 20 games, he also led the rotation with 12 victories and he came within one start of cracking the 200-inning mark.
Then there was Miguel Gonzalez, who pitched like a seasoned veteran down the stretch, going toe-to-toe against the best of the AL East three times in September/October, coming out on top in each start.
Beyond the big three of Machado, Chen and Gonzalez, the O's also got huge contributions from Steve Johnson (4-0, 2.11 ERA), Xavier Avery (six 2B, six SB in 32 games), and Rule V pick Ryan Flaherty (six HR, including another in the ALDS versus New York).
So who will be the youngsters who graduate from the minors and make the trek to Baltimore in 2013?
Let's take a peek.
Begin Slideshow

»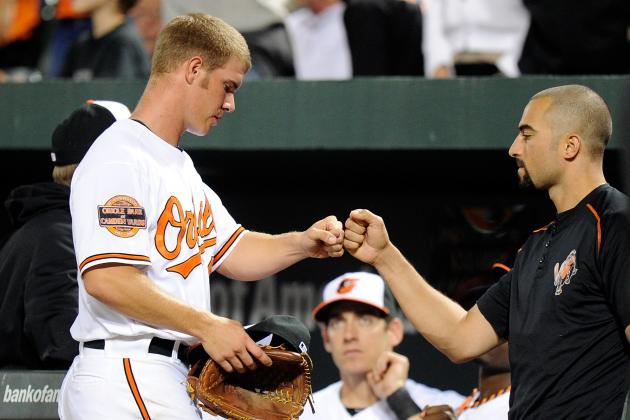 Greg Fiume/Getty Images

Last year, Bundy became the first Oriole in 45 years to make his big league debut before the age of 20.
For an encore, he's likely going to force his way into the big league rotation by the end of the 2013 season. Assuming his forearm injury heals in an expedited manner, something that should be expected considering Bundy's superhuman work ethic.
The O's will no doubt try to keep expectations realistic for Bundy, but come September don't be surprised if he's the one getting the ball in prime-time spots.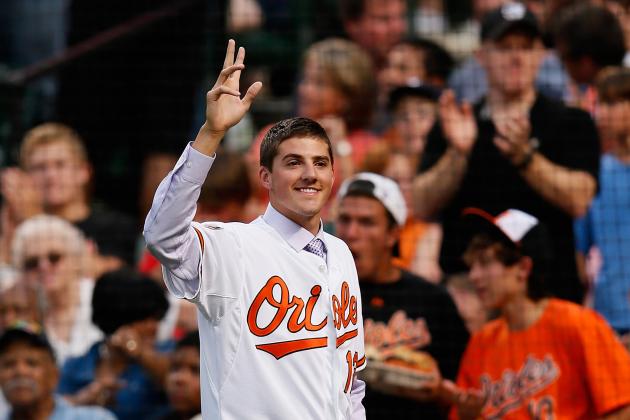 Rob Carr/Getty Images

Prior to spring training, few would have expected Gausman to have his name mentioned alongside Bundy's as one of the top pitching prospects in the minors.
But there Gausman was, pitching in games until the final days of camp, blowing away hitters with a lethal fastball-changeup combo, and wowing scouts and opposing coaches.
Each set of prospect rankings that has been released this year has had Gausman rocketing up the charts, and before too long he's likely to propel his way into Baltimore's rotation.
For now, however, he's positioned as an anchor, alongside Bundy, for the Orioles' Double-A rotation at Bowie.
Don't know the name?
Get to know it, and get to know Pettit, easily the most unheralded pitcher in the Baltimore organization.
Pettit, a 42nd-round pick out of Western Oregon State College, has gone 23-7 with a 3.59 ERA the past two seasons, including a stellar season-ending run at Frederick in 2011, going 7-0 with a 1.62 ERA in 10 starts.
After a slow progression up the ladder, making stops at every O's affiliate along the way, including the now defunct Bluefield squad, the 26-year-old appeared ticketed for Triple-A Norfolk in 2013.
Unfortunately, the organization added so much pitching talent during spring training that Pettit got pushed back into a loaded rotation at Double-A Bowie that also includes the players mentioned in the two previous slides, Dylan Bundy and Kevin Gausman.
While it's a near certainty that those two end the year in Baltimore, it would be quite the shock if Pettit got his chance.
However, the O's blew through a record number of players last year and there's no telling when they might need another lefty out of the bullpen.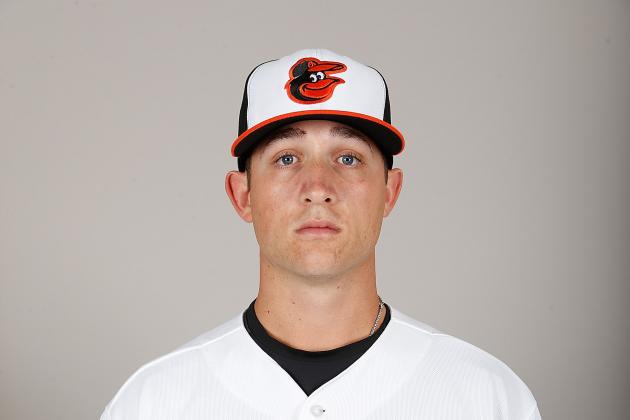 J. Meric/Getty Images

Rated by MLB.com as the Orioles' 18th-ranked prospect heading into 2013, Belfiore was acquired from Arizona in May of last year.
After joining the organization he pitched lights out, racking up 50 strikeouts in 47.1 innings and posting a 2.85 ERA for the O's Double-A affiliate.
A long-time starter at Boston College, Belfiore ditched starting in 2011, and since switching to relief full-time he's improved at every stop.
Bullpens are a tricky thing, and despite Belfiore's 6.23 ERA in two appearances so far, he'll no doubt be shuttled to Baltimore at some point during the 2013 season.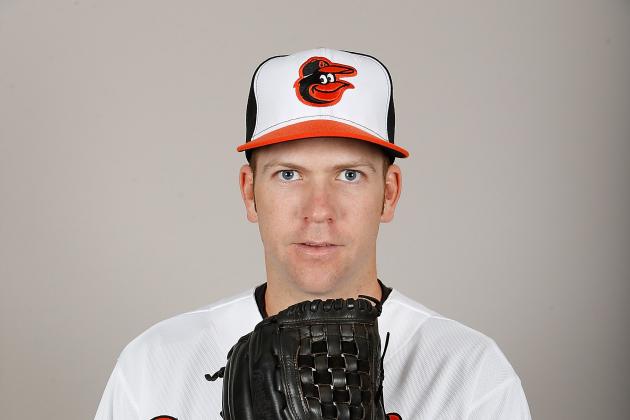 J. Meric/Getty Images

Had it not been for some guy named Dylan Bundy, 29-year-old Zach Clark, a Baltimore native, would have likely taken home honors as the organization's top minor league pitcher.
Yet, Clark doesn't rank among the Orioles' top 30 prospects, as compiled by Baseball America.
Like a few other players on this list, Clark doesn't fit the tag as a legitimate "prospect." In fact, the word most often used to describe him is one usually reserved for left-handers.
"Crafty."
Being unranked didn't stop him from going 15-7 with a 2.79 ERA and an organization-best 167.2 innings. In eight appearances for Triple-A Norfolk, he went 5-2 with a 1.75 ERA and a complete-game shutout.
And that certainly won't stop him from making at least a handful of starts for the Orioles.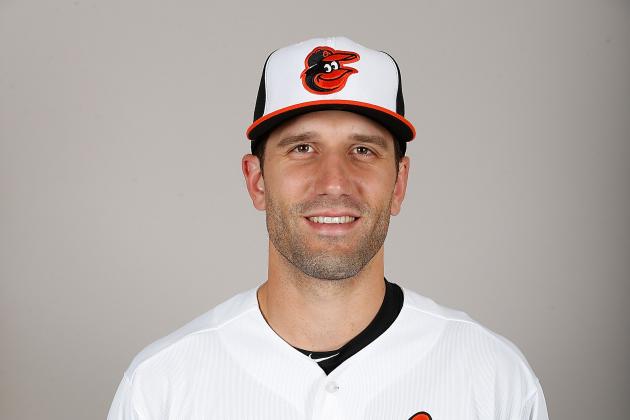 J. Meric/Getty Images

It's amazing that despite embarking upon his 10th professional season, Canzler is not yet 27 years old.
It's a wonder, then, that Canzler has failed to reach the big leagues on a permanent basis, especially considering his .278/.347/.472 career line. During the past three seasons, spent splitting time between Double and Triple-A, Canzler has hit .289 with 104 doubles, 11 triples, 61 home runs, and 228 RBI.
Yet somehow, he's bounced around from Chicago to Tampa to Cleveland to Baltimore.
All under the guise that Canzler isn't a legitimate "prospect."
My guess is that won't stop him from making his presence felt in the big leagues at some point during the 2013 season.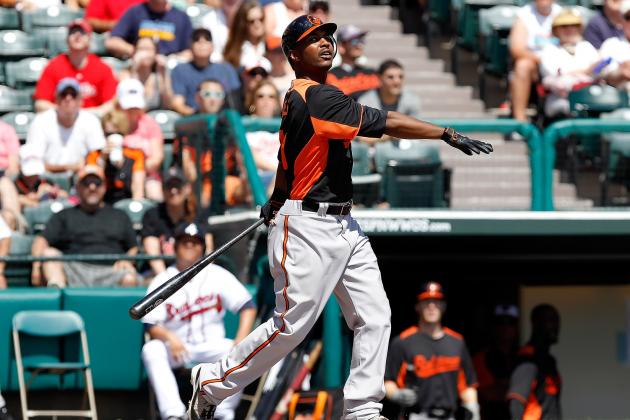 J. Meric/Getty Images

It seems as though one young outfielder per season finds his way to Baltimore. Two years ago it was Kyle Hudson and last year it was Xavier Avery. Both proved to be unready for the task.
This year it seems almost a foregone conclusion that that young player will be L.J. Hoes, the team's third-round selection back in 2008.
Hoes has done a little bit of everything since joining the O's.
Hitting?
He posted a .300/.372/.388 line in 82 games as one of the youngest regulars in the Triple-A International League, and he's a career .283 hitter.
Speed?
On three separate occasions, Hoes has swiped 20 bases, including last year.
Fielding?
Hoes has proven to be quite the versatile fielder, taking up a glove at four different positions over the years. He could prove a capable defender at all three outfield positions and he's even logged some time in the infield. He was, after all, drafted as a second baseman.
Pretty much the only thing Hoes doesn't do is hit for power.
Should the O's find Nolan Reimold unsuitable, either due to poor hitting or, more likely, poor health, Hoes is there waiting in the wings for his chance to prove more ready than either Hudson or Avery.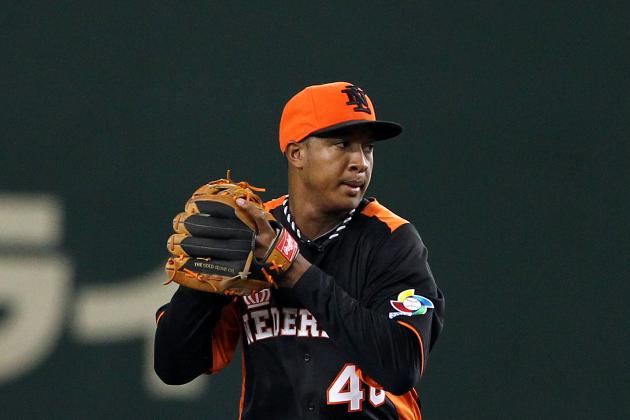 Koji Watanabe/Getty Images

The Orioles third-ranked prospect opened some eyes with his performance in the World Baseball Classic, helping lead the Netherlands to a surprise semifinal appearance.
Thanks to the WBC and a strong showing in spring training, Schoop received yet another aggressive promotion, this time to Triple-A Norfolk, where he ranks as the third-youngest player in the International League.
Last year as one of the youngest performers in the Double-A Eastern League, Schoop more than held his own, hitting .245/.324/.386 with 14 homers, 56 RBI and 58 walks in 124 games. This came on the heels of his breakout performance in 2011, where he out-hit former first-rounder Manny Machado in Low-A, hitting .290/.349/.452 with 13 homers and 71 RBI.
In addition to his burgeoning bat-skills, Schoop offers incredible versatility. He's played four positions, including shortstop and third base, and there's little doubt he could handle the outfield if needed.
The O's showed no fear in promoting Machado straight from Double-A last year, so expect nothing less when it comes to Schoop, who could be a long-term replacement for Brian Roberts if the latter misses more time this season and the former continues to show improvement at the plate at Norfolk.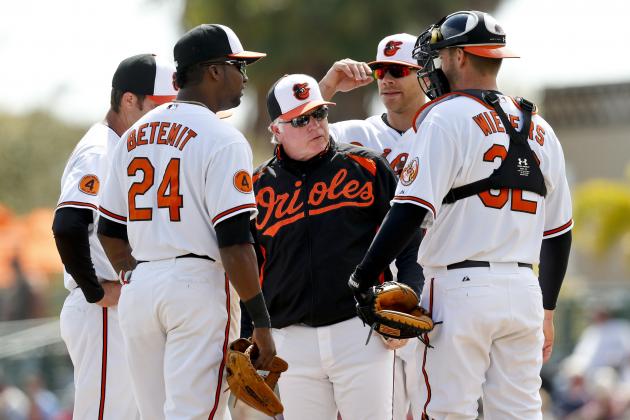 Derick Hingle-USA TODAY Sports

Don't let Schrader's 2013 season debut (four earned runs in one-third of an inning) fool you, this kid's stuff is filthy.
Consider that in his three-year career, the former 10th-round pick has never finished a season with an ERA over 2.25 and he's racked up 157 strikeouts in 116 innings. In 2011 alone, Schrader struck out 73 batters in a mere 46 innings, splitting time between Delmarva and Frederick.
If his pattern of splitting time between two levels each season continues, we can look forward to seeing Schrader pitch half the year at Bowie and the other half at Triple-A Norfolk.
And if he continues to perform like he's capable, there has to be a slight chance he ends up in Baltimore by the end of the year, and certainly after rosters expand in September.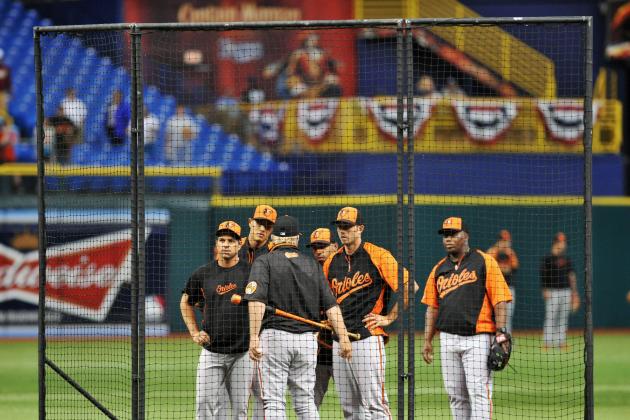 Al Messerschmidt/Getty Images

Quick, guess the name of the manager who oversaw the transition of R.A. Dickey from first-round bust to knuckle-balling Cy Young Award winner.
If you guessed Buck Showalter, then you'd be dead on.
And while Showalter didn't stick around for Dickey's golden years, he's at it again with former 21st-rounder Eddie Gamboa.
Gamboa has put together a nice career in the minors for Baltimore since being drafted back in 2008. His peak arguably came in his second year with the O's. He split time between three levels in 2009, posting an 11-0 record (as a reliever interestingly enough) and a 1.08 ERA in 39 games.
He had a solid campaign in 2012 (10-5, 3.61 ERA), splitting time between the bullpen and rotation. And there in lies Gamboa's weakness. He doesn't have the stuff to make it through a big league lineup multiple times and his fastball doesn't necessarily blow hitters away out of the pen.
Enter Showalter and Hall of Famer Phil Niekro, who was brought into the O's minor league camp this spring to teach the art of the knuckleball to a select group of pitchers, including Gamboa.
And while it may not be the mainstay of his arsenal, you can bet Gamboa will phase it in more and more throughout the course of the season.
My guess is that by September, he will have established himself as the O's most consistent minor league starter, and that will be good enough to earn him a look at Camden Yards.
He's already off to a strong start, tossing six hitless innings in his season debut.