NBA Players Who Can't Dunk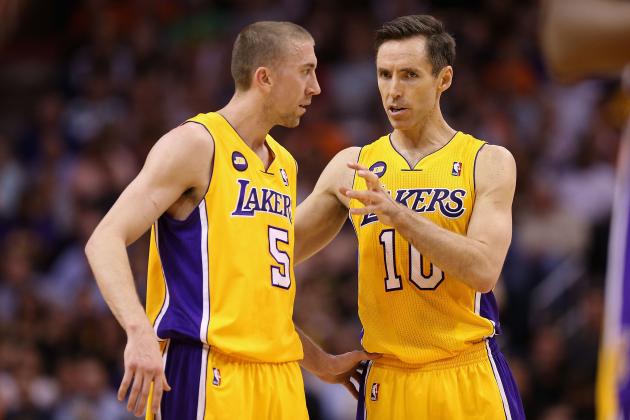 Christian Petersen/Getty Images

In a league predicated on players' athletic ability and height relative to their position, finding NBA players who can't dunk is equivalent to finding a needle in a haystack.
Logically speaking, if a player has made it to the NBA, he has dunked at one time or another. So what constitutes a player who "can't" dunk?
Does dunking the ball in practice count? What about a video clip from high school, college or earlier in a player's basketball career? If a player could dunk in the past and no longer has the ability to do so, does he make the list?
Ideally, for a player to make this list, he would never have had the ability to dunk. Of course, these are some of the best athletes on the planet, so do NBA non-dunkers even exist?
On the quest to find the rare breed of NBAers who can't dunk, I'll go through a list of suspects and provide the appropriate evidence to support their dunk claim when necessary.
Begin Slideshow

»
Just kidding.
But in all seriousness, you're going to need DeAndre Jordan's phenomenal poster dunk video to tide you over before getting into the dunk travesties you're about to witness.
You've been warned.
As the 2004 Naismith College Player of the Year, Jameer Nelson had already proved his chops as a legitimate basketball talent.
There's no doubting his on-court abilities, but ESPN.com lists Nelson at 6' tall. That may be one of the most generous listings ever given to an NBA player, because Nelson only seems to hit 5'10" with sneakers on. At that height, unless you have the athletic abilities of Nate Robinson or Spud Webb, dunking can be an arduous task.
Nevertheless, Nelson has video evidence to back him up.
As the former Saint Joseph's standout says in the video, "I dunked one time, but I'm not a crowd pleaser."
Nelson does have one dunk on his NBA resume, but it certainly wasn't pretty. I'd be surprised if we see the 31-year-old point guard treat us to another dunk highlight in the remainder of his career.
The video footage of Jason Kidd dunking while playing for Team USA is nearly as rare as footage of a Dodo bird.
Seeing J-Kidd throw down early in his basketball career shows that he could dunk, but now, as a 40-year-old geezer with the New York Knicks, it would be absolutely shocking to see him dunk today.
Given Kidd's age and severely diminished athletic ability, it's fair to say that he's one of the rare few in the NBA today who can't dunk.
Of course, Kidd also has a championship ring, 10 career All-Star appearances and is third all time in triple-doubles with 105. So you take the good with the bad.
When you think "athletic freaks of nature," Kendall Marshall's name is near the bottom of the list.
In fact, let me turn you over to what a scouting report from Draft Express had to say about Marshall during his time at UNC:
One of the knocks on Marshall as a prospect, as we mentioned when we saw him in high school, is that he doesn't possess the superb athleticism that we often see from most of the top point guards in the NBA today. He has good size for the position at 6'3", with a solid frame, but he lacks the prototypical speed and explosiveness to overwhelm his opponents physically on either side of the floor.
Marshall is a great on-court leader with tremendous court vision and passing skills, but one of the few criticisms of his game has always been his athletic ability. Coinciding with that is his lack of dunking prowess.
The ability to dunk isn't all that useful to Marshall as a passing point guard. But like Nelson and Kidd, there is video evidence to the contrary.
As the embedded video shows (from what appears to be Marshall's high-school years), he can indeed dunk the basketball.
Although the video shows that he can dunk, Marshall never dunked at North Carolina, and Phoenix Suns fans are still waiting for his first at the NBA level.
They shouldn't hold their breath.
Not being able to dunk hasn't hindered Steve Nash at all during a 17-year NBA career.
Nash managed to win back-to-back MVP awards with the Phoenix Suns in 2005 and 2006. The eight-time All-Star is still chasing his first championship (something the 2012-13 Los Angeles Lakers probably can't provide), but he's put together a masterful career regardless of his ring count.
There is footage of Nash "dunking" on a practice court while in college at Santa Clara, which got morphed into this clever NBA commercial, but it's truly a weak attempt.
As the top YouTube comment on the video says, "Eh, let's just call that a difficult layup."
I think that's a fair compromise.
When you think about NBA spark plug J.J. Barea, what comes to mind?
That he's been fined for repeated flopping offenses?
Perhaps the bush-league flagrant foul from Andrew Bynum that flattened him in the 2011 playoffs comes to mind.
Maybe you think of his latest scuffle with Ray Allen of the Miami Heat.
Heck, you might be too preoccupied thinking about Barea's gorgeous wife, former Miss Universe Zuleyka Rivera.
The point is, when you think of Barea, you don't think of dunking.
The embedded video hints that Barea has the hops to make it happen, but the multiple misses don't help his case.
Whether he can dunk on an empty practice court or not is up for debate. But it's fair to assume he'll never dunk in an NBA game.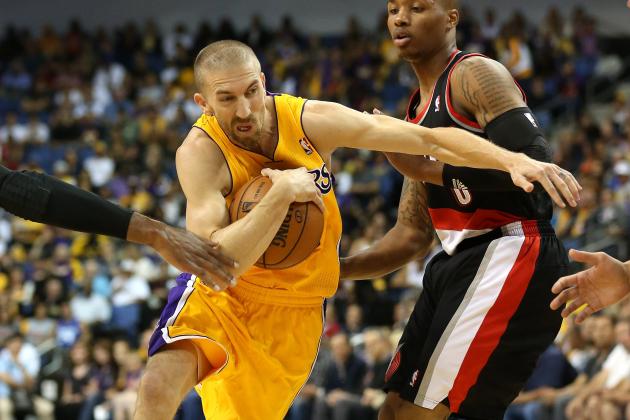 Stephen Dunn/Getty Images

Steve Blake is the second Los Angeles Lakers point guard to make this list of players who can't dunk.
Admittedly, I'm apprehensive to include Blake, because he's also near the top of the list of NBA players with the worst tempers.
You're probably familiar with Blake's latest episode, when he snapped at a courtside fan during a loss to the Los Angeles Clippers. But you may not have seen Blake's fist fight with Maryland teammate John Gilchrist during a college scrimmage. With his wiry frame and boxing stance, Blake resembled a young Dicky Eklund.
I digress, but it makes sense that Blake has never thrown one down when his shot charts usually look like this.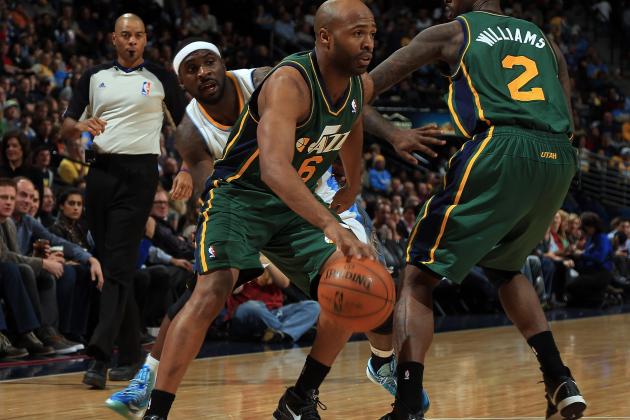 Doug Pensinger/Getty Images

Veteran point guard Jamaal Tinsley has 3,301 assists and counting in his career. Although plenty of those assists have led to dunks and, in some cases, alley-oops, Tinsley has never been known to dunk the ball himself.
The 35-year-old guard isn't the player he once was, and he's inching his way toward retirement. (Tinsley already missed the entire 2010-11 season because he couldn't get an NBA job).
To this day, the closest we'll get to seeing "Tinsley" and "dunks" in the same sentence is the headline of this YouTube clip. Fred Jones ends up doing the work above the rim.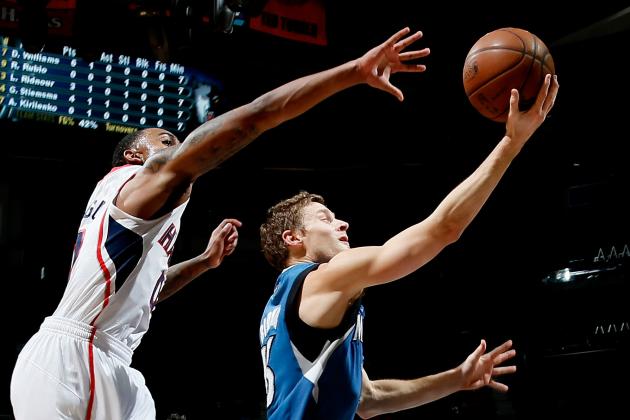 Kevin C. Cox/Getty Images

Luke Ridnour has carved a niche in the NBA as a solid backup point guard. Unless the NBA decides to add a layup contest to All-Star Weekend festivities, however, Ridnour will continue having a midseason vacation.
The former Oregon standout's best season came during the 2005-06 campaign, when he played for the Seattle Supersonics. He averaged 11.5 points, seven assists and 1.6 steals per game in 79 games played (77 starts).
Ridnour has improved his shooting efficiency dramatically in recent years, as he raised his field-goal percentage from 40.3 percent in 2009 to 47.8 percent in 2010. Since 2010, his field-goal percentage has never dipped below 44 percent in a season.
The 32-year-old is a savvy veteran whom most NBA coaches would love to have off their bench. Just don't expect him to hype up the crowd with a slam anytime soon. And by "anytime soon," I mean ever.
You can follow me on Twitter @BenLebo