Assigning Odds to Every Potential Philadelphia Eagles First-Round Pick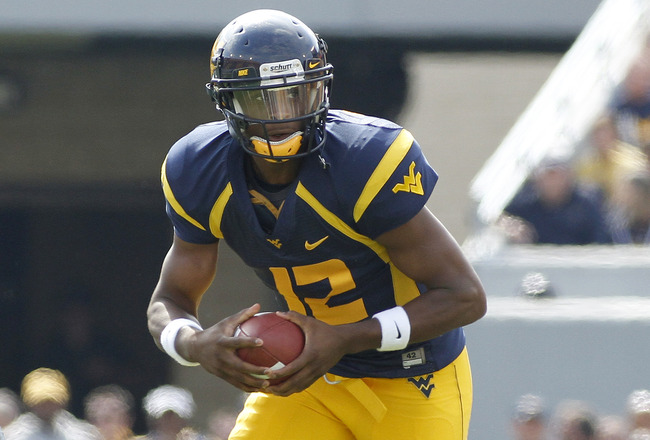 Justin K. Aller/Getty Images
Chip Kelly could go a handful of different ways with his first draft pick as the Philadelphia Eagles' head coach. The offensive line needs an upgrade, which means Luke Joeckel or Eric Fisher is an intriguing possibility.
The defense was one of the NFL's worst units in 2012, notably the pass rush. That means Dion Jordan, Sharrif Floyd or Star Lotulelei would each be a viable option. All three would be Day 1 starters for the defense. And cornerback Dee Milliner is another player that would vastly improve a position of need.
There's also the chance the Eagles may trade down. The talent pool at pick 10 isn't significantly different than that at pick four. Acquiring an extra draft pick in a trade down would allow Kelly an opportunity to improve his roster with even more draft selections.
The following breaks down the likelihood of Kelly drafting each of the top players entering the draft by percentages.
1. Dion Jordan, DE, Oregon

Dion Jordan NFL Player Comparison

The Oregon product remains the most likely first-round pick for the Philadelphia Eagles. Logic groups Chip Kelly with Dion Jordan, as Jordan spent his college days under a team led by Kelly.
There's also no bona fide offensive superstar worth taking with the fourth overall selection. Factor in that the Eagles need a playmaker to add to one of the NFL's worst defenses from 2012, and Jordan would be a great fit.
Kelly is transitioning to a 3-4 defense, and Jordan would be a natural fit as a 3-4 pass-rushing outside linebacker. Jordan lined up nearly everywhere in Oregon, even covering slot receivers in coverage. The Eagles have almost an overhaul of outside linebackers already, with Trent Cole and Brandon Graham set to move there, and recent free-agent acquisition Connor Barwin a natural.
But as the New York Giants have shown, a team can never have too many pass-rushers. For Kelly, Jordan should represent a safe option and a piece that can help to slow down Robert Griffin III over the next decade.
Odds: 19 Percent
2. Geno Smith, QB, West Virginia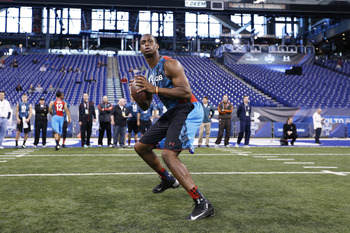 Joe Robbins/Getty Images
Chip Kelly has to be intrigued by West Virginia's Geno Smith, the best quarterback in the 2013 draft class. Smith turned in an outstanding senior season, throwing 42 touchdowns to just six interceptions. He didn't run the ball much, but his 4.59 time in the 40-yard dash suggests he has the speed to run Kelly's offense.
Smith would probably sit for a year if the Philadelphia Eagles do draft him. Michael Vick was re-signed to a one-year deal for a $12.2 million cap hit. That's way too much money for Vick to not start, but Smith should see time if and when Vick gets injured.
There's definitely a chance Jacksonville or Oakland could snatch Smith up. If that's the case, Kelly may go with E.J. Manuel, Matt Scott or no quarterback at all.
Odds: 16 Percent
3. Star Lotulelei, DT, Utah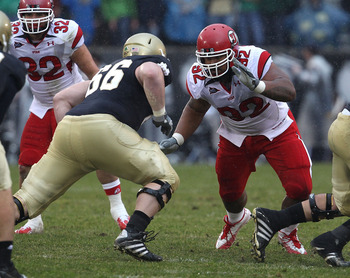 Jonathan Daniel/Getty Images
Star Lotulelei would be a tremendous addition to the Philadelphia Eagles' new 3-4 line. He's arguably the best all-around defensive player in the draft. Now that he's been medically cleared by doctors, Lotulelei could go as high as the first overall pick.
He's big enough to play as a 3-4 nose tackle, and the Eagles need a 3-4 nose tackle. Isaac Sopoaga is a short-term stopgap solution. Lotulelei would team with Fletcher Cox to give the Eagles three promising linemen.
If Jacksonville picks Dion Jordan and Oakland selects Geno Smith—as I predicted in my most recent mock draft—Lotulelei seems like a logical fit for the Eagles.
Odds: 15 Percent
4. Sharrif Floyd, DT, Florida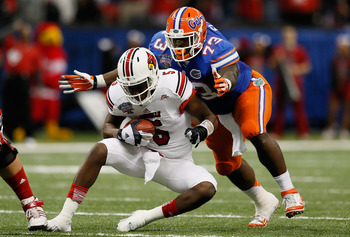 Kevin C. Cox/Getty Images
Sharrif Floyd has spent the last several months rising to the top of NFL draft big boards. Floyd could be selected second overall by the Jacksonville Jaguars, as they and the Oakland Raiders should both be in best-player-available mode.
Floyd is a 4-3 defensive tackle or 3-4 defensive end. He's viewed as a very safe prospect with little bust potential. Floyd is a talented pass-rusher with proven production in college. He would team with Fletcher Cox to give the Philadelphia Eagles arguably the finest group of 3-4 ends in the league.
If this pick comes down to either Lotulelei or Floyd, Lotulelei seems to be the more logical pick as he's a more natural nose tackle for the Eagles' 3-4.
Odds: 14 Percent
5. Luke Joeckel, OT, Texas A&M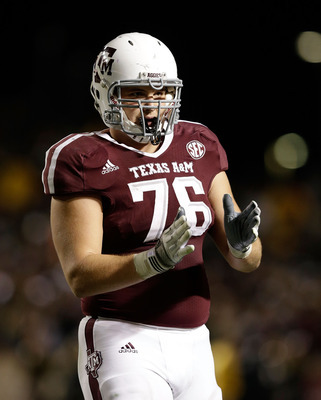 Scott Halleran/Getty Images
Luke Joeckel is a guaranteed lock if he's still around when the Philadelphia Eagles make their pick. That's not likely to happen, though.
Joeckel is the odds-on favorite to go to the Kansas City Chiefs first overall. Andy Reid franchised current left tackle Branden Albert, but Joeckel would be his left tackle for the next decade. If for some reason Reid passes on Joeckel for a defensive lineman like Star Lotulelei, the Jacksonville Jaguars have to pick Joeckel.
And if the Jaguars somehow pass on Joeckel, Oakland needs to pick Joeckel and move Jared Veldheer to right tackle. But those teams do need defensive players, which leaves the option of Chip Kelly selecting the athletic Joeckel to play left tackle.
That would give the Eagles a tremendous offensive line. Joeckel and Peters could fight it out to see who plays right and left tackle. Todd Herremans could move inside to take Danny Watkins' spot at right tackle. And with all five starters back from injury, the line suddenly becomes a top-seven unit in the league.
Odds: 10 Percent
6. Dee Milliner, CB, Alabama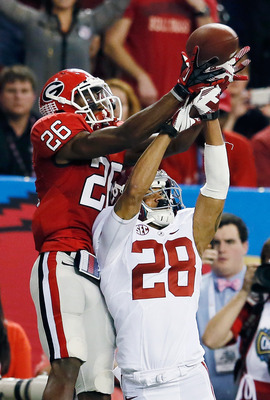 Kevin C. Cox/Getty Images
For a while, it seemed like the Philadelphia Eagles' pick would come down to either offensive tackle Eric Fisher or cornerback Dee Milliner.
Fisher would fill a void on the offensive line and Milliner would fill a hole in the secondary. Then the Eagles signed two free-agent cornerbacks, and players like Dion Jordan and Ezekiel Ansah saw their stock rise given the nature of the new spread option offense.
Milliner is still the best cornerback in the draft, and he would start from Day 1. The Eagles would move Bradley Fletcher to the nickel role, where he could battle Brandon Boykin for that role. Milliner ran a 4.38 40-yard dash, showing he has the speed to succeed in the NFL level.
Philadelphia does play receivers like Dez Bryant, Hakeem Nicks and Victor Cruz for four games per season, which makes Milliner all the more important. The Eagles also gave up 33 touchdown passes on defense in 2012, so they could use a cornerback of Milliner's caliber.
It's doubtful Jacksonville or Oakland will take him, so Chip Kelly should have his option of Milliner if he wants.
Odds: 8 Percent
7. Eric Fisher, OT, Central Michigan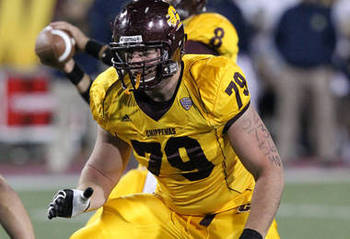 There's at least a 90 percent chance Luke Joeckel will be gone by the time the Philadelphia Eagles make their fourth selection. If Chip Kelly does want an offensive tackle still, Eric Fisher is probably the second-best option.
Fisher would essentially replace Danny Watkins, as Todd Herremans would move inside to his natural guard position. Fisher is a big man at 6'7" and over 300 pounds, although he could afford to add 15 to 20 pounds to his frame.
Fisher is versatile enough to play multiple positions on the offensive line, so the Eagles could conceivably leave Herremans at tackle and start Fisher at right guard. Either way, Fisher makes the offensive line significantly better.
Odds: 8 Percent
8. Lane Johnson, OT, Oklahoma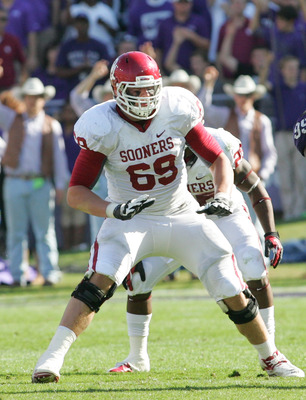 R. Yeatts/Getty Images
There's definitely a chance Chip Kelly chooses Lane Johnson over Eric Fisher. Johnson is arguably the most athletic offensive lineman coming out in this year's draft. He played everywhere from quarterback to tight end to offensive tackle in college, eventually settling in as Landry Jones' blindside protector for two years.
The logical move for the Philadelphia Eagles should they want to select Johnson would be to trade down. The fourth pick is slightly high for him. If the Arizona Cardinals pass on Johnson at the seventh pick, the position to be in is right ahead of the San Diego Chargers at pick 11.
Odds: 4 Percent
9. Ezekiel Ansah, DE, BYU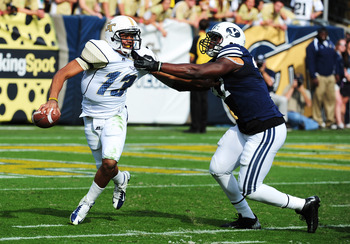 Scott Cunningham/Getty Images
Stopping the read-option is the way NFL defenses can succeed. The Philadelphia Eagles play Robert Griffin III twice per year, and he's faster than nearly every player on the field.
Ezekiel Ansah doesn't quite have RGIII's speed, but he ran a 4.60 40-yard dash at the NFL Scouting Combine without even training for the event. He would thrive as a 3-4 outside linebacker. Ansah is a risky pick, as he had very little production at the collegiate level. He's a one-year wonder who wasn't even that good the year he did play (4.5 sacks in 2012).
Picking Ansah would be a leap of faith based on his physical tools. It also wouldn't make sense for Chip Kelly to select Ansah unless Dion Jordan is off the board.
Odds: 3 Percent
10-12. Barkevious Mingo/Jarvis Jones/Sheldon Richardson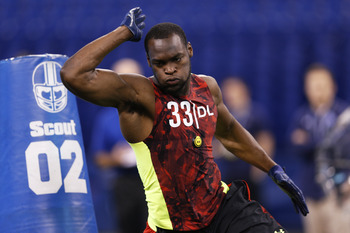 Joe Robbins/Getty Images
Each of these players has a very slim chance at being picked by the Philadelphia Eagles with the fourth pick.
What Chip Kelly would get by selecting Barkevious Mingo or Jarvis Jones is an elite pass-rusher that would ideally thrive in a 3-4 defense. Each has the ability to make life miserable for opposing quarterbacks, although there are probably better options with the fourth pick.
Sheldon Richardson is an intriguing defensive lineman. It's likely the only way Kelly would select him is if both Sharrif Floyd and Star Lotulelei were off the board. Richardson is a 3-4 end who could probably spend some time at nose tackle.
Odds: 1 Percent each
Keep Reading

Philadelphia Eagles: Like this team?