Notre Dame Football: Top 5 Fighting Irish Tattoos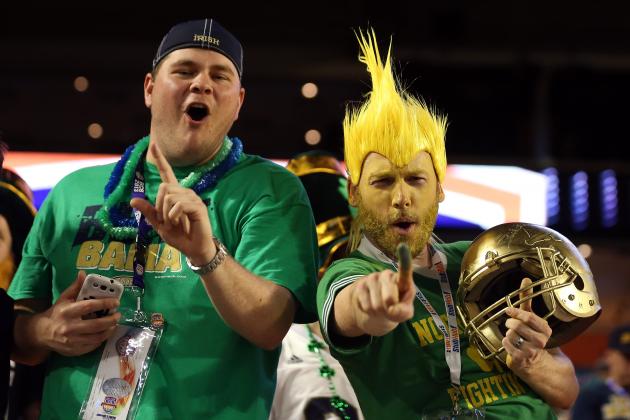 Streeter Lecka/Getty Images

Notre Dame has no shortage of devoted fans. What began as a small Catholic university in Northern Indiana in 1842 has grown into one of the largest, most recognizable universities in the country.
Much of the aforementioned recognition is due to the school's highly successful football program, now entering its 126th year.
In this day and age, the surefire way to prove your devotion to the team you love is to make the commitment permanent in ink.
Let's take a look at the top five Fighting Irish tattoos.
Rankings based on the size, skill and creativity of the Notre Dame tattoo.
Begin Slideshow

»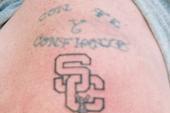 Photo Credit: Myspace.com
Remember when I told you I saw a lynched leprechaun at the Coliseum last fall? It appears I may have identified the perpetrator.
This special fellow felt so strongly about his disdain for the Fighting Irish that he actually inked the Notre Dame mascot hanging from the USC logo onto his arm.
The pride of Tommy Trojan's masterful artwork found its way to the social media juggernaut that is MySpace, because of course it did.
Fun fact: The feud between USC and Notre Dame began in 1926 after a rumored conversation between the wives of Notre Dame head coach Knute Rockne and USC athletic director Gwynn Wilson. Mrs. Wilson apparently convinced Mrs. Rockne that a trip to Southern California every two years was preferable to the icy Midwest, and the rivalry has been going strong ever since.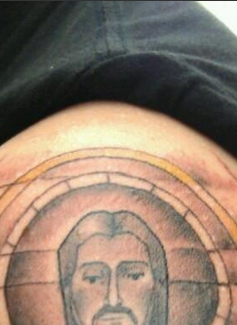 This beautiful portrait of touchdown Jesus was submitted by Shane DeLeon.
Fun fact: Touchdown Jesus is part of a large mural called The Word of Life by artist Millard Sheets. It was installed onto the Hesburgh Library building in 1964. The mural is the result of a $200,000 donation by Mr. and Mrs. Howard V. Phalin.
Fun fact: Touchdown Jesus is 134-feet-tall, and 68-feet-wide.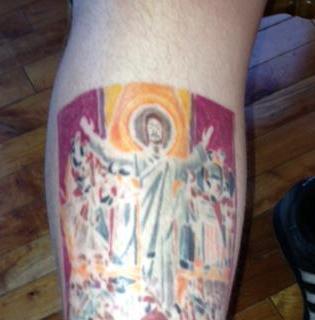 Here we have another beautiful portrait of touchdown Jesus submitted by Jason Powell.
Fun fact: Touchdown Jesus' position at the top of the mural with outstretched arms were designed to represent Christ as a teacher above all others.
Fun fact: The mural was accidentally unveiled a day early due to strong winds.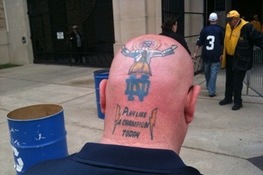 Photo Credit: BodyArtDiary.com
Touchdown Jesus
Here we have a nice collage of Notre Dame imagery. The artist incorporates the classic ND logo with the team slogan "play like a champion today" and the famous Touchdown Jesus.
This tattoo makes the list not only because of its subject matter but also because of the location the fan chose to put it in. When you tattoo something on your head, you clearly want the world to know about it.
Fun fact: In 1997, the university planned to add 20,000 seats to Notre Dame Stadium. The original plan would have obstructed the view of Touchdown Jesus from the field. The outcry from football fans resulted in the expanded bowl seating the stadium boasts today.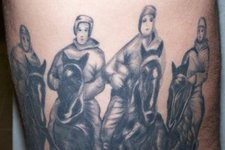 Photo Credit: chatsports.com
The Four Horsemen
You can't have a list of anything related to Notre Dame and not include the Four Horsemen, and this list is no exception.
Some dedicated soul has quarterback Harry Stuhldreher, left halfback Jim Crowley, right halfback Don Miller and fullback Elmer Layden etched permanently into his skin.
Fun fact: The name Four Horseman was coined by New York Herald Tribune sports writer Grantland Rice, who famously wrote:
Outlined against a blue-gray October sky, the Four Horsemen rode again. In dramatic lore their names are Death, Destruction, Pestilence, and Famine. But those are aliases. Their real names are: Stuhldreher, Crowley, Miller and Layden. They formed the crest of the South Bend cyclone before which another fighting Army team was swept over the precipice at the Polo Grounds this afternoon as 55,000 spectators peered down upon the bewildering panorama spread out upon the green plain below.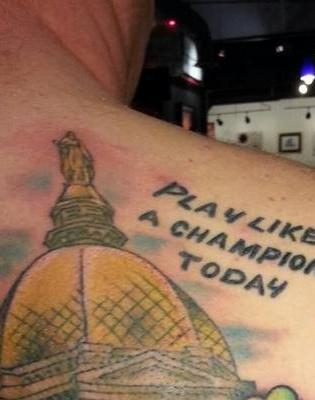 Photo Credit: Pinterest.com
Collage Back-Piece
Ranking in at No. 3, we have another collage of Notre Dame imagery, this time taking up approximately one-quarter of the Irish fan's back.
The artist blends a beautiful portrait of the Golden Dome with the ND logo, leprechaun, a shamrock and the "play like a champion today" Fighting Irish motto.
Fun Fact: The "Golden Dome" was added to the main building in 1882 after a fire consumed the original building in 1879. According to Ed Cohen of Notre Dame Magazine, Notre Dame founder Father Edward Sorin took blame for the fire because he had too small a vision for an institution named after the mother of God.
According to Cohen, the Notre Dame founder envisioned a much larger golden dome (the original dome was painted white) and statue of Mary adorning the campus' main building "so that everyone who passes this way can look up and see why this place succeeds," Sorin said.
Photo Credit: TattooNow.com
Player
This beautiful piece was done by Josh Woods of Black 13 Tattoo in Nashville, Tenn.
Fun fact: The No. 3 (which the player in this tattoo sports) was worn by several of Notre Dame's quarterbacks, most famously Joe Montana.
It has also been worn by running back Darius Walker from 2004-2006, is currently being sported by Amir Carlisle and, according to Duranko of UHND.com, will be worn by inbound star Eddie Vanderdoes this fall.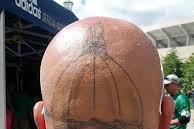 Photo Credit: IrishEnvy.com
Golden Domer
What better place for the Golden Dome than on your, well, dome.
This is one Fighting Irish fan who will not be obscuring his Notre Dame tribute any time soon. Irish super-fan Tracey Moore spent a whopping nine hours under the needle to complete his homage to the Fighting Irish.
Indeed, Moore has no regrets about etching the iconic Golden Dome onto the back of his head. He even enjoys the attention he's received in the wake of getting inked, telling Daryl Bjoraas of abc57.com:
"It's been great. I have pictures taken all over the place. If I had money for every picture taken, I'd be rich."
Local news channel ABC 57 found his work so interesting that they actually devoted a news segment to it, which can be seen here.