Winners and Losers from the PGA Tour's Valero Texas Open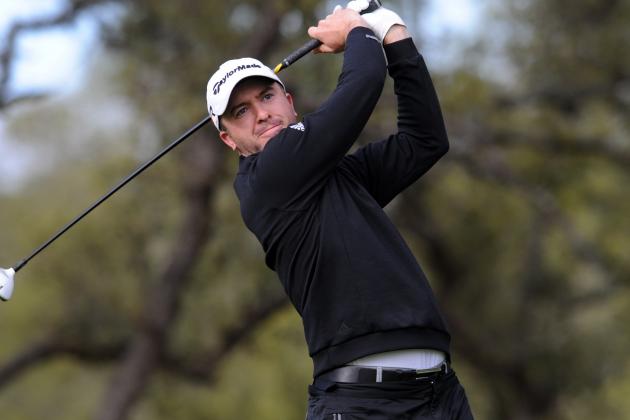 Steve Dykes/Getty Images
Martin Laird earned a Masters invitation by winning the Valero Texas Open
That's the way to win a golf tournament.
Martin Laird seemingly said "enough is enough," before starting the final round of the Valero Texas Open. The Scottish golfer was four strokes behind when he teed off on Sunday, but he shot a 63 and won the championship.
Laird defeated the resurgent Rory McIlroy by two strokes.
Laird was the big winner in San Antonio, but he was not the only golfer to put on a good show during the weekend. Here's a look at the winners and losers in the Valero Texas Open, the last PGA tournament prior to the Masters.
Begin Slideshow

»
It's an achievement to win any tournament on the PGA tour, but when you win it by firing a 63 in the final round, it's something special.
Martin Laird had the kind of round that even the best golfers usually just dream about. He came from four shots off the pace to win the tournament and earn $1,116,000 with the victory. He also earned an invitation to next week's Masters with the victory.
Laird fired nine birdies and played bogey-free golf in winning the tournament. It was the third victory of his career and his first since winning the Arnold Palmer Invitational in 2011.
Charlie Beljan has struggled since finishing second in the Northern Trust Open in mid-February.
He seemed like he was getting back on the right track in last week's Shell Houston Open when he fired a five-under-par 283. He did not have a round where his score was above 72 in that tournament.
However, Beljan could not follow up his strong showing in San Antonio. He put himself in a reasonable position with a 71 in the first round, but he shot 74 in the second round and a 75 in the final round.
Beljan's average drive was 300.9 yards in the Valero Texas Open, tying him for eighth in that category. However, he was not accurate enough to give himself a chance to contend.
Rory McIlroy needed to do something positive before the Masters. He may have been the No. 1 player in the world last year, but McIlroy has been less than impressive going into the Valero Texas Open.
He had tied for 45th in his most recent outing at the Shell Houston Open and he had lost his top ranking to Tiger Woods.
More than anything, McIlroy needed to prove to himself that he was still capable of playing excellent golf. McIlroy didn't win the tournament, but he finished a strong second, just two strokes behind Martin Laird.
Most impressively, McIlroy was at his best in the final round, as he fired an impressive 66. He had had eight birdies and two bogeys and looked as close to the McIlroy of 2012 as he has all year.
The performance may give McIlroy the kick start he needs to be close to top form for the Masters.
D.A. Points was the story of the golf world a week ago when he won the Shell Houston Open.
He traveled to San Antonio with a ton of momentum and he was ready to repeat his success at the Valero Texas Open.
However, Points may have brought a good state of mind with him across the state, but he forgot to bring his game. Points shot a two-over-par 290, finishing in a tie for 53rd.
A week after winning $1,116,000 for his triumph in Houston, Points earned $14,089.50 in San Antonio.
Why did Points struggle this week? He could not hit the ball accurately, particularly on his approach shots. He lacked accuracy throughout the tournament, hitting just under 53 percent of his greens in regulation.
Don't sleep on Jim Furyk.
He just may be starting to get his game together with the Masters at hand.
Furyk was sharp throughout his four rounds at the Valero Texas Open and he finished just three strokes off the lead in a tie for third with a 277.
Furyk had to be thrilled with his consistency. After an opening round of 69, he shot a 70 in the second round. He closed with back-to-back rounds of 69 in the third and fourth rounds.
Furyk earned $322,400 for his efforts. However, it's not the payday that put a smile on his face. He shot a six-over-par 294 at the Arnold Palmer Invitational in late March and had looked lost on the golf course.
Furyk hit the ball solidly throughout the tournament but his putting was just slightly above average. He took 1.717 putts per hole, putting him in a tie for 21st. If he can pick that up just a bit, he may be a Masters contender.
John Huh is supposed to be one of the up-and-coming young players on the tour.
With the Masters coming up, Huh could have used the Valero Texas Open to sharpen his game. His short game as his calling card, but Huh did not have his game together in San Antonio.
Huh shot a six-over-par 294 for the tournament, putting him in 72nd place. Huh was ordinary over the first two rounds, but he was awful in the final two, shooting 76 and 75.
Huh is not a long-distance hitter, so he has to make up for it with his accuracy and his putting. He did not have either aspect working for him in San Antonio, and that's why he was never in contention.
Huh ranked 63rd in putting, averaging 1.822 putts per hole.
Billy Horschel had the lead in the Valero Texas Open after the second and third rounds.
However, he could not close the deal and hold off the hard-charging Martin Laird, who picked up the win in the tournament.
Horschel finished just two strokes behind Laird and tied for third. Horschel shot an 11-under-par 277.
While Horschel was not pleased with his inability to hold the lead, he has to be happy with his consistency. He finished second last week in the Shell Houston Open, and to follow that up with a top-three performance is indicative of his burgeoning confidence.
Horschel was scintillating with his putter. He averaged a tournament-best 1.548 putts per hole.