13 Storylines That Will Define the 2013 College Football Season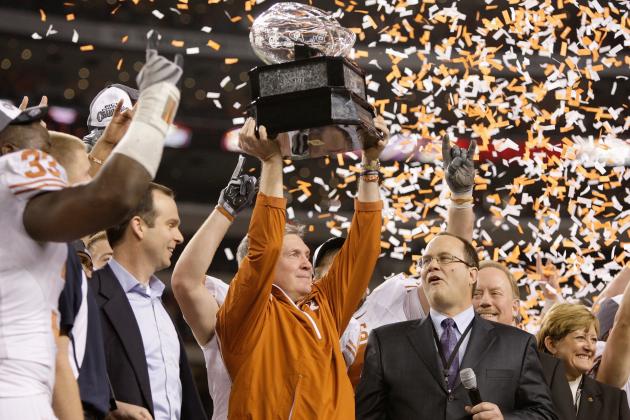 Jamie Squire/Getty Images

With the 2013 season of college football only 143 days from kickoff, it seems appropriate, nay vital to pull out the sketch pad and draw up 13 potential blockbuster storylines for the campaign that lies temptingly ahead.
Indeed, while we know that we know a great deal about who may be who in 2013, what may be what?
What?
Precisely, how will the cast we know is coming back this season combine magically, by January of 2014, to become the narrative of the 2013 season of college football?
The following slideshow makes all this offseason rhetoric crystal clear by boldly predicting 13 storylines that will define the 2013 campaign in the greatest sport in the land, college football.
The historical recruiting data provided in this presentation comes via Rivals.com while the returning starter figures are per Phil Steele's comprehensive breakdown.
Begin Slideshow

»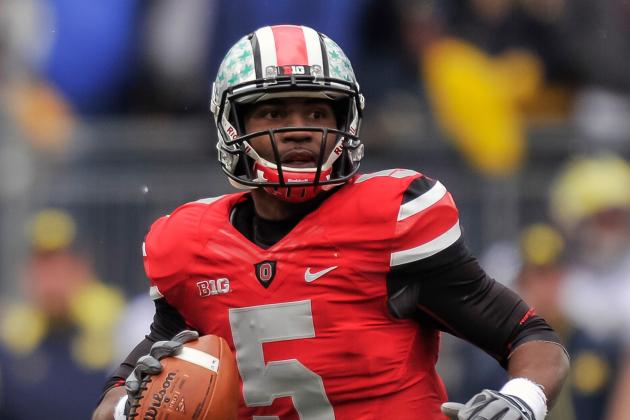 Jamie Sabau/Getty Images

With 13 returning starters to the squad that went 12-0 in its bowl-banned 2012 campaign, Ohio State should be poised to capture a Big Ten title and more in 2013.
And this includes the very realistic possibility that Braxton Miller will walk away with the Buckeyes' eighth all-time Heisman trophy.
The logic here is pretty simple, Urban Meyer beefs up Ohio State's defense with his speedy and gifted recruits, the Bucks find some semblance of a passing game and they hit double-digit wins and earn a BCS berth.
Along the way, Miller stays healthy and puts up, like he did in 2012, Johnny Football like numbers and wins the Heisman.
To illustrate, Johnny Manziel's 5,116 total yards in 2012 accounted for 70 percent of the Aggies 7,261 total yards last season while, very similarly, Miller's 3,310 total yards accounted for 65 percent of the Buckeyes' 5,085 yards in 2012.
The nearer that Ohio State gets to the national championship game, the nearer a healthy Miller gets to the podium in New York City.
Another option is whichever player can make a huge offensive splash at Notre Dame, especially, again, if the Irish can pump out more than 10 wins.
The truth of the matter is, based on history, voters love, and I mean love, to award the Heisman to guys from Notre Dame, Ohio State, Oklahoma and USC.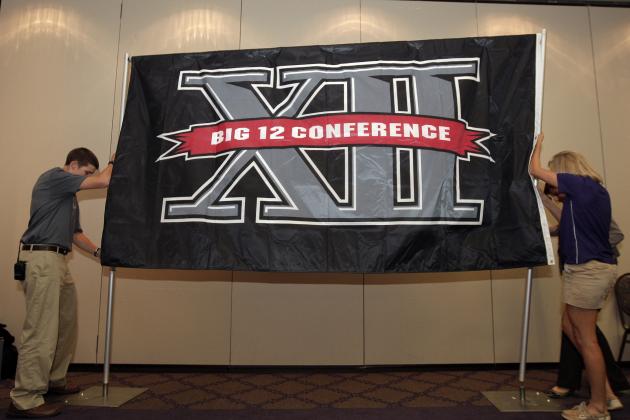 Brandon Wade/Getty Images

A carry over storyline that initially kicked off when Nebraska decided to flee the Big 12 for the Big Ten in 2011, the current climate of conference realignment is likely to continue into and perhaps throughout the 2013 season.
One approach for forecasting continuance in the historic shifts among the college football leagues is found by simply looking at the numbers.
Indeed, look at it this way; the ACC will have 14 members this fall (and again in 2014 after Maryland leaves and Louisville joins), the Big Ten will have 14 in 2014 (adding Rutgers and Maryland) and the SEC is up to 14 with the addition of Texas A&M and Missouri in 2012.
This leaves the last two power conferences, the only other two leagues that will retain automatic BCS bids after the playoff scheme kicks off in 2014, the Pac-12 and Big 12 with less than the "super league" membership total of 14.
Add in the fact that with the new playoff format, which will leave a paltry one BCS bid up for grabs for the highest ranked champion from the Big East (American Athletic Conference), C-USA, MAC, Mountain West and Sun Belt conferences and you see where this is going.
Yes, this means that there are still a handful of quality programs (i.e. BYU, Boise State, Air Force, Cincinnati, USF) with no direct shot at a BCS berth or playoff consideration.
This scenario combines supply (on the part of the Boise State's of the world) with demand (on the part of the Big 12 and Pac-12, which presumably will need to beef up).
Beyond all of that you have to wonder if football-centric schools such as Clemson and Florida State will one day look to hook up with a conference home that is more gridiron-friendly.
Swapping conferences is really the only way out of the predicament of programs like Clemson, Florida State, Miami (Fla.) and Virginia Tech—all ACC members which get called out for having "soft schedules" in comparison to the Pac-12, SEC or Big 12.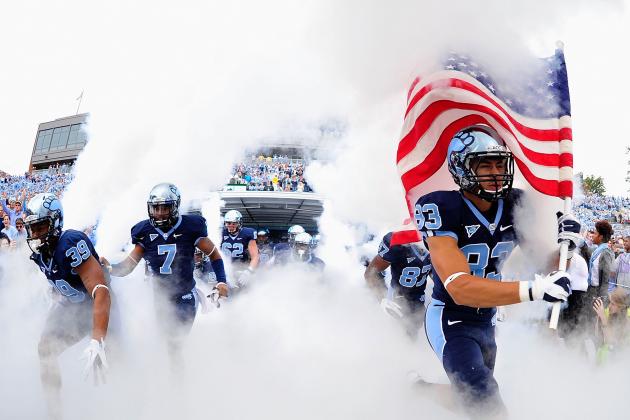 Grant Halverson/Getty Images

While everyone is focused on the Florida State at Clemson game on Oct. 19 as the deciding factor in the ACC title chase in 2013, the Tar Heels will slip on to the radar and win their first league crown since 1980.
Yes, the 'Noles and Tigers will likely vie for the Atlantic's slot in the title tilt, but North Carolina will win the Coastal and then the conference.
The Tar Heels return 15 starters from their 8-4 bowl-banned product from a year ago, including nine defensively and six from an offensive unit that finished 2012 ranked No. 8 nationally in scoring.
Beyond this, don't forget that Larry Fedora has a full deck of cards to play with this season as his senior class was technically brought in as the No. 29-rated class of 2010 and his juniors were rated No. 16 as a group in 2011.
After losing its opener, narrowly, at South Carolina on Thursday, Aug. 29, North Carolina will streak through the rest of its 2013 slate including scoring key wins at Virginia Tech on Oct. 5 and versus Miami (Fla.) on Oct. 17.
Fortuitously, the Tar Heels won't face Florida State or Clemson until they square up with one of the two in the ACC title game, a fact that makes the path to the championship all that much more realistic.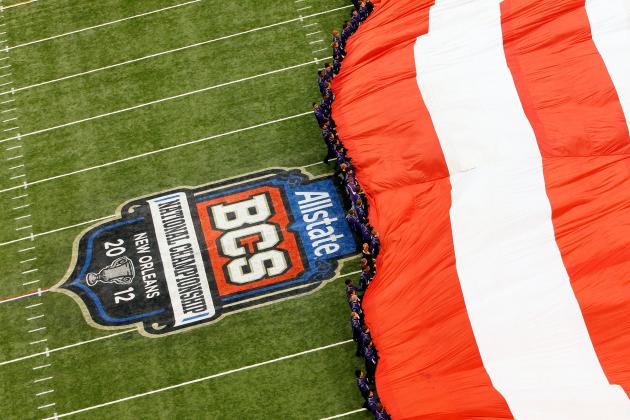 Kevin C. Cox/Getty Images

Though the 2013 season in college football will no doubt stand out in our minds for a wide variety of reasons, it will always, forevermore, be the final season for the BCS format as we have known it.
Indeed, with the dawning of the mini playoff scheme in 2014, 2013 will be the last year that we are forced to watch the most anti-climactic show in the history of sport, the BCS "selection" show.
Yes, while there will more than likely be another huge dose of controversy regarding computer rankings and relative "bodies of work," this is the last time around for the system that reared its ugly head back in 1998.
Will the playoff era be better with its final four with no prior bracket required?
Who knows, but, if nothing else at least the argument will be fresh.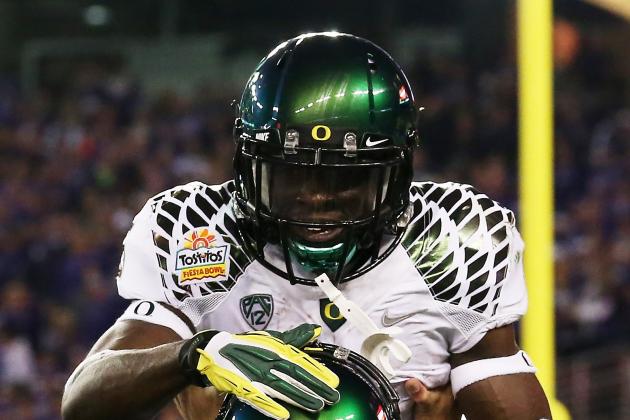 Stephen Dunn/Getty Images

With Chip Kelly's decision to leave Oregon for the NFL Philadelphia Eagles, one of the biggest question marks coming into 2013 is how will the Ducks look without him?
Kelly went 46-7 over his four seasons at Oregon, a triumphant tally that included three consecutive Pac-12 titles, four BCS berths, a national championship game appearance and three consecutive top five finishes.
So, what happens next when Kelly's OC Mark Helfrich takes over the reins at Oregon?
Well, the storyline is simple, the Ducks continue to roll, at least for now, and if they don't capture the Pac-12 title in 2013 they'll still make the BCS festivities, for the fifth consecutive time.
What's likely to make Helfrich the most successful first-year head coach in college football next season is the fact that he returns 15 starters from the 12-1 squad from 2012.
Included in this bountiful total are four members of the O-line, QB Marcus Mariota, RB De'Anthony Thomas and seven members of a defensive unit that finished the season ranked No. 25 nationally in scoring.
Tack on a senior class that ranked No. 13 when signed in 2010, a junior group that were brought in at No. 9 in 2011 and a sophomore class that earned a No. 16 rank in 2012 and the picture is pretty clear.
Helfrich and the Ducks ought to win big in 2013, the question is just how big?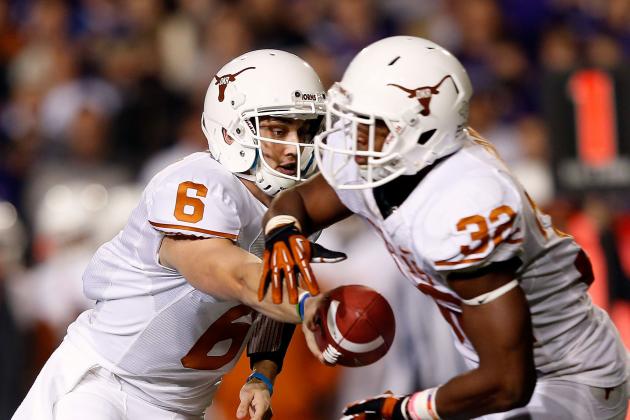 Jamie Squire/Getty Images

After three seasons oozing with disappointment, 2013 will finally be the year that Mack Brown proves that he can still lead the Longhorns to the land of double-digit wins.
Texas returns a nation-high 19 starters in 2013, including the entire offensive line and a generous portion of the offensive skill players as well as nine starters on defense.
These high returns combined with the fact that the 'Horns are still as talent-rich as anyone—except for perhaps Alabama—means that if Brown's staff can coach this team up, Texas could be scary good.
To illustrate, the senior class this season was originally recruited as the No. 3-rated group in 2010, the juniors were brought in at No. 3 in 2011 and the sophomore's were No. 2 when signed in 2012.
The bottom line is that Texas will have the most experienced, talented group of athletes in the Big 12 in 2013. Beyond that, it will field one of the most potential-packed squads in the entire nation.
While league games at West Virginia and versus Oklahoma, Oklahoma State and Kansas State will likely stand between Brown, the Big 12 title and the BCS, the Horns nonconference schedule is highly doable with contests versus New Mexico State, at BYU and versus Ole Miss.
If he can accomplish all of these goals and launch Texas into the national title conversation, look for Mack Brown to finally step down in Austin.
And then begins the next storyline—the great search to replace Brown as the head football coach at the University of Texas.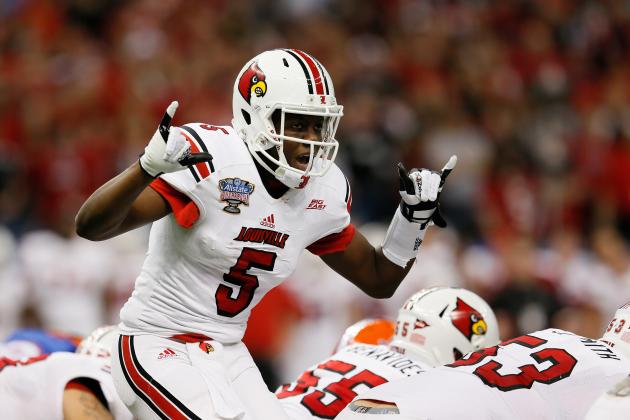 Kevin C. Cox/Getty Images

With both the men's and women's basketball teams in the final game of their respective championship brackets in 2013, all that's left for Louisville to do is find a way to launch its football program into the BCS title game to make the Cardinals a rare three-time winner in a single calendar year.
And, oddly enough, the Louisville gridders have as equally a compelling shot at a spot in the title game as did their co-ed counterparts on the hardwood.
Yes, the Cardinals will make the BCS title game in 2013 because they will run the tables this season; a task which becomes easier when you remember that this is their final campaign in a totally revamped Big East, or American Athletic conference as it has been recently rebranded.
The 2013 edition of the Big East consists of Cincinnati, UConn, Houston, Memphis, Rutgers, SMU, Temple, UCF, USF and Louisville, the team that just so happens to return more starters than any other team in the field this upcoming season.
The healthy return stats include six on an explosive offense (No. 24 in passing yards) and nine to a defense that finished 2012 ranked No. 36 nationally in scoring.
But, perhaps the biggest reason that Louisville whizzes into the championship game (the national one) is that if it finishes perfectly and wins the Big East it will have a direct shot, via an automatic bid, to the title tilt.
Yes, remember that 2013 is the final season that the Big East will have a BCS auto-bid, a huge deal when you're a member team trying to win it all.
It's simple; Louisville builds on its 11-win success story from 2012, a total reached with a very young team, and blows through a schedule that is well, blow-able.
On the slate for the Cardinals this season are home games versus Ohio (the Bobcats, not the Buckeyes), FCS Eastern Kentucky, FIU, Rutgers, UCF, Houston and Memphis and road trips to Kentucky, Temple, USF, UConn and Cincinnati.
If Louisville can win all these games and go undefeated while the rest of the field finishes with, at best, one loss, the Cardinals make the title game.
This scenario also works if say one team, like Alabama, goes undefeated and every other team top ranked team drops at least one game.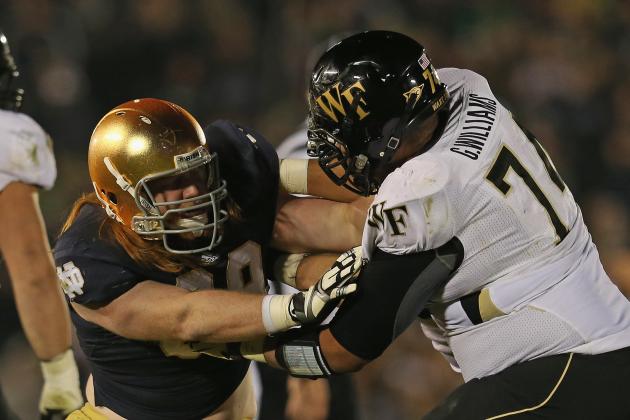 Jonathan Daniel/Getty Images

Though Notre Dame's 12-0 streak through its regular season in 2012 was thrilling, its grossly poor showing against Alabama in the title game raised huge questions about the viability of an independent schedule.
Indeed, was the SEC really that much better or did the Irish not play enough quality opponents to be ready for a top ranked team from a super-conference?
If Notre Dame can manage to finish No. 8 or better in this season's BCS standings (which it should do) and activate the "Notre Dame rule" then at some point the big story will transcend the Irish's return to greatness and become a discussion about the fairness of football independence.
And this all comes down scheduling—a point that becomes finer with Notre Dame's quasi-allegiance with the ACC which will mean traditional games with Big Ten foes will become contests with weaker opponents.
Basically, the Irish have control over their entire schedule like the rest of the field only has over their three nonconference foes, giving them an edge that's impossible to compete with.
Beyond that Notre Dame doesn't have to bother with winning a league title; it just has to finish in the top eight in the final BCS standings—something a slew of conference teams do and are left out of the festivities completely.
To illustrate, reports are coming out that the Irish have just dropped Arizona State from their 2014 slate, and though this is still unofficial the move is presumably to accommodate for the liaison with the ACC that dictates that they play five league members per year.
At some point this topic is destined to become a huge storyline and an enormous controversy.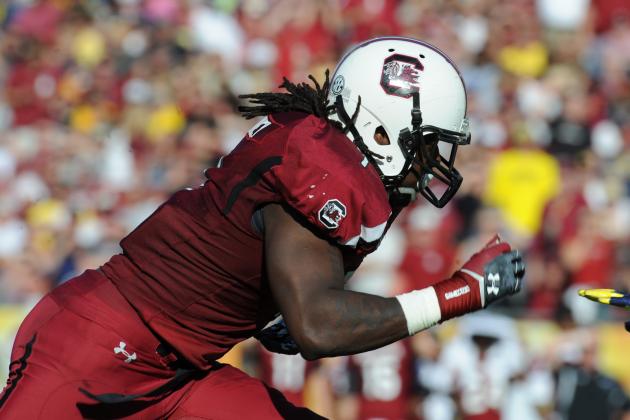 Al Messerschmidt/Getty Images

Since it's pretty safe to say that an offensive guy will, once again, take home the Heisman in 2013, it's pretty clear that a defensive stud like Jadeveon Clowney won't, no matter how great he is.
Even if Clowney can build on his 23.5 tackles for a loss (tied for No. 2 nationally) and 13 sacks (tied for No. 2 nationally) from last season, and even if South Carolina can play in the SEC title game, it's unlikely that he'll be the one called to the podium on Heisman night in New York City in December.
If this doesn't spark controversy in 2013, it should, because since football is a two-sided game (offense versus defense) then the best player in the country could very plausibly be a defender.
The only real concrete factor that bodes well for Clowney and South Carolina is the fact that RGIII from Baylor (think about it, Baylor) won the Heisman in 2011.
Of course the issue here, again, is that Clowney won't be pumping out obscene numbers of yards and scoring TDs.
You have to wonder how Clowney's Heisman odds would increase if he were pumping out the same defensive stats at Ohio State, USC or Notre Dame.
To put this into perspective, remember that Notre Dame's Manti Te'o finished second in the Heisman voting last season with 5.5 tackles for a loss (not in the top 100 nationally), 1.5 sacks (not in the top 100 nationally), 113 total tackles (No. 46 nationally) and seven picks (tied for No. 2 nationally).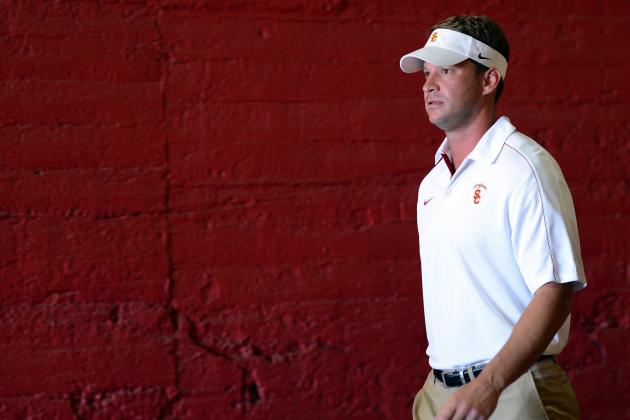 Harry How/Getty Images

Though Randy Edsall at Maryland and Kirk Ferentz from Iowa may also be on the chopping block in 2013, the outlook for Lane Kiffin making it into 2014 as the head coach at USC is dim at best.
What hurts Kiffin is that after posting the 7-6 mark in 2012 he'll have a lot of work to do to try and hone a new QB and retool an overall disappointing team from a year ago to face an ever-improving Pac-12 field.
Really, Kiffin's best opportunity to prove himself the whiz kid of college football coaches was last season when Matt Barkley was under center.
Simply put, there will be no mercy from any side for Kiffin who needs, at minimum, 10 wins and a divisional crown to stay afloat.
And, remember this is a guy with fewer excuses than anyone in the country.
USC will return 15 starters in 2013 and have three upper classes which were recruited as the No. 1-, No. 4- and No. 8-ranked groups from 2010 to 2012 respectively.
Lane Kiffin is in a similar situation as Mack Brown at Texas, he's got all the facilities, money and super-talent at his disposal and he needs to win a boat-load of games and some sort of title, now.
The huge difference between Kiffin and Brown is that the young visor wearer doesn't have a history with USC that includes consecutive double-digit win seasons and a national title—assets that puts Brown in a much more guarded position.
If Kiffin doesn't deliver in 2013, in a big way, he's out, creating another huge coaching vacancy on the college football landscape.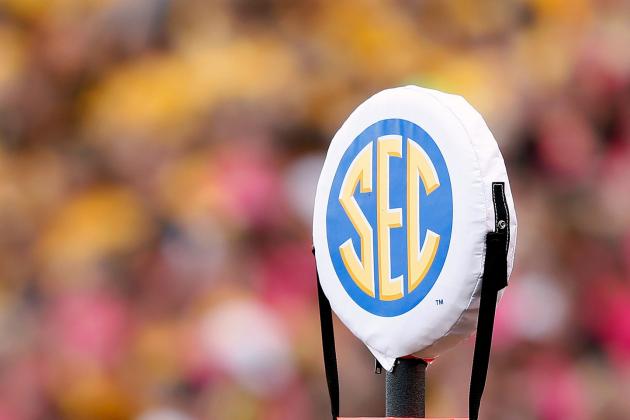 Jamie Squire/Getty Images

Though for non-SEC fans it's somewhat titillating to dream of a college football world not under the iron rule of the SEC, it's near impossible for any logic-based prognosticator to foretell of a 2013 season which heralds the end of the SEC title run.
Whether it be Alabama—the obvious choice at this point—or other worthy contenders such as Georgia, LSU, Texas A&M, Florida or South Carolina the SEC is likely to capture its eighth consecutive BCS title this coming season.
What makes it even more fraught to think that a program from another conference will knock the SEC off its pedestal is the lack of a realistic challenger.
To illustrate, both Texas and USC have the type of talent necessary but inspire no confidence, Florida State and Clemson have proven that they will both drop a game when least expected, Ohio State seems worthy but is thus far untested in the Urban Meyer era and Notre Dame, well, we saw what happened with the Irish in last season's title tilt.
What makes the task seem even more insurmountable is the fact that even if another conference makes the title game, can it really go on and beat the SEC representative?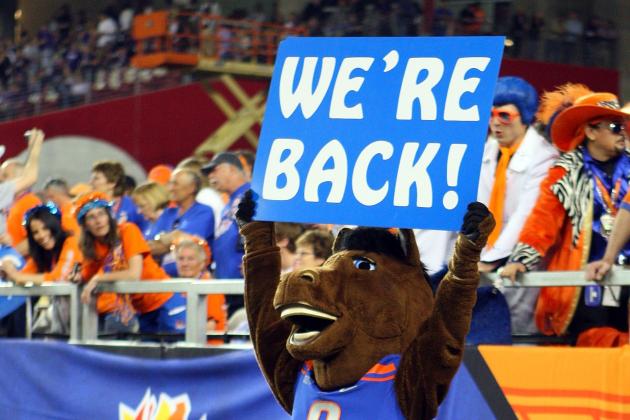 Christian Petersen/Getty Images

In order to close out the non-playoff phase of the BCS era in the way we've become accustomed to (insert sarcasm here), Boise State will make a perfect run in 2013 and will be, once again, left out of the national championship game.
Yes, the Broncos will win their opener at Washington, other nonconference games versus FCS UT Martin, Southern Miss and at BYU and then they'll clean the clocks of each and every one of their Mountain West foes in 2013.
Yawn.
And then they'll win the first-ever Mountain West championship game, which will be played in Boise, on Saturday, Dec. 7.
Double yawn.
The results will include a conference title, a 13-0 record and a BCS bid; but the offer from up high will be for an appearance in the Fiesta Bowl rather than the title game.
Yawn, yawn, yawn.
If you're thinking that this is yet another edition of Fantasyland, remember Boise State brings back 13 starters in 2013 from a 2012 product that won 11 games despite being the least experienced team in the entire FBS.
So, the storyline?
Boise State gets screwed, again.
Ho-hum.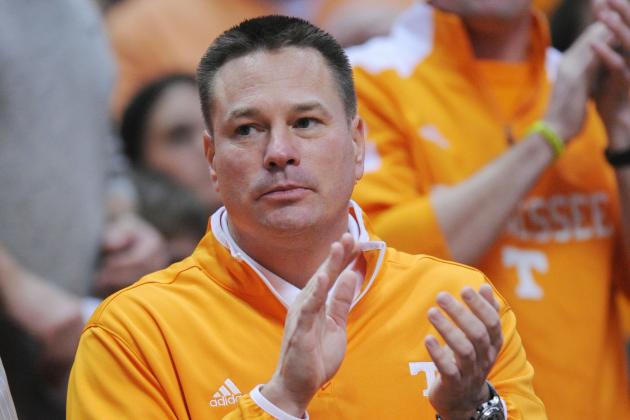 USA TODAY Sports

In a situation similar to what happened to Jim Mora in his first season at UCLA in 2013, Tennessee's new head coach Butch Jones will finally take what's a great set-up in Knoxville and crank out a very respectable number of wins.
Yes, in the same way that UCLA was just waiting for the right coaching staff to come along, Tennessee has the type of potential that will make a solid coach like Butch Jones look like a genius.
Of course the big difference between the two programs is that the Bruins play in the Pac-12 while the Volunteers play in the SEC, meaning that the win explosion might not be at the same level.
But the palpable improvement and the accolades should be comparable.
What makes Tennessee a diamond in the rough for the right coach is the fact that despite all the turmoil and coaching changes the Vols have continued to recruit very well.
To illustrate, the 2013 Tennessee squad will be made up of a senior class that ranked No. 9 when signed back in 2010, a junior group that ranked No. 13 in 2011, a sophomore class that came in at No. 18 in 2012 and then the freshman group that was just signed at No. 20.
This puts the Volunteers in the same talent bracket as heavy hitters like Georgia, Oklahoma, Clemson, Michigan and Oregon.
If Tennessee wins eight games in 2013 (remember the Vols have games at Oregon and at Alabama this year), Butch Jones will be labeled a mastermind, a title which he will have earned.
But, that said, let's not forget about the healthy heaping of talent that will get him and Tennessee back to the Promised Land.
The next storyline?
Perhaps Butch Jones as the head man at Texas, or USC?