3 New Jersey Devils Players Who Need to Get Hot in the Home Stretch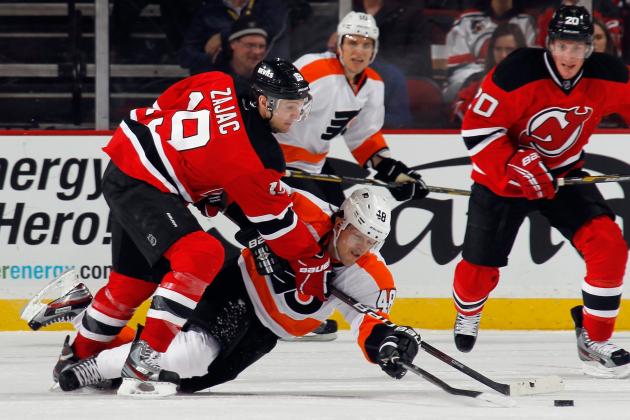 Bruce Bennett/Getty Images

The New Jersey Devils are sinking fast.
Sitting at ninth in the Eastern Conference, the team is two points behind divisional rivals the New York Rangers and Islanders, who currently occupy the seventh and eighth seeds, respectively. And right now, New Jersey doesn't seem capable of closing that gap.
The Devils have lost seven-straight games and are a putrid 2-4-4 in their last 10 games played. They are still in contention for a playoff spot, but things need to turn around quickly as they only have nine games left on their schedule.
It's not out of the question that the Devils turn things around, but that would require some serious contribution from players that have been snoozing lately.
Here are three Devils that need to heat up to give their team a chance at the postseason.
All uncited numbers obtained via NHL.com, Devils.nhl.com and Hockey-Reference.com
Begin Slideshow

»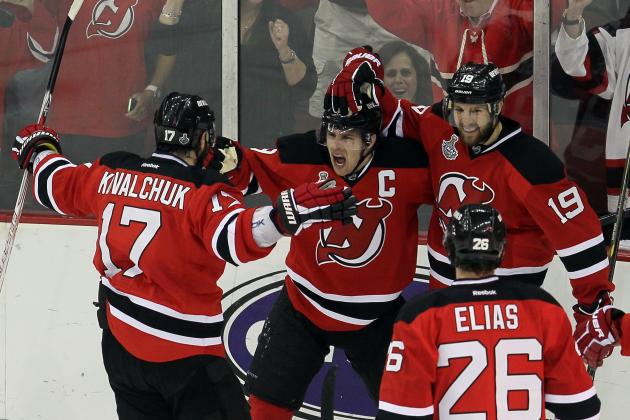 Jim McIsaac/Getty Images

Patrik Elias and Ilya Kovalchuk have irrefutably been the Devils' top offensive pairing this season: The duo has combined for 57 points, nearly as much as the next four highest-scoring forwards combined.
The reason these two skaters do not make the list is that they haven't exactly been slacking to begin with.
Elias leads the team with 30 points in 39 games, and Kovy is right behind him with 27 in 32 games. Elias has had bouts of inconsistency, but he's also regularly been the go-to offensive skater in key situations. At 36, it's honestly not clear how much better he could be playing. The point is, Elias' numbers are not the cause for the Devils' woes.
And while Kovalchuk has certainly been lackluster, he's also been out with injury since March 23. Management seems hopeful that he may resume skating soon, but he is still a while away from returning. It's hard to complain about him when he's healthy: he was just five points shy of a point-per-game pace at the point when injury struck.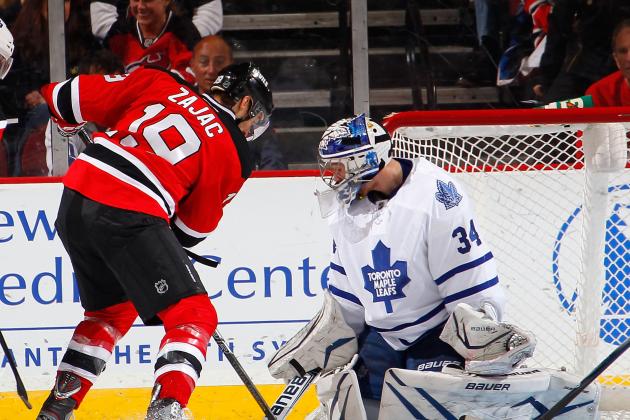 Paul Bereswill/Getty Images

The Devils' top-line center has had a miserable season after signing a monster $46 million extension during the offseason. Despite playing in all 39 games so far, Zajac has just five goals and nine assists.
Looking past his measly point total, it doesn't get much better: Zajac is a minus-five skater with just one power-play goal and only 64 shots this season. Despite taking on a role as one of the team's leaders, he has regularly failed to produce at a level expected of a player of his caliber.
During the team's current seven-game slide, Zajac has registered just one assist and a minus-five rating. As a main weapon for the team, he simply has to wake up and start performing like a player who deserves his playing time if there's to be any hope for the Devils moving forward.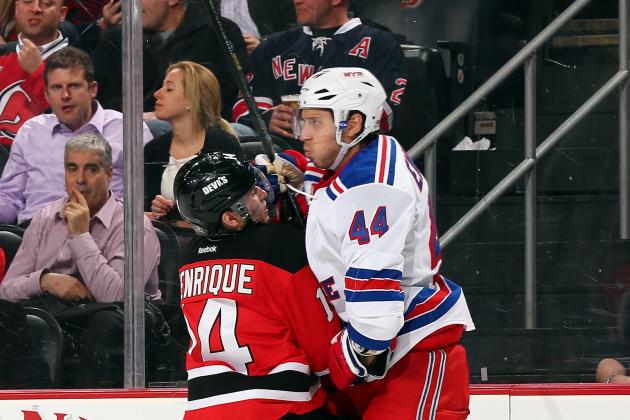 Elsa/Getty Images

Adam Henrique unexpectedly burst onto the scene last season with what ended up being a Calder-finalist campaign. The quick, young center showed a knack for creating chemistry with whoever he skated with, while also providing good, solid production.
Henrique began the season a bit late due to injury, but has been disappointing since his return.
To be fair, he has managed 10 goals, good for a second-place tie on the team. His 14 points are also tied for fifth. Lately though, the sophomore has hit a major slump and the team is hurting because of it.
Henrique has just one goal in his last 12 games. That goal came March 21 against Carolina. Outside of that contest, Henrique has no goals and no assists in his last 11 games and is a minus-two during that stretch.
He hasn't had too much to work with, now playing without two of his linemates from last season—Kovalchuk due to injury and Zach Parise who left via free agency. Even so, Henrique showed that he could produce last season and the Devils desperately need him to find that touch again.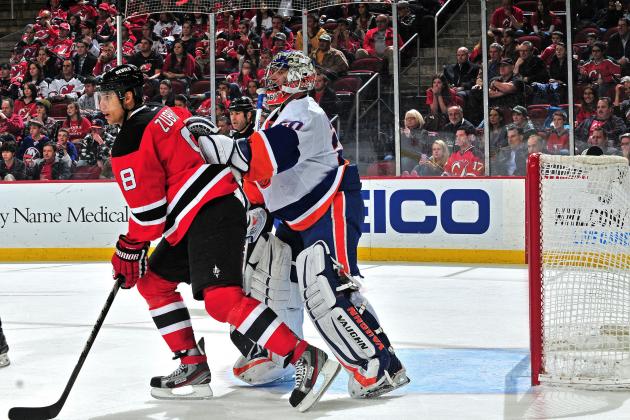 Norman Y. Lono/Getty Images

Dainius Zubrus missed a large chunk of the season due to an injury and only returned four games ago. Sunday night, he registered his first point since returning, an assist in a losing effort to the Buffalo Sabres.
Zubrus has been a Devil since the start of the 2007-08 season, and though he's never shined, he's been a reliable forward. In his time with the Devils, he's contributed 179 points over five seasons: not great production, but reliable nonetheless.
Well, Zubrus is now returning to the team in a time of need. The Devils are without their best forward and seeing little production from anyone else. If Zubie could turn it on and just produce a little—enough to justify him being a top-six forward––it could go a long way towards helping the team.
With his most recent point, Zubrus has a goal and four assists in 13 games to go with a minus-two rating. He's not a star, but at 6'5", 225 pounds, he can have a great impact when playing a game suited to his abilities. After all, this is one of the few guys who can boast about having a four-goal game for the Devils.