5 Early-Season Washington Nationals Storylines to Follow Most Closely
Joe Robbins/Getty Images

The Washington Nationals finished the season's first week at 4-2, and many storylines have emerged as a result of the week's action.
The season began with a three-game sweep of the Miami Marlins. Jordan Zimmermann was the only pitcher to allow a run to score in the series, with the first two contests resulting in shutouts.
Then, it was off to Cincinnati. Washington took on the Reds in another three-game set, but dropped the first and third games. The first game was a 15-0 shellacking, as a barrage of home runs and big hits sunk the Nationals early on.
There were many positives to take out of those six games. Many players came out of spring training hot and kept their bats going in the regular season. For the most part, the pitching has looked good as well.
It wasn't all good, though, and some guys will have to adjust rather soon if the Nationals are going to continue to perform at a high level. With so many storylines to follow after just the season's first week, it should be a fun season in Washington in 2013.
Begin Slideshow

»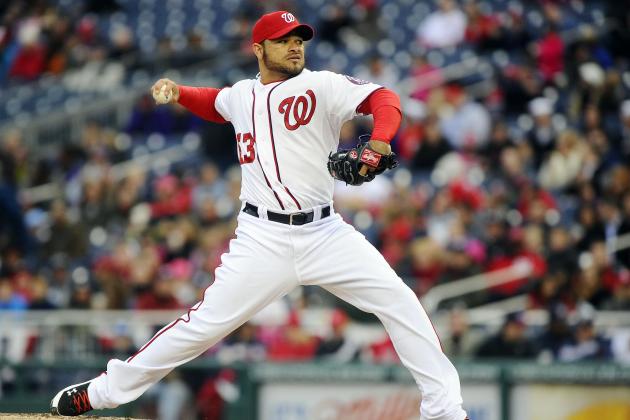 Brad Mills-USA TODAY Sports

Henry Rodriguez is likely the most frustrating member of the Nationals' pitching staff. He has all the potential to be dominant with an electric fastball and decent secondary pitches, but his inability to command his pitches makes him a detrimental member of the bullpen.
His command has been so bad at times that it seems like even he doesn't know where the ball will end up once it releases his hand.
He's tossed just 1.1 innings thus far and has walked one batter. The walks may not be piling up just yet, but he's been behind in counts and has given hitters good pitches to hit when he gets behind. This is why his ERA is an inflated 13.50 after his first two appearances.
If Rodriguez were to harness his potential and throw strikes on a more consistent basis, then he could easily become one of the most dominant relievers in the National League. Until then, using him in tight situations isn't the best choice for Davey Johnson.
Once Christian Garcia returns from the disabled list, Rodriguez is likely the odd man out. Maybe a little time in the minors would straighten him out and build him up the confidence he needs to succeed in the majors.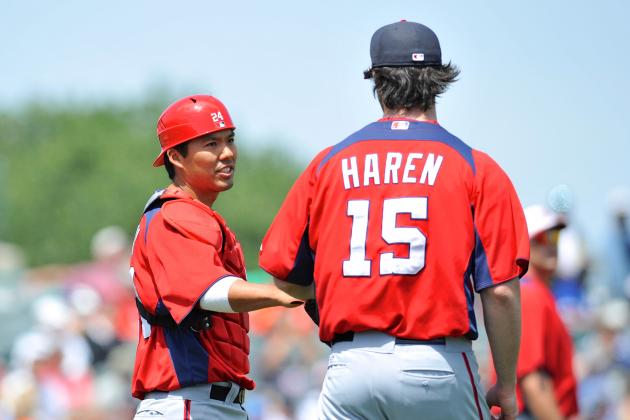 Steve Mitchell-USA TODAY Sports

Dan Haren has not looked good at all this season—yes, that counts spring training.
He compiled a 6.39 ERA over 25.1 innings this spring, allowing 30 hits and seven home runs. He struck out 18 and issued five free passes.
These numbers usually wouldn't matter for a veteran pitcher like Haren. For guys like him, spring training is to simply get back into shape after the winter off. Well, his lack of success carried over to his first regular-season start.
Haren lasted just four innings as the starter in the 15-0 beatdown at the hands of the Reds, allowing four home runs and nine hits.
This comes after a season in which Haren was not himself. He compiled a 4.33 ERA in 176.2 innings—the first time since 2004 he failed to reach the 200-inning plateau. This was because of injury, but he wasn't even that effective when healthy.
Haren's in D.C. on a one-year deal, so there's no long-term issue with him underperforming in 2013. That's the last thing Washington needs, however, so he'll have to right the ship soon if he wants to help his team have the most dominant rotation in baseball.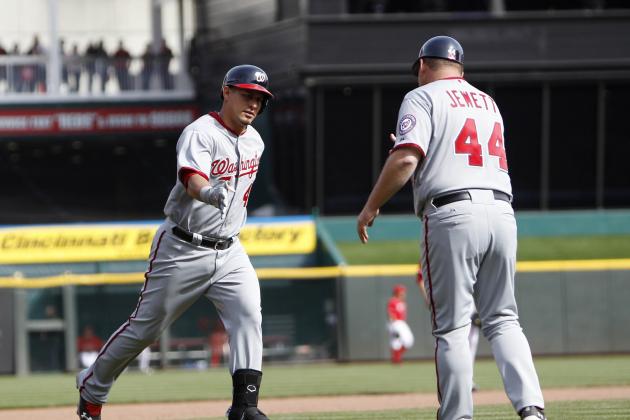 Frank Victores-USA TODAY Sports

Wilson Ramos was handed the starting catcher's job for Opening Day this season, albeit with the implication that he and Kurt Suzuki would essentially be splitting time behind the dish. That may already be changing after just six games.
Ramos has just four at-bats more than Suzuki this season (nine as compared to five), but Ramos has far outperformed his teammate at the plate. Suzuki has three hits this season (a homer and two doubles), but all those came in one game. He has not shown much consistency just yet.
Ramos, on the other hand, has crushed the ball. He's hitting .444/.583/1.111 with two home runs, three RBI and three walks.
The Nationals' only week spot in the lineup last season was behind the dish. Even when Suzuki was acquired at the trade deadline, the offensive output didn't increase.
Suzuki may be the better defender, but Ramos' bat may keep him in the lineup while he's hot. The dynamic behind the plate will be something to monitor this season, as Davey Johnson could opt to put the hottest bat in the lineup on any given night.
For now, that's Ramos.
Jamie Sabau/Getty Images

The Reds pose a real threat to the Nationals in the National League pennant race. After taking two of three from Washington in the season's first week, it's clear that the Reds are legitimate contenders.
Cincinnati roughed up both Dan Haren and Stephen Strasburg this past weekend. They swing the bats and can hit good pitching, taking even the best pitchers off their games from time to time. Their rotation is a strong rival with Washington's as well. Both Johnny Cueto and Mat Latos are capable of matching up with nearly any ace in the National League.
With that being said, the Atlanta Braves will likely be a legitimate threat as well. Their pitching is arguably just as strong as Cincinnati's, and their lineup has produced early on this season (well, mostly Justin Upton).
Washington has yet to see them in 2013, so maybe a comparison isn't fair just yet. If this past weekend's series showed anything, though, it's that the Reds can compete with both Atlanta and Washington.
After being picked as early-season favorites by many for the National League crown, Washington may have to work a little harder than many thought to get to the World Series.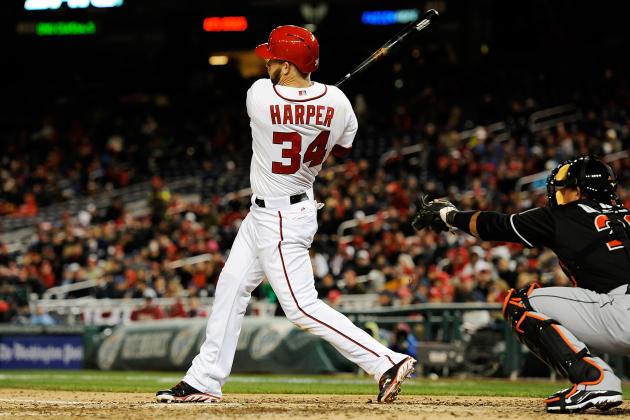 Patrick McDermott/Getty Images

The reigning NL Rookie of the Year is already locked in and slugging homers this season, and that's arguably the biggest storyline of the season thus far for Washington.
After hitting .478/.500/.716 with three home runs and 15 RBI in spring training, Harper has already hit three home runs and drove in five in the regular season. He's also hitting .381/.381/.857, so it's obvious that he's not just hitting bombs—he's hitting everything.
Harper's best performance to date came on Opening Day when he mashed two home runs against the Marlins, making him the youngest player in major league history to hit multiple home runs in his team's first game of the season. Just another day in the office for the young phenom, I suppose.
Harper and Justin Upton could bring even more to the NL East rivalry this season. If each respective players' early-season stats are any indication of the rest of the season, then both will be vying for the NL MVP award come October.
Harper's success is key for the Nationals this season. Even with their deep lineup, the Nationals' season will be directly effected by Harper's production—plain and simple.