WWE WrestleMania 2013: Underrated Matches That Will Captivate Audience
Photo courtesy of WWE.com

Everyone will likely be talking about John Cena, The Rock, CM Punk and The Undertaker on Monday morning, but it's the undercard matches that are crucial in defining WrestleMania 29 as a whole.
While these matches won't garner nearly as much attention as they should, true wrestling fans will realize their worth.
Let's take a look at what underrated battles are likely to put on a show.
Chris Jericho vs. Fandango
We know these two are capable of entertaining on the mic:
But how they work together on the mat is still a complete unknown.
Even at the age of 42, there's no question that Y2J can still bring it inside the ring.
He certainly isn't the beneficiary of any major pushes anymore, and most of his matches won't have any type of twists that add to the entertainment. But every single time he steps inside those ropes, especially at a PPV, you know the veteran is going to put on a masterful show free of errors.
But Fandango, much to chagrin of many, has constantly refused to make his anticipated debut, and how he can handle a major match on the biggest stage in the world remains a mystery.
Nevertheless, he has a spot in WrestleMania for a reason. He is a potential up-and-coming mainstay in the business, and pairing him with a vet like Jericho is the perfect way to get the most out of his skill set.
Alberto Del Rio vs. Jack Swagger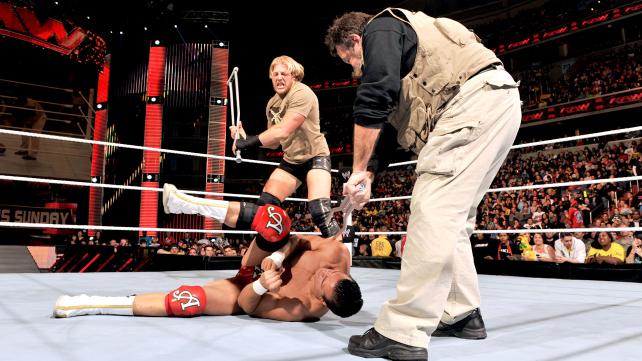 There's a reason Del Rio and Swagger are paired up with Ricardo Rodriguez and Zeb Colter.
They aren't great on the mic, but they are such talented pros inside the ring that the WWE is willing to give them help for necessary pushes.
At WrestleMania, no one will care about their inability and inconsistency on the microphone. They will simply step inside the ropes and showcase their unique blend of strength, size, athleticism and technical ability.
Throw in the fact that the World Heavyweight Championship is on the line with the underlying anticipation of a Dolph Ziggler Money in the Bank cash in, and this match deserves much more attention than it's getting.
Sheamus, Randy Orton and the Big Show vs. The Shield
Not only will the action inside the ring be enthralling, but the countless ways in which the storyline could turn seriously adds to the intrigue.
Which match will be the best?
The Shield, which has impressed at every PPV its appeared in, is on fire right now and heading into WrestleMania with a chance to soar to all-time heights. But the group's opponents, who have admittedly lacked direction in the very recent past, aren't exactly strangers to success, either.
While the red-hot faction will likely come out a winner, an eventual split—Dean Ambrose, Seth Rollins and Roman Reigns are all uber-talented as individuals—also makes sense.
But then there's also the chance Orton turns heel and helps propel The Shield to a victory.
The WWE often gets criticized for being predictable, but with this match, all of the different options for an end result means that won't happen.
This article is
What is the duplicate article?
Why is this article offensive?
Where is this article plagiarized from?
Why is this article poorly edited?