Assigning Odds to Every Potential Arizona Cardinals 1st-Round Pick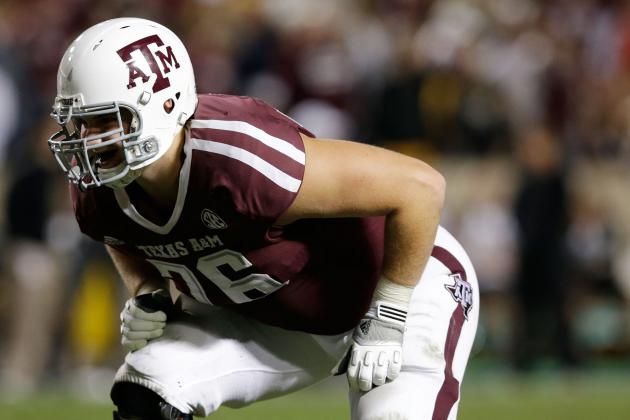 Scott Halleran/Getty Images
Could Luke Joeckel fall to the Arizona Cardinals at No. 7?
It is never an exact science when assigning odds to anything—especially when those odds are placed on potential NFL draft picks.
The Arizona Cardinals have the seventh pick on April 25, and a bevy of players who will be at their fingertips could make them a better team.
Late in March, I filled you all in on whom the experts are predicting to go to the Cardinals at No. 7. This will serve as an extension to that piece—though, not every player will be mentioned.
We will begin with the players who have the least favorable odds of being Arizona's pick, leading up to the player most likely to end up in the desert.
Here are those players and their odds of becoming Arizona Cardinals.
Begin Slideshow

»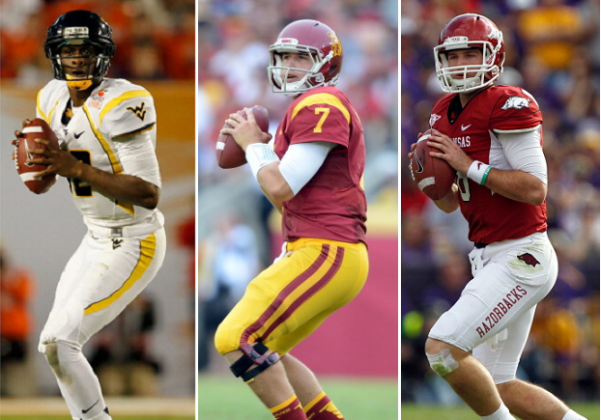 Photos courtesy Getty Images.
The Picks
Geno Smith, Matt Barkley, Tyler Wilson
The Odds
Zero percent
The Reason
After acquiring quarterback Carson Palmer from the Oakland Raiders for nothing more than a popsicle, the Cardinals now have a starting quarterback on whom they can rely to play every week—and play well.
Having Palmer in town gives head coach Bruce Arians the ability to avoid the wrath of fans who want him to take a quarterback with his first-ever pick as the leader of an NFL team.
In an interview on Fox Sports Radio (h/t Michael David Smith of Pro Football Talk) on April 4 when asked if Palmer's addition changed the Cardinals' draft strategy, Arians said the team's strategy never was to take a quarterback.
We were going to take the best player available at that position—at No. 7—whether it be a tackle, pass-rusher, corner or quarterback. Right now, I don't see a quarterback in this class coming up that would have been in that spot for us. Now, it might be for somebody else, but not for us. Especially with the elite offensive linemen that are out there this year—and defensive linemen.
There you have it. Arizona will not take a quarterback in Round 1 of the 2013 NFL draft. We can stop talking about it, now.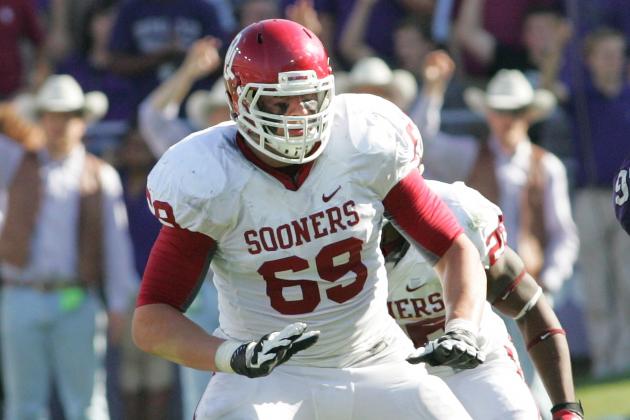 R. Yeatts/Getty Images

The Odds
Two percent
The Reason
Many scouts see tremendous upside when they watch Lane Johnson at Oklahoma. I'm not a scout, and I am not claiming to know more than any scouts who share that notion. But as high as the Cardinals are in the draft, a safer pick, one who can contribute in the starting lineup early, would be a better pick.
A player who gives his team a better chance to win every week would be the best pick, and that is not Johnson.
"Massive upside" and "big-time potential" are great words to read and hear if the player is being considered in Round 2 and beyond. When in consideration for the No. 7 pick, those words turn into red flags.
What has this player done to warrant being taken so high?
If the answer is, "Nothing, but he has great potential to get better and develop into a top-level NFL player," you must avoid that player.
Waiting for your No. 7 pick to develop when you could have had a guy ready for combat from the moment he holds up your team's jersey on draft day is a great way to set back a franchise.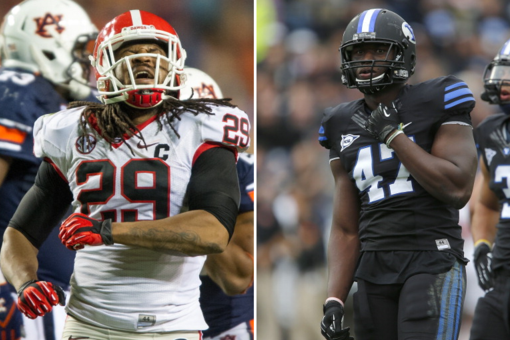 The Picks
Jarvis Jones, Ezekiel Ansah
The Odds
Six percent
The Reason
Adding a pass-rusher to the Cardinals roster is important, and the draft is full of good ones. From top to bottom, this is among the deeper drafts we have seen in many years.
That is the reason the odds are not good for pass-rushers right now.
With so many good players, there is a great chance Arizona can get one later and still improve its pass rush. Players like Chase Thomas, Quanterus Smith, Sam Montgomery and Sio Moore can be had anywhere from Round 2 through Round 5 or later.
While the players mentioned might need some time to become full-time players, all can be productive as part-time pass-rushers in rotation with O'Brien Schofield and others among the Cardinals defense.
Other more pressing positions must be attended to as high as Arizona is picking. Because of the draft's top-heavy nature in terms of offensive tackle and guard prospects, the deeper into the draft teams get, the more valuable the pass-rushers will become.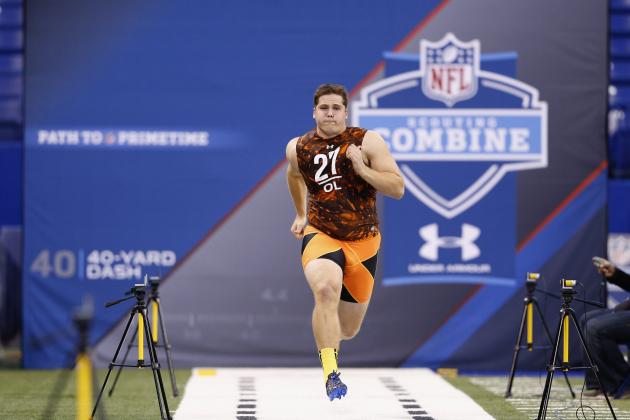 Joe Robbins/Getty Images

The Odds
21 percent
The Reason
Luke Joeckel is considered by most to be the best prospect in the draft. He is about as surefire as they come at tackle, and in this pass-happy league we love to watch, pass protectors are just as important as those who deliver the passes.
Should Joeckel fall to Arizona at No. 7, it may be the fastest pick ever recorded. For what it's worth, NFL commissioner Roger Goodell may as well stay at the podium after announcing the Cleveland Browns pick to make the pick himself.
But there is a chance Joeckel is made the No. 1 overall pick by the Kansas City Chiefs, and that drops his odds of landing in the desert.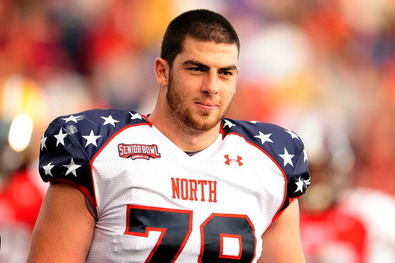 Photo courtesy FootballNation.com.
The Odds
25 percent
The Reason
Mike Mayock recently went on record as saying Eric Fisher is his No. 1 tackle in this year's draft—ahead of Joeckel. His reasoning (via Marc Sessler of NFL.com) is as follows:
This is no way an indictment of Luke Joeckel; I think he's going to be an All-Pro three years from now. It's more an indication of my belief that there's just a little bit more upside with Eric Fisher. He's a little bit longer, I think he has better feet and he's a little bit more athletic.
He went on to say that Joeckel has had issues with being beaten to the inside—as many as three times in a game—whereas Fisher does not have that issue.
The problem I see with that analysis is as rudimentary as 1+1=2.
The talent faced by the two tackles was far different. Fisher faced the likes of William Gholston, Joe Gaglione, Alan Baxter and Jonathan Newsome (you probably have heard of one of those players).
Joeckel faced guys like Sam Montgomery and Barkevious Mingo of LSU, Corey Lemonier of Auburn, Margus Hunt of SMU and Adrian Hubbard of Alabama.
Four of those five are going to be high draft picks this year; the other—Alabama's Hubbard—could be on his way to a high draft pick. You'll hear a lot about him next year.
The talent level Joeckel faced was far better than that of Fisher. I'm not slighting Fisher's ability as much as I am defending Joeckel's. Mayock missed the boat on this one.
And who knows, maybe he's just trying to be different. But he has to stick with his choice now; there's no going back to Joeckel as his No. 1 tackle before the draft.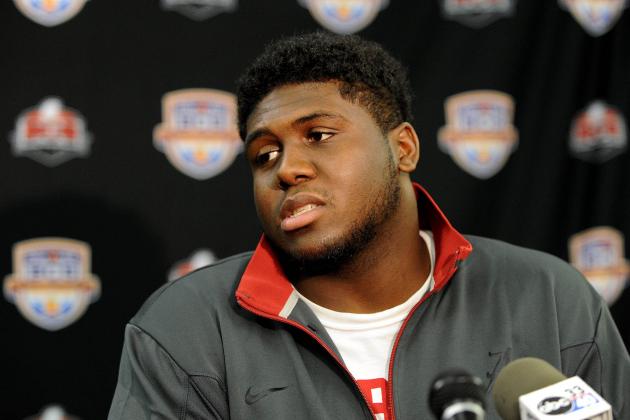 USA TODAY Sports

The Odds
40 percent
The Reason
First off, Chance Warmack may be the best football player in the draft. Secondly, he fills the biggest need on the team. Finally, he represents what would be the largest upgrade at any position on the team.
That all adds up to a slam-dunk pick at No. 7.
Say what you want about drafting a guard within the top 10—I've heard it all from an array of analysts, writers and fans. But when you have a player with the ability of Warmack and you compare him to what is currently on the Cardinals roster, he is the clear-cut choice to be the Cardinals' selection on April 25.
If Arians wants Palmer to throw the ball downfield six or more times per game, he will need time to allow deep routes to develop. That not only comes from tackles setting the edge, but also from a quarterback having a pocket to step up into when the edge breaks down.
That cannot happen without good push from the interior offensive linemen.
Warmack can play either side and would supplant the league's worst guard—RG Adam Snyder—in the starting lineup from Day 1.