Odds of Each Top 10 UFC Middleweight Capturing the Title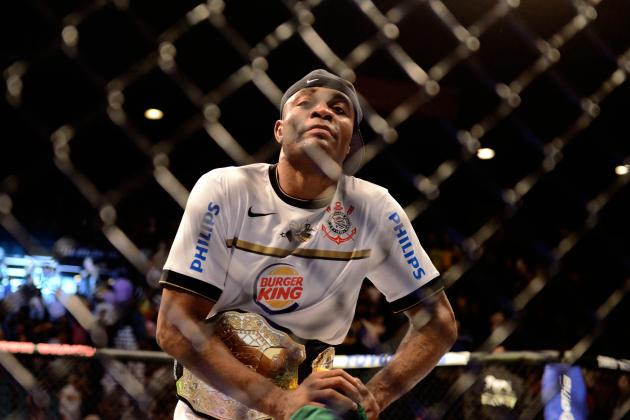 Mark J. Rebilas-USA TODAY Sports

The UFC currently hosts a bevy of dominant champions, but none rival the unparalleled reign of the one and only Anderson Silva.
For years, "The Spider" has ruled over the promotion's 185-pound weight class, dismissing all comers and rarely finding himself in troubled situations.
Though Silva has shown no signs of slowing down, he is less than a week away from his 38th birthday, a reminder that no one man can horde a UFC title forever. Whether through usurpation or succession, all championship reigns come to an end, no matter of the stature of the athlete wearing the crown.
At 185 pounds, there are many clamoring to end the Silva era, challengers currently competing against one another for the right to take a shot at what the champion has.
Here we assess the UFC middleweight class' current landscape, examining the title aspirations of each of the division's top 10 fighters, as ranked by the UFC.
Each top 10 fighter has been tagged with a probability that identifies the likelihood of them ever gaining the strap. That probability is based on a number of factors, including ability, age and current station within the division.
Read on to see who is most likely to adorn middleweight gold before they call it quits.
Begin Slideshow

»
Joe Camporeale-USA TODAY Sports

Losing to Yushin Okami last December threw a major wrench in Belcher's title plans, but he can get back on track with a win over Michael Bisping at UFC 159. A victory wouldn't thrust him into a title shot, maybe not even a contender fight, but it would put him right back in the mix.
At 28, Belcher still has time for multiple title runs, so a loss to Bisping doesn't cut him down entirely. But the pressing question is not whether he has time left to be champion, but rather if he's got the ability to be champion.
There is no doubt that Belcher is a talented competitor, but he has yet to earn a signature win over a top contender. And to win the title, he'll probably have to do that twice, plus defeat whoever holds the belt when he gets there.
That's a tall order. It's possible he fulfills it, but it's far from guaranteed.
Chance of capturing UFC middleweight title: 10 percent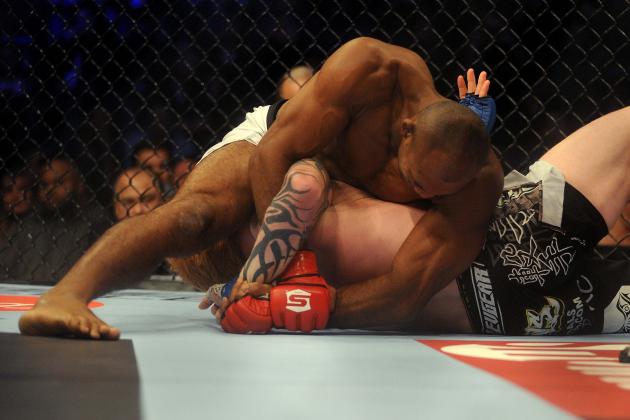 USA TODAY Sports

"Jacare" has yet to fight in the UFC, but he did beat a UFC fighter—Ed Herman—last time he competed.
The Brazilian will enter the Octagon for the first time in May, when he takes on Costas Philippou. A win would put him on the fast track to a title shot, maybe just a win away, while a loss would make things infinitely harder for him.
Souza is a jiu-jitsu specialist, perhaps the best currently fighting at 185 pounds. His wrestling has become a weapon too, and even his standup has developed to the point that it is serviceable. All in all, he's a legitimately dangerous opponent to anyone.
We haven't seen how Souza will do competing against the best in the world on a consistent basis, which makes him something of an unknown commodity. But we have seen enough from him to know that he could one day wear UFC gold.
The fact that he is already 33 does no favors to his long-term title prospects, however.
Chances of capturing UFC middleweight title: 15 percent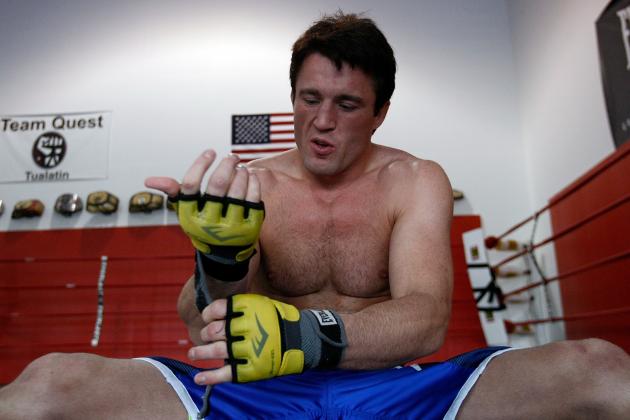 Jonathan Ferrey/Getty Images

I know, Sonnen now clocks in at light heavyweight. But you'll have to take it up with the UFC if you're scratching your head over his presence in the middleweight rankings.
Of course, it's not impossible that Sonnen decides to drop back to 185, but it's unlikely he'd do so, then earn a title shot, then win the title.
Overall, his place here is just a formality that will expire when he actually competes at 205.
Chances of capturing UFC middleweight title: 1 percent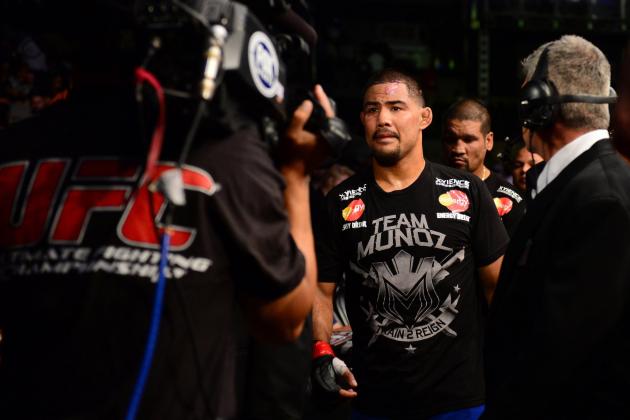 Kyle Terada-USA TODAY Sports

Between November 2010, and November 2011, Munoz put together a 4-0 record in the UFC's middleweight division.
Then, in July 2012, he ran into Chris Weidman. Now, suddenly, Munoz has been stuck with an "overrated" label. Funny how fighting Chris Weidman will do that to someone.
Munoz is a powerful wrestler with some of the most vicious ground-and-pound in the sport, and he utilizes solid standup. But whether his skills are sharp enough is a matter of some debate, as he was outwrestled by Weidman and outstruck by Yushin Okami.
That leaves us with the question: is Munoz a title contender or a gate-keeper?
At 35 years old, he is getting dangerously close to officially becoming the latter. All it will really take is one more loss.
So what are the odds on him avoiding that loss and instead grasping the UFC middleweight strap? They are not all that great.
Chance of capturing UFC middleweight title: 5 percent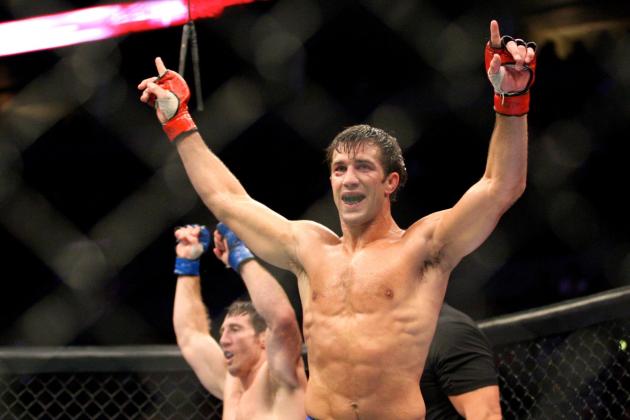 Scott Olmos-USA TODAY Sports

Most of Rockhold's wins have come via submission, but the last-ever Strikeforce middleweight champion has relied more on his striking than anything else, recently.
Just how far that area of his game has come will be revealed when he debuts in the Octagon this May against the knockout artist Vitor Belfort. The match will also be telling of just how far Rockhold can go in the UFC's middleweight division.
Rockhold is 28, which means a loss in his debut is not the be-all, end-all for his UFC title hopes. Still, a quick loss right off the bat won't inspire much confidence as he transitions to the top MMA promotion on the planet.
Chances of capturing UFC middleweight title: 10 percent
Gary A. Vasquez-USA TODAY Sports

Philippou jumped up in the UFC rankings by defeating Tim Boetsch, a man who dropped right out Top 10 after the loss. That's reason enough to be skeptical of Philippou's place in line, as is the absence of any highly regarded opponents on his hit-list.
The toughest fight of the 33-year-old's career will come this May when he welcomes Ronaldo Souza to the Octagon. How he does there will answer a lot of questions about his title prospects.
As it stands right now, Philippou still has to be considered a dark horse. He'll have to knock off another contender beyond Souza before garnering title considerations, making his road to the championship a long and arduous one.
And though he isn't old, Philippou cannot wait on bagging a contender for very long, else the championship window will slam shut before he even broaches it.
Chances of capturing UFC middleweight title: 7 percent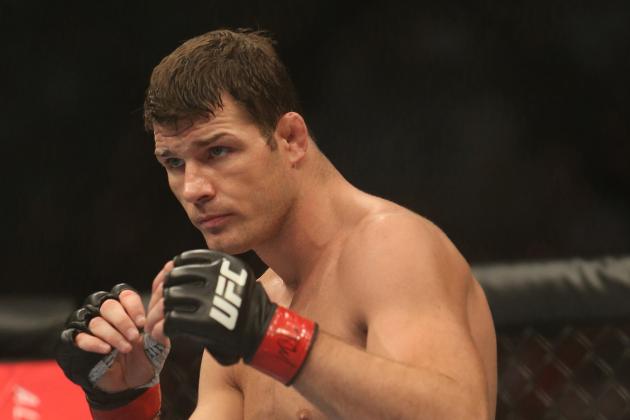 Tom Szczerbowski-USA TODAY Sports

Poor Michael Bisping. He just can't get over the hump. His futile endeavors are reminiscent of Kenny Florian's title marches, only Bisping gets stuck on the title eliminators, not the title fights themselves.
At 34, the question of how many more times he can start over is becoming more relevant. The Brit is still in his fighting prime, but he needs to get the job done within the next couple of years or it may be too late.
Furthermore, so long as Anderson Silva is the champion, Bisping's title hopes are relatively minute. While that is true for most, it's especially true for Bisping, whose style seems to play right into "The Spider's" strengths.
But even if time catches Silva before it does Bisping, and clears the way for "The Count," would he be capable of rising above the field to finally grasp that elusive title shot? It's a scenario we may see put into play sooner or later.
Chances of capturing UFC middleweight title: 10 percent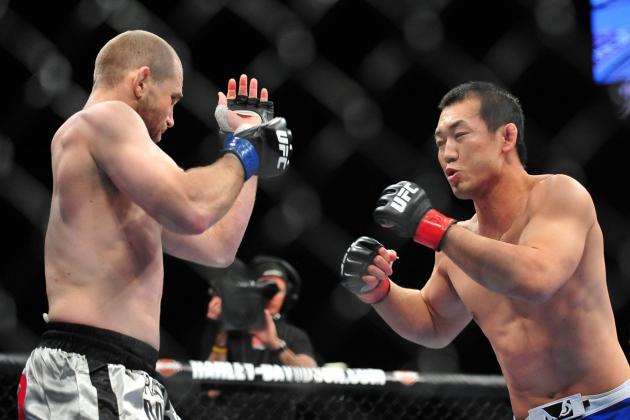 Gary A. Vasquez-USA TODAY Sports

Okami has got to be one of the most under-appreciated fighters in the UFC. He has been at a high level for so long, but any time he slips up, people are racing to write him off.
That's a mistake. He's a force at 185 and will be for a while, at age 31. He needs to work on defending against aggressive onslaughts like those launched against him by Tim Boetsch and Hector Lombard, but if he figures it out, he'll be a legitimate candidate to inherit the middleweight title, should Silva decline or retire within the next few years.
There was nothing in his first go at Silva to suggest he could take the title directly from the champion, but his record against other middleweights suggests that he is definitely one of the best of the rest.
Chances of capturing UFC middleweight title: 18 percent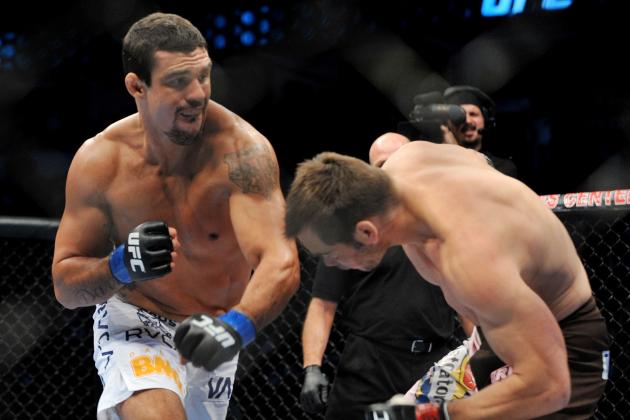 Jon Kopaloff/Getty Images

In 2011, Belfort challenged Anderson Silva for the middleweight title. Things were going well for about three minutes, then a straight kick to the jaw changed all that.
Since then, Belfort has been perfect, aside from that improbable light heavyweight title shot he missed on, and he most recently cemented his status as one of the best middleweights around by knocking out Michael Bisping.
Belfort's next test will come against Luke Rockhold in May. A win could earn him a another shot at the 185-pound strap.
Belfort is 36, so he can't suffer multiple losses and still expect to win a title. But, he's close enough now that at least he doesn't have to spend the remaining rags of his youth working his way to the top.
Still, his chances are more based on what he can do against the winner of Silva vs. Chris Weidman, without much consideration for the possibility of him rising to the top after Silva is gone.
Chances of capturing UFC middleweight title: 27 percent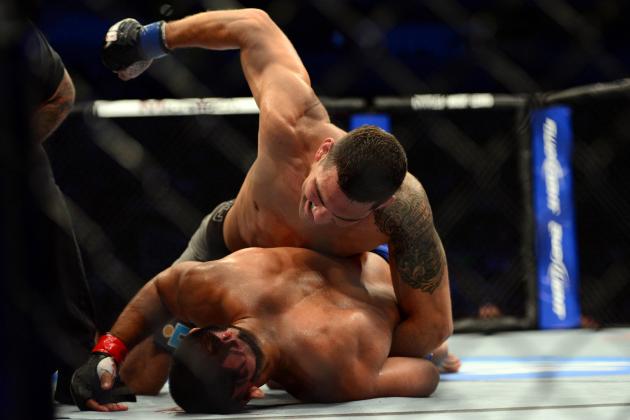 Kyle Terada-USA TODAY Sports

Weidman will fight Anderson Silva for the middleweight championship this July, so determining his chances of obtaining the title is as simple as determining his odds of winning that match, then adding for subsequent title runs in the event of a loss.
He'll enter the summer contest as an underdog in the eyes of most, and for good reason, but he does has a legitimate chance to pull off the upset.
Weidman's striking has become quite solid, his wrestling is top-notch and his ground-game is terrific. He is still a little green, having had just nine career fights, but if anyone can dethrone the long-time middleweight deity, it's probably Weidman.
And the thing is, even if he loses, his title chances remain high. At just 28, Weidman can wait out Silva's career if he can't beat him, and when "The Spider" is gone, Weidman will instantly become a favorite to replace him as title-holder.
Either by force or inheritance, I really like Weidman's chances to one day become the UFC middleweight champion.
Chance of capturing UFC middleweight title: 80 percent