6 NHL Players Who Need to Improve Before the Playoffs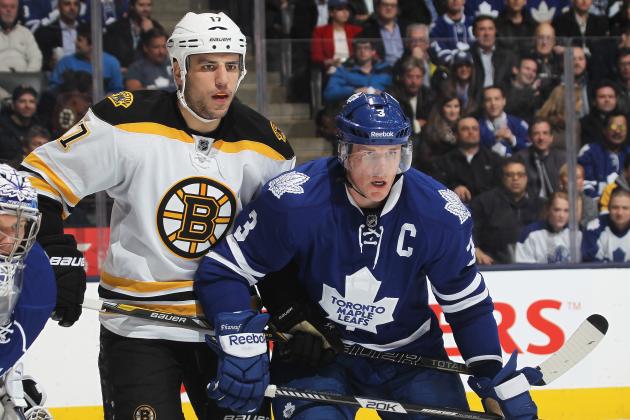 Claus Andersen/Getty Images

While it might be too late to up his 2012-13 goals-against average and save percentage to a savory number, St. Louis Blues goaltender Brian Elliott is flaunting all-important hints of peaking at the right time.
After a 3-6-1 start followed by a month-long hiatus from game action, Elliott has started his homestretch on a three-game winning streak.
He turned away 19 of 20 Minnesota Wild shots and then 33 of 36 in 65 minutes en route to a shootout win over the regal Chicago Blackhawks. Most recently, he blanked the host Detroit Red Wings, 1-0, with a 28-save effort Sunday afternoon to help St. Louis leapfrog them in the standings.
Even if Elliott cannot fully repair his swollen GAA or sub-.900 save percentage, what matters is that he bolsters a run to the postseason and has the Blues poised to build on the foundation they sculpted in 2012.
Assuming he keeps up his timely, torrid pace, let the reigning co-recipient of the William Jennings Trophy be a model to other leaned-on NHL players who have lagged for the better part of 2013.
Here are some other NHLers who have been out of character since the belated season began or have had too many bouts of inconsistency but can render all of that moot by excelling in the climax of the campaign.
Unless otherwise indicated, all statistics for this report were found via nhl.com
Begin Slideshow

»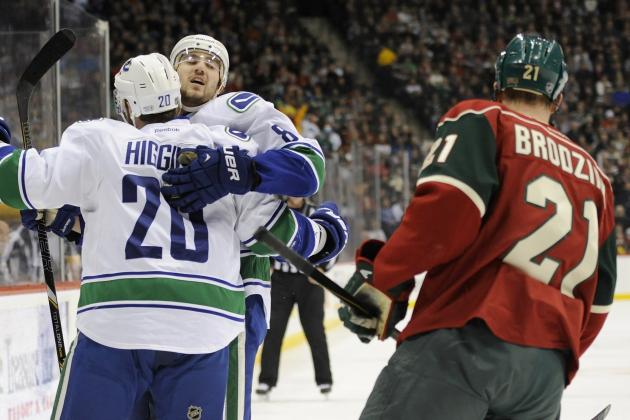 Hannah Foslien/Getty Images

One year removed from setting a new career high with a 22-22-44 scoring log, Kyle Brodziak has a modest output of 6-4-10 through this year's first 37 games. If this were a full-length campaign, that would put him on pace for 22 points, exactly half of what he attained in 2011-12.
Furthermore, the 28-year-old Minnesota pivot is nursing a team-low minus-15 rating that matches his finish in that column a year ago despite the team's substantial improvement.
Brodziak, the Wild's fifth-leading forward in cumulative ice time, has been on duty for 40 opposing goals (more than any forward on the team except the newly acquired Jason Pominville) in 646 minutes. That translates to a swollen 3.71 goals-against average.
His faceoff success rate (50.8 percent) is also below that of fellow center-ice regulars Mikko Koivu and Matt Cullen.
He will have to do a better all-around job in the more intensive moments of the season when offense is harder to come by and leads are more precious. An on-top-of-his-game Brodziak is crucial to giving Minnesota a deeper strike force and a more effective first line of defense.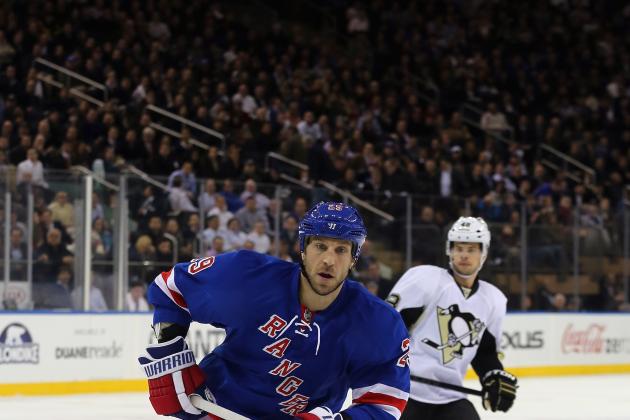 Bruce Bennett/Getty Images

He need not constantly duplicate the cathartic two-goal, three-point performance he turned in as a debutant New York Ranger after being acquired from San Jose on the cusp of the trade deadline.
With that said, Ryane Clowe was given a clean sheet with this transaction after going goal-less for his first 28 games of 2013 as a Shark. He can hold up his end of the bargain by taking advantage of the new opportunity and lending the Blueshirts the grind and production depth they will need if they want any chance to match, let alone surpass, their 2012 playoff run.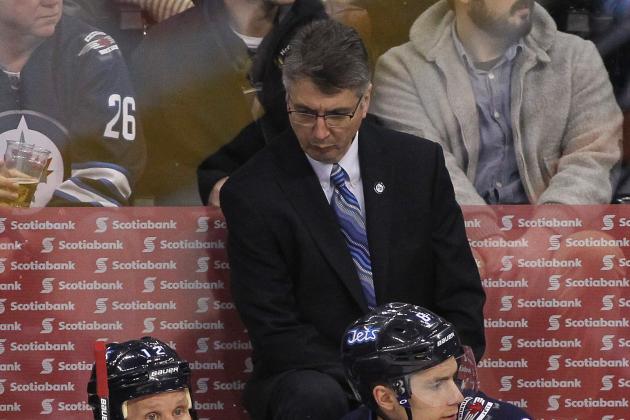 Marianne Helm/Getty Images

Winnipeg Jets fans can only hope that prized offseason acquisition Olli Jokinen has been thawing out since the Vernal Equinox and will not revert to another one of his protracted episodes of frostbite.
Jokinen has four points in his last six outings but preceded that perk-up with five straight pointless outings. Before that, he had an assist in two straight games to break up a seven-game hex.
Earlier, he had scored three goals in as many games but not before going unproductive for each of the prior nine outings over the first three weeks of February. His January, meanwhile, consisted of a three-game scoring sugar rush after he was kept arid for his first four ventures as a Jet.
See the pattern here?
If the Jets are to win the footrace with the Washington Capitals for the Southeast Division title, let alone make any ripples in the playoffs, Jokinen must lasso his scoring touch and keep it tied down in double-knots.
Claus Andersen/Getty Images

Although an accumulation of 17 assists and 22 points in 37 games is usually difficult to nitpick, Milan Lucic has reeked of inconsistency for nearly a month.
He went through one stretch between March 11 and March 22 where he tallied a 0-3-3 scoring log in eight games with all three of those points coming in a March 16 bout with Washington. In addition, the same winger who scored 30 goals in 2010-11 and 26 last year has only five strikes to speak of in 2013, tuning the mesh only once in his last 22 ventures.
Lucic needs to get back to making the most of his physical gifts on a continuous basis and making his power translate to production in every key column. His team-leading 119 hits do not do the Boston Bruins much good if he does not perform in full accordance with his top-six assignment.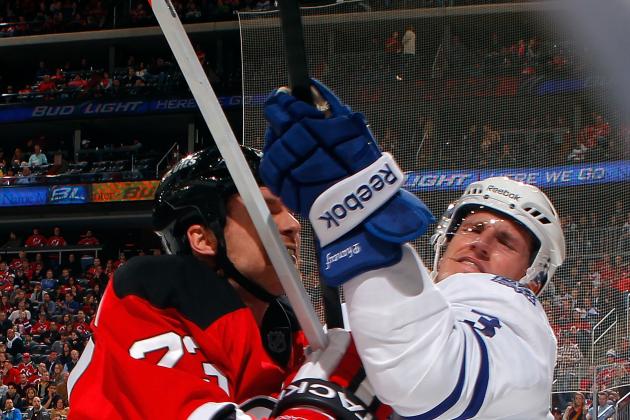 Paul Bereswill/Getty Images

Just because he is the Toronto Maple Leafs' runaway ice time leader does not mean it is any less unsavory that Dion Phaneuf is also the team leader in turnovers. In fact, entering Sunday's action, he was tied with Montreal's Andrei Markov for the league lead with 42 giveaways on the year.
Furthermore, through Toronto's first 37 games, Phaneuf has been on the ice for 976 minutes, five seconds and 49 opposing goals.
If you apply the same goals-against average formula that you would for a netminder, Phaneuf's is a startling 3.01, higher than the team's average of 2.68, which is not worth flattering oneself over, either.
The good news: Phaneuf can all but single-handedly trim the team's GAA by stepping up and cutting down on opposing offense on his watch. There would be no better time to do that than Toronto's first postseason appearance since 2004, a potentiality that is looking exponentially more likely.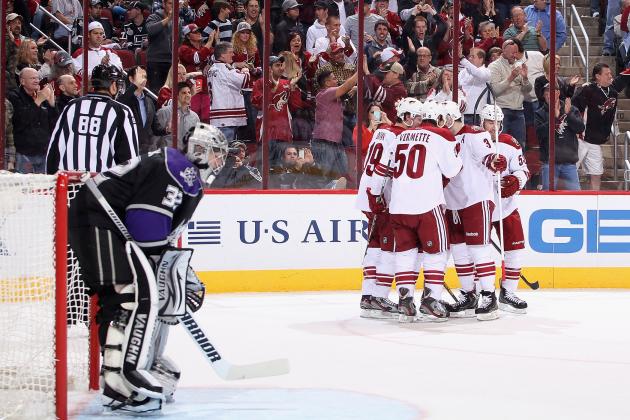 Christian Petersen/Getty Images

Between Feb. 2 and April 2, the reigning Conn Smythe Trophy winner played 22 games. In that span, Jonathan Quick posted one shutout, finished three other games with a single-night save percentage of .958 and two others with a .923 percentage.
In one of those cases, he was tested a mere 13 times, repelling 12 stabs by the Vancouver Canucks on March 23. And his Los Angeles Kings lost that game in regulation, 1-0.
The rest of Quick's game log over the last two months is riddled with sub-.920 save percentages and three-, four- or five-goal scorchers.
L.A. does still have Jonathan Bernier at its disposal, and the backup could seize his moment in the spring if it were given to him. But it would be preferable for Quick to return to his familiar form of previous years.