Tottenham 2-2 Everton: 6 Lessons from Spurs' Premier League Draw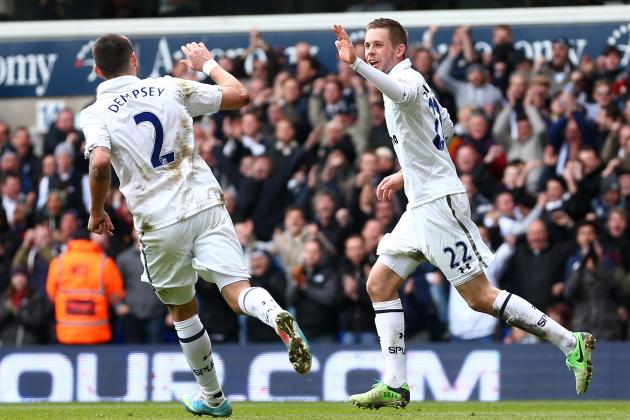 Clive Rose/Getty Images

Tottenham's 2-2 draw with Everton may have come from a late goal, but the relief of a last-second result will not stick very long with Spurs supporters.
After all, the draw allowed Chelsea to overtake the North Londoners in third place on goal difference and arch-rival Arsenal to move just two points behind them.
Further, as Tottenham have played an extra match than both the other two, Spurs could well find themselves in fifth after next week's Premier League action.
Hence, with just six matches remaining in their league season, Tottenham have had their top-four dream taken out of their own hands by this Sunday's result.
Still, one point is better than none, so Spurs will be pleased when they look back on their late equalizer.
So what can one take away from Tottenham's draw with Everton?
Here are six lessons from Sunday's match at White Hart Lane.
Begin Slideshow

»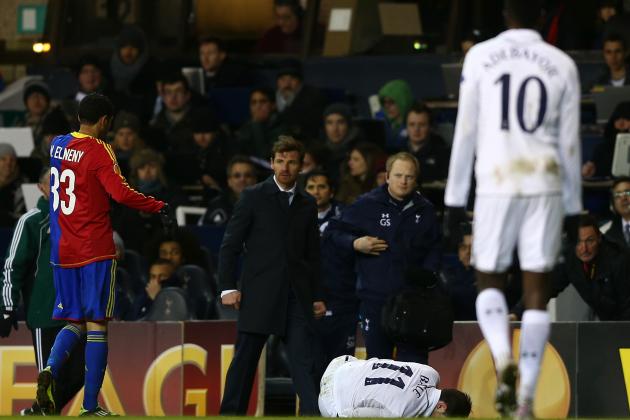 Paul Gilham/Getty Images

It almost goes without saying, but Tottenham missed their wingers during Sunday's match with Everton.
With both Gareth Bale and Aaron Lennon on the sidelines with injuries, Spurs were obviously going to lack the threat on the counter that the two wingers' speed offers to the side.
However, just how much that took away from the side's attack was a surprise, as they struggled to hassle the defense and create the chances that they are accustomed to making.
With Bale in such incredible form, Spurs will feel lucky that their scheduled match against Chelsea at Stamford Bridge next week was postponed due to the Blues' crowded fixture list.
Instead, Spurs have a good opportunity to get their stars back to full health for these huge final six matches.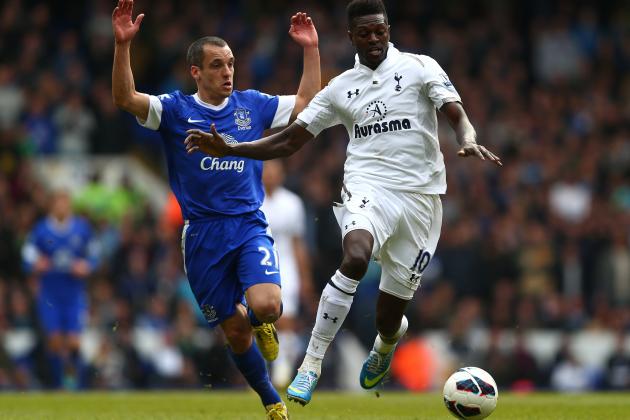 Clive Rose/Getty Images

As of a week ago, any Spurs supporter would have been quick to point out just how awful striker Emmanuel Adebayor has been this season.
The big man started the season in contract disputes in August before finally joining the club in September.
Many will remember his awful red card at Arsenal in the early stages of the season's first North London derby, which sent Spurs falling to a 5-2 loss.
After leaving for the Africa Cup of Nations in January for a month, the Togolese striker was late coming back to the club.
Despite being one of just two experienced strikers on Tottenham's squad this season and partner Jermain Defoe's struggling of late, Ade has just 14 starts and three goals this season.
However, Adebayor has looked almost back to his regular self this past week, scoring against Basel and putting in a fine performance against Everton.
On Sunday, Adebayor scored a goal within a minute, played a full 90 minutes for just the sixth time in this league season, worked hard throughout and hit the post to create the equalizer.
Adebayor's days may be numbered at White Hart Lane as Spurs search for new strikers, but the target man is beginning to show that he might have a spark left in him.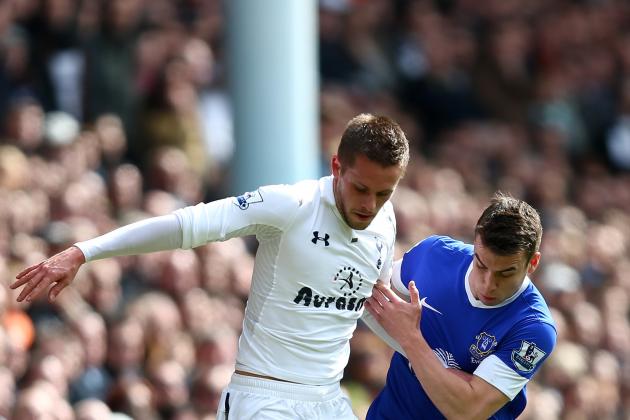 Clive Rose/Getty Images

For the second time in just a few days, Gylfi Sigurdsson scored a crucial equalizer for Tottenham.
Sunday's tap-in against Everton may not have been as pretty to look at as Thursday's shot against Basel, but Sigurdsson's goal was no less meaningful.
The Icelander deserved to score the goal, having been one of Spurs' most influential players in attack.
Sigurdsson was able to twist away from defenders on multiple occasions and showed threat in either providing the killer pass or the shot at the end.
After starting the season slowly, Siggy has been coming on strong of late and could well be establishing himself in Spurs' starting XI.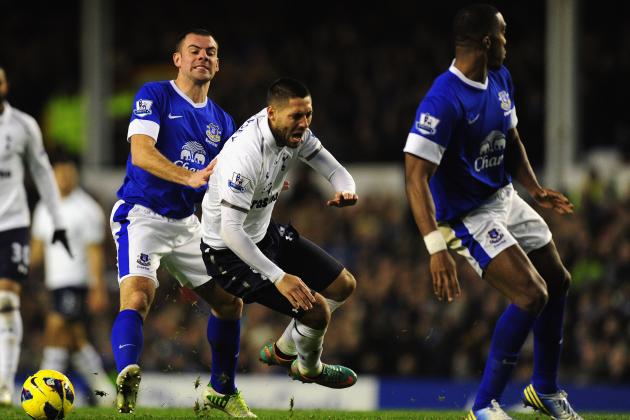 Stu Forster/Getty Images

In his first Premier League start since early February, Clint Dempsey had a chance to prove a point in Sunday's match at White Hart Lane.
With both Gylfi Sigurdsson and Lewis Holtby in the starting lineup alongside the American, a strong performance from Dempsey could have re-established his spot in the starting XI and showed his value over his main rivals for that position.
Instead, Dempsey put in a lackluster performance, failing to do much to help his side break through in the final third.
To be fair, it was indeed Clint's first start back, so it's hard to be too upset with this average display. Further, the booking he received was ludicrous, as he was judged to have dived when he really lost his balance and didn't even appeal for a foul.
Still, this was an opportunity missed for the American and one that could prove costly.
After all, with Sigurdsson and Holtby 23 and 22 years old, respectively, it is not out of the question that Spurs could find him as surplus to requirements during the summer transfer window.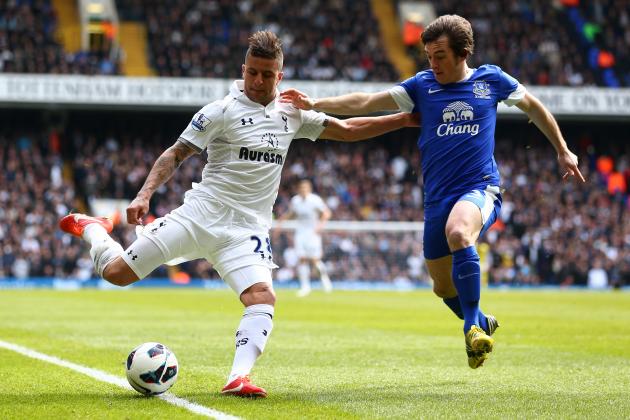 Clive Rose/Getty Images

After missing out on Thursday's Europa League match, Kyle Walker came back into Tottenham's starting lineup with style Sunday.
The fullback was fiery all match, even taking time to scream at misplaced balls from his own teammates.
It was his work down the right flank, though, that was so impressive, as the Englishman was able to both provide threat and hold Everton back.
It was Walker's ability to race past Leighton Baines that set up the equalizer in the match's dying stages, as his cross slid perfectly to Adebayor.
This was easily Walker's best performance of the season, but Spurs supporters will no doubt be frustrated that he hasn't been able to find a way to play like this a bit more often.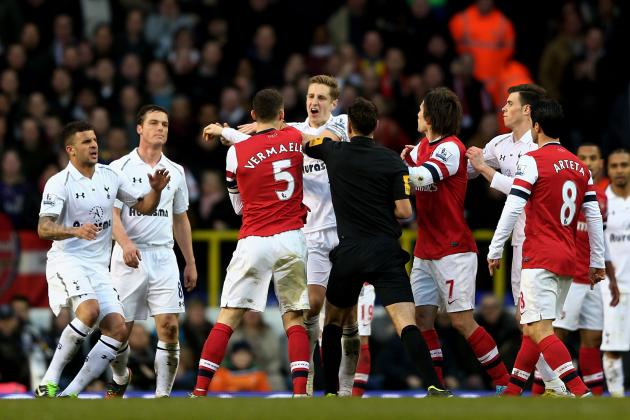 Paul Gilham/Getty Images

The top four spots in the Premier League and the Champions League berths that come from them are still up for grabs at the moment, but do not expect the race to be resolved before the end of the season.
Other than league leaders Manchester United, every other club in the running for the top four has work left to do and could easily be on the outside looking in come May.
For Tottenham, a few tough matches still lie ahead, but Spurs will know that a few good results should all but clinch a spot in next season's Champions League.
Meanwhile, arch-rivals Arsenal have been on a tear recently and look to be well set up for a strong run-in. Perhaps their match against Manchester United will be asking a bit too much, but the Gunners have the benefit of the easiest schedule of those remaining.
Chelsea, meanwhile, are in a strong position in third. However, with Rafael Benitez still in charge, a busy schedule ahead and a few tough matches still left, Blues fans will no doubt be a little apprehensive about their side's final few matches.
Even Manchester City have been dragged into the conversation. A loss to Manchester United at Old Trafford Monday would leave the Citizens just six points clear of fifth place. With away matches with Tottenham, Chelsea and Swansea still left after that, an improbable fall is not yet out of the question.
Throw in Everton, who are just four points behind Arsenal and with an outside chance at breaking through, and one can see the unusually crowded nature of this race for the top four.
Do not expect this to be decided before May 19.