Assigning Odds to Every Potential Saints' First-Round Pick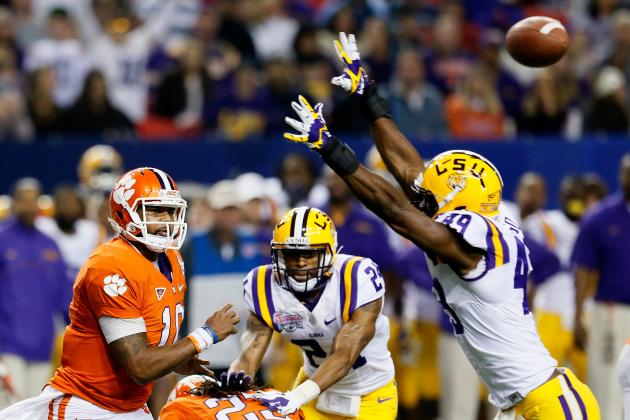 Kevin C. Cox/Getty Images

The New Orleans Saints face a situation in this month's NFL draft in which there is quite a plethora of potential options for their first-round pick.
Clearly the team is looking to add a starter either at outside linebacker, offensive tackle or cornerback. That said, the team is looking to take the best player available, meaning a safety, wide receiver or nose tackle could be added if that is the position where the best player available lines up on most snaps.
Here are the odds for every potential Saints' first-round pick in the 2013 draft.
Begin Slideshow

»
Kenny Vacarro is one of a number of players whose range is as great as 10 or more spots. Some have discussed Vacarro as a possibility as high as No. 4 for the Philadelphia Eagles. Some have realistically considered him a possibility at 15 to the Saints.
Some have even said he could be drafted lower than 15.
The Saints do not need a safety, but with two impact players at the position in this draft—Vacarro and Jonathan Cyprien—the Saints could consider Vacarro in the first round, if other targets are already off the board.
Odds of Saints Selecting Vacarro: 15-1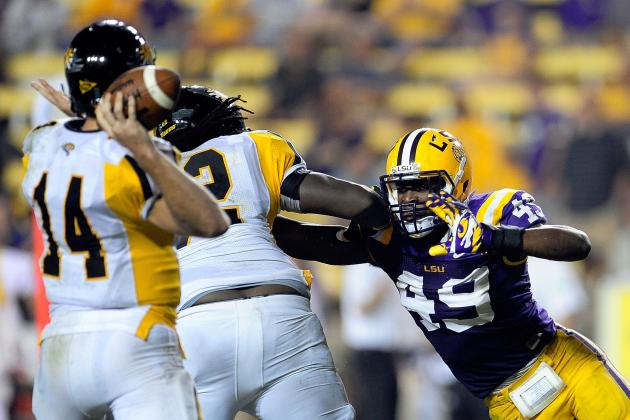 Stacy Revere/Getty Images

Barkevious Mingo easily could, and probably should, go top 10 in the 2013 NFL draft. As noted here, Mingo is the best pass-rusher in this draft.
Several 3-4 defensive teams at the top of the draft would figure to have interest in Mingo, beginning with the Philadelphia Eagles at No. 4. Cleveland (No. 6), Arizona (No. 7) and the Jets (No. 9) are all reasonable destinations in the top 10.
Still, each of those teams has a giant question mark at quarterback. Each also has at least one more major need that supersedes that of the outside linebacker spot. After the Jets' pick at No. 9, it is conceivable Mingo could be bypassed all the way until No. 15. If that takes place, the Saints will take Mingo.
Odds of Saints Selecting Mingo: 5-1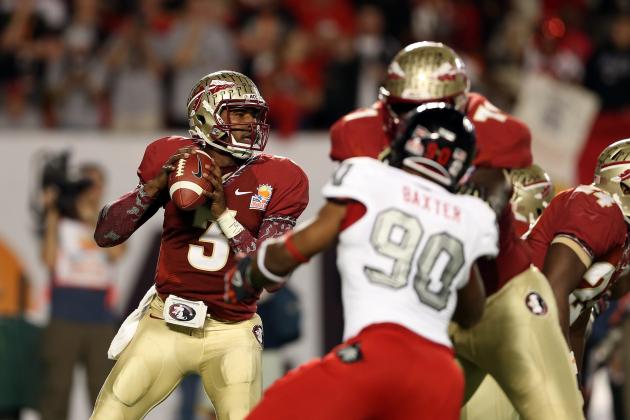 Streeter Lecka/Getty Images

Analysts don't really know what to do with Menelik Watson—an offensive tackle with only one season of Division-1 starting experience. Yet his talent is unquestioned. His skill set reeks of a player who can easily transition to the left tackle spot in the NFL.
Watson figures to be headed for NFL stardom, if allowed to develop in the right system. New Orleans could be the perfect situation for Watson. That said, Watson may not be the best fit for New Orleans, based on the need to obtain a 2013 opening-day starter.
Odds of Saints Selecting Watson: 10-1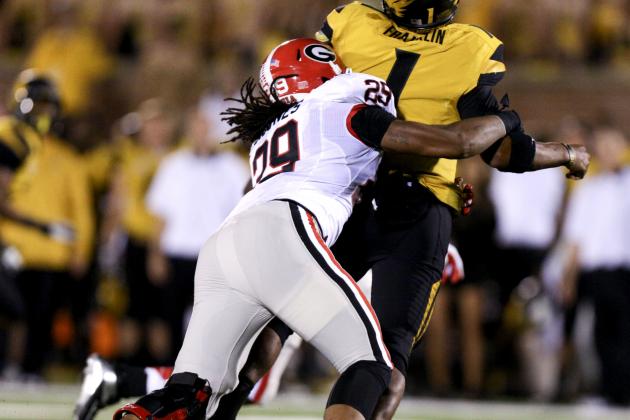 Ed Zurga/Getty Images

Jarvis Jones was a beast at Georgia for two years, after transferring from Southern California. Many draft experts considered Jones the finest player in the country for much of the 2012 college campaign.
His name has dropped from some analysts' rankings since the end of the season, especially once teams and analysts recognized that Jones suffered from a major neck injury which was the cause of his transfer from the Los Angeles school to Athens.
It is highly likely that Jones will be available at No. 15. The Saints showed much interest in Jones at the Georgia pro day in March.
The wheels are spinning as to the possibilities. Undoubtedly it could very well happen in a few short weeks.
Odds of Saints Selecting Jones: 5-1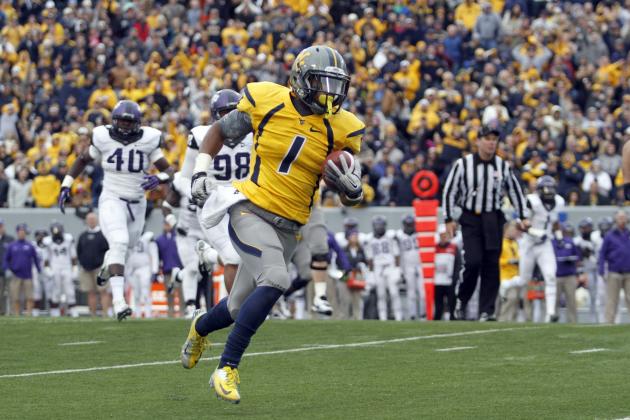 Justin K. Aller/Getty Images

Tavon Austin is the most explosive offensive player in the 2013 NFL draft. No skill player in this draft presents the jaw-dropping elusiveness and pure speed of Austin.
Recent mock drafts have taken Austin's unique skill set as an excuse to slot Austin to New Orleans. Smarter mocks have realized Austin is unavailable, or figures to be come the 15th selection in the this month's draft.
Still, as James Dudko so brilliantly stated here, Lance Moore is the most underrated player in the NFL. The relevance of that statement is great as Austin would be expected to fill a similar role to Lance Moore, though Moore is playing as well right now as at any point in his career.
In other words, Austin would be superfluous for Sean Payton's offense, at least in the short term.
Odds of Saints Selecting Austin: 20-1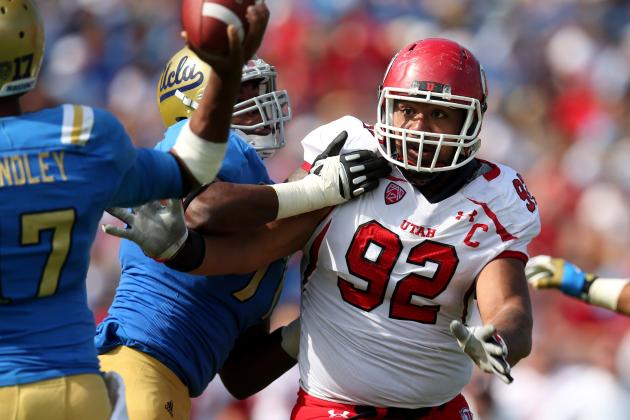 Stephen Dunn/Getty Images

Star Lotulelei is yet another prospect in this draft whose potential draft slot has great range and width. Lotulelei was a star at Utah, who some have considered the top player in the draft.
He could theoretically be picked No. 1 by Kansas City or be available when the Saints select at 15. A medical scare related to his heart has led some to assume he'll last until 15th, but that seems unlikely to be the reason he would last that long.
Only an unforeseen run on quarterbacks and skill players would cause Lotulelei to fall into the Saints' lap.
Odds of Saints Selecting Lotulelei: 15-1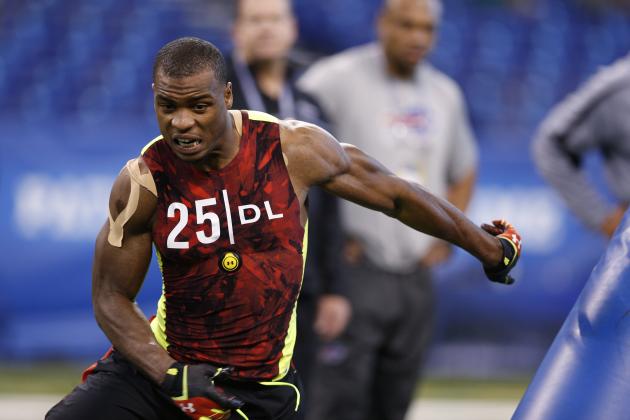 Joe Robbins/Getty Images

Dion Jordan is thought to be the "freak" of this year's draft class, at least among pass-rushers. While Keke Mingo is the more polished football player, Jordan is the guy who appears to have the full skill set required to become one of the league's best overall outside linebackers, regardless of scheme.
Jordan will be drafted based on his potential, a la what happens annually in the NBA draft. Like in the NBA, that potential will probably cause him to be overdrafted. Look for Jordan to go top 10 later this month.
Odds of Saints Selecting Jordan: 20-1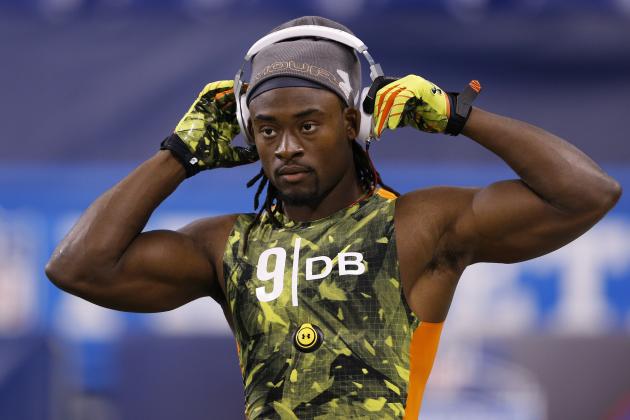 Joe Robbins/Getty Images

Jonathan Cyprien is the second-best safety in a really nice safety class. Much like Kenny Vacarro, Cyprien is a player who can match up one-on-one with a receiver, cover the deep middle and play in-the-box effectively.
Like new Tampa Bay safety Dashon Goldson, he is a physical player who will almost literally kill a receiver coming across the middle.
If the Saints are looking to match the Buccaneers in that regard, Cyprien would be a wise pick, though he would only be a younger version of Roman Harper, when all is said and done.
Odds of Saints Selecting Cyprien: 20-1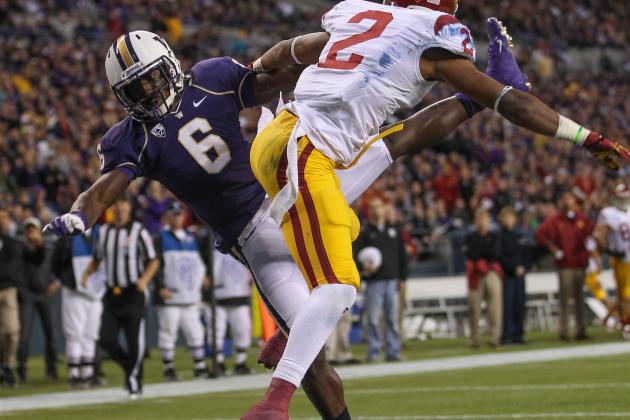 Otto Greule Jr/Getty Images

Quick, name the best corner in the 2013 NFL draft. If one says Dee Miliner, it would be acceptable so long as the caveat of "best zone corner" were added.
The truth is that Trufant is the one best positioned to match up man-to-man with any receiver in the league. Thus the Washington product promises to fit the Saints' defense as well, if not better, than any corner in this draft.
He is one of the three most likely selections for the Saints in this draft.
Odds of Saints Selecting Trufant: 5-1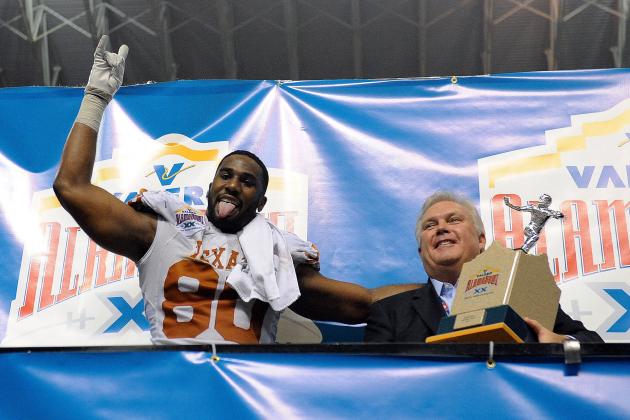 Stacy Revere/Getty Images

Alex Okafor was found, based on advanced metrics, to be one of the top two pass-rushers in the college game a year ago. The Saints should not overlook that factor.
With his size and power, Okafor is the perfect fit for Rob Ryan's defense, in which outside linebackers really operate as extra defensive ends. Okafor could almost be the reincarnation of DeMarcus Ware in Ryan's defense, should the Saints take him at No. 15.
If Trufant and Mingo are gone (in either order), the Saints should look to secure Okafor's services. Picking him at 15 may be a slight reach. Then again, many draft analysts believe the concept of a reach is a logical fallacy to begin with.
In other words, Okafor should be very much in play for New Orleans.
Odds of Saints Selecting Okafor: 5-1