Fiorentina vs. AC Milan: 5 Things We Learned from the Serie a Match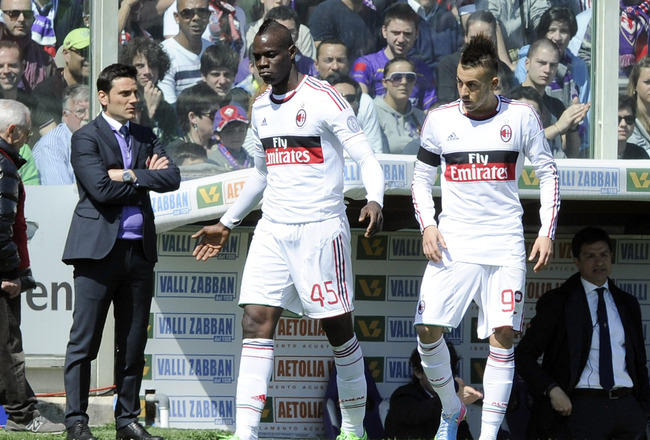 Claudio Villa/Getty Images
Final score: Tagliavento 2-2 Milan.
In all seriousness, it was a match decided by the referee, whether the call went for or against Fiorentina.
The much-maligned Paolo Tagliavento, who has had his fair share of blunders over the years, effectively decided the result of Fiorentina vs. Milan.
Anyway, before my head explodes, let's move on to five things we learned about this Serie A encounter.
Matches Are Often Decided by Referees
Gabriele Maltinti/Getty Images
It sounds like a broken record, but it rings true each week: Most matches in Serie A are decided by referees, and until technology is put in, it'll never change.
Referee Paolo Tagliavento had slabs of meat covering his eyes as he gave Nenad Tomovic a harsh red card. He then felt the need to sympathize with Fiorentina and followed through by awarding a scandalous penalty to Adem Ljajic.
If this wasn't enough, a clear handball in stoppage time wasn't seen when Facundo Roncaglia did his best Barry Bonds impersonation and batted the ball away from the area.
It's unfortunate, but Tagliavento's botched decisions didn't only affect the two teams on the pitch, but also the surrounding ones in the standings.
Riccardo Montolivo Was One of the Signings of the Summer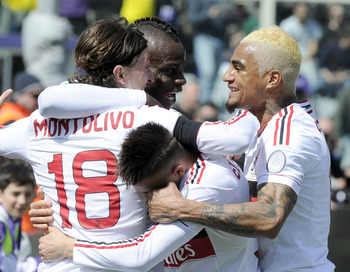 Claudio Villa/Getty Images
Milan swooped for former Fiorentina captain Riccardo Montolivo last summer, and he has paid dividends by improving overall and showing he can be a factor in a Champions League team.
Against his former team, he was booed mercilessly by the Artemio Franchi faithful, but he silenced them temporarily with a great goal and the assist for Mathieu Flamini's strike.
He has proven to be an integral part of Milan's midfield and did not disappoint against his old club.
The Third Place Is Still Up for Grabs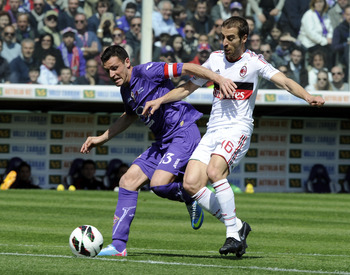 Claudio Villa/Getty Images
Fiorentina Are Close to Being Scudetto Contenders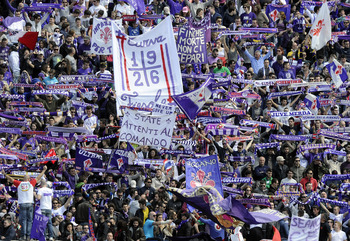 Claudio Villa/Getty Images
The incredible revolution spearheaded by President Andrea Della Valle has seen his club go from mid-table anonymity to one of the most aesthetically pleasing sides to watch in Italy.
Hiring Vincenzo Montella and entrusting a Barcelona-esque midfield to three tacticians like David Pizarro, Alberto Aquilani and Borja Valero was a step in the right direction.
Fiorentina are still waiting to debut their January transfer window signing Giuseppe Rossi, and should look to reinforce their defense if they want to be true Scudetto contenders next season.
Mario Balotelli Needs to Stay on Track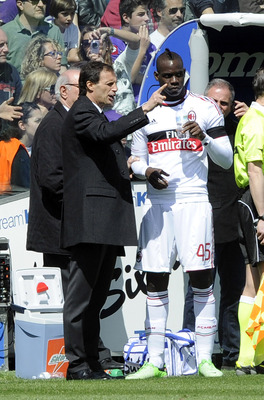 Claudio Villa/Getty Images
Signs were all pointing towards the maturation of Mario Balotelli, but tiny little bumps in the road like the ones we've read about could worry.
He was fined after being found smoking in the bathroom of the train heading from Milan to Florence, and followed up with a lackluster performance.
Super Mario has been fantastic so far in his first eight games in Serie A, but he was clearly frustrated as he stormed off the field after the final whistle against the Viola.
Keep Reading

AC Milan: Like this team?