Assigning Odds to Every Potential Houston Texans First-Round Pick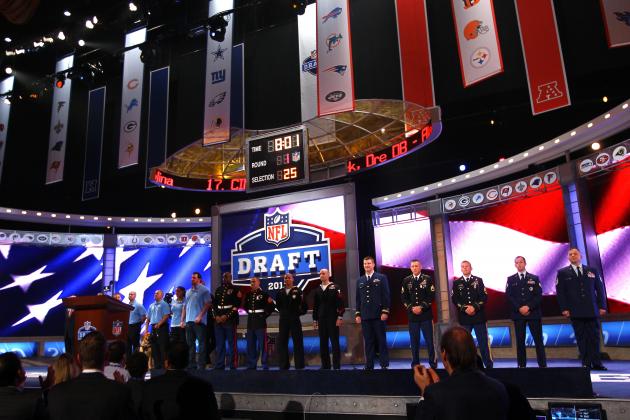 Al Bello/Getty Images

The first round of most NFL drafts play out in a well-established way. The announcement of the first selection is just a formality. The next 5-10 picks could be taken from almost anyone's board, even if the exact order fails to conform to a single draft guru's prediction.
From 10-20, which players will be chosen can get rather murky. In a talent pool of very few standouts, this year will be more unpredictable than ever.
When the Houston Texans make their decision on the 27th pick overall, their available options will reflect what has transpired over the course of the first round. This always includes a couple of obvious reaches, accompanied by some sliders who cannot believe they've slipped so far, then a host of tweeners that could fall all the way into the second round.
Based on this criteria, the prospects that follow are their likeliest choices and the percentage probability that player will have his named called by NFL Commissioner Roger Goodell.
Begin Slideshow

»
Nick Scurfield of the Houston Texans recently ran the 3.0 version of his Mock Draft Survey. The consensus choice was Hopkins, being named in 11 of the 24 drafts surveyed. John McClain, the Texans' beat writer for the Houston Chronicle, also agreed the former Clemson Tiger would be the man with the hands to line up opposite Andre Johnson.
Hopkins decided to forgo his senior season when he put up 82 catches, 1,405 yards and 18 touchdowns as a junior in 2012. His crisp routes, exceptional hands and ability to separate made this level of production possible.
His measurables in the speed (4.57 in the 40) and size (6'1", 200 lbs) categories are not exceptional when compared to other receivers. He will also have to learn how block on the edge and help seal off the alley, something that was not expected from him in college.
What the Texans are looking for is a player they can immediately plug into the lineup and take the pressure off Johnson. In that sense, Hopkins is as NFL-ready as any wideout in this draft class. To some, he looks like a surefire thing:
Re: prospect/NFL'er comparisons - I think DeAndre Hopkins is strikingly similar to Reggie Wayne when he was coming out of the U.

— Chris Trapasso (@ChrisTrapasso) April 6, 2013
You will find Keenan Allen right behind DeAndre Hopkins in most draft rankings, including Nick Scurfield's latest survey. There are more than a few reasons why he lags behind.
His junior season of 61 catches and 737 yards was down from his 98 receptions and 1,343 receiving yards in 2011. The word out of UC-Berkeley is an off year by his QB and half-brother Zach Maynard was to blame. Allen still figured this year's group of receivers was muddled enough to declare for the draft.
His skills place him in the upper tier, with slight advantages over Hopkins in size (6'2, 214 pounds) and speed. But his quickness is hard to judge since he did not attend the NFL Combine and was injured for his pro day at Cal.
If Allen were a player from yesteryear, he would be known as a triple-threat. Not only can he catch the ball, but he averaged 7.7 yards on 30 rushing attempts and completed all three of his career pass attempts, including one for a 52-yard TD.
His blocking is supposedly sub-par, but a first-round contract with a Super Bowl contender should provide the proper appetite for contact. If Hopkins escapes the Texans' grasp, Allen would be a fine consolation prize.
Too many Texans watchers believe the return of Brian Cushing will solve all the ills plaguing their linebackers unit. If the solution were only that simple! But the reality of the situation is more dire than they will admit.
As of publication, everyone who played a down at ILB in 2012 is either a UFA (Bradie James, Tim Dobbins, Barrett Ruud, Mister Alexander, Jesse Nading) or recovering from injury (Cushing, Darryl Sharpton).
Why is this position not at the top of the draft list? At least one astute observer has seen the light:
With the 27th pick in the mock draft, the Texans select Kevin Minter, ILB LSU #GeauxTigers
— NFL Draft (@DraftRT) April 5, 2013


It could be the lack of impact players or the thought that it can be addressed in the later rounds. If Houston decides to spend their first pick on a interior savior, there is really just one way to go.
Minter does not have everything you look for in a second-level defender. He is not going to backpedal his way into just the right spot to nullify the tight end, nor will he using his footwork to juke past the center on his way to sacking the QB.
What he will do is man the box and tackle anyone who is in his vicinity. If the opposition tries to exploit the "C" gap by running outside, he will be there to take them down. The 130 tackles to his name for LSU in 2012 attest to those abilities.
He may be nothing more than a two-down linebacker. If his play in the middle is solid enough, it will allow Cushing to freelance his way into the backfield. This is where the former Defensive ROY is as disruptive as any ILB in the NFL.
Rick Smith and Gary Kubiak may opt to wait, and take care of this crying need later on. Kiko Alonso or Jon Bostic will still be on the board in Rounds 2 and 3. But so will plenty of high-quality receivers. Minter would not be a very glamorous first-round choice, just a critical one.
Here we have another position that is rather thin. And that is not referring to the tendency to use undersized players to man the middle of the defensive line.
Shaun Cody was not re-signed, leaving Earl Mitchell as the only experienced nose tackle on the roster. The staffing of this spot is actually a partnership, since its demands are more than one man can handle.
Unless David Hunter and Terrell McClain jump off the practice squad and onto the active roster, some new blood will be required.
Hankins has the width and strength to play a 2-gap role if desired. Wade Phillips only asks his tackles to 1-gap, but having someone other than J.J. Watt to collapse the pocket could free up the outside pass rush.
When it came down to crunch time last season, the only consistent pressure was coming from Watt and DE Antonio Smith. The tackle does not have to bring a lot of heat, just keep the interior OL busy enough to let the ends and Brian Cushing run their inside stunts.
Hankins did have problems with his conditioning late in games at Ohio State. Teaming up with Mitchell would alleviate that problem, along with getting some NFL-level instruction.
Just like the ILB group, this issue will more likely be handled on Friday or Saturday of draft week. If Hankins lasts until the second round, he could still end up in Houston.
When Ed Reed came on board with the Texans, he was referred to as a "bridge" player on several occasions. That does not mean he likes to play card games favored by the country-club set.
It means Reed is only expected to hang around a couple of years before a younger man is ready to take his place. No safety presently on the Texans roster has the proficiency to take over for a man destined for Canton.
No one will contend Cyprien has the qualifications to be his successor, just the potential. In fact, his style of play is closer to that of his predecessor at strong safety, one Glover Quin.
While pass coverage is in his bags of tricks, he spends more time close to the line of scrimmage. Just like Quin often became a second linebacker in dime packages, Cyprien is not afraid to account for the run and then drop back to shadow receivers.
He brings a bigger build to the position than either Quin or Reed, and was called upon to blitz now and then at Florida International. Averaging over 90 tackles per season over his college career, this is not the kind of center field safety that is waiting for the play to come his way.
You need more straight-ahead speed to execute in a read-and-react style, and speed is not Cyprien's forte. But if you are seeking a player who is always going to be around the ball, he is worth a serious look.
Should the shortage at inside linebacker continue to be a problem, OLB Brooks Reed might be asked to move over for the sake of the team. The depth at outside linebacker has already taken a hit with the loss of Connor Barwin to free agency.
Whitney Mercilus was drafted to take over for Barwin and is moving into the starting lineup. As much as the fans would love see Bryan Braman get more snaps, his work on special teams trying to tear the heads off kick returners is the best use of his capabilities.
Jones carved out one of the most spectacular seasons by a college linebacker in the last decade. He led the nation in sacks (14.5), tackles for loss (24.5) and forced fumbles (7). The old cliché "a nose for the ball" definitely applies to this Georgia Bulldog.
How could he possibly be there for the taking so late in the first round?
When you don't come to Indianapolis for the combine, the questions begin. If your pro day is notable for a sluggish 4.9 seconds in the 40, the questions mount. Then add the lingering questions regarding spinal stenosis, or narrowing of the spinal column, and your draft stock plummets.
According to Pro Football Talk, the stenosis issue has been satisfactorily addressed:
Will Jones get another shot at improving his time, or will he have to rely on his amateur reputation?
As the evening wears on, and first-round selections draw to a close, many organizations will be looking to see if Jones has slipped far enough to merit a gamble. The Texans could very well be one of the watchers.