Assigning Odds to Every Potential Minnesota Vikings First-Round Pick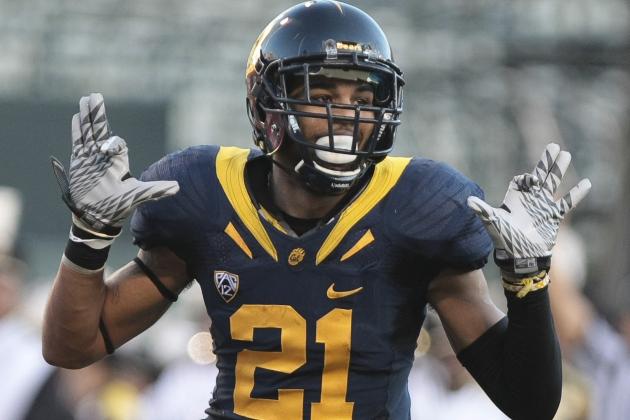 Kelley L Cox-USA TODAY Sports
Cal wide receiver Keenan Allen will likely be available when the Vikings select in the first round.
Plenty of names have been floated around during the process leading up to the NFL draft, and many more will continue to be.
Obviously, the closer the draft gets the better picture that can be painted relative to what each team wants to do with its draft and first-round picks.
For the Minnesota Vikings, who own two first-round picks, there are several directions they could go.
Selecting at No. 23 and No. 25, respectively, doesn't give the franchise full control of who it will take with the two picks, but the Vikings are certain of their top needs.
Wide receiver and middle linebacker ARE the team's needs with middle linebacker having a slight edge.
Beyond that, cornerback and defensive tackle follow. Look for the Vikings to select players from those four positions with their two first-round picks.
This slideshow contains 10 players from those four positions. At some point, each player's name on this list has been linked to the team.
Each slide will assess why the Vikings will pick that player and why they won't with a percentage chance to top it all off.
Let's go.
Begin Slideshow

»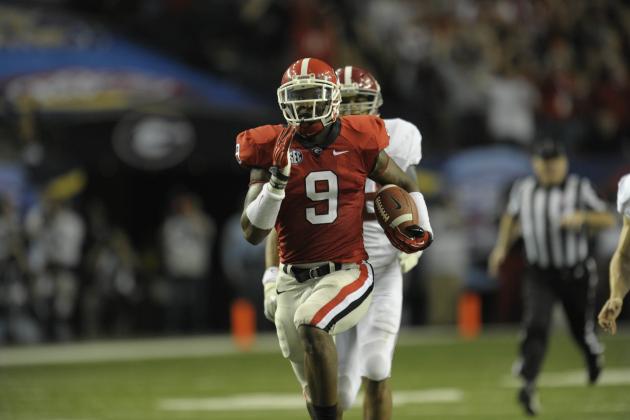 USA TODAY Sports
With his natural athleticism and sideline-to-sideline play, Minnesota would be wise to strongly consider Alec Ogletree in the first round.
Why they will: Alec Ogletree is the most athletic middle linebacker in this draft. At 6'3" and 245 pounds, he has good length and frame who is ready to take on more weight as he matures. He's known as a linebacker who can make plays sideline to sideline.
In college, he was one of the nation's most productive linebackers (when on the field). Despite missing the first four games of 2012, Ogletree led the Bulldogs with 111 tackles while adding 11.5 tackles for loss, three sacks and recovering two fumbles. Ogletree is projected as a three-down linebacker, which enhances his value.
Why they won't: Ogletree, 21, comes with serious baggage. He was suspended for the first four games of 2012 for a failed drug test. Then during the draft process, he was arrested for DUI in February. That's a lot of minuses for a first-round pick. Ogletree also has a broken foot on his injury history, which he suffered in 2011. Others are concerned about his bulk, or lack thereof. Some think he's too narrow to be a successful middle linebacker.
Percent chance: 25 percent
If Ogletree is available when Minnesota picks at No. 23, then he should be Minnesota's pick. Coach Leslie Frazier has said Minnesota will acquire a middle linebacker in the draft. The off-field issues should cause teams earlier in the draft to flinch, but not Minnesota. Not at No. 23.
His talent is too good to pass up. And the Vikings have a history of dealing with players struggling with substance abuse (Jared Allen). As for the smaller stature, if you look at Ogletree, his body appears ready to bulk up in the NFL.
The reason Ogletree's at 25 percent is that I don't believe he'll be available at No. 23. He's too talented to be around at that time. But never say never.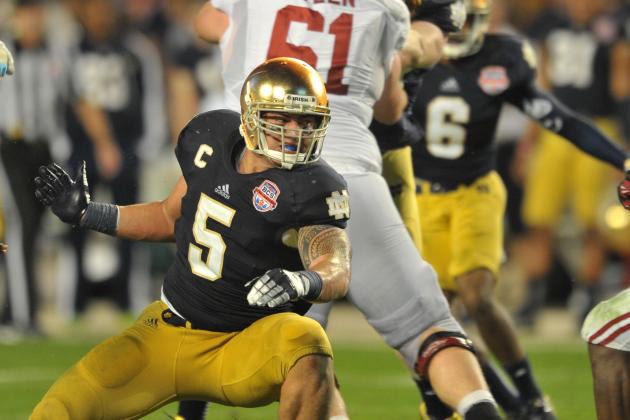 Matt Cashore-USA TODAY Sports
Manti Te'o made all the plays in college and the Vikings need a middle linebacker, which means Te'o could be their man.
Why they will: Look at recent drafts and one thing is clear, Minnesota is infatuated with Notre Dame players (Kyle Rudolph, Harrison Smith, Robert Blanton). Manti Te'o is projected as a late first- to mid-second round pick and Minnesota has a HUGE void at middle linebacker.
Te'o was a straight-up playmaker at Notre Dame. He recorded 113 tackles, 5.5 tackles for loss, 1.5 sacks and recovered two fumbles. He's bulky (6'2" and 255 pounds). He should have the body to withstand the rigors of middle linebacker. His leadership skills are unquestioned, and he's known as an intelligent football player.
Why they won't: The questions surrounding his fake girlfriend are legitimate, but it shouldn't scare off teams. Outside of this hoax, he's known as an upstanding citizen off the field.
Te'o projects as a two-down linebacker. Teams have legitimate concerns about his ability in coverage. They think his limited speed and athleticism will limit his play-making skills.
Percent chance: 40 percent
Unlike Ogletree, it seems likely Te'o will be available when the Vikings pick at No. 23 and No. 25. The need at middle linebacker is significant, which increases Te'o's value.
And Minnesota loves its Notre Dame players. Many say don't draft upon need alone, but Te'o's talent is first-round worthy. Depending on who's still available, Te'o could be a great pick or an awful one. I'm not Te'o's biggest fan, but the Vikings could do worse (like Bjoern Werner, whom
Todd McShay continues to project Minnesota selecting
).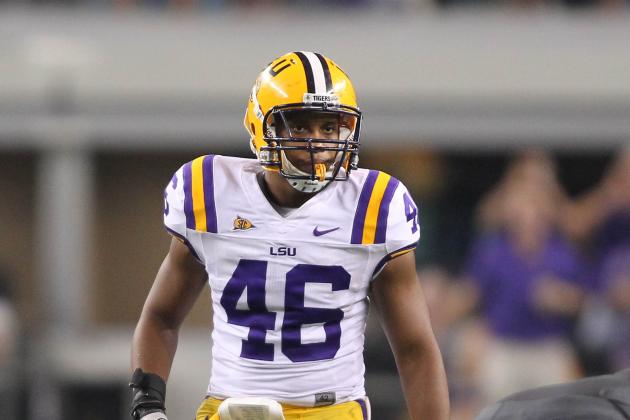 Tim Heitman-USA TODAY Sports
Kevin Minter is an instinctive middle linebacker who isn't afraid to stick his nose into a pile.
Why they will: Look at the position Kevin Minter plays. Without Jasper Brinkley, middle linebacker is priority No. 1. Minter makes plays all over the field. He isn't afraid to stick his nose into a pile and shows little regard for his body.
Minter led LSU with 130 tackles last season with 15 tackles for loss four sacks and an interception. He's known as a tackler who wraps up and brings his man to the ground. His leadership skills are considered good as are his abilities as a blitzer. He has the run-stuffing abilities that Minnesota likes in its middle linebackers.
Why they won't: Minter isn't known as a sideline-to-sideline player and many question his next-level speed.
At LSU, he had talented, fast playmakers around him. Will he be able to play at an elite level without those type of players around him? Concerns about his coverage skills are real as a result of concerns about his speed. His size isn't bad but it's not outstanding (6'0" and 246 pounds).
Percent chance: 33 percent
I haven't heard much surrounding Minter and the Vikings, but he is a middle linebacker who is worthy of first-round consideration and did play in a 4-3 defense at LSU.
He has the run defense skills the Vikings look for from middle linebackers, but his pass coverage skills are sub-par. Minnesota has dealt with E.J. Henderson and Jasper Brinkley lacking coverage skills in recent years.
Does it want to deal with another middle linebacker who's inadequate in coverage?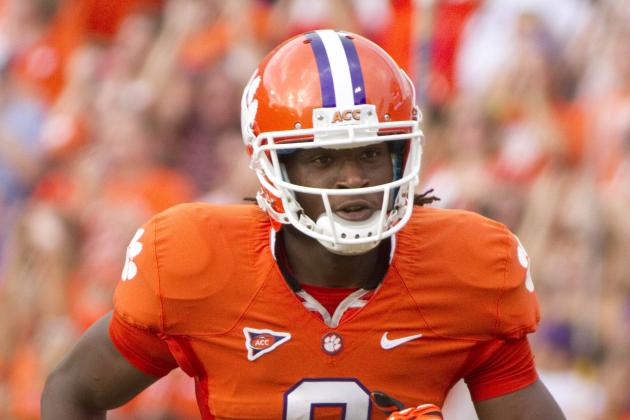 Joshua S. Kelly-USA TODAY Sports
DeAndre Hopkins lacks burner speed but excelled as a deep-threat receiver at Clemson.
Why they will: DeAndre Hopkins likes to get vertical early and often. Hopkins caught 82 passes for 1,405 yards and 18 touchdowns last season.
The collegiate productivity is there and concerns about drops are nonexistent. He has good size (6'1" and 200 pounds) and is a deep threat who also can be a red-zone threat. Route running meets NFL standards.
Why they won't: Hopkins lacks elite speed.
He ran a 4.57-second 40-yard dash at the NFL combine. His blocking skills need work. Minnesota is and always will be a run-first team with Adrian Peterson in the backfield.The wide receivers must be able to block. Hopkins tries to fake defenders a bit too much and often runs backward, costing an offense yards.
Percent chance: 55

This would be a wise selection for the Vikings at No. 23 or 25, depending on who's still available. Hopkins projects as a capable NFL wide receiver.
Some question his size as an outside receiver, but I listed it as a reason to select him. There's nothing wrong with 6'1" and 200 pounds. His hands are legit, and he plays faster than he runs a 40-yard dash. Minnesota had Sidney Rice, so it's familiar with slower receivers who can go deep. Hopkins could be that type of guy.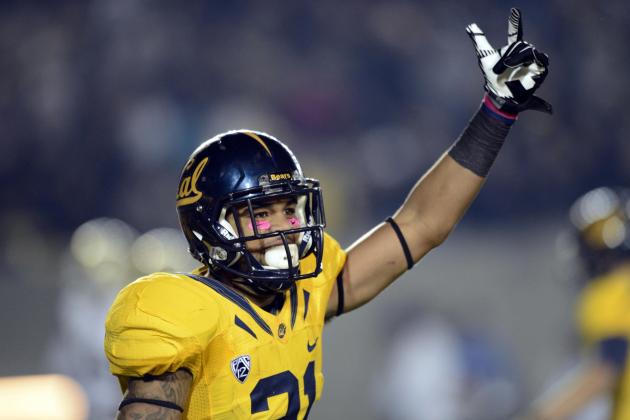 Bob Stanton-USA TODAY Sports
Keenan Allen may be the most well-rounded wide receiver prospect in the draft.
Why they will: Keenan Allen might be the safest wide receiver prospect.
He has size (6'2" and 206 pounds) and speed to be a difference-maker. He was productive when healthy for Cal (61 catches, 737 yards and six touchdowns while missing three games last season).
He runs his routes well and can play in the slot or on the outside. He uses his hands to create separation from defenders and has the speed to do it. He has good body control and can go up and get the ball (would be a good red-zone target).
Why they won't: Allen dealt with injuries at Cal. He missed the final three games last season with a knee injury and missed spring practices in 2012 because of an ankle injury suffered in a pick-up game of basketball.
He often lets the ball come too far into his body, which forces drops. His blocking skills are putrid, which isn't ideal in an offense centered around Peterson.
Percent chance: 65 percent
Allen will be available when the Vikings pick at No. 23 and No. 25. And I expect Minnesota to select him. Allen is a versatile receiver who can play inside or out and is dangerous in the open field.
He can go up and get the ball in the red zone or make defenders miss in the open field. The offense at Cal didn't allow him to explode, which reduces his numbers. The Vikings are likely to take a wide receiver in the first round. Bet on Allen or DeAndre Hopkins.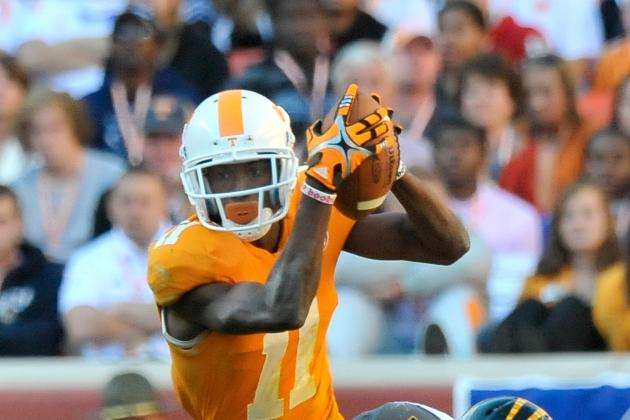 Jim Brown-USA TODAY Sports
Justin Hunter has the length and speed to be a playmaker. His hands and health are questionable.
Why they will: Justin Hunter has the speed (4.4-second 40-yard dash), height (6'4") and leaping abilities (39.5-inch vertical) to be successful.
He was productive in college (73 receptions for 1,083 yards and nine touchdowns). He is mostly an outside receiver (but can line up in the slot), which fits perfectly with Minnesota's current personnel. He can become a legit red-zone threat and is a downfield burner that Minnesota lacks on its roster.
Why they won't: Hunter has had problems with drops while at Tennessee and that combined wit his speed might remind the Vikings too much of Troy Williamson (although Williamson was faster and had greater problems with drops).
Hunter also has battled injuries such as a torn ACL that cost him his 2011 season and has affected his speed. His 196-pound body, given his 6'4" frame, is less than ideal, but he should be able to fill that out once football is his job.
Percent chance: 30 percent
There's a wide variety of thoughts about where Hunter will be taken.
I've read anywhere from top 15 to the second round (I expect late first-early second, making him available to Minnesota). Hunter is a toss-up. The previous two wide receivers on this slideshow would be better fits for Minnesota (less risk, similar upside), but it's not as if Hunter is an awful prospect.
Torn ACLs are always scary, although they're becoming less taboo as the medical industry adapts to them.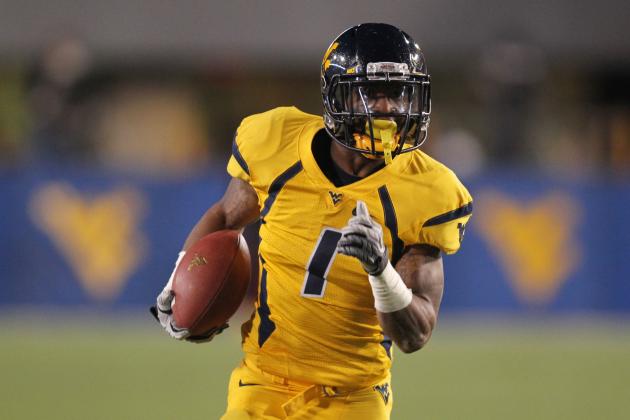 Charles LeClaire-USA TODAY Sports
Tavon Austin has wowed with his speed and comparisons to Percy Harvin.
Why they will: Word on the street is that Tavon Austin could be the next Randall Cobb or even Percy Harvin.
He is a stout receiver (5'8" and 178 pounds) and is a burner (4.34 in the 40). He can line up in the backfield and make plays such as Harvin or in the slot and do damage over the middle. He can make defenders miss on the outside when thrown wide receiver screens.
He caught 112 passes for 1,289 yards and 12 touchdowns in 2012 with 72 rushes for 643 yards and three touchdowns. He can return kickoffs or punts.
Why they won't: Look at his skill set. The Vikings have Greg Jennings and Jarius Wright as slot receivers. Austin has issues with drops, which might become worse as he hears footsteps from the game's most physical defenders.
Percent chance: 5 percent
Austin continues to shoot up draft boards.
He's unlikely to be available when the Vikings pick at No. 23, let alone No. 25. Even if he becomes available, his skills don't match what the Vikings need. Jennings and Wright are prepared to line up in the slot, which makes Austin less valuable.
He's a hot prospect, but he won't don a Vikings uniform in 2013.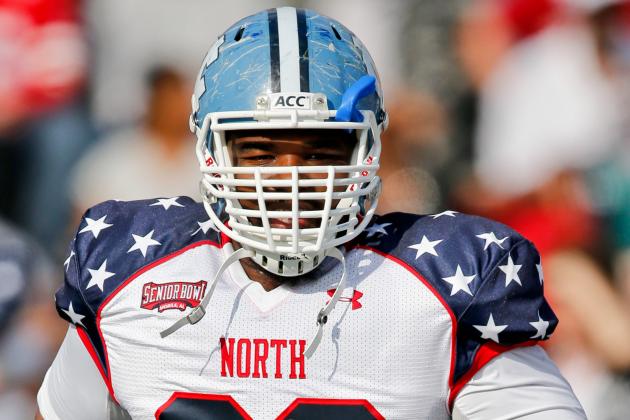 Derick E. Hingle-USA TODAY Sports
Sylvester Williams isn't a phenomenal pass rusher or run stuffer, but he does both well.
Why they will: Sylvester Williams is a well-rounded defensive tackle. He can stop the run and get after the quarterback.
He has good size (6'3" and 313 pounds) and productivity while at North Carolina (six sacks, 13.5 tackles for loss and 42 total tackles). His productivity and skill-set mirror those of Kevin Williams, who had similar numbers his last season at Oklahoma State (54 tackles, 10 tackles for loss and four sacks).
Why they won't: What makes Williams attractive also makes him unattractive: He's not elite at anything. He's just a well-rounded defensive tackle who does a little bit here and there. Is that worthy of a first-round pick?
He's an older prospect (will turn 25 in November). The Vikings have greater needs than defensive tackle.
Percent chance: 45 percent chance
Defensive tackle is probably third on Minnesota's needs list, which makes a player at this position a legit possibility in the first round.
Williams should be on the board when Minnesota picks, and he should be an appealing candidate. Age is a turn-off. But his well-rounded nature is a positive in my eye, whereas others view it as a negative. His versatility means he can stay on the field for all three downs.
Assuming Ogletree is gone at No. 23, a wide receiver and Williams could be Minnesota's first round.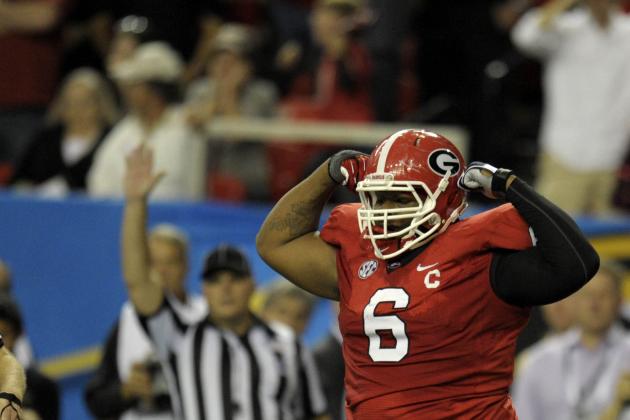 USA TODAY Sports
Scouts compare John Jenkins' skill-set to that of former Vikings defensive tackle Pat Williams.
Why they will: The comparisons are frequent between John Jenkins and former Vikings defensive tackle Pat Williams.
Minnesota's defense is geared to plug the run, and Jenkins would do it phenomenally, especially given his size (6'4" and 346 pounds). He eats up double teams and swallows running backs. As does Sylvester Williams, he has deceptive speed for someone his size and can make the occasional play outside the tackle box.
Why they won't: He is a one-dimensional defensive tackle.
All he does is stop the run and likely is just a two-down defensive tackle. With his weight comes concern about endurance. If his skill-set doesn't ensure he's a two-down player, his conditioning might. Questions about his desire exist; he often gives up as soon as a blocker has the advantage.
Percent chance: 35 percent

If the middle linebackers Minnesota likes are off the board and Sylvester Williams is, too, then it could be Jenkins and a wide receiver for the two first-round picks.
Minnesota had good experiences with Pat Williams, and with Leslie Frazier at the helm (he was the defensive coordinator for some of Williams' terror as a Viking), he should be able to coach up Jenkins to mirror Williams' productivity.
Acquiring a player such as Jenkins will make the life of the middle linebacker easier. He eats up double teams like no other, which enables the middle linebacker to make plays.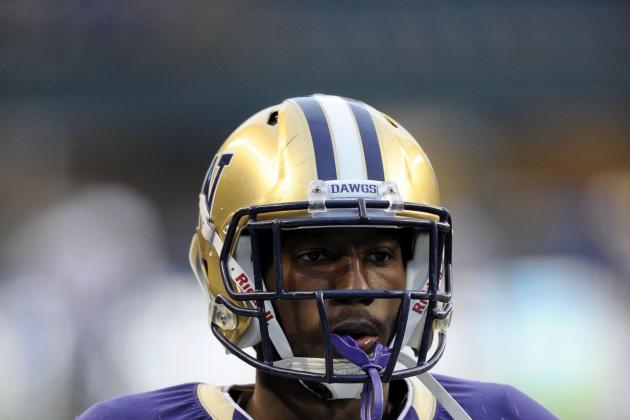 Steven Bisig-USA TODAY Sports
Desmond Trufant possesses strong cover skills and solid size (5'11" and 190 pounds).
Why they will: In a division withAaron Rodgers, Matthew Stafford, Jay Cutler, Brandon Marshall, Calvin Johnson and Jordy Nelson, it's important to have talented defensive backs.
With Antoine Winfield's return in doubt, Josh Robinson and Chris Cook are the projected starters with depth limited behind them. Desmond Trufant has good size (5'11" and 190 pounds) and great speed (4.38-second 40-yard dash).
He's a versatile corner who can play in the slot or outside. He has great instincts and can compete with bigger receivers for the ball (37.5-inch vertical).
Why they won't: He's not active in run defense, and he won't be mistaken for Winfield relative to his physicality. His strength is average and can get beaten when trying to run press coverage. He also struggles to overcome blocks due to average strength, and his hands are average.
Percent chance: 30 percent
Depending on Winfield's status before the draft, cornerback could catapult to a top need or fall on the needs board should he re-sign.
The Vikings must address this position within the first few rounds of the draft and if attractive middle linebacker and wide receiver prospects are off the board, then cornerback could be addressed.
Trufant should be available at No. 23 and has the physical tools and instincts to be a worthwhile pick. His strength doesn't worry me. He'll put on a few pounds in an NFL training program.